To keep DiamondLobby free to read, this post may contain affiliate links. Learn more
Yeah, I know what you're probably thinking – another honeycomb-shelled mouse, how many of those are they gonna make? I know that's what I was thinking when I first saw the HyperX Pulsefire Haste mouse.
It's like most of these mice manufacturers can't be bothered with aesthetics. I mean, I guess it's a functional design, but I'm sure they could probably come up with many other functional designs that look better if they set their minds to it.
Anyway, HyperX is a pretty classy brand when it comes to manufacturing gaming accessories. They have a nice range of gear including keyboards, headsets, and other good stuff that dates many years back, so this is not new to them.
So, I thought I'd do a HyperX Pulsefire Haste mouse review and really go into detail about the pros and cons of using the product. Spoiler alert, there's no real con here. At least, nothing bad enough to be a dealbreaker in my humble opinion. That said, let's get into it!
Specs
In the package, you get the Pulsefire Haste mouse, along with a spare set of mouse feet and some grip tape. The key specs of the mouse are as follows:
| Size (mm) | Weight | Polling Rate | Sensor | DPI | Switches | USB Type |
| --- | --- | --- | --- | --- | --- | --- |
| 124.2×66.8×38.2 | 59 grams | 1000hz | PixArt PAW-3335 | Up to 16000 | TTC Golden Microswitches | USB-A |
The Pulsefire Haste is a fairly lightweight mouse. It's exactly the same weight as the Pulsar Xlite Wireless which, coincidentally, also has that honeycomb shell thing going on. I wrote a separate Xlite Wireless review if you want to check that out.
One area that stands out to me here is the type of switches that HyperX has gone for. I've lost count of the number of times that I've reviewed mice that use the hugely popular Omron or Kailh gm 8.0s, so it's refreshing to see something different here.
I mean, the famous two are popular for a good reason – they're pretty effective, especially the gm 8.0s. However, the TTC Golden Microswitches used here are pretty solid too (more on that later).
The rest of the specs are pretty standard, although I have to say I was underwhelmed to see the 3335 sensor. It's not terrible, but it's not the best performer either.
Design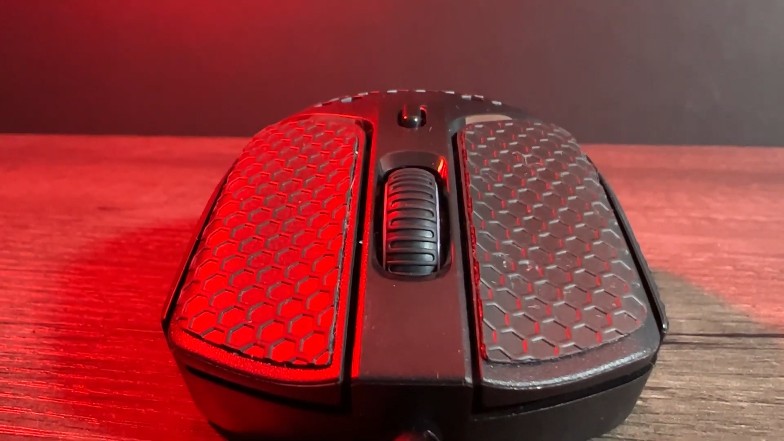 I already mentioned the honeycomb design of the mouse, and one of my main issues with the design is the fact that it is very susceptible to dirt and dust. There are just so many grooves where dirt can gather, even on the sides where the buttons are.
The HyperX Pulsefire Haste comes with a USB-A cable – not that I expected anything more considering what the rest of the mouse is like. It's not exactly breaking any new ground, and it's comfortable running with the familiar even when it's a bit outdated.
Anyway, the cord is nicely out of the way when you're using the mouse because the cable entry point is raised and the housing surrounding it leading into the shell keeps it straight.
The build quality is okay for a lightweight mouse, but I think the most interesting thing about the design here is the shape.
Shape
The shape of the HyperX Pulsefire Haste is pretty versatile for various grip types. Depending on what your needs are, this can be a good or a bad thing.
I've found that when a mouse tries to cater to every grip type with a single product, there's the risk of being a "jack of all trades, master of none".
That's sort of the case here with the Pulsefire Haste. It's comfortable enough for all the grip types that I tried, but it did not feel "perfect" for any of them. That bit of info may be important to you if you only ever use one particular grip and you need something that is the most comfortable for that grip.
Regardless, as far as the attempt at being versatile goes, HyperX has done a decent job here. In over 8 hours of gameplay, the mouse did not cause my wrists or fingers any discomfort and I did not need any adjustments.
Coating
Since I immediately covered my review unit in the grip tape that came with the package, there's not a lot to say about the coating itself, but I can tell you about the grip tape.
Summarily, I wish I hadn't been so quick to put it on. I don't really see any practical need for it, as it did not make the experience of using the mouse better in any way.
Feet
No sensor ring, no party.
The mouse feet are, again, good enough, which seems to be the ongoing theme for many features of the HyperX Pulsefire Haste. They're fairly thick, which is nice as it reduces the chances of scraping across your desk or mousepad, and you get a spare set as part of the package. Nice touch.
Buttons and Switches
The unique TTC Golden Micro switches used here are rated for 50 million clicks, which is a pretty solid figure if it's accurate. They function well and I did not have any issues using them.
The side buttons are well-sized and easy to reach too, so you don't have to worry about accidental clicks.
The scroll wheel is great – the best part of the buttons and switches in my opinion. The notches are quite rigid but not so much that they're difficult to run through, and the wheel itself has a really nice scroll and click to it.
A little ways below the wheel, there's a small DPI button for adjusting the values if you want.
Performance
As I said, the 3335 sensor is not the best on the market by any means. It's a midrange sensor, which is why you'll see many mice at a similar price point sporting it.
It works fine though, and if you just need something to do the job, you should have no issues.
In-game, the mouse is actually pretty enjoyable to use. A lot of that is down to the fact that it is comfortable for long gaming sessions, and requires little to no adjustments once you get started.
Software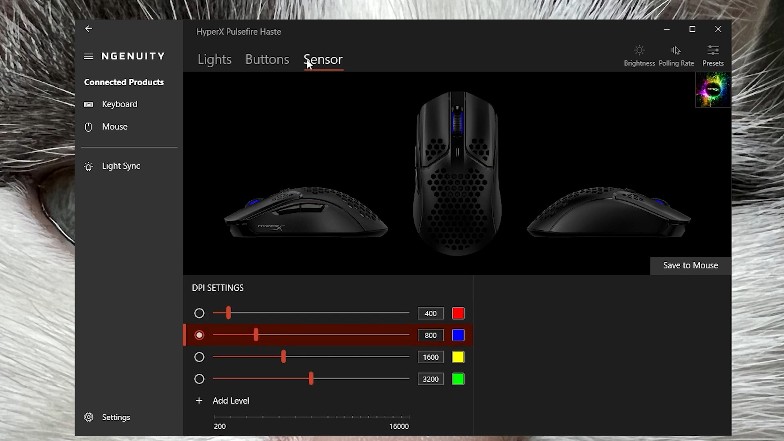 The software covers the basic stuff. You can mess with the RGB settings, adjust polling rates, and change DPI values if you don't want to use the dedicated button for some reason.
It's pretty user-friendly, so that's definitely a few points in HyperX's favor considering the amount of dross I've seen from some mice that even cost more. Best part? You don't even have to use it at all if you don't want to, it's optional.
Cost
At around $47, £49.99, or €59.99, I think HyperX is bang on with the pricing of the Pulsefire Haste mouse.
When you consider the alternatives sold for a similar price, and the fact that you get a couple of extra goodies in the package of this one, then it's a solid deal.
Verdict
The HyperX Pulsefire Haste mouse takes no prisoners when it comes to simply doing its job very well.
It doesn't look very impressive on the spec sheet, and there are bits of it that seem outdated. But, when it comes down to it, performance is really solid across the board, and it is simply one of the best options for its price point.
If that sounds like what you need, then this is the sign that you wanted to go get it.
HyperX Pulsefire Haste
The HyperX Pulsefire Haste is probably the best value-for-money wired mouse there is, and is only beaten in value overall by its wireless alternative.
Pros
Exceptional value
Ultra lightweight
Good extras included
Cons
Uncomfortable holes
Slightly outdated specs