To keep DiamondLobby free to read, this post may contain affiliate links. Learn more
Sometime around the first quarter of 2021, Ninjutso announced the launch of their first wireless mouse on the market, the Origin One X.
The Origin One X was advertised as a wireless mouse that was built to be lightweight and still provide high quality, so I decided to see if it performs as advertised.
Full disclosure: Ninjutso did send us a review unit for free, but that has no influence on the opinions expressed in this article. You'll find out my honest thoughts whether positive or negative — this is a completely unbiased Ninjutso Origin One X Review.
Specs
The mouse is available in two colors – black or white. I should also point out that the available DPI steps are unchangeable, but apart from that, the specs are pretty much what you'd expect.
| Size (mm) | Weight | Sensor | Polling Rate | DPI | Cord Type | Port Type |
| --- | --- | --- | --- | --- | --- | --- |
| 121.4 × 58 × 39.9 | 66g | PAW3335 | 1000hz | 400, 800, 1600 & 3200 | Paracord | USB-C |
Design
Shape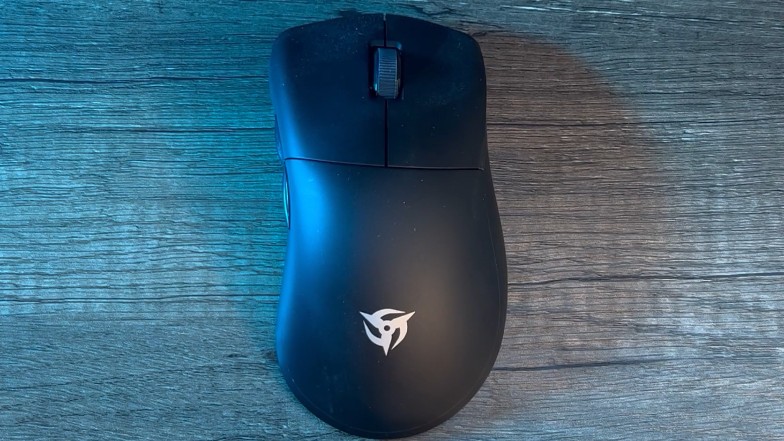 The shape of the One X is reminiscent of Microsoft's "Intellimouse Explorer". It's really comfortable to hold and generally makes usability much easier.
Ninjutso's take on the Intellimouse Explorer is slightly different as it's been shrunken down in comparison to the chunkier alternative from Microsoft.
This shorter size makes the One X great for fingertip or claw use, and I especially like how my pinky and ring fingers sit comfortably on the side without touching the mousepad.
My thumb rests across the left curve quite comfortably too. However, the mouse 2 button will occasionally rub against your ring finger depending on the placement, so that's something to note.
Coating
So, unlike many lightweight wireless mice on the market today, the One X has no holes! That means there's actually something to talk about with the coating, which is nice for a change.
The coating here is a soft matte, whether you're getting the black or the white-colored mouse. There's a small "Ninjutsu" logo at the base of the mouse – nothing extravagant.
An earlier version of the One X that was released before this review unit batch had an even softer matte texture, which I was not a fan of. It was almost bordering on glossy and constantly became sticky very quickly.
Thankfully, Nunjitso seems to have made some changes and this one feels a lot more comfortable to the touch. It's quite similar to the coating on Logitech mice actually. It still gets sticky, but that only happens after long hours of use, so it's fairly standard.
Buttons & Switches
Mouse 1 & 2
The switches here use the Kailh GM8.0s, guaranteed for 80 million clicks. The GM8.0s are pretty popular for good reason – they feel nice and consistent so you can't really go wrong.
Other Buttons
The side buttons are not as sleek as the 1 & 2 switches, but they're still comfortable to use. They're small and have a glossy coating which shouldn't be a problem, except that the mouse 5 button is extra short. If you have a grip that sits higher up, you might struggle a bit to reach it conveniently with your thumb.
Beneath the mouse, there's the DPi button on the right and the power button to the left. Again, Nunjitso has made changes here because the initially released version of the One X had an issue where the DPI button would scrape on the mousepad. That's no longer a problem here.
Scroll Wheel
The notches on the scroll wheel are very noticeable and consistent. The switch works great too, and it's all very well put together.
Feet
The One X's feet are 100% PTFE. They're relatively small and lack a sensor ring, but this hasn't been a real issue since I've been testing the mouse.
I do wonder if the lack of a sensor ring is something that will be an issue long-term. After all, the ring helps to reduce drag – not that I've noticed any here.
Cable/Wireless
With the "Snappyfire" wireless technology that Ninjutso used in this device, there's a promise of around 48 hours of battery life on a single charge – not bad at all.
However, this battery life is a blessing and a curse because of the lack of any form of battery indication on the mouse.
There are no lights or other methods to let you know when the battery is running low, and the fact that the battery life is so good can cause you to forget to charge the mouse.
The paracord cable that comes with the package is good quality and lightweight though, so even if you do need to plug it in, it shouldn't be a problem.
One issue that I noticed is that the USB-C port is not friendly to other types of USB-C cords apart from the original one that comes with the package. The whole point of USB-C is its versatility, so this was a bit of a bummer.
Also, the wireless range was sometimes a bit iffy for me, although I eventually found out that this was mostly my fault.
I would plug the dongle directly for a bit of cable tidiness when instead I should have the cable plugged in, and the wireless dongle plugged into the end of the USB cable and placed on the desk or anywhere else.
Finally, if you have to plug your receiver into a USB hub or directly into your PC, then you may struggle a bit to grab the receiver here because it's really small.
There, I redeemed myself by pointing out an actual potential issue. You're welcome.
Software
There's no software here, not that there's a great need for it anyway. I guess it would be nice to be able to tell what the battery life is, but the basic features are just fine.
Sensor
It's hard to find a wireless mouse that uses inferior sensors nowadays. Most of them are of great quality, and that includes the PAW 3335 on this device. It's a powerful sensor with a focus on battery efficiency, so it suits the One X very nicely.
In-game Performance
If you're planning to game for long hours on end with zero breaks in between to step out and see the sun (note: this is not lifestyle advice), then the One X is a great option for you.
In-game use is excellent, as the shape and lightweight of the mouse come together really well to make the overall experience super comfortable and effortless.
I felt no stiffness in my fingers even after 6+ hours of gaming, and it wasn't until I stopped and stretched my wrist that I realized just how much time I'd spent on playing.
If you're getting the mouse, I'd recommend using it with a Vaxee outset pad, xtrfy gp4, and the fnatic dash. That's the combo that I use and it's been super nice.
Dirt Check
Obviously, I've only had this unit for testing, so it's not exactly long-term use. However, a week of constant video gaming has barely turned up any significant amount of dirt.
The side buttons have gathered the most because of their glossy coating, and there are some areas on the right side that I think will also gather a bit more dirt with longer-term use.
If you do get dirt stuck somewhere, the crevices in the mouse are pretty easy to clean out using a toothbrush or something similar.
Cost
The One X is reasonably priced at around $80, £80, €90 at the time of review. These prices may vary slightly depending on where you buy from and availability, and it can sometimes be lower on Amazon.
With the quality you're getting, this mouse is a great "bang for your buck" option.
Verdict
So, here's my overall verdict on the Nunjitso Origin One X wireless mouse.
Should you get it? Absolutely, yes. It's great value for the money, and you're unlikely to find a much better deal at the same prior lower price point.
I'd say this could even realistically become my daily driver, and for someone that has to test and use a lot of wireless mice, that's probably the highest praise that I can give to the product. It just ticks all the boxes – good weight, nice shape, and great in-game performance.
I do think it would be nice if it was a bit bigger, but that's a selfish opinion because this size probably works better for a wider range of grip types.
Nunjitso struggled a bit with quality control at the start, but for a first-timer in the wireless mouse space, the performance of the Origin One X is something to be proud of. I'm excited about what they'll do next!