To keep DiamondLobby free to read, this post may contain affiliate links. Learn more
The Razer Viper series has had a lot of love from the gaming world, and for good reason. Advertised as lightweight, durable, ambidextrous mice for gamers across multiple genres, Razer sure knows how to use the right words to grab attention.
However, it is one thing for a product to be pushed by excellent marketing, but it is an entirely different thing for that product to live up to the hype.
Clearly, the Razer Viper line has been doing well on both ends of the scale, as they keep disappearing off the shelves, but does this one follow or buck the trend?
Everything you need to know to answer that question is my Razer Viper V2 Pro mouse review, which you're reading right now…free of charge.
Specs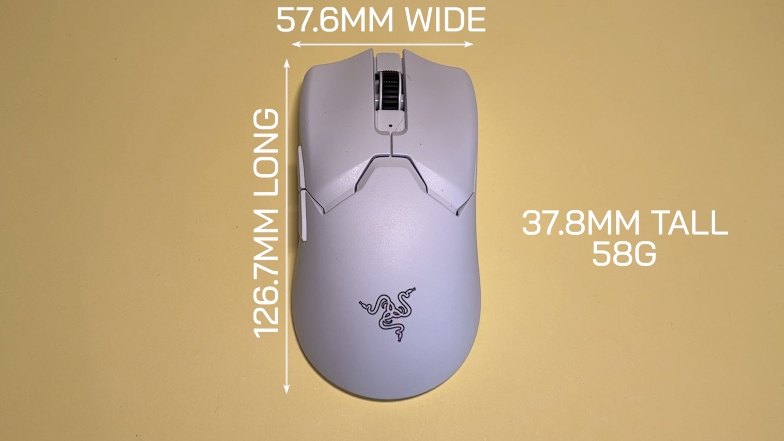 The key specs of the mouse are as follows:
| Size (mm) | Weight | Polling Rate | Sensor | DPI | Cable Type |
| --- | --- | --- | --- | --- | --- |
| 126.7 × 57.6 × 37.8 | 58 grams | up to 1000 Hz | PAW3950 | up to 30000 | USB-C |
This is what lightweight should feel like. 58 grams is as lightweight as it gets, as long as build quality is not compromised.
For context, the previous Viper mouse weighed 74 grams!
The other thing that stands out in the spec sheet is the PAW3950 sensor, At the time of the launch of the Razer Viper V2 Pro mouse, the sensor is new and exclusive to Razer's lineup. That won't always be the case, but they can enjoy the exclusivity while it lasts.
USB-C is the choice here, and I can't wait until it becomes the standard so much that it's not worth mentioning anymore. I've been disappointed a few times by otherwise fantastic mice that were still sporting microUSB ports such as in my review of the Logitech G Pro X Superlight.
Design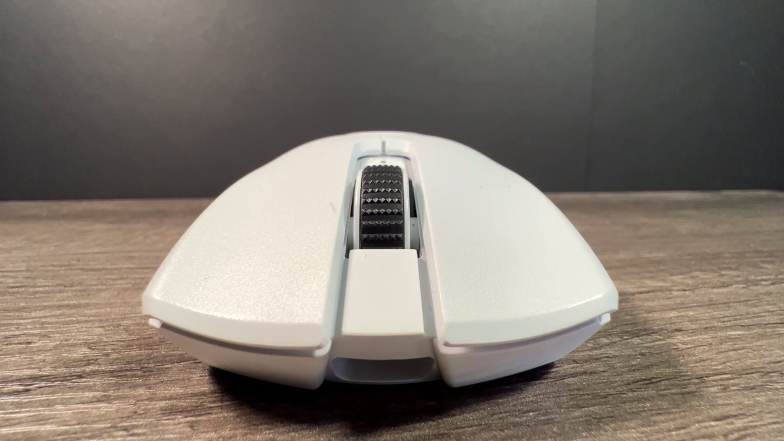 The Razer Viper V2 Pro sports a clean, minimalistic design that says that this mouse means business and has zero time for unnecessary flash. I mean, if it could talk, it probably would have said that.
I mean, Razer removed RGB! That is a major design switch as RGB had pretty much become a staple for the manufacturer's mice before this one.
Clearly, they're not afraid to drop a habit. I mean, it's either that or there's someone with a really poor memory in production that's getting sacked in the morning.
Shape
This is an ambidextrous mouse, so there's no slight slope to one side as you would see on many mice built specifically for left-handed or right-handed people.
The mouse seems to be quite low, which suggests that it would probably be most suitable for people that prefer the claw grip. However, for my favored palm grip, the mouse still felt comfortable and my fingers felt well-supported.
It's an identical shape to what Razer built with the previous mice in the series (excluding the Viper mini), so it's familiar by now really.
Coating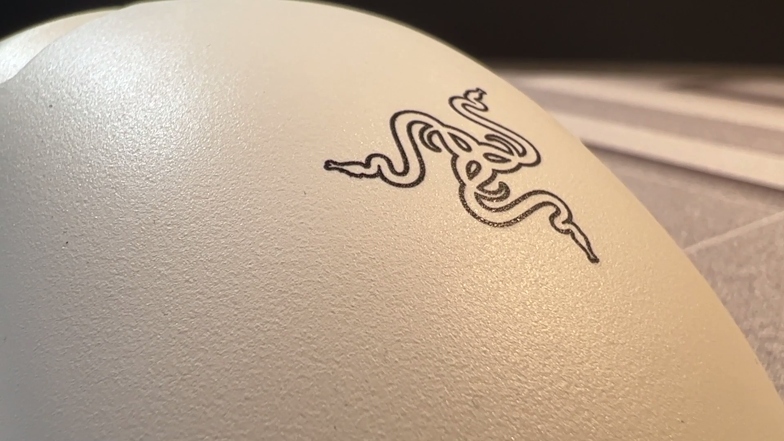 Again, the coating here is also more of the same from Razer. They generally prefer coarse matte coating, and it works pretty well for their lineup, to be fair.
If you're not a fan of this type of coating, you can use the included grips to improve the experience for you. Personally, I won't be doing that.
Feet
There are four well-spaced PTFE feet over here, and they feel brilliant on all the mousepads that I tested the mouse with. That includes my sophisticated lineup of the Vaxee Outset, Logitech G630, and Endgame Gear's Cordura MPC450 mousepads.
The inclusion of a sensor ring really does wonders for balance, and the mouse is just a joy to use with the PTFE feet gliding across the surface of the pads with zero issues.
Even if your mousepad is fairly thin, you should still be able to use the Razer Viper V2 Pro without fear of scraping the desk because the feet are thick despite their relatively small size.
Buttons and Switches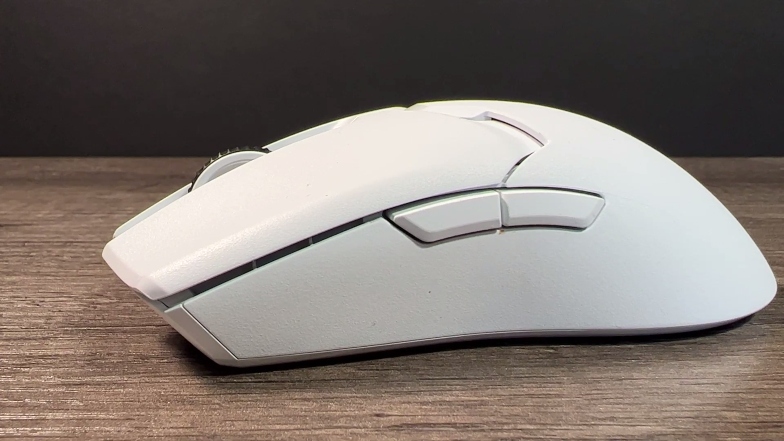 More new stuff! The switches here are the Generation 3 Razer optical switches which, at the time of writing this review, are the new kids on the block (R.I.P to Generation 2).
These switches are rated for 90 million clicks (!), and being "optical" means that they use light to trigger. What that promises for you is faster performance and zero accidental double clicking.
They're not exactly up there with the fan-favorite Kailh gm 8.0s in terms of how they feel, but they're pretty good still.
The other buttons are well-placed and easy to reach with a roll of the thumb. They're consistent and work great overall. If you go back up and look again at the picture of the feet, you'll see the buttons for the on/off switch and the DPI adjuster.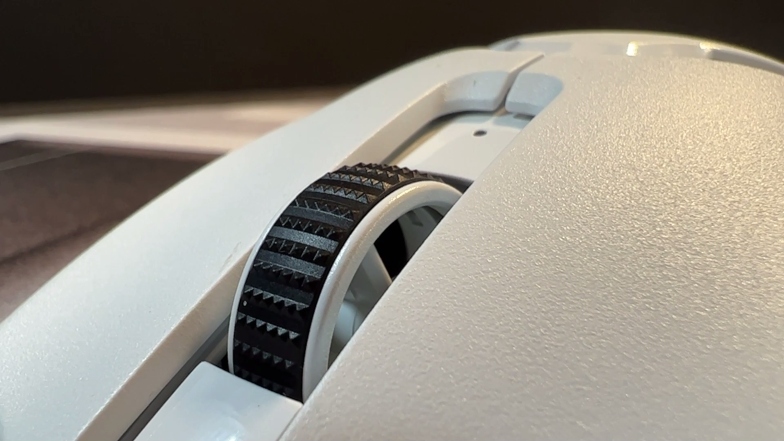 It feels like I haven't reviewed a mouse with a poor scroll wheel recently. More often than not, manufacturers have done a good job recently in this department and I'm thankful for that. I do miss complaining about rigid notches and squeaky wheels though – just a little bit.
Anyway, the scroll wheel here is perfect. The notches are great and consistent, the mouse 3 click works great, blah blah blah. Good stuff.
Performance
Wireless performance is fantastic. With the provided USB adapter, you can have the dongle close or far away from the mouse without issues.
Razer's Hyperspeed wireless is advertised to be 3 times faster than the closest rival, and although I have no way to fact-check that bit of info, it does feel like it.
Battery life is great – 80 hours promised. It's not exactly a surprise considering there's no RGB, but it's a good number nonetheless. The USB-C port is universal as well as the included cable, so you can use the cable for other things or use other USB-C cables that you have for the mouse.
The cable is paracord, and the port that it runs into on the mouse sits deep inside so it stays out of the way even if you have to use the mouse while charging. It's a good build overall.
I mentioned earlier that the PAW3950 sensor included here is, at the time of writing this, new and exclusive to Razer. Well, it supports up to 30,000 DPI and boasts improved acceleration and accuracy.
It is also able to track on glass 2mm (or more) thick, and you can change the lift-off distance and landing distance with it. Feature-packed, basically, and I love it.
In-game, the mouse performs excellently. I played Apex for an extended period of time and it was really comfortable to use throughout, even though I used the palm grip.
I would say that gamers that prefer the claw grip will absolutely love the in-game performance of the Razer Viper V2 Pro. That coarse coating helps with the grip too.
Software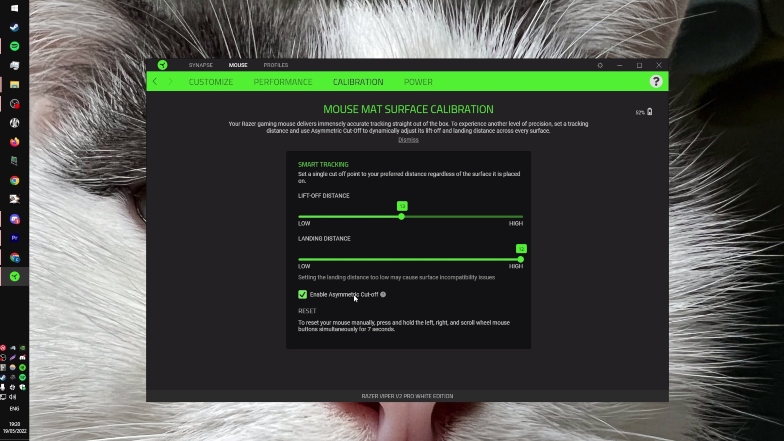 Moving on to my least favorite bit of reviving gaming mice, Razer's software is called Razer Synapse, and it is the default software for the Razer Viper V2 Pro.
I have a long-standing, fierce dislike for the software, mostly because you have to make a Razer ID or face the recoverable shame of being called a "guest". On your own computer, on your own mouse, that just happened to cost almost 200 bucks.
Anyway, it's a good thing that you don't have to use the software if you don't want to. It's got that going for it.
In all fairness though, the software itself is clean and intuitive. You can adjust all the basics the first time and make a clean break that ensures you never have to come back.
Cost
At the time of writing, the Razer Viper V2 Pro costs $149.99, £149.99, or €160 depending on where you're buying it from. You can usually get it for less on Amazon.
It's definitely on the higher end of the price scale, but still, a fair price compared to the alternatives on the market that offer similar quality.
Verdict
Without skipping a beat, I would highly recommend the Razer Viper V2 Pro to anyone that has the budget for it. It's as perfect a gaming mouse as you can hope for, regardless of the metric you use for judgment.
I mean, the mouse has industry-leading hardware inside of it, a clean design on the outside, fantastic battery life, and a 2-year warranty.
It's a slam dunk in the face of the competition, although the Logitech Superlight and Fnatic Bolt both offer similar levels of quality. Still, the Viper V2 Pro has set a standard, and the market must respond accordingly.