To keep DiamondLobby free to read, this post may contain affiliate links. Learn more
The Basilisk line is one of Razer's most popular series of gaming mice. In fact, it is one of the most popular series of gaming mice, period. We've been getting Basilisk mice since 2017, with the main attraction being their interesting shape and overall design.
I say it's interesting because it looks very much like Logitech's G502 which was first released back in 2014. The G502 is the Razer Basilisk's biggest competitor, and that design definitely has something to do with it.
For this Razer Basilisk v3 Pro review, I tested Razer's latest effort to outshine the Logitech G502 line. With the release of the Logitech G502 X Plus, the Basilisk v3 Pro should be looking to overthrow the new sheriff in town. Let's see if it does.
Price
While we're still on the topic of competition, the Basilisk v3 Pro is priced at $159.99 when not on sale, exactly the same price as the Logitech G502 X Plus at launch.
It's a steep price for a gaming mouse, and the jury is still out on whether the G502 X Plus is worth it. However, a few mice in that price bracket have managed to justify the cost, so the Basilisk v3 Pro may just do the same.
If you're looking for a deal, Amazon might have one here.
Specs
In the box, there is the Razer Basilisk v3 Pro mouse, a USB receiver and a receiver extender, USB covers, a Speedflex USB-A to USB-C cable, and the usual user documentation.
The key specs of the mouse are as follows:
| Size (mm) | Weight | Sensor | Polling Rate | DPI | Switches | Handedness | Software | RGB |
| --- | --- | --- | --- | --- | --- | --- | --- | --- |
| 130 x 75 x 43 | 112g | Focus Pro 30K Optical Sensor | 1000Hz | up to 30000 | Razer Optical Gen-3 | Right-handed | Synapse | Yes |
From the dimensions and weight shown in the table, you can tell that is mouse is far from lightweight. 112g is 5 grams more than the G502 X Plus weighs, and almost double what the Razer DeathAdder v3 Pro weighs.
It's a theme of Razer Basilisk mice though, so if you're familiar with the line and you're considering buying the v3 Pro, then you probably don't care how chunky it is.
The sensors and switches are Razer's own customized set. A review of the Razer DeathAdder v3 Pro showed that they are more than capable, so it is natural to expect the same to be the case here.
Design
Shape
Razer decided to go down a different route with the new DeathAdder design, changing its shape to be more similar to the Viper v2 Pro mouse and potentially annoying some diehard DeathAdder fans in the process.
Fans of the Basilisk line will be happy to know that they've stayed true to the roots, keeping the familiar palm-grip-friendly shape. It's pretty comfortable to hold with that grip, even for extended periods.
If you prefer other grip types such as the claw or fingertip, the mouse might feel a bit too large for convenience. It might also be less comfortable for people that have small hands.
Coating and Feet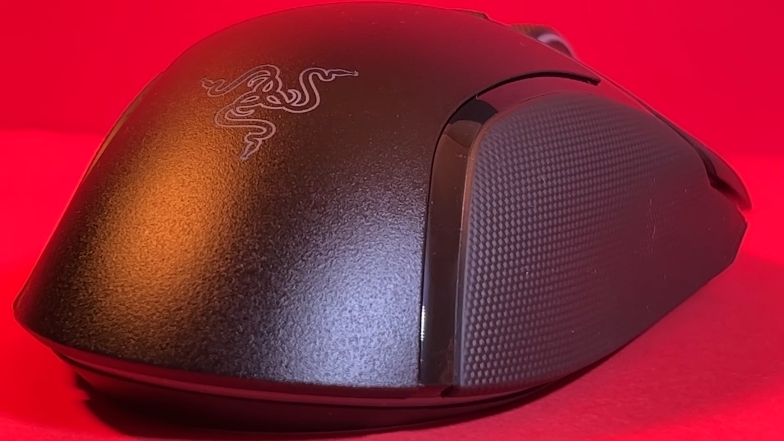 Continuing in known fashion, the coating of the Razer Basilisk v3 Pro is a coarse matte texture. Compared to the Logitech G502, it does not feel as nice to the touch, and the rubber grips on the sides only make things worse in my opinion.
They have the tendency to attract dirt and let it build up over time, and you may find yourself having to wipe down your mouse more often than you'd like. The rubber grips don't make the mouse more comfortable to hold anyway, so I'm not sure why Razer keeps using them.
The mouse feet are 100% PTFE – not that I'd expect anything less – and they provide a smooth gliding experience on desks and mousepads.
Special Features
There are two features that I found quite interesting in the Razer Basilisk V3 Pro mouse. The first is a fancy wireless technology that is sold separately from the standard package.
With this tech, you can swap the puck out on the bottom of the mouse and slap it on a dock instead of using the included USB-C cable for charging.
For me, this feature is one I would rarely ever use because you can't use the mouse when you're charging on the dock. However, I can see how other people may enjoy it – it's fancy.
The second feature is way more interesting and practical – an unlockable scroll wheel.
Essentially, you can press the scroll wheel on the V3 Pro and toggle between "tactile" and "free spin". The "tactile" mode is useful when you're doing some slow scrolling, while "free spin" is ideal for faster scrolling.
The tech behind this is not exactly ground-breaking. In fact, I think it was in the previous version of the Basilisk, but I did not get a chance to test that. However, Razer's inclusion of an advanced setting in the Synapse software makes things a bit more interesting. I'll get to that later.
Buttons and Switches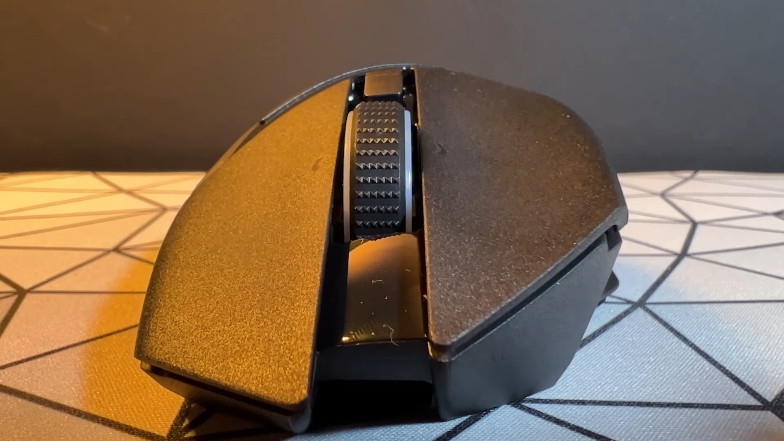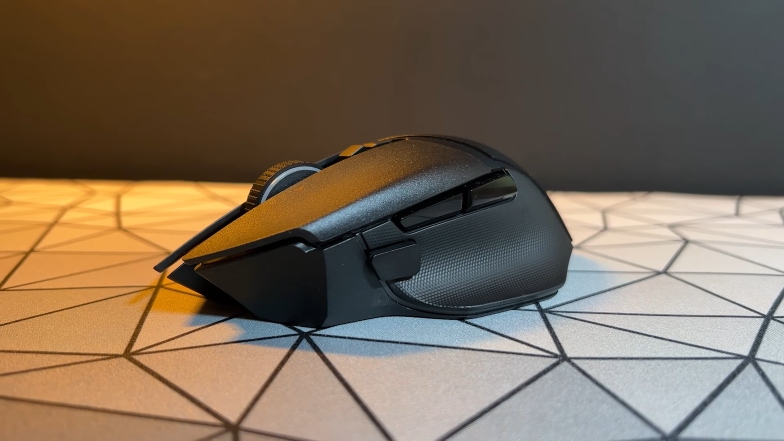 The Razer Generation 3 optical switches were alright on the Viper V2 Pro and the DeathAdder V3 Pro, but there was a "hollowness" to them that I did not like. It affected the experience of using them negatively as they did not feel as premium as I would've liked.
I chalked it down to the fact that those mice had a lot of real estate but were also lightweight, and that assumption has been justified by how the same switches feel on the Basilisk V3 Pro.
The Basilisk is heavier than the Viper and the DeathAdder, and that extra heft gives it more structural integrity and stability in comparison.
It's probably just the pedantic observations of someone that's reviewed one too many mice though, so the average user may not notice the difference that I'm trying to point out.
The switches are rated for 90 million clicks, so durability sounds like it's on point.
The scroll wheel of the mouse is decent to use, outside of that really cool feature that it has. There were situations where I noticed some rattling which raises questions about build quality, but that might be explained by the moving parts inside the unlockable wheel.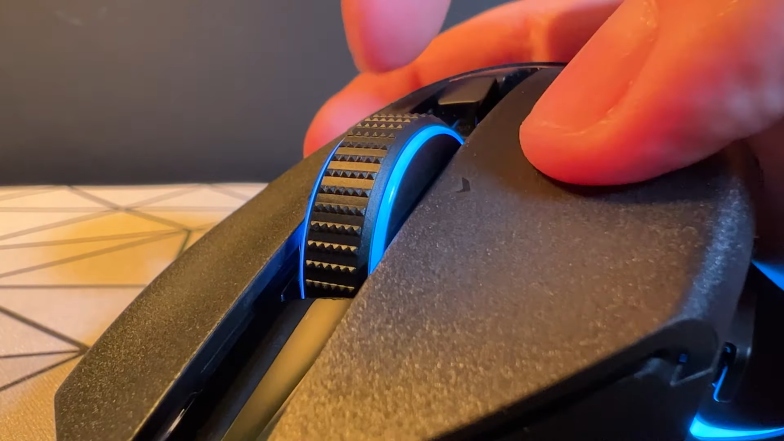 There are extra buttons that you can use to move the wheel left or right for extra binds and functions, and these can also come in handy.
Performance
Based on my experience during testing, I would say that the gaming performance of the Basilisk V3 Pro is just okay.
A number of things made the mouse uncomfortable for me much quicker than I would like, and on top of that list is the rubberized sides. I tend to grip my mice very tightly, and that grip strength certainly does not go well with the mouse's design.
That 112g weight also makes it a tad harder to move around. It feels too big for fast-paced gaming, and this would be an issue if you're into competitive gaming where there is a lot of fast-paced action.
However, if you're strictly a casual gamer that mostly plays games with low intensity, it might not mean so much.
For all its drawbacks, I will give credit to the idea behind the unlockable scroll wheel as I found some pretty neat use cases for it during gameplay. It saved the experience a bit for me, but I still wouldn't call the overall performance "great".
Software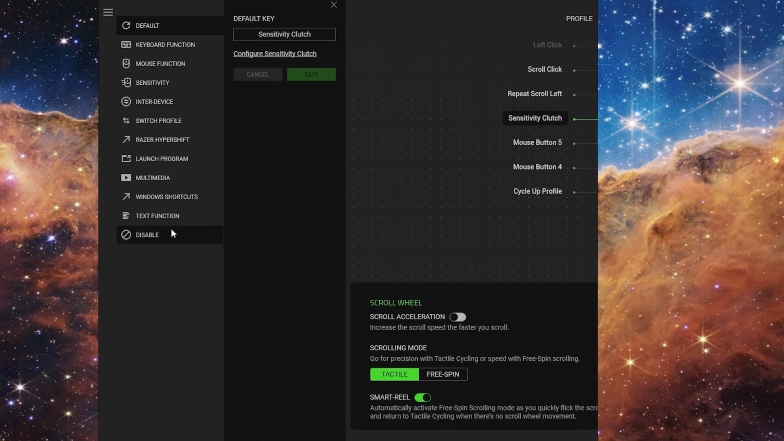 Razer's Synapse 3 software is available for the Basilisk v3 Pro. You can reprogram all the buttons on the mouse in there, including the profile button that's on the underside of the mouse.
You can also set a Hypershift button that lets you program a secondary layer of commands for more inputs, which is pretty neat if you like deep customization.
There is a "Smart-Reel" feature in the software that you can use to set the mouse to automatically switch between the two modes of scrolling based on your scrolling speed, and you can also enable "Scroll Acceleration" to increase the scrolling speed the faster you scroll.
Other basic functions such as adjusting DPI, polling rate, RGB lighting, and lift-off distance are all in there as well. If you're not the type to mess around with advanced settings often, then you might just want to adjust your preferred basic settings from the start and then uninstall the software.
Verdict
Even if you're typically not a Razer Basilisk fan, some of the features in the Basilisk V3 Pro might be convincing enough to change your mind. I will admit, they are pretty useful and not gimmicky (mostly), and it shows Razer's dedication to offering a little more than the competition.
So, would I recommend it? Personally, I think it depends on what you need the mouse for. If you're a casual gamer that also does work that involves a lot of scrolling, then you would have a good reason to pick this up.
The scroll wheel, despite its average performance for gaming, offers something that you don't see every day with that "unlockable" feature. It just feels like one of those things that you don't know how much you need until you actually begin to use it.
On the other hand, if you're a competitive gamer that plays a lot of intense games, then you might want to look for an alternative that is better engineered toward competitive gaming. A lightweight mouse such as the DeathAdder V3 Pro or the Viper V2 Pro would likely serve you better.