To keep DiamondLobby free to read, this post may contain affiliate links. Learn more
Pulsar released a pretty good mouse with the Xlite and improved it with the Xlite v2. It is safe to say that the company did itself many favors with that positive foray into the gaming mice market, and the success of those mice raised expectations for this one.
When the X2 was released in August 2022, the Korean company was only two years old in the gaming peripherals industry, but it is moving quickly and will continue to do so if they keep making excellent gaming gear.
In this Pulsar X2 mouse review, I put the latest sequel to the test with a series of build quality and performance assessments. The standards have been set very high, so it was very interesting to see if Pulsar would not struggle with consistency.
Price
You can buy the Pulsar X2 wireless mouse from the manufacturer's website for $94.95. At the time of writing, it's not available on third party stores.
Specs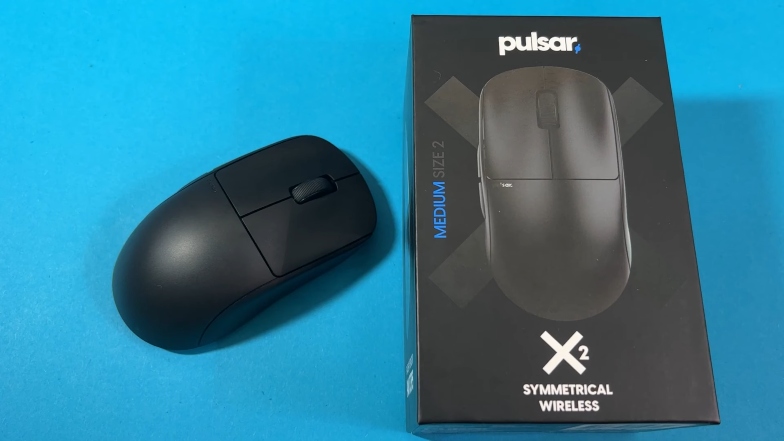 The package of the Pulsar X2 wireless mouse is pretty bare. It includes the mouse itself, a wireless receiver and its adapter, and a USB-C cable.
For the sake of clarity, my review unit was the regular-sized version. There's a smaller X2 mini that is just too small for me but might be a good alternative for other people.
The dimensions and other key specs of the Pulsar X2 are listed in the table below:
| Size (mm) | Weight | Sensor | Switches | DPI | Polling Rate | Handedness | Software |
| --- | --- | --- | --- | --- | --- | --- | --- |
| 120 × 63 × 38 | 56g | PAW3395 | Kailh GM 8.0 | up to 26000 | 1000Hz | Ambidextrous | Yes |
From the dimensions, you can tell that even my "larger" review unit is a small mouse. It only weighs 56 grams too, which puts it firmly in that "lightweight mouse" category that the Pulsar Xlite V2 also belongs to.
Design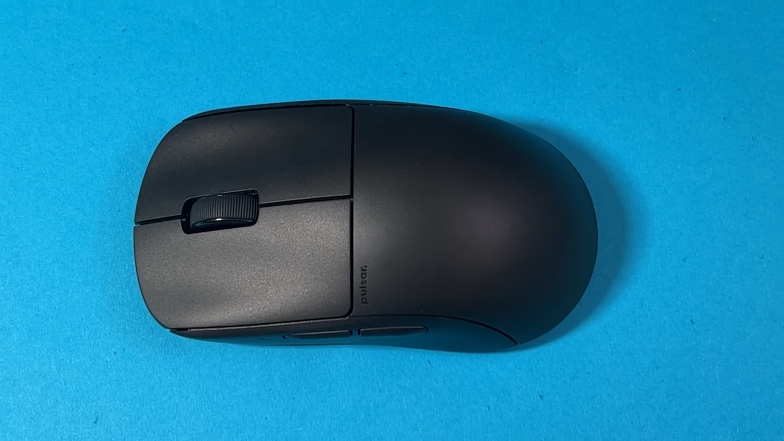 The design language of the Pulsar X2 mouse is definitely one of its highlights. Pulsar has gone with a different approach from what they did with the Xlite series, particularly with the shape of a mouse.
Shape
While the Xlite was an ergonomic mouse with a design inspired by the Zowie EC-2 mouse, this one is closer to the likes of the Fnatic Bolt and the Zowie S1.
The mouse has a hump that falls further back and a symmetrical design that makes it most suitable for people that use the claw or fingertip grips. If you use the palm grip, it gets a bit tricky and you may find yourself inadvertently reverting to the claw grip to get a more comfortable grip.
This is because when you use the palm grip, there isn't anywhere else on the mouse that gets much contact from your fingers apart from your palm. Considering the fact that the majority of palm grippers use that grip for close comfort, it's not ideal for the Pulsar X2 mouse.
Since there is no overhand on the buttons, there is some extra support for your digits bar the pinky which, in my experience, would just hang loosely on the side. It's really not a big deal, but it's worth noting.
Coating
The coating of the mouse is an aesthetically pleasing smooth matte reminiscent of that of the Logitech G Pro Superlight mouse.
The feel of the coating on the Pulsar Xlite V2 was nice as well, but I could not appreciate it as much as I do this one because of all the holes that ran along the body of that mouse.
There are no holes here, so you can really get in there and run your palm across to get a feel of that smooth coating. One would think I'd appreciate that, but I actually sort of missed the holes as they helped my usually-sweaty hands breathe.
Feet
When you flip the mouse over to reveal its underside, you're greeted with pure, white-dyed PTFE feet. They're averagely thick with slightly rounded edges, and they have a smooth glide across surfaces.
Pulsar has made small indents next to the feet for ease of removal if you want to swap them out, and there's a sensor ring that helps to keep CPI consistent when vertical pressure is applied.
There are a couple of holes across the underside of the mouse, but you don't have to worry about trapping dirt inside them unless your mousepad somehow breeds dirt.
Buttons and Switches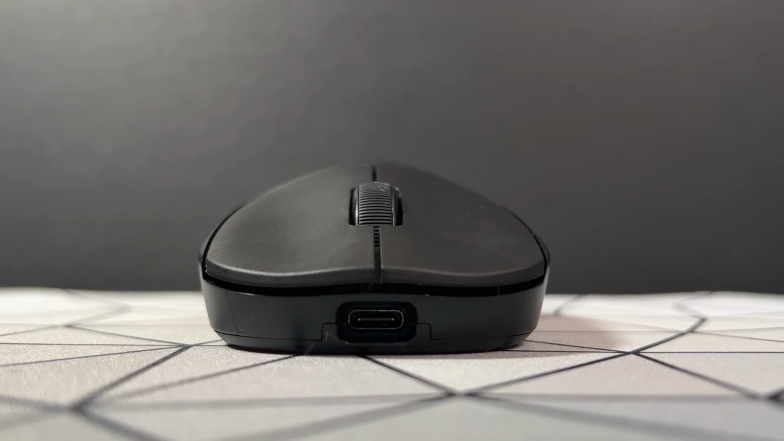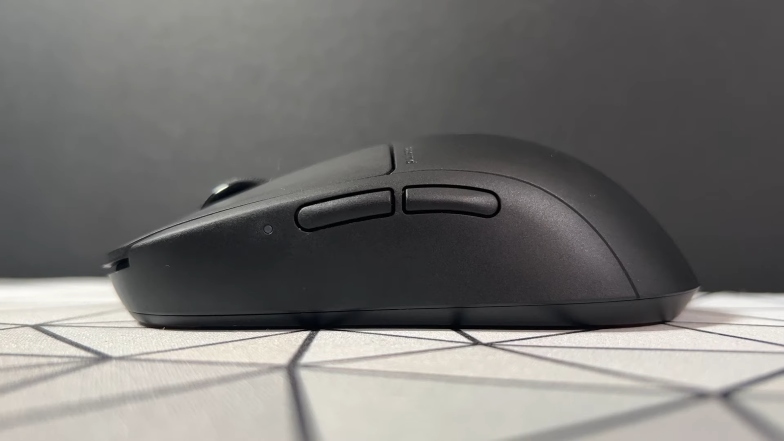 The Kailh GM 8.0 switches need no introduction at this point – they're one of the most reliable switches you can get in the gaming mice market in terms of how they feel and their consistency.
The buttons feel very high-quality. There's no pre-travel to them at all, and the side buttons are well-placed and easy to reach.
I'm a big advocate for having a very good scroll wheel on any mouse, and the wheel on the X2 is my definition of perfect.
Scrolling with it feels amazing, and the notches feel very nice and prominent. The mouse3 button's click is super consistent as well and has an overall good feel to it.
The DPI and power toggles are on the underside of the mouse, and they feel high quality and easy to switch.
In terms of the build quality of the buttons on this mouse, this is arguably the best that I have tested, and I've tested plenty!
Performance
The 3395 sensor is newer than the 3370 variant that shipped with the regular Pulsar Xlite and the Xlite V2, and it supports up to 26,000 DPI.
Playing with the mouse felt fantastic overall. Despite the shape not being what I would typically choose for personal use, I found it to be very comfortable, and my fingers felt more relaxed with the claw grip.
I also tested the mouse while it was plugged in to charge to see if there was a drop in the experience, but it was still fine to use in that state.
I did slap the superglides on my review unit which would have affected the performance of the mouse feet, and I highly recommend anyone using the mouse to try it out as well.
There's a "motion sync" feature that can be turned on inside the software. The feature adds a minor motion delay of less than 1ms that helps to improve your tracking, but it's hard to tell how much of a difference it really makes in practice.
For context, my tests were mostly conducted while playing Apex and Path of Exile.
Software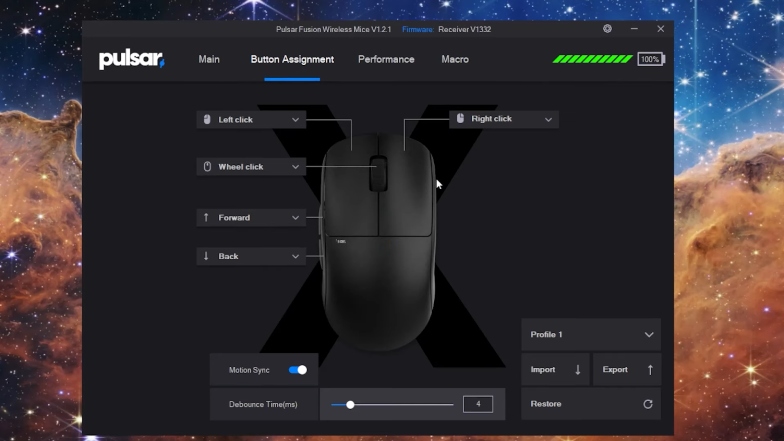 The software that comes with the mouse is Pulsar's Fusion, and it supports all the basic functions and settings that you may want to adjust such as DPI, pilling rates, angle snapping, life-off distance, etc.
There's a DPI light indicator on the left side of the mouse as well, and you can set that to always be on.
There's not much to do with Fusion if you're only going to adjust your settings once. You can uninstall and reinstall it anytime, so there's no reason to keep it when you've set up your preferred settings profile the first time.
Verdict
For its price, the Pulsar X2 wireless mouse is one of the very best gaming mice that you can get. I would go as far as saying that it competes favorably against some other mice that are considered to belong to a higher tier and are priced higher than this one is.
The build quality of the mouse is top-notch, and its performance is excellent in all areas. If you're worried about the shape not being what you prefer, I would recommend purchasing it from a retailer with an efficient returns policy and trying it out before you make a decision.
If Pulsar keeps setting new standards of quality going forward, then their gaming mice will continue to be the ones to beat.