To keep DiamondLobby free to read, this post may contain affiliate links. Learn more
If you're a Razer fan that falls into the older gaming demographic, you may remember when the first DeathAdder model was released by the company back in 2006.
To jog your memory and to make you feel old, that was the same year that the Nintendo Wii and Twitter were released too.
More than a decade and multiple editions after, Razer launched a new variant of the DeathAdder mouse line. Is it worth the Essential name, though? We're about to find out in our Razer DeathAdder Essential Mouse Review.
Specs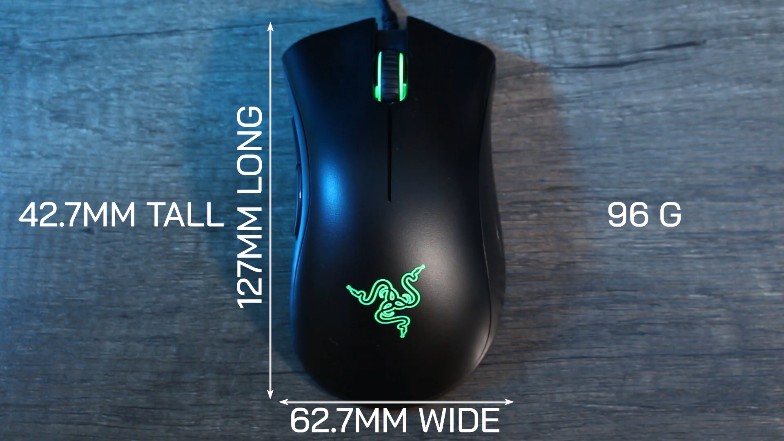 On the mouse body, you get five programmable buttons and Razer mechanical switches. The key specifications of the mouse itself are as follows:
| Size (mm) | Weight | Sensor | DPI | Cable Type | Cable Length | Port Type |
| --- | --- | --- | --- | --- | --- | --- |
| 127 × 62.7 × 42.7 | 96 grams (excl. cable) | PAW3328* | up to 6400 | Braided Rubber | 2.1m | USB |
*assumed as the sensor is somewhat hard to find
Design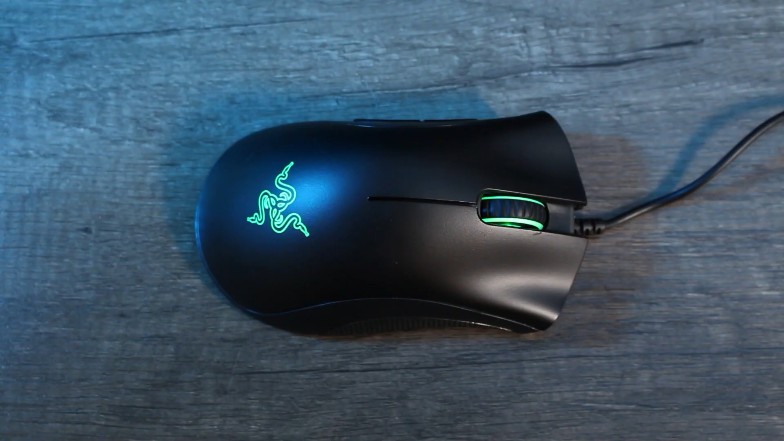 Shape
Razer found a design language that works and they have stuck to it, so thumbs up for that. The Razer Essential mouse has a very ergonomic design that is most suitable for people that prefer the palm grip. You can comfortably use other grip types, but I think the palm grip works best for this particular shape.
I've tested a lot of mice that worked great with extended hours of playing, but I'd usually have to adjust my grip every now and then so it doesn't get uncomfortable. That is not the case with this model – there was no need for adjustments.
I usually hold my mice with my pinky and ring finger sitting on the right side in a natural position, off the mousepad, so the slight curvature on the mouse 1 and 2 buttons here favors my grip. However, if you set your fingers very differently, you may struggle with fitting them around said curves.
There's a curve on the left side of the mouse for the thumb to rest in too, and it is quite smooth and comfortable. There are no sharp areas, so the sides were not digging into my palm.
Coating
This aspect of Essential's design is where it shows that this is a budget model. If you've tested the more premium alternative mice that Razer has produced, you'll notice that the coating here is softer, which makes it more prone to sticking during extended use.
There's a half-hearted attempt to provide more grip with a gimmicky bit of textured plastic on the sides of the mouse, but it does not really do anything to help the situation.
Buttons and Switches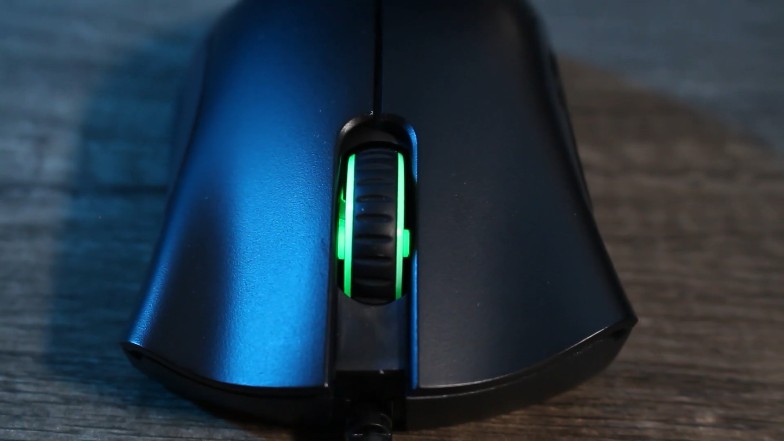 Mouse 1 & 2 Buttons
These are the buttons that a gamer uses the most, so I was really particular about them when testing the model. For the most part, they're crisp, consistent, and do a pretty solid job.
My grouse here is the fact that there's quite a bit of noise when you click any of the two buttons all the way down. There's the sound of the switch itself, and then the noise of the button hitting the shell or bottoming out – it's not very pleasant.
It's more of an "experience" problem, not a performance issue, so you may care less about it than I do, but I think it's worth noting.
Other Buttons
The side buttons are well-sized, easy to reach, and consistently efficient. That noise is here too though, making the mouse sound very hollow when the switch is triggered. Again, not a performance issue, but worth noting.
More importantly, the lack of a DPI button IS a real issue. You can't change DPIs on the Razer Essential without software which is really disappointing.
Scroll Wheel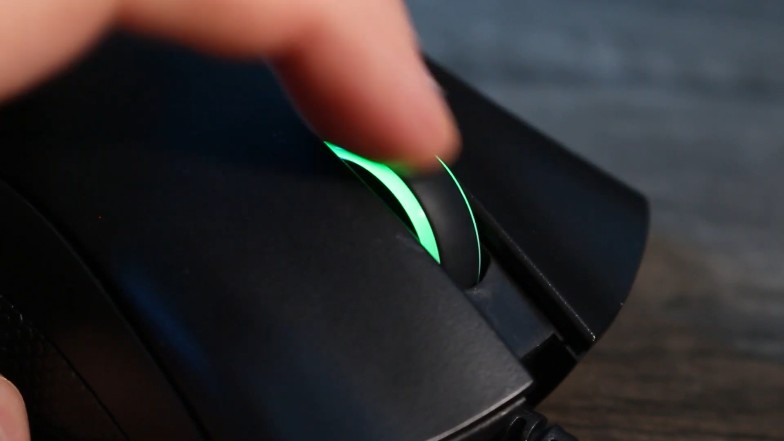 The notches on the scroll wheel are a bit soft, but the wheel performs well generally. You may occasionally get stuck in between a notch, but not often enough for it to get annoying.
The switch itself is great, consistent, and requires minimal force to trigger, so that makes up for the soft notches to some extent.
Feet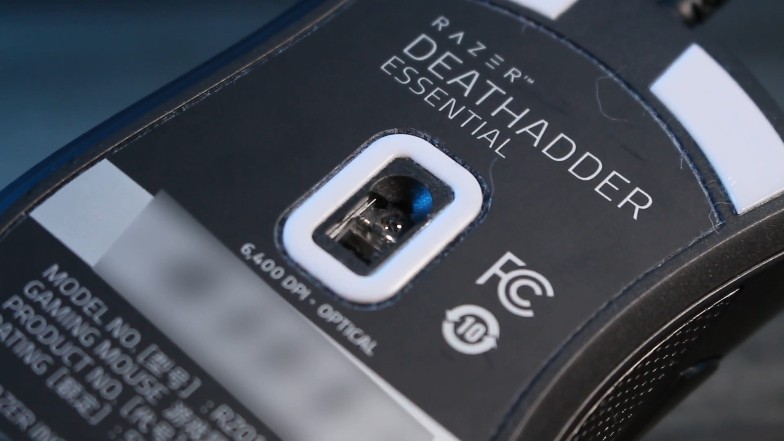 Again, this is a budget device, so concessions had to be made in certain areas of the build. There's no fast PTFE here, the feet here are standard plastic. However, there's a sensor ring which is always great to reduce the risk of dragging.
These aren't the smoothest mice feet on the market by any stretch of the imagination, but they'll do for the price point.
Cable
You get a standard braided cable here. If you don't have a bungee, you might need some tape or blue tack to stick it down.
On the bright side, the entry point of the mouse is a bit high up, so there isn't any immediate dragging, which is nice.
Software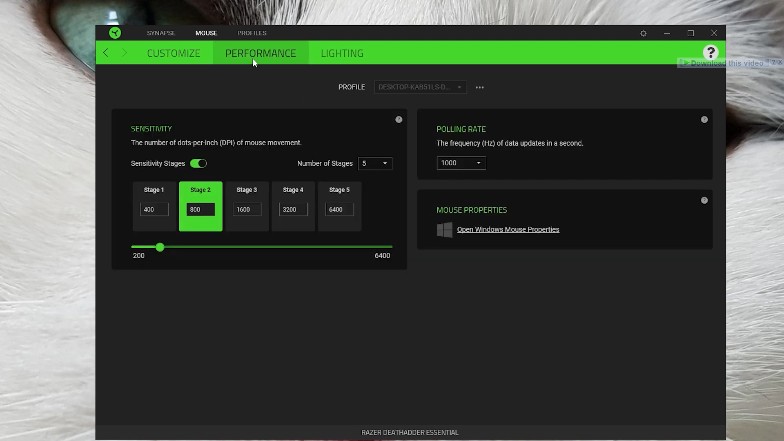 The inability to change DPI with the mouse itself means that you'll almost certainly have to install the software required to do so. The pre-set DPI of 1600 is fine, but many will want to change that.
Razer Synapse is the software that's needed. Personally, I think it's garbage, and the fact that Razer almost forces you to create an account and login doesn't win them any cookie points either.
Apart from changing the DPI, Synapse allows you to change the lights on the Razer logo. You can change its brightness, have it breathe, or turn it completely off.
Once you get in there and change whatever you need to, you can just close the software and forget it ever existed.
Sensor
The sensor here is hard to find, but I'm going to go out on a limb and say it's the PixArt PAW3328. I've had zero issues with performance, and no cases of spinning out or any other odd behavior.
It's a pleasant surprise for a low-budget mouse like this one, actually. I keep expecting it to malfunction but it just doesn't.
In-game Performance
For all its demerits, the Essential has really managed to spring a few surprises in key areas. I went into in-game testing hoping that it would at least not disappoint too much, but it did not disappoint AT ALL.
I tried 400 and 1600, but I settled at 800 DPI and had no issues at all. A decent bulk of time on Apex was really enjoyable, and the mouse never jittered at any point.
As I usually do when testing gaming mice, I used this one on my Vaxee PA Outset pad, and it worked great on that as well. A solid performer all-around here.
Dirt Check
The most likely parts of the mouse to collect dirt are the lines that go around it. They are pretty thin too, so a wipe down might not be enough to clean them out.
Cost
Here's the best part of the Razer Essential – the price. The mouse will set you back around $20 to $29.99, £23, or €24 to €30 at the time of writing.
If you're lucky enough to find one at the lower end of the price scale, such as on Amazon, then it's a massive bargain.
Verdict
I'm very impressed by what Razer has managed to achieve with the budget here. I like the feel, functionality, and variation of options that premium mice bring to the table, but offer me a good bargain any day and I'll snatch your hand right off.
With that said, I can comfortably recommend this mouse. It's fantastic for the price and great for gamers on a budget or anyone looking for an inexpensive gift to give a gamer.
If you can look past the sticky coating, and you should, the Razer Essential is a no-brainer.
Razer DeathAdder Essential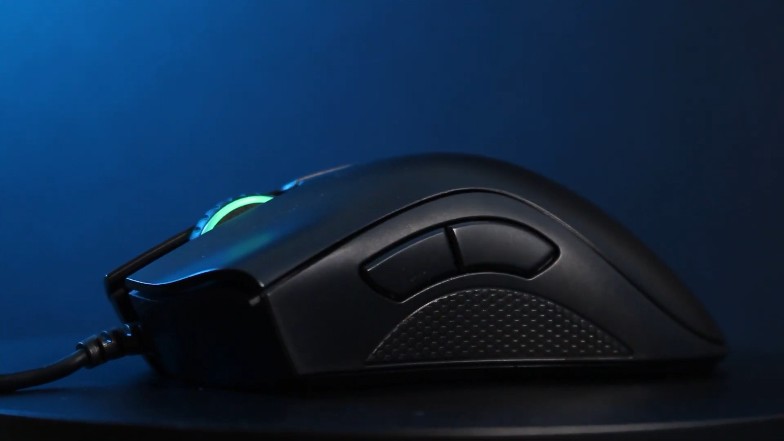 The Razer DeathAdder Essential is the cheapest Razer gaming mouse for a reason. It's great value but falls short on quality.
Pros
Incredibly low price
Reliable performance
Braided cable
Cons
Sticky coating
Software is required
Plastic feet