Blade and Sorcery is a built-for-VR medieval fantasy video game from the team at WarpFrog. Shortly after its early access release, the game became one of the most hyped titles among VR games.
Blade and Sorcery features fun combat where players can choose their fighting style, stance, and weapons. If you're looking for more games like Blade and Sorcery, chances are that you're a fan of games with physics-based combat, VR options, and medieval fantasy elements.
We've got you covered with this list. Here are the best 8 games like Blade and Sorcery, including some similar VR titles and some titles that do not feature VR but still have very similar elements that Blade and Sorcery fans will love.
Hellsplit: Arena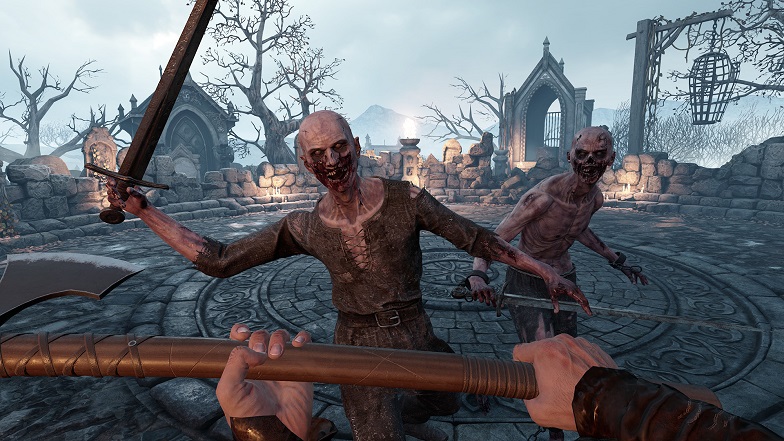 Hellsplit: Arena is a VR horror-slasher from the team at Deep Type Games. It came out in 2019 and has since attracted a solid fan base. The game is set during the late Middle Ages. There are also a lot of undead creatures wandering around the world, and you'll be one of them.
There have been many VR games released that claim to feature realistic physics, but they actually don't. Hellsplit: Arena provides the same quality physics as Blade and Sorcery, which makes it a delight to play. You'll be fully immersed in the game once you start playing.
You will become one with your character in Hellsplit: Arena. The character will precisely mimic your movements. The game might not have the best story, but that's not really its main focus. Its strong point is the addictive combat that will make you complete the entire campaign. Fans of Blade and Sorcery will adore this game.
The graphics featured in the game are astounding. It's rare that you see a VR game that has a combination of excellent graphics and entertaining gameplay. There are many different environments you'll explore in the game.
The sound effects are also top-notch and add a lot to the overall experience.
There is a hub-like area in the game with a castle that represents your base. Players are able to access different arenas from the castle. Each time you enter an arena, you will receive a performance rating. You'll get gold rewards based on your performance.
Until You Fall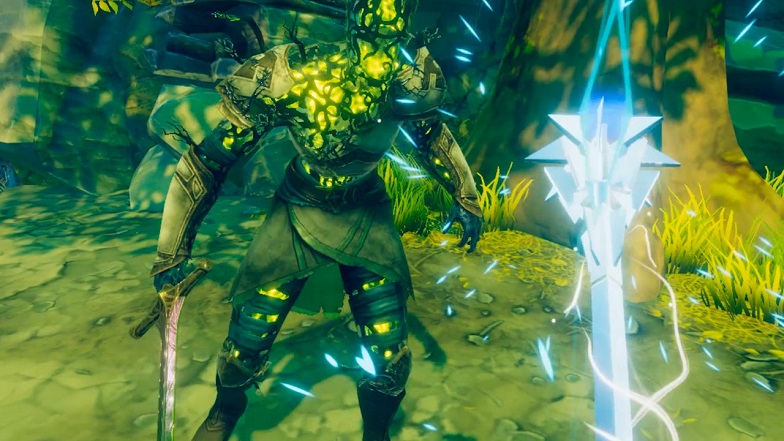 Until You Fall is a hack-and-slash roguelike video game that came out in 2020. The game comes from the team at Schell Games. It features incredible graphics, an outstanding combat system, and a wide variety of weapons.
The combat system is very smooth. During the development of the game, several gameplay mechanics were scrapped because it was slowing down the combat. The team made an effort to make combat the main focus and after seeing the final product, there's no doubt that was the right decision.
Until You Fall is notable for its difficulty. Don't expect to easily progress in the game. You'll need to practice to make it through levels with numerous enemies.
You will also need to be very quick with your hands. A moment before an enemy attacks, you'll see an indicator showing where your weapon needs to be for a successful block. In some cases, you'll even have to physically dodge attacks.
The game features intense physical gameplay. Players have to stay active if they want to stay alive. However, this isn't too big of a challenge considering how good the soundtrack is. Let the music take over as you engage in rhythmic combat with enemies.
As you clear out levels in Until You Fall, you'll receive randomized rewards. Players can also rely on permanent upgrades to make them stronger and make it easier to defeat enemies. Apart from that, you can choose from a huge selection of one-handed and two-handed weapons.
Zenith: The Last City
Zenith: The Last City is a massively multiplayer online game built for VR. It came out for early access in January 2022. At the time of writing, the game is still in early access and it's from the independent company Ramen VR.
The concept behind Zenith: The Last City doesn't introduce a lot of new features in the world of MMO games. However, it does translate the best of what massively multiplayer online video games have to offer into virtual reality.
The gameplay is pretty simple. You encounter NPCs with question marks over their heads that will give you missions you go on to gain experience. This is a tried and tested approach in the world of gaming that never gets old. But when you combine it with immersive VR, it feels like it's something completely new.
Most of the good VR games that have come out so far have only got a single-player mode. Zenith: The Last City is the perfect game to play if you're looking to explore virtual reality with others. You can meet a lot of new friends in the online co-op mode. Players even have the option to join guilds and parties.
There are six different classes you can pick for your character. As you complete missions in the game and gain experience, your level will increase. This will allow you to learn new abilities and use better equipment. The combat system in Zenith: The Last City is very fun and intuitive.
Fans of games like Blade and Sorcery will get a kick out of this game.
The Solus Project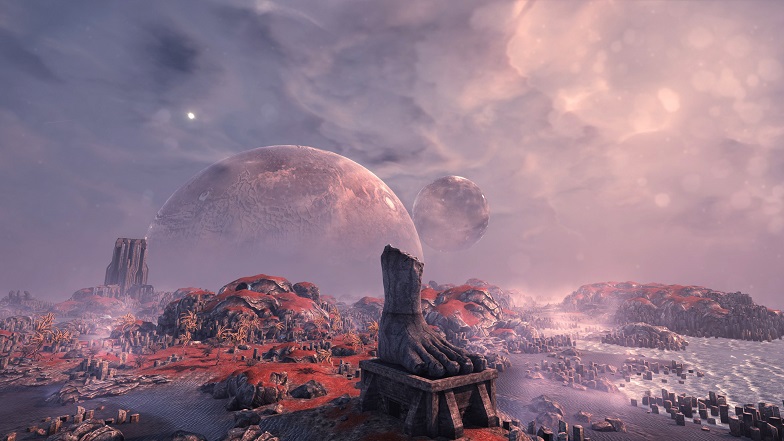 The Solus Project is a space survival video game from Teotl Studios and Grip Games. It has a first-person perspective and features only a single-player mode.
The story takes place in the future. Earth is in ruins and the only remaining humans are near Pluto with a fleet of spaceships. The only hope for humanity is for these people to venture through space and find everyone a new home.
As the player character, you are one day sent on a mission to find a planet to colonize. As you're searching for a place to create your colony, you unexpectedly crash on an alien planet called Gliese-6143-C. After the crash, you need to do everything in your power to survive while overcoming a number of challenges.
Like in most survival games, you will have to monitor your body temperature, hunger, and thirst to survive. You'll also need to be careful of weather conditions that may bring you harm. Weather conditions may include storms, meteors, tornadoes, and extreme climate. There is a lot to explore on planet Gliese-6143-C, including structures made by a mysterious alien civilization.
There are ten large handcrafted levels you'll get to explore in The Solus Project. This includes five large caves/tombs and five islands. The game follows a linear story and puts a focus on exploration. Apart from surviving, players have to solve many puzzles to make progress in the game.
This is one of the best games like Blade and Sorcery if you want to move away from the medieval setting, and it's one of the best games set in space for VR game fans too.
Boneworks
Boneworks is without a doubt one of the most recognizable VR video games. It comes from the team at Stress Level Zero. The game came out in 2019 and features first-person shooter, puzzle-platform, and action-adventure gameplay elements.
The story follows Arthur Ford, a security director who one day sets out to achieve immortality through a virtual world called the Voidway. Half-Life serves as one of the main inspirations for Boneworks, which you can clearly see when you start playing the game.
The game features advanced experimental physics mechanics, which fans of games like Blade and Sorcery will love.
Players get the option to interact with all objects in the world. What you'll be able to do with each object depends on its weight, material, and size. It will be easy to pick up small objects like hammers, but it will take an effort to move large items like barrels.
The combat system is also notable. Players can use a wide selection of weapons to defeat enemies. You'll have clubs, guns, axes, energy weapons, hammers, mystery tools, and swords at your disposal. The game uses inverse kinematics to simulate your virtual body based on the location of your hands and head.
Aside from combat, players will need to solve puzzles from time to time. As you clear levels in Boneworks, you'll find countless rewards. Some of the rewards include additional content you can unlock.
There's also a sandbox mode in the game that allows you to experiment with all of your unlocked items. It's a lot of fun to play with.
Hard Bullet
Hard Bullet is a physics sandbox VR video game from the team at GexagonVR. It came out for early access in 2020 and has since gathered a lot of attention. The game is mostly adored for its fun modifiers and insane tools that take you on a unique and violent journey.
There are a lot of different weapons you can use in Hard Bullet. These include hammers, police batons, rusty pipes, wrenches, pistols, rifles, and shotguns. The action gameplay elements in the game are on another level. You have the option to steal from the holsters of your enemies, perform one-handed shotgun reloads, and perform various attacks.
Hard Bullet is not for the faint of heart. The game features gore and dismemberment. When you engage in combat with hostiles, expect to see blood fountains very often. The fast-paced combat in Hard Bullet will keep you on your toes and make you feel like you're in an action movie.
You will have worthy enemies in the game. Each of them has multiple weapons they can use. If you get too close to them, they might perform special attacks that will hurt you. On the other hand, you're free to grab them with your hands and use them as shields.
The sandbox mode allows you to utilize your creativity to the fullest. You can combine various items to make unique weapons and machines. Players can even use any in-game asset as bullets. It's one of the best sandbox games on Steam.
Karnage Chronicles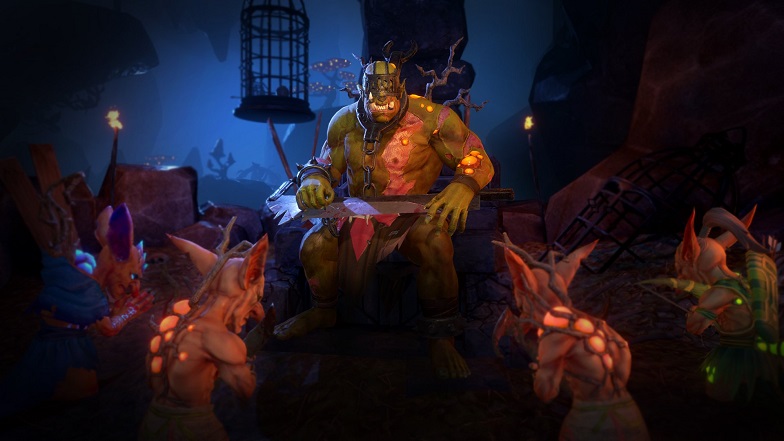 Karnage Chronicles is an action RPG built for VR and set in a fantasy world, made by the team at Nordic Trolls. It came out in 2020 and features both single-player and multiplayer modes. The online co-op mode supports up to four players.
The number of enemies in the Karnage Chronicles world as well as the damage they deal scales depending on the number of players in the game.
The story follows a character named Murkwraith, who is an undying knight that is cursed to eternal servitude. You must escape from this curse, and you'll start by clearing dungeons with countless enemies. The graphics in the game are great and make the crawling experience more enjoyable.
There are some nice details featured in the gameplay. For instance, when you get hit with arrows you will have to pull them out of your body. In every dungeon, you'll have to solve puzzles or fight bosses aside from killing many standard enemies. Each dungeon you crawl through will have hidden treasure and random loot.
In Karnage Chronicles, you're given the choice to be either an archer or a warrior. Each of the two classes can utilize both melee and ranged combat styles.
The Walking Dead: Saints & Sinners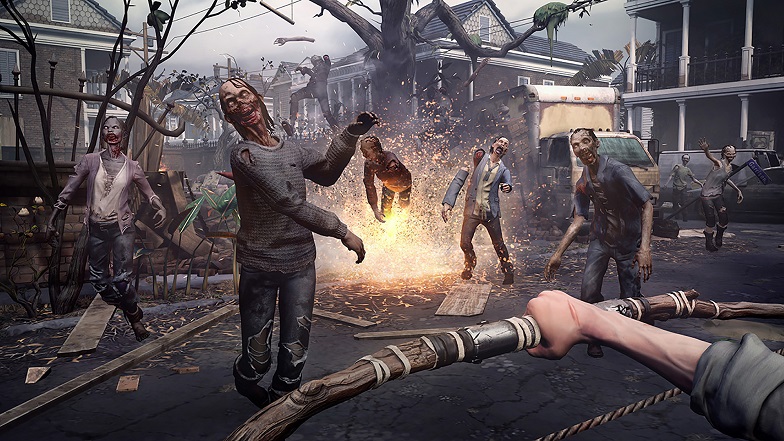 The Walking Dead: Saints & Sinners is a VR survival first-person shooter horror game that came out in 2020, made by the team at Skydance Interactive. When it comes to gameplay and functionality, there aren't a lot of games that can compare with this title.
The story takes place in New Orleans following a zombie outbreak. You take on the role of a character known as the Tourist. You have the option to decide which gender the character will be.
As the Tourist, you one day learn about an old military bunker filled with weapons and supplies. With zombies roaming around across the whole city, you have no other option but to find this bunker.
The Walking Dead: Saints & Sinners shows what a VR survival game should look like. When you play the game, you'll often get excited and scared at the same time. The decisions you make in the game will affect the story.
Since this is a survival game that takes place after a zombie outbreak, you can expect to often find yourself in life-threatening situations. Famine, disease, and the undead make it hard to navigate this harsh world. To survive and gather valuable resources, you'll need to complete quests given to you by different survivors and factions.
This is one of the best zombie games on Steam for fans of Blade and Sorcery to check out.