Smash Bros pioneered the casual fighting game genre. It's a brilliant mix of platforming and fighting, with a huge roster of iconic characters.
It's perfect for casual gaming parties and for competitive tournaments, too.
Smash Bros is a hard act to follow in the world of gaming, but there's a decent selection of games like it if you're looking for a new title to add to your library. If you're on the hunt for more, we've got you covered with our selection in this list.
Here are the top 10 games like Super Smash Bros that you need to know about.
1. Slap City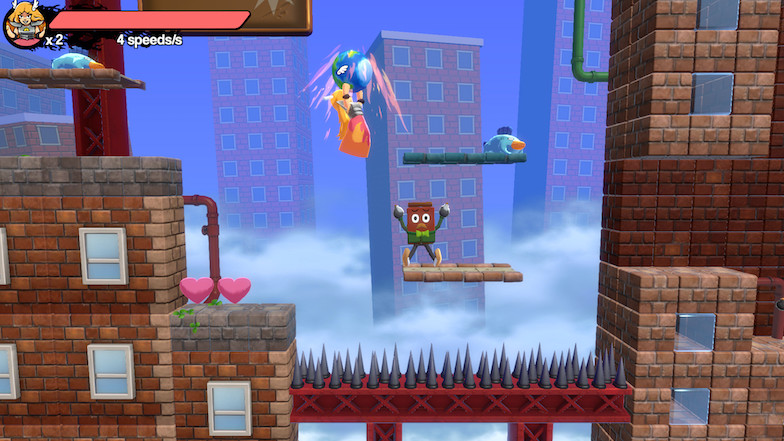 | | |
| --- | --- |
| Developers: | Ludosity |
| Release Date: | September 17, 2020 |
| Find at: | My Nintendo Store and Steam |
| Multiplayer: | Local PvP, Online PvP, Local Co-op, Online Co-op |
Slap City is a platform fighter game that can replicate the chaos and fun of SSB. As you probably gathered from the name, Slap City focuses on characters slapping each other.
Slap City has a diverse roster of characters with creative movesets. Each has normal attacks and specials that make them distinctive.
The gameplay is what you'd expect from most games like Smash Bros. You need to slap your opponents and knock them off the stage.
The game takes place in various locations around Slap City. There's a good mix of regular platforming levels and creative, challenging levels.
Slap City has modes for casual games and training. There is also Ranked mode, which is great if you want to test your skills against the best.
2. Arms
Arms%20is%20another%20major%20fighting%20game%20from%20Nintendo.%20While%20Super%20Smash%20Bros%20is%20one%20of%20their%20biggest%20games%20to%20date,%20Arms%20is%20a%20more%20modern%20entry%20into%20their%20roster%20of%20games.
This%20game%20doesn't%20have%20the%20typical%20Smash%20Bros%20gameplay,%20but%20it's%20still%20worth%20checking%20out.%20It%20is%20a%20solid%20fighting%20game%20that%20offers%20an%20accessible%20introduction%20for%20new%20players%20and%20plenty%20of%20depth%20and%20challenge%20for%20experienced%20players.
There%20are%20no%20combos%20or%20platforms%20to%20deal%20with%20in%20this%20game.%20
Instead,%20the%20unique%20mechanic%20to%20be%20aware%20of%20is%20that%20every%20character%20is%20boxing%20with%20spring-loaded%20arms%20and%20other%20projectiles.%20This%20makes%20for%20some%20silly%20and%20fast-paced%20battles.
If%20progression%20is%20important%20to%20you%20in%20fighting%20games,%20you'll%20be%20happy%20to%20know%20that%20there's%20a%20great%20Ranked%20mode%20in%20this%20game%20and%20a%20thriving%20competitive%20scene.
%20%20%20
3.%20Rumble%20Arena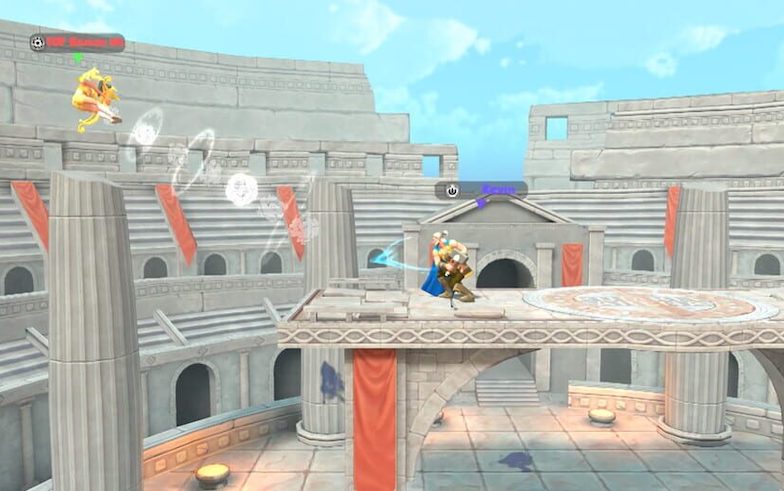 | | |
| --- | --- |
| Developers: | Rekall Games |
| Release Date: | November 1, 2018 |
| Find at: | Steam |
| Multiplayer: | Online PvP |
Rumble Arena is a crossover game like Super Smash Bros that brings in characters based on legends and Gods. It's another 2D fighter with platforming elements that feels a lot more laid back and accessible than Smash Bros.
The biggest selling point for this title is the variety of creative moves that characters can use. There aren't as many heroes as SSB, but there's a decent roster and each character has a powerful special attack.
Rumble Arena has online matches where you can compete in both Ranked and Friendly games. It also features Team Battles that add a bit more chaos to the proceedings.
There are some truly interesting arena designs in this game.
Rumble Arena is available on a wide range of platforms. If you're on the hunt for a Smash Bros alternative that you can play on mobile, this is the game for you.
4. Shovel Knight Showdown
Shovel Knight is an indie gem and stands out from the crowd as one of the most interesting platforming games to come out in recent years.
The developers took this game to new heights by releasing Shovel Knight Showdown, a Super Smash Bros-esque platform fighter with a heap of iconic heroes.
There are 20 characters from the original game, each with their own unique moves.
There are standard modes to enjoy in this game, and some more interesting modes like event matches, too. Event matches make the game even more chaotic and fun.
Unlike most other games like Smash Bros, there's a fantastic story mode in this game. The campaign is rich and includes a story for every character.
5. Super Smash Land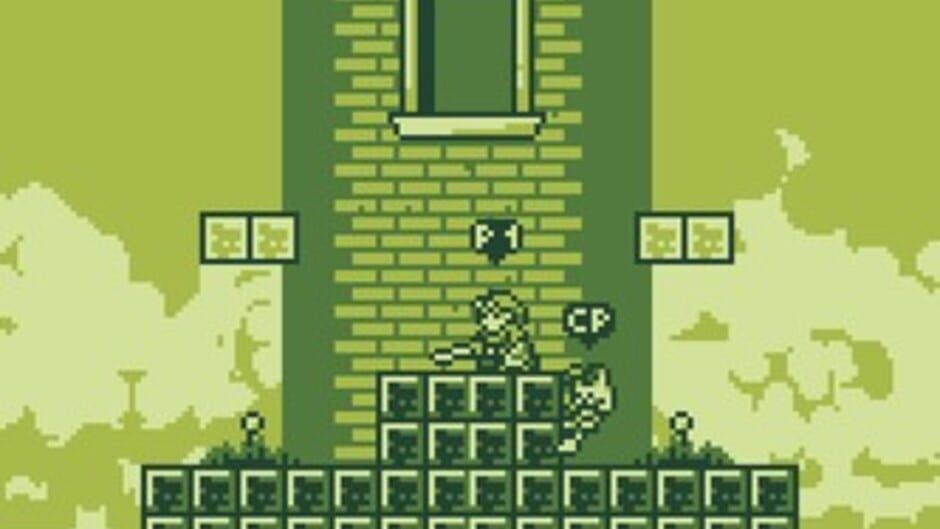 | | |
| --- | --- |
| Developers: | Dan Fornace |
| Release Date: | 14 de setembro de 2011 |
| Find at: | Their Official Website |
| Multiplayer: | PvP |
This title is quite different to the others on this list, but it's an absolute must-play for any SSB fans. It's a fan-made game that comes from Dan Fornace, the creator of Rivals of Aether.
This game aims to recreate the magic of the original Super Smash Bros, and it feels like a classic game that could've existed on the Game Boy.
The game has six playable characters, including some newcomers. They include:
Mario
Link
Kirby
Pikachu
Vaporeon
Mega Man
It's a decent roster of characters, and they're all fun to play as.
Smash Land has a few great modes to pick from, including Arcade mode, Endless Fights, and Versus. In each, you can compete against other players or AI enemies
There are new stages in Super Smash Land, alongside Game Boy interpretations of Smash mainstays like Hyrule Castle.
6. Brawlhalla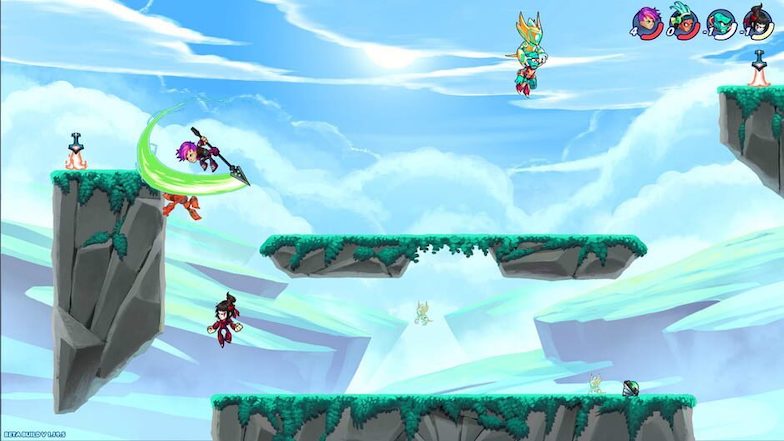 Brawlhalla is a crossover fighting game from Ubisoft.
The roster includes a mix of original characters and characters from other games and franchises, such as Street Fighter, Lara Croft, Kung Fu Panda, and Steven Universe.
The crossover potential in Brawlhalla puts Smash Bros to shame in places! It's available on a huge variety of consoles and mobile stores, and it's free to play as well.
Brawhalla features simplified Smash Bros style gameplay with platforms and a damage meter. It's more accessible than most games like Super Smash Bros tend to be, but it still offers plenty of challenges and even eSports tournaments for experienced players.
This game has developed a cult following over the years, but even still, it's fair to say that it's quite underrated. It's worth checking out if you're a Smash Bros fan.
7. Rivals of Aether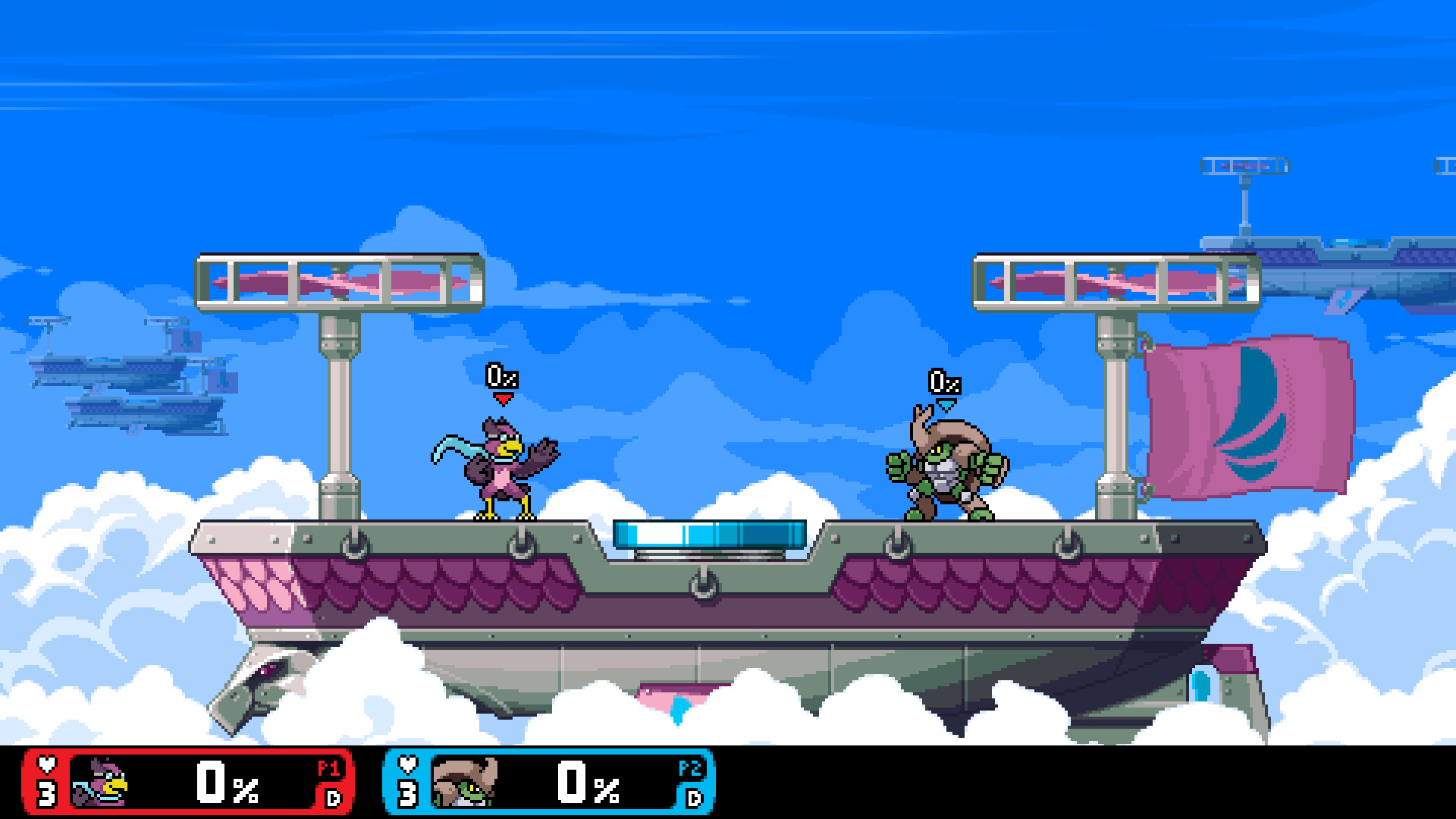 | | |
| --- | --- |
| Developers: | Dan Fornace, Aether Studios |
| Release Date: | March 28, 2017 |
| Find at: | Steam |
| Multiplayer: | Online PvP |
Rivals of Aether is an indie game that encapsulates the best bits about platform fighting games. It can be played by up to four players, making it an ideal party game.
The characters in this game take inspiration from the elements, such as fire and water, and there are some crossover characters from other franchises too.
If eSports and competitive play are your priorities when you pick out fighting games, you'll be happy to know that this game has a massive competitive scene.
With a rich set of moves for every character, smooth mechanics, and a variety of stages to play on, what's not to love? This game is a must-play for any Super Smash Bros fan.
8. Nickelodeon All-Star Brawl
Nickelodeon All-Star Brawl is a game that did a lot better than people originally expected it to. It's a surprisingly deep and intricate game, with brilliant mechanics and a great roster.
This game is fast-paced and chaotic, with lots of unique character moves and interesting stages to play on. There are regular updates, with developers consistently listening to fans and adding in requested elements, like voice acting.
There are a few clunky elements in this game, but on the whole, it does play nicely. The mechanics are simple to pick up and the visuals are decent.
If you're looking for more games with a SSB vibe that offer a faster style of play, this is the ideal game for you to add to your library today.
9. Brawlout
Brawlout is an exceptional platform fighting game.
Up to four players can play this game, meaning that it's a great party game to take with you to your next games night.
In Brawlout, damage is scored as a percentage. A higher score makes it easier for other players to knock you off the platform, and there's a good variety of both normal and special moves.
Interestingly, characters cannot block in this game and there aren't many characters who can grab. This puts the focus on combos and strategic play.
There's also a Rage Meter that players need to pay attention to for launching special attacks.
There is a decent roster to pick from here, mainly featuring indie heroes. For example, you can find characters from Dead Cells, Yooka-Laylee, and Hyper Light Drifter.
There's a decent eSports scene for this game, too. The tournaments are a lot of fun to watch and there's a thriving competitive scene.
10. Multiversus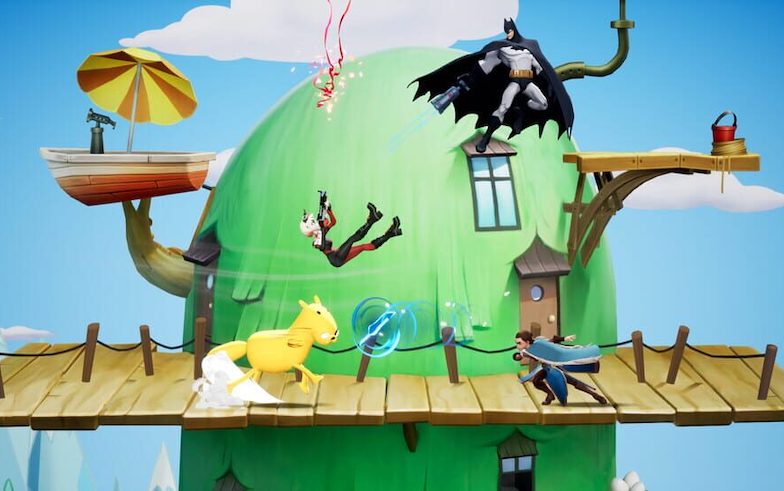 | | |
| --- | --- |
| Developers: | Player First Games |
| Release Date: | 2024 |
| Find at: | – |
| Netcode: | Rollback |
Multiversus is a stellar platform fighter with a lot of characters to pick from.
The roster includes characters from Game of Thrones, Steven Universe, and even Batman. Every character has a unique set of moves and they all feel powerful in their own right.
This game is free to play, and there are regular updates and patches to look forward to.
The gameplay is very close to Smash Bros, but it deserves credit for its creativity. There are some truly fantastic moves and combos, with one highlight being Tom and Jerry who actively fight each other and consider other enemies a mere nuisance.