7 Games Like Infinity Blade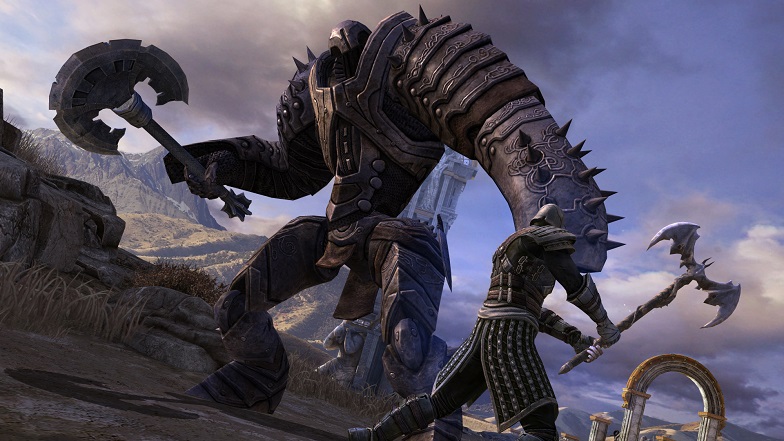 Image credit: Epic Games
Infinity Blade is without a doubt one of the most legendary iOS games ever released. Available in both single-player and multiplayer modes, it drew in a huge audience and managed to become the fastest-grossing app on iOS after it was released. Infinity Blade was also the first ever iOS video game to run on Unreal Engine.
It took a team of twelve people around five months to finish the game. At the time, what they managed to create in less than half a year was remarkable. The game was praised upon its release by both critics and fans.
The video game turned into a trilogy but in December 2018 it was removed from the App Store because it was difficult to update any of the three installments for newer hardware. Since you can't find Infinity Blade on the App Store anymore, here are some similar games that you can enjoy.
Severed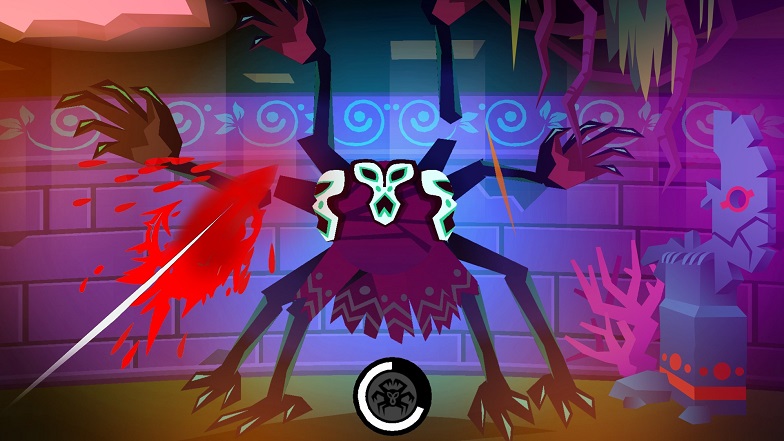 Severed is a game with unique artwork that will take you on a journey through a scary world where you will encounter many weird monsters, dark secrets, and challenging puzzles. The game is available on iOS but you can also play it on PlayStation Vita, Nintendo Switch, Wii U, and Nintendo 3DS. Severed was developed by Canadian company DrinkBox Studios. Renowned for its soundtrack, the game won an award at the Canadian Videogame Awards for Best Musical Score.
You will go through the game as a one-armed girl named Sasha who wakes up in a weird world and goes on a mission to find her family. Your surroundings are somewhat familiar but you also barely recognize where you are. It seems like you're in your home, but it's a twisted version of it.
Shortly after you wake up, you encounter Death who tells you that you can find your parents if you set out on a journey. Death gives you a sword and you start exploring the world you're in. Make your way through various dungeons to be one step closer to finding your family.
The game is notable for its combat mechanics and gives you countless opportunities to master both defensive and offensive techniques. Remember how you start off the game with only one hand? Well during combat you can actually sever body parts of your opponents and use them. This will grant you new powers that will come in handy as you make your way through the game.
When you're not participating in combat, you will be met with various puzzles that you will have to solve to avoid danger. Some of the puzzles are time-sensitive, which means you'll need to use your wits quickly to solve them.
Not only is Severed filled with fun combat mechanics and a variety of monsters, but it features a beautifully designed environment that will make your experience even more enjoyable.
Eternium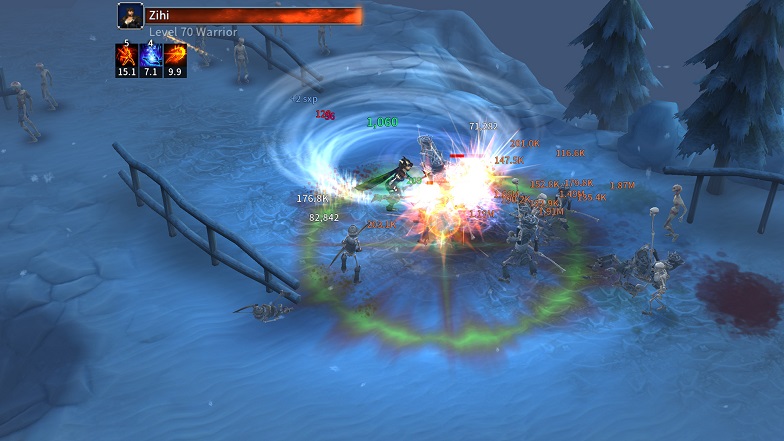 Eternium is a hack and slash game developed by DreamPrimer SRL and released in 2021 for both iOS and Android. It was a massive success upon release, having been downloaded more than ten million times on both platforms combined. There is also an early access version available for Windows on Steam.
If you're into hack and slash RPGs you'll immediately notice that one of the biggest inspirations behind Eternium is Diablo. The developers were able to bring that charming Diablo essence and bring it to mobile, which is something almost nobody managed to do successfully before them.
Eternium is free for both Android and iOS. Although in-app purchases are available, they're completely optional. It's worth noting that 90% of Eternium players never spent a dollar on in-app purchases. If you don't like paying for in-game currency with real money, you can earn it by completing quests and defeating monsters.
You have three options when you start playing Eternium. You can be a bounty hunter, warrior, or mage. You also have different weapon classes like swords, staffs, axes, and even guns. The guns are a fun addition and without a doubt are an ode to the RPG classic Torchlight.
The game is rich in every way, from the story and the combat to the variety of weapons and skills provided. The music adds to the impressive ambient and the special effects are quite impressive. Intended for lovers of classic RPG games, Eternium has become successful by giving the fans exactly what they've been searching for.
Horn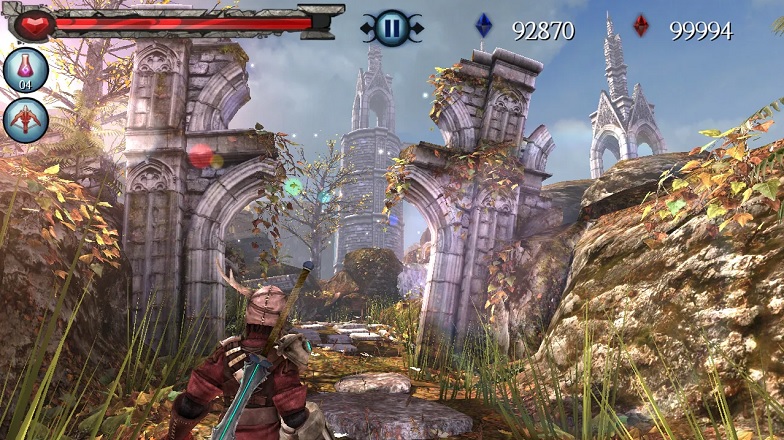 Infinity Blade started a trend by becoming the first iOS game developed on Unreal Engine. It also raised the bar for mobile games by setting a high standard when it comes to graphics and game mechanics. It didn't take long for other studios to follow suit and create their own unique games with extraordinary graphics and exciting gameplay.
Horn is one of the games that became a great alternative for people who already spent too much time playing Infinity Blade. Horn was developed by Phosphor Games Studio and released two years after Infinity Blade. Inspired by games like Fable and Zelda, Horn will take you on an incredible journey through a fantasy world filled with gorgeous scenery and challenging objectives.
In the game, you take on the role of a young blacksmith apprentice who finds out all humans were transformed into immortal and soulless stone creatures. Your main objective is to restore balance to the world and bring people back to their original form.
As a blacksmith apprentice, you have the gift of forging weapons with which you can break the mysterious curse that turned people into stone creatures. You have to fight your way through numerous monsters and solve puzzles to complete objectives. The warm and witty characters in the game make the experience even more fun and are sure to make you form a connection with them.
If you enjoy RPGs but don't have the habit of playing video games on your phone, you should give Horn a try. It will most likely leave such a good impression on you that you'll play it to the end. The game is arguably more engaging than some of the big-budget releases in the previous years. You can find Horn on the App Store.
Stormblades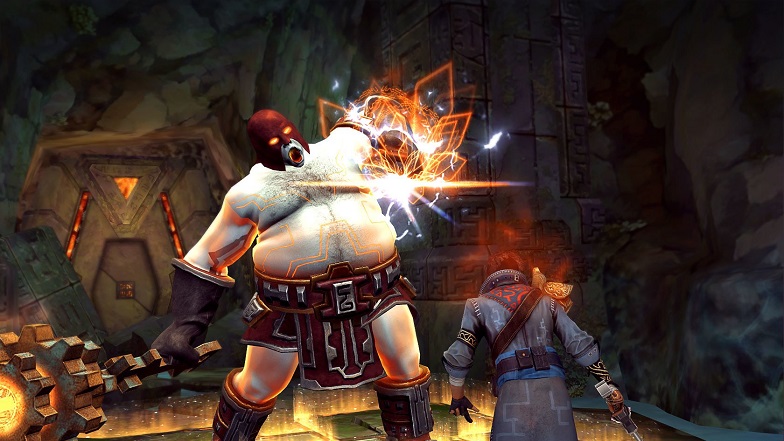 If you're looking for a game that's incredibly similar to Infinity Blade in every way, you should check out Stormblades. The game was developed by Kiloo and was for five years available only for Android and iOS. Since 2020, it is also available on Steam for Windows.
The inspiration Infinity Blade had on Stormblades is obvious when you start playing, and that's not a bad thing if you really enjoyed the former. What Stormblades offers compared to Infinity Blade is many more hours of gameplay. The concept behind Stormblades is much simpler in every aspect and involves a lot of monster slaying.
There is no exploration element to the game. Instead, it's a level-based system that gradually increases the challenge as you progress. For some, the game can be a bit repetitive but if you enjoy fighting various monsters instead of focusing on the story aspects of the game, this is the perfect choice for you.
As you progress in Stormblades, you have to acquire better weapons and get more potions to make it through the increasingly difficult challenges. Considering that the game is free for both iOS and Android, what players get is quite amazing. The sword slashing mechanics remain fun no matter how much time you spend playing, the animation and graphics are great, and the music is top-notch.
Unlike most free-to-play games that eventually raise the difficulty so much that they kind of force you to spend money on their virtual currency or upgrades to continue playing, Stormblades gives you a truly fun and free experience. You will be able to progress and fight tougher bosses without spending a penny.
Ronin: The Last Samurai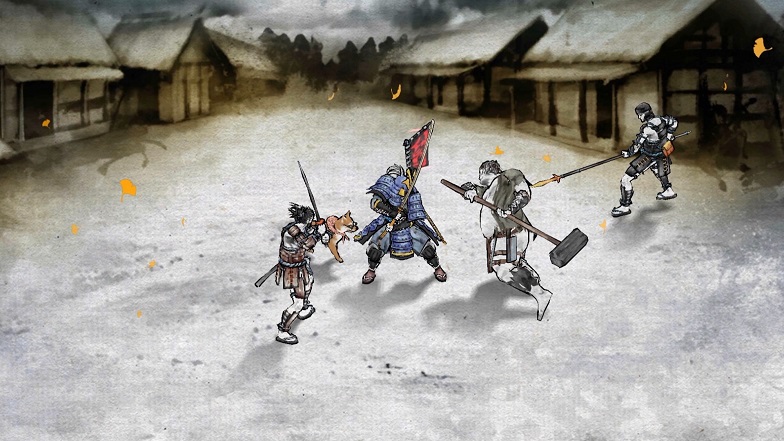 Ronin: The Last Samurai is an action game that takes the samurai concept to a completely new level with its incredible art style. Whenever you play the game, it seems like you're looking at an ink and wash painting. Ronin: The Last Samurai was released in 2021 and has since then been downloaded several million times. It is available for both iOS and Android devices.
When you start playing the game, you get a short overview of the mechanics and you immediately start fighting enemies that are attacking your village. You don't stop fighting until you avenge the death of your master, which is your main objective in the game.
Apart from being aesthetically pleasing, Ronin: The Last Samurai is also incredibly challenging. You will have to fight your way through countless enemies until you finish a whole chapter. And if you die before you clear a chapter, you have to start all over again. Due to this challenging element of the game, you have to create adequate strategies and focus on the timing and execution of your every move.
Ronin: The Last Samurai is a free-to-play game that contains in-app purchases. Whether you want to spend money on in-game currency is completely up to you. In-game purchases are not needed to enjoy the game. Their only purpose is to make the game a bit easier for you.
Goddess: Primal Chaos
Goddess: Primal Chaos is a mobile MMORPG developed by Koramgame and released in 2016. The game is available for both Android and iOS devices and has so far had several million downloads. You can choose one of three classes – warrior, summoner, or bloodline.
When you play Goddess: Primal Chaos you will take a trip through space and time to complete your main objective – save humanity. The battle mechanics are amazing and it's easy to control your character in the game. There are also a ton of quests that you can take part in.
Since it's an MMORPG, you'll have the option of playing with a lot of players from across the globe and even teaming up with them to go through multiplayer dungeons. There are also multiple PvP modes where you can test your skills against other players.
As you complete quests, you will get eggs that you can open to unlock heroes that will accompany you on your missions. The graphics are outstanding for a mobile game and they play a huge part in the overall experience.
Dark Meadow: The Pact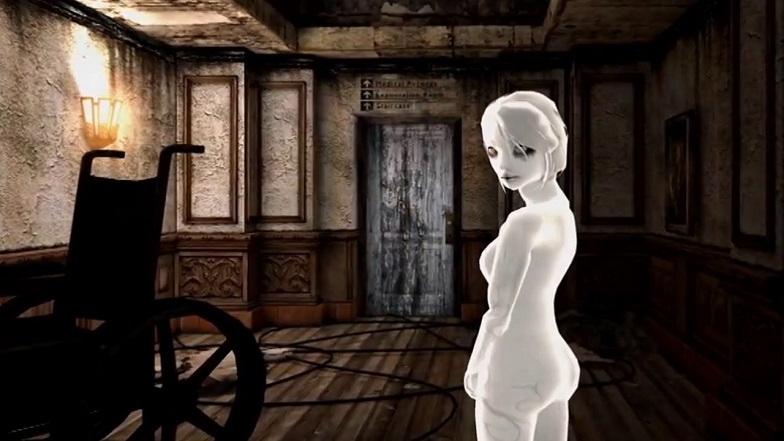 Dark Meadow: The Pact is another amazing game developed by Phosphor Games Studio (creators of Horn). When it was released ten years ago it was considered one of the best games ever made for mobile in terms of graphics. Since then obviously, games with better graphics came out but Dark Meadow: The Pact still remains popular to this day.
The game is a dungeon crawler with both awesome and disturbing horror elements that will make you addicted to playing it on a daily basis. Expect to fight a lot of different monsters and the challenges to increase over time. After a while, it will become difficult to defeat a certain enemy which is why you must find the perfect balance between attacking and dodging attacks.
You will notice that healing kits are rarely found in the game, which means that practically the best strategy is to avoid as many attacks as possible and counter only when you're sure there won't be any consequences. Meanwhile, healing kits should be used only during boss fights.
If you love a good story in a game that develops over time, you should download games like Eternium and Severed. But if fighting monsters is what you enjoy the most then Dark Meadow: The Pact is the game for you. In this game, you'll spend nearly all of your time going through corridors, slaying monsters, and boosting your strength.
The game is available on the App Store and is a great free-to-play experience with enough action to keep you wanting more whenever you put your phone down.
For more content, check out the best Medieval games for PS5.