Evolve is one of the best first-person shooter games with an asymmetrical multiplayer structure. Fans of this game will know that it's a wonderful mix of fast-paced combat, survival, and sci-fi theming. It's a blast to play.
Even the best games get old after a while, though. Are you looking for a new game similar to Evolve to play with your buddies?
We've handpicked the best games like Evolve for you to check out, covering a few genres and different themes.
Here are the best 8 games like Evolve. Have you played any of these before?
Deceit
| | |
| --- | --- |
| Genre: | Horror, First-Person Shooter |
| Developers: | World Makers |
| Release Date: | March 3, 2017 |
| Find at: | Steam |
| Multiplayer: | PvP |
Deceit is a free-to-play first-person shooter from World Makers and came out in 2017. It features only a multiplayer PvP mode. The game is available for Windows and GeForce Now.
The game follows a similar concept to Among Us, but features FPS mechanics and much better graphics.
When you start the game, you find yourself in an area with five other players. Two players have a deadly virus. The players who do not have a virus are referred to as the 'innocents'.
At the start of each game, nobody has an idea who the infected players are. If you're an innocent, you must make your way through three different zones to reach a safety hatch without being killed.
Infected have to do their best to make it seem like they're innocents too. As you'd probably guess from the name of this game, deceit is how you can become victorious. You have to master the art of lying to other players and convince them that other players have the virus if they become suspicious.
There are several important items you'll have to find within the map when you're playing Deceit. Although you'll initially have both a knife and a pistol, it's in your best interest to find other items. These items include a camera, torch, antidote, body armor, shotgun, tracker, lethal injection, and inspection kit.
There are five different maps in Deceit, including the arctic, the forest, the asylum, the lumberyard, and the manor. It's one of the best games like Evolve for fans of adrenaline-packed, scary games, and it's a hell of a lot of fun.
Dying Light
Dying Light is a survival horror video game from Techland. The company started working on the game shortly after their action RPG. Dead Island, came out. Dying Light came out in 2015 and features both single-player and multiplayer modes.
You can play Dying Light on Windows, macOS, Linux, PlayStation 4, PlayStation 5, Xbox Series X/S, Xbox One, and Nintendo Switch.
The game is set in a city called Harran where most of the population has been infected with a mysterious virus. This caused the infected to turn into aggressive zombies.
You take on the role of Kyle Crane, an undercover agent tasked with infiltrating a quarantine zone within Harran. Dying Light features fun parkour mechanics that allow you to run away from the infected. If you're not into running from danger, you can use a variety of weapons to kill enemies. There are more than a hundred weapons you can use in Dying Light.
One of the most important aspects of the gameplay is the day-night cycle. During the day, zombies will be very slow and clumsy. At night, they'll be highly aggressive and a challenge to defeat or run away from.
Dying Light includes an extremely popular asymmetrical multiplayer mode called Be the Zombie. In this mode, you can take on the role of an incredibly fast and strong mutant known as the Night Hunter and fight players who control human characters.
Dying Light is one of the best zombie games on the PS5, and fans of asymmetrical multiplayer games like Evolve will get a kick out of it.
White Noise 2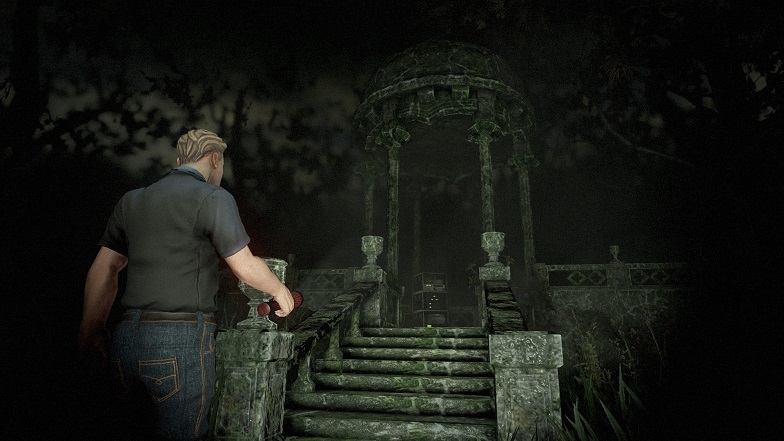 White Noise 2 is a horror video game from Milkstone Studios. It came out in 2017 to follow White Noise Online, which came out three years earlier. You can play White Noise 2 on Windows, macOS, Linux, PlayStation 4, and Xbox One.
This is a game that's best with friends. After all, it's a 4v1 asymmetrical horror experience. Four players take on the role of paranormal investigators while the fifth controls a terrifying creature.
If you're on the investigator team, be prepared to be scared more times than you can turn on a flashlight. And you'll often be turning your flashlight off and on so that you can conserve its battery as much as possible.
You won't have any map or an idea of where you should go, which is quite horrifying when a monster is chasing you.
On the other hand, playing as the monster will give you a bunch of tools that should make it easier for you to catch the investigators. You can disable all flashlights for short periods of time, teleport, and place idols that will disorientate other players.
There are multiple monsters you can control in White Noise 2. However, you'll have to unlock them by playing and leveling up. This can be a slow process as it takes a while to reach higher levels. It shouldn't be too big of a problem though since the game is extremely fun to play. If you're a fan of games similar to Evolve, you'll love this.
Left 4 Dead 2
| | |
| --- | --- |
| Genre: | First-Person Shooter, Survival Horror |
| Developers: | Valve |
| Release Date: | November 17, 2009 |
| Find at: | Microsoft Store and Steam |
| Multiplayer: | Online Co-op |
Left 4 Dead 2 is a first-person shooter video game with survival horror elements.
This game comes from Valve and it serves as the second instalment in the Left 4 Dead series. The game uses Valve's Source engine. Left 4 Dead 2 came out in 2009 and is available for Windows, Linux, Xbox 360, and Mac OS X.
The events in the game take place after an apocalyptic pandemic that turned most of the population into aggressive zombies. There are five different categories of items in the game. The categories include major medical supplies, minor medical supplies, throwables, primary weapons, and secondary weapons.
Left 4 Dead 2 features cooperative gameplay and includes five different game modes.
If you want to experience the story, you can play the campaign with up to three other players. You will control a group of survivors that must fight hordes of zombies.
You can also experience the entire campaign by yourself if you don't want to interact with other players. In this case, you'll be fighting alongside three AI survivors.
Many players find the Scavenge mode to be the most fun experience in Left 4 Dead 2. This mode allows four players to control survivors while another four play as zombies. The survivors must fill up a power generator using fuel cans found in different parts of the map while zombies attempt to stop them.
Back 4 Blood
We just talked about the latest entry in the Left 4 Dead series. Unfortunately, it came out way back in 2009. If you're looking for something similar to it but more modern, your best bet is to check out Back 4 Blood.
This first-person shooter comes from Turtle Rock Studios and came out in 2021. You can play it on Windows, PlayStation 4, PlayStation 5, Xbox Series X/S, and Xbox One. The game is a spiritual successor to Left 4 Dead.
The story in Back 4 Blood is set in a post-apocalyptic world after a parasite of extraterrestrial origin infects a majority of the global population.
Infected people become undead mutants referred to as the Ridden. You can explore the world in Back 4 Blood with up to three other players in the co-op story campaign mode. You experience the story through the eyes of human survivors called Cleaners
If you're into competitive matches, you'll be very happy with a multiplayer mode known as the Swarm. In this mode, four players control mutated Ridden, while another group of four people plays as Cleaners. The last team standing wins.
Killing Floor 2
Killing Floor 2 is a first-person shooter game with survival horror elements. The game comes from Tripwire Interactive and came out in 2016. It represents a sequel to Killing Floor, which came out in 2009. You can play Killing Floor 2 on Windows, PlayStation 4, and Xbox One.
The story takes place in continental Europe and follows the events after a failed experiment by a biotech company called Horzine. The company sought to create military clones but the project was ultimately hijacked by a researcher who released zombie-like creatures to the world.
The outbreak in Killing Floor 2 left such a powerful impact on the world that communication systems no longer work and many governments collapsed.
The creatures in the game are Zeds and they come in waves. The enemy count will gradually increase as you progress the game. Players have a range of firearms and melee weapons at their disposal.
When you kill a Zed, you will gain both experience points and in-game currency. If you perform a masterful kill, you can trigger a feature known as 'zed time' that will slow the game for a few seconds and make it easier for you to take down more enemies.
Killing Floor 2 features a multiplayer mode that allows players to play either as humans or as Zeds. Fans of games like Evolve will have the most fun with this game mode.
Dead By Daylight
Dead By Daylight is one of the most popular asymmetrical multiplayer game to date.
The game comes from Behaviour Interactive. It came out in 2016 and is available for Windows, PlayStation 4, PlayStation 5, Stadia, Xbox Series X/S, Xbox One, and Nintendo Switch. There are also versions of the game for iOS and Android devices.
The story revolves around a supernatural being known as The Entity. This supernatural being convinces different killers to sacrifice people (referred to as survivors) so that it could maintain its existence.
Dead By Daylight is a horror game where four players take on the role of survivors while the fifth plays the killer. If you're one of the survivors, your main objective is to fix five generators within the map so that you can open the exit games and escape.
You have to actively try not to let the killer catch you. You can do this either by hiding or making the killer lose line of sight when they are chasing you. You'll be able to find useful items scattered throughout the map. Items that you can find include flashlights, keys, and medical kits.
The killer must catch all of the survivors one by one and sacrifice them before they escape. You can capture survivors either by catching them when they don't expect it or by striking them with your weapon. When you capture each survivor, you must impale them on hooks to sacrifice them to The Entity.
Witch It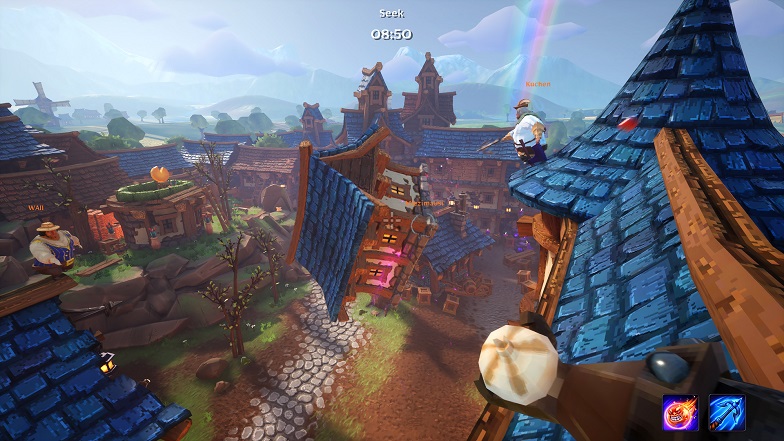 | | |
| --- | --- |
| Genre: | Casual |
| Developers: | Barrel Roll Games |
| Release Date: | October 22, 2020 |
| Find at: | Steam |
| Multiplayer: | N/A |
Witch It is an incredibly fun multiplayer hide-and-seek game set in a magical world. It's a little different to other games like Evolve at first glance, but contains gameplay and elements that will feel familiar and relevant. The game comes from Barrel Roll Games and it came out in 2017. You can play it on Windows and Xbox One.
There are many vibrant environments in which you'll play the classic hide-and-seek game with unique twists. Some of the environments include forests, villages, and islands.
Players can choose to be either hunters or witches. The main objective for hunters is to find the witches that can use their abilities to hide masterfully. Witches have the ability to disguise themselves as physical objects.
As a witch, you'll be able to cast a spell that turns you into anything from a coffin to a book. Hunters also have their own unique abilities that make it easier for them to detect and trap witches.
If you take on the role of a witch and are found by a hunter, it still doesn't mean that you'll be caught. You can still use spells to distract hunters or fly to find a new spot where you'll hide.
There are more than fifteen maps in Witch It. If that's not enough, you can construct your own map and challenge other players to a game in it. With its unique gameplay mechanics, Witch It provides endless fun to players.