A chance meeting between a Disney executive and Square Enix's Shinji Hashimoto brought about the wonder-filled JRPG series, Kingdom Hearts. Hashimoto was famous for his part as Final Fantasy's brand manager, and co-created the beloved Kingdom Hearts with Tetsuya Nomura.
No doubt, any fan of Kingdom Hearts has heard the name Nomura before. His character designs are iconic and his (somewhat convoluted) stories are engaging. Kingdom Hearts is one of the kings in the JRPG genre.
Kingdom Hearts 3 was one of the most anticipated games of the decade, and it delivered on all sides. From the gripping action combat to the cast of characters teeming with personality, the title has earned a spot in the video game Hall of Fame.
If you finished the game and want more, our list of games like Kingdom Hearts 3 has you covered. These are all JRPG titles that share similar elements. Whether it's the same story beats, just as lovable cast, or even action-based combat, these games have something in common with KH3.
Here are the top 8 games like Kingdom Hearts 3 to check out.
NEO: The World Ends With You
Available on PC, PS5, PS4, and Nintendo Switch.
Put your life on the line and battle for survival in the 'Reapers' Game'. NEO: The World Ends With You places you in a gorgeous recreation of the Shibuya district, controlling high schooler Rindo Kanade.
The first thing you'll notice is how stylized the world of TWEWY is. The game bleeds personality with every pixel, and is instantly charming. Nomura's creative genius is also behind the character designs, just like Kingdom Hearts.
Shibuya is the street fashion center of Tokyo, and TWEWY stays true to this. The game world is where fantasy and fashion converge, and is woven into the game's very identity. This alone should be a reason to give it a chance. From the baggy pants to dyed hair and the iconic jacket-hoodie combo, every character looks distinct and straight-up awesome.
If you're a huge Kingdom Hearts fan, it would actually be a huge surprise if you haven't tried out TWEWY yet. The protagonist from the first The World Ends With You game appears in Dream Drop Distance.
Coming from Kingdom Hearts, you'll find the combat in this game familiar and also refreshing. It's also action-based, party-centric, and you'll cast 'spells' in the form of pins/badges. Battles in TWEWY are much faster-paced, so if you want quick and flashy, this game is perfect.
It also has a deep leveling system, skill customization, and the parties consist of 6 members.
If you're worried about jumping into NEO without playing the other TWEWY games—don't. The story is standalone, however, the other titles are worth checking out too.
Dragon Quest XI S: Echoes of an Elusive Age
Available on PC, PS5, PS4, Xbox Series, Xbox One, and Nintendo Switch.
Without the Dragon Quest franchise, Final Fantasy wouldn't exist. That also means a 'games like Kingdom Hearts 3' list wouldn't either. The series literally created the JRPG genre.
Every JRPG has a piece of Dragon Quest somewhere in its DNA, and Kingdom Hearts 3 is no exception. Dragon Quest XI is one of the best games in the genre.
The game is also from the brilliant minds at Square Enix. That being said, Nomura isn't behind Dragon Quest's designs. Instead, it has one of the most influential manga artists ever. If you didn't recognize it from a mile away, the Dragon Ball mangaka, Akira Toriyama, is behind all the character and monster designs.
The Dragon Quest games are also full of references and cheeky callbacks to Dragon Ball. It's a cute little bonus if you're a huge fan of the anime or manga.
Dragon Quest XI throws you into the shoes of a young adventurer who discovers he is the reincarnation of a legendary hero. However, he's hunted as the world brands him as the spawn of evil.
The game features a massive world to explore, and honestly, the writing puts Kingdom Hearts 3's to shame. The story features similar themes, with light versus darkness, but adds a fresh twist.
Dragon Quest's huge cast of characters also rivals that of Sora, Goofy and Donald. The game's turn-based system is a huge change from Kingdom Heart's combat, but if you push through, there's an emotion-packed world waiting for you.
If you're open to trying Dragon Quest's more traditional gameplay, read our JRPGs like Octopath Traveler list. It has more titles that go back to the genre's roots.
Final Fantasy VII Remake Intergrade
Available on PC, PS5, and PS4.
When you played Kingdom Hearts, did you ever go: Who is that Cloud guy? Well. Now you can find out. The whole premise of Kingdom Hearts is mashing Disney films with Final Fantasy, specifically VII.
This game is a remake, obviously, of Final Fantasy VII. The original VII left a strong legacy, and gets credit for popularizing the JRPG genre in the West, selling over 13 million copies.
Final Fantasy VII Remake modernizes the game with breathtaking visuals, and action combat that resembles Kingdom Hearts. If you loved fights in that game, just wait until you play this.
Similarly to Kingdom Hearts, VII Remake has you fighting enemies in real-time, then selecting spells or using items with a command menu. This results in fast-paced and strategic battles.
What sets VII Remake apart, however, is the 'active time battle' gauge system. Normal attacks build this gauge up, which then lets you cast a spell or ability. The game also lets you control any member of the party, swapping between them whenever. This is all backed by a rich leveling system and deep gear customization.
If you're a fan of the original FFVII and action combat isn't your jam, it also offers an old-school turn-based mode. All you need to do is turn on Classic difficulty.
The biggest change from Kingdom Hearts is Cloud's edgy devil wings are missing. Don't worry, his design might be different, but the personality is still similar.
Final Fantasy VII offers a beautiful-yet-depressing cyberpunk world to explore, with a heart-tugging narrative. It's a must-play for anyone that wants more games like Kingdom Hearts 3, and it's one of the best JRPGs on PS5 too.
Persona 5 Strikers
Available on PC, PS5, PS4, and Nintendo Switch.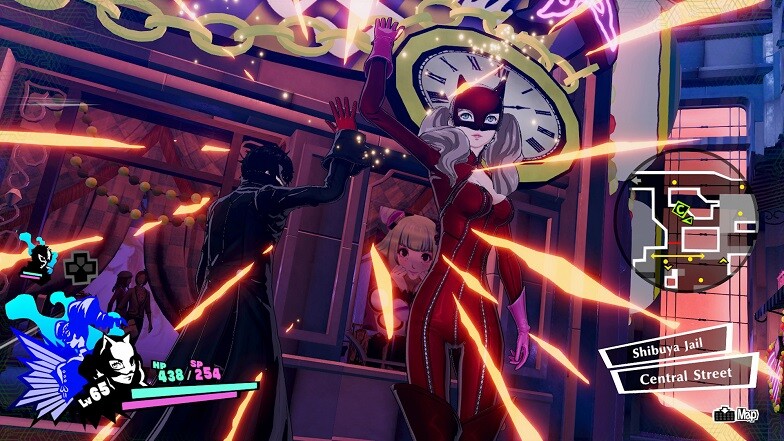 Are you even a JRPG fan if you haven't heard of Persona 5? The game was an instant hit and soared the franchise into mainstream-level popularity. With that being said, this recommendation is for the spin-off in particular.
Persona 5 Strikers is a spin-off from the team at Omega Force and translates Persona's unique world into a Musou. This term categorizes games like Dynasty Warriors with a unique style of gameplay.
Musou gameplay blends together beat 'em ups and hack-and-slash games. With that being said, Strikers doesn't have a typical Musou structure, instead, it's comparable to your usual action-JRPG.
Strikers swaps out Persona 5's turn-based combat for a real-time one. You'll pummel your way through armies of enemies with a combo-driven fighting system.
The best part is that the game still keeps intact the identity and signature mechanics of Persona 5. You can still cast spells using personas, there are elemental weaknesses, and even dungeons to explore.
Strikers even features a heavy focus on narrative, too, which is unheard of for a Musou. The writing is strong, and it even explores heavier themes like trauma expertly.
The characters are also still just as charming, and filled with heartwarming moments. While Strikers is a sequel to the main Persona 5 story, it's written to be accessible for newcomers as well.
Want an action-RPG that is on par with Kingdom Hearts 3? Add Strikers to your wishlist. We also have a list for titles like Persona 5 if you want something like the main game.
Final Fantasy XV
Available on PC, PS5, PS4, Xbox Series, and Xbox One.
The other obvious Final Fantasy recommendation is XV. The game even appears in Kingdom Hearts 3… Sort of. If you loved Yozora in Kingdom Hearts 3/Verum Rex, his character design takes heavily from Noctis. Yozora and his world take inspiration from Nomura's original visions for XV.
While you won't find vibrant Disney worlds to explore in Final Fantasy XV, its overworld is absolutely breathtaking. I think it has the best graphics I've ever seen.
The combat in Kingdom Hearts 3 builds off of Final Fantasy XV, too, so you'll find it familiar to jump into. XV also marks the series jump to action-based combat, and does it so well. Battles in XV are just so smooth, and it feels satisfying. You'll be flying all over the place, controlling your ragtag group of heroes, and pulling off awesome combos.
The game's story follows Noctis Lucis Caelum, as he journeys with his friends Gladiolus, Ignis and Prompto. In the best way, it feels like a camping trip with friends, filled with heart-melting moments.
Noctis is the prince of the Kingdom of Lucis, which has been at war with Niflheim for centuries. His father is assassinated, and his fiancé, Lunafreya, is announced dead.
It's up there with Final Fantasy VII Remake as one of my favorite in the series, gameplay and narrative-wise.
The best way to describe the game would be: organic. Everything from the character dialogue and banter to movement animations just feels real and natural.
Ni no Kuni II: Revenant Kingdom
Available on PC, PS5, PS4, and Nintendo Switch.
The aesthetic of Ni no Kuni II is recognizable from a mile away. Where Kingdom Hearts is a celebration of Disney, this is the same—but for Studio Ghibli films.
It features the famous Ghibli art style, and this is visible throughout the game. It bleeds into the character design, the gorgeous environments, and the cute monsters.
Although it doesn't have combat similar to Kingdom Heart's signature action style, its themes are comparable. Ni no Kuni II goes heavy on exploring friendship is power in its story.
The game begins in the Kingdom of Ding Dong Dell, where you play as the current heir – Evan. He is preparing for the throne after his father's death.
The game is party-focused, but there are no talking ducks and dogs here. Instead, you get a president, a mother-dad sky pirate combo, an advisor, and an engineer. During battles, you fight alongside your chosen party members, as well as 'Higgledies'. They are tiny little creatures, and you can have up to four at once.
The combat is action-based, but the controls and systems aren't quite like Kingdom Hearts. It is completely real-time, and you'll swap between party members, executing abilities and attacks.
There isn't a command menu to worry about. Instead, all your skills are button-bound (or key-bound if you're on PC), which keeps battles feeling fluid.
The vivid Studio Ghibli-esque world combined with the strong writing is why any JRPG fan should check out Ni no Kuni II. The combat and other gameplay features are just all extras on top. Fans of games like Kingdom Hearts 3 will love it.
World of Final Fantasy
Available on PC, PS5, PS4, Vita, Xbox Series, Xbox One, and Nintendo Switch.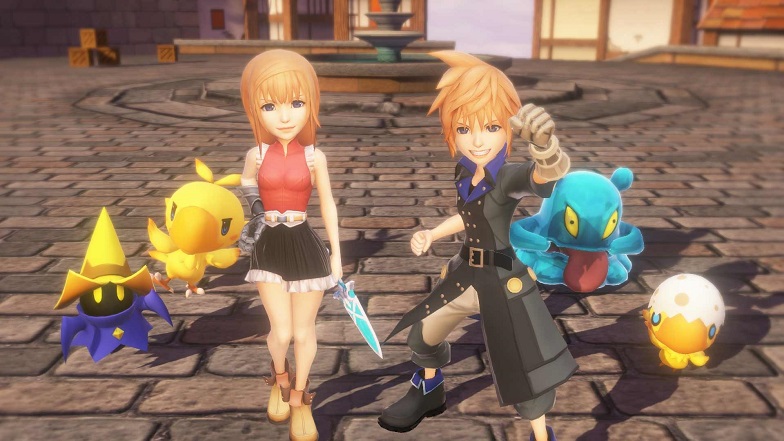 Just look at the main character designs! Does that not scream Kingdom Hearts 3 to you? World of Final Fantasy takes the series' iconic characters and designs, mixing them with Pokémon-like combat.
World of Final Fantasy's visual and narrative is what earns it a spot on a games like Kingdom Hearts 3 list. It features the same cartoon-y, yet anime character designs full of personality.
The game's story starts off with the two main characters, Reynn and Lann, awakening in an unknown world with no memories. Sound familiar? The pair are told they were Mirage Keepers, and have to collect Keyblad- I mean Mirages to regain their memory. Together, they set off on a journey across the world of Grymoire.
If you didn't like that Kingdom Hearts was a crossover with Final Fantasy but only explored Disney's worlds, this is where World of Final Fantasy shines.
The game takes the same idea, but instead of iconic levels based on Disney films—it's the Final Fantasy franchise. It has you explore towns/dungeons named and designed after popular ones in the series.
Other characters from the Final Fantasy series show up too and are playable in battle. Or you can even transform into them. Guess what? Sora is in the game.
As mentioned earlier, World of Final Fantasy shares a lot in common with Pokémon. You capture monsters, and battle alongside them in a turn-based battle system.
Nier: Automata
Available on PC, PS5, PS4, Xbox Series, Xbox One, and Nintendo Switch.
When you play through Nier: Automata, you can't help but think that it's a game like Kingdom Hearts 3. The games evoke similar feelings, except Nier is more modern and twisted.
Fans of the Nier series usually say it's 'Kingdom Hearts but made by a madman'. The story of Automata takes place thousands of years after the original Nier game's ending, but it is standalone.
You can jump right into Automata, and it takes place in a post-apocalyptic world. It is set in the year of 11945 AD, during a war between human-made (YoRHa) androids and interdimensional machine invaders.
The narrative features Kingdom Heart's vibes and sort of "what is going on?" quirky beats. The game has you initially play as 2B, however, you unlock more androids as you go.
Unsurprisingly, Nier: Automata is also another JRPG from the amazing minds at Square Enix. It comes from the team at PlatinumGames, with Yoko Taro as the creative director.
If you don't know Yoko Taro, he's recognized for his unconventional writing. The simplest way to put it is: weird. His signature strange-and-weird writing is visible throughout Automata.
This is also what elevates the story and makes it deserving of a playthrough. The game features fast-paced action combat that leans more towards the hack 'n slash side of things.
If you're coming from Kingdom Hearts, Nier: Automata is a must-check-out. You'll find the quick combat engaging, and the post-apocalyptic cityscapes a fresh change. Make sure to have a look at our list of the best games like Nier: Automata, too.