Squad is a tactical first-person shooter from Offworld Industries that came out in 2020. Unlike most FPS games where you can complete objectives even if you run and gun, Squad has particular gameplay where you need to practice patience and focus heavily on cooperation.
Some describe Squad as an online military simulation game since it's very immersive and makes you feel like you're participating in real-life combat. The game can feel quite complex if you haven't played anything similar before. Thankfully, there is a warm, helpful, and welcoming community around Squad that will help you learn the ropes.
If you're a fan of Squad and you're looking for more games like it, we've got you covered. Here are the best 7 games like Squad to check out if you want more action-packed yet tactical military games to play online.
Hell Let Loose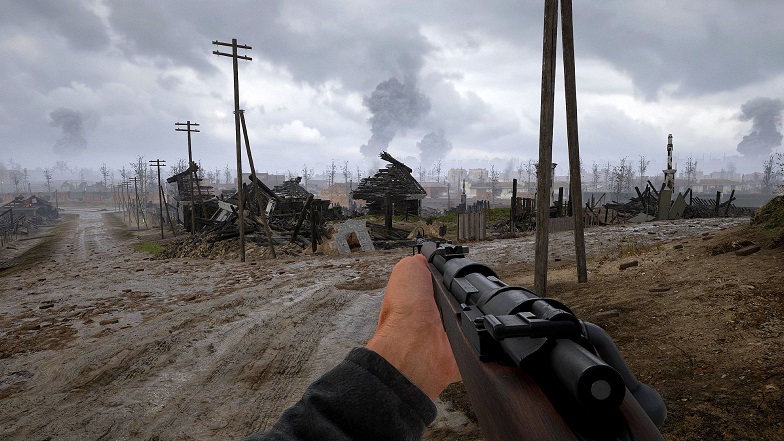 Coming out a year after Squad, Hell Let Loose is an online multiplayer tactical first-person shooter in which teams of 50 players battle each other. The mechanics and visuals are incredibly similar to Squad, and the game is a hell of a lot of fun.
Hell Let Loose features outstanding graphics that make you feel like you're on a real battlefield. What's amazing about Hell Let Loose is that it features a unique metagame that allows players to make tactical decisions on a large scale.
In the metagame, you are in charge of everything from air strikes to tank deployments. Each action you take has a cost and you need adequate resources to do it. The only way to get resources is to have engineers build resource nodes. The RTS-inspired metagame will take your strategic planning to a whole new level.
You can choose one of the 14 available playable roles in Hell Let Loose. Players are able to experience World War II combat from different perspectives by playing as a medic, engineer, officer, tank commander, and any of the other roles.
In Hell Let Loose, you'll fight in some of the most iconic battlefields of World War II, including Carntan and Omaha Beach. Like in Squad, your chances of success will rely heavily on communication with other members of your team. You have to come together with other people to find a strategy that will lead you to victory.
Hell Let Loose features impressive attention to detail when it comes to uniforms, weapons, vehicles, and battlefields. The battlefields were created through a mixture of satellite imagery and archival aerial photography to make them look as real as possible. This is one of the best military games for Xbox Series X / S by a mile.
Day of Infamy
Coming from New World Interactive, Day of Infamy represents a spin-off of the studio's previous game called Insurgency. The game uses a lot of elements from Insurgency as well as Valve's Source engine. Unlike Squad and Hell Let Loose, you can play Day of Infamy in both a single-player and multiplayer mode.
The game is set during World War II, more specifically in the European Theater, which was the main theater of combat during the war. Players in the game are put in two teams – Axis and Allies. There are nine different roles you can choose from in Day of Infamy, including sniper, support, rifleman, engineer, and more.
There are also a number of modes you can play, such as frontline battles, invasions, and liberations. All of these modes fall under the casual battle category.
However, there are also special assignment modes like sabotage, firefight, and intel. When it comes to co-op modes against AI, you can choose between entrenchment, raid, and stronghold battles.
Although you can play it by yourself, the real thrill comes when you're in battles with other players. Just like the other titles on this list, an emphasis is put on communication and cooperation between team members. If you like the challenge that games like Squad offer, you'll love this game.
There are different settings available when you're playing Day of Infamy. For instance, you can battle in a snow-covered forest or a war-torn village. You can also develop perfect strategies in destroyed cities or beachheads to claim your victory.
Despite being one the best games in the tactical military FPS subgenre, Day of Infamy never quite got the reputation and popularity it deserved.
In Day of Infamy, you will have more than 60 different weapons to choose from. You can also customize them with anything from cloth wraps to bayonets and grenade launchers.
Post Scriptum
When gaming studios take the time to focus on historical accuracy in military first-person shooters, it always leads to something special. Post Scriptum is a video game that is not only similar to Squad but it was in fact originally developed as a mod for the game.
The company that made Post Scriptum, Periscope Games, made the transition from a modding team to a gaming studio with the help of Offworld Industries. With the transition, they were ready to make a standalone game.
The result of their hard work is a game that features extraordinary attention to detail in everything from weapons to battlefields. In Post Scriptum, you have a huge playable area and ten historically accurate maps that were made using aerial pictures, maps, and various archives.
Take part in large-scale battles where teams of 40 people compete against one another to come out victorious. You can choose from more than 80 different weapons from World War II, including the British Lee Enfield, the American M1 Garand, and the German MG42.
Every player in your team will have specific objectives that you'll communicate to one another. With superior teamwork, you will increase your chances of success. Some players can focus on shooting players from the other team, while others can build barricades and fortifications to keep your unit safe.
Post Scriptum is notable for being an incredibly immersive game. Everything from the design details of weapons to layouts of different battlefields was accurately designed to resemble real-world events. On top of that, the sounds you hear from artillery cannons to firing pistols are about as real as it gets.
DayZ Standalone
DayZ is both a mod in the video game ARMA 2 as well as a standalone game. So as not to be confuse it with the ARMA 2 mod, we decided to refer to this game as DayZ Standalone.
The game came out in 2018. It is available for Windows, PlayStation 4, and Xbox One, and fans of games like Squad will love it.
All games that we mentioned in this list so far are great at transporting you to a dark period in the history of our world. The authenticity and historical accuracy of each game is praiseworthy. But if there's one thing that video games taught us time and again, it's that sometimes the most fun comes when you're in a fictional scenario.
The beauty of DayZ Standalone is that you can create strategies with other players online and engage in first-person shooter combat during a zombie outbreak. Set in the fictional Republic of Chernarus, a plague has converted nearly all of the population into violent zombies.
As a player in the game, you have to roam around the world scavenging for weapons, food, medicine, and water while running from or killing the zombies. You have to focus on communication and cooperation with other members to survive this deadly outbreak.
Up to 60 players fight for survival on a huge map in which fictional landmarks draw inspiration from real-world locations. You will need to gain experience in different skills like hunting, resource management, and health preservation to increase your chances of survival.
ARMA 3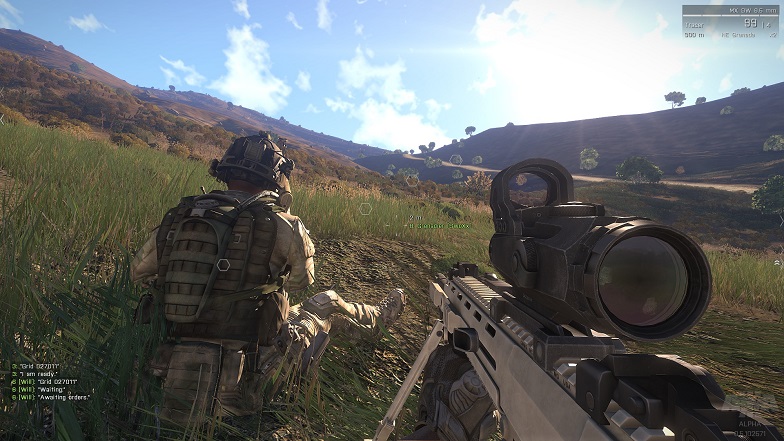 ARMA is a military simulation tactical shooter video game from Bohemia Interactive. The first ARMA game came out in 2006 and it was well received by both critics and players. Most ARMA fans would agree that the third entry in the series is the best.
To this day, ARMA 3 can often be found among Steam's top 50 games sorted by the number of active players. The setting takes place in the mid-2030s on a few different islands as well as a landlocked terrain. It's one of the most interesting online multiplayer games on Steam by a mile.
You can play ARMA 3 both in a single-player and multiplayer mode. Most people prefer to play it online with other players.
You have a lot of options when it comes to experiencing this virtual world. There are more than 40 weapons that you can choose from. There are also special attachments that you can place on your weapons depending on whether you prefer short- or long-distance shooting. You can travel by foot or take a ride on a jet, helicopter, tank, and more.
Although most of the fun happens online, you shouldn't miss out on the chance to explore the single player campaign. In this campaign, you're a soldier that gets caught up in a Mediterranean flashpoint and has to make it out alive in extremely rough scenarios.
Rising Storm 2: Vietnam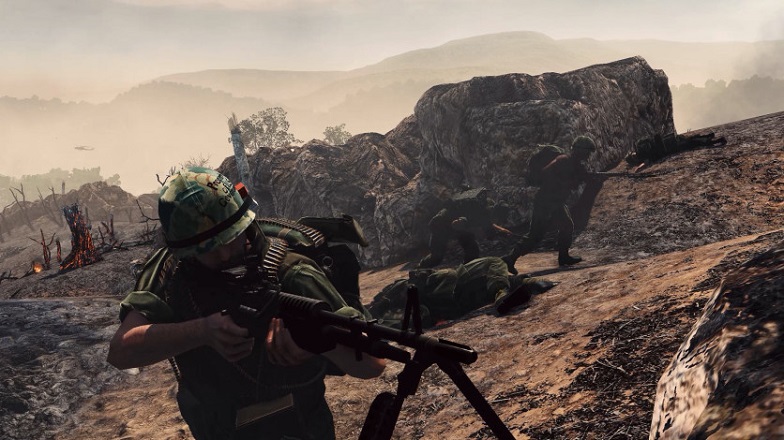 In the tactical military FPS genre, you'll most often encounter games set during World War II.
But if you want to go to a different place and time, you should definitely check out Rising Storm 2: Vietnam. Set during the Vietnam War, this massive multiplayer game pits up to 64 players against each other.
Players can choose whether they want to play as part of the United States Army, Australian Army, National Liberation Front, North Vietnamese Army, US Marine Corps, and the Army of the Republic of Vietnam. Battles occur either in the North or the South of the conflict.
Rising Storm 2: Vietnam is a direct sequel to Rising Storm. The original game came out in 2013 while the sequel came out in 2017. There are more than 50 weapons available in Rising Storm 2: Vietnam, including everything from pistols to rocket launchers.
Depending on the army you choose to be a part of, you will have unique abilities and roles. Despite many years passing since the release of the game, there is still a large player base. This means that you can easily find a game whenever you want.
There are three different multiplayer modes in Rising Storm 2: Vietnam – Territories, Skirmish, and Supremacy.
Ground Branch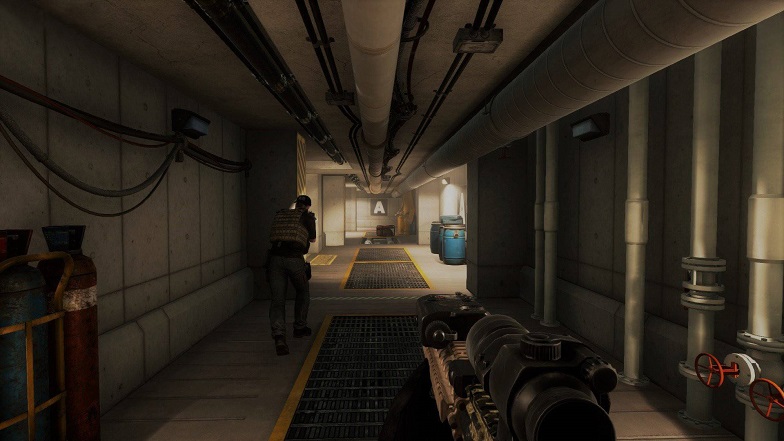 Games like Squad and DayZ were in early access years before their official release. During this time, they managed to attract a lot of players who waited patiently for the release. It's always fun when you get a chance to play a game before it's out. That's why we decided to include Ground Branch in this list.
Despite not being officially out at the time of writing, Ground Branch has been available as an early access game in 2018. This game features in-depth character and weapon customization and is available in single player, online PvP, and online co-op modes.
The customization options featured in Ground Branch are on a whole new level. They not only affect your appearance but impact your stamina and encumbrance system as well. Aside from carefully strategizing your movements and actions on the map, you will also have to think deeply about what you're bringing to your mission.
There are many weapons you can use in Ground Branch, including sniper rifles, submachine guns, carbines, handguns, and explosives. The maps slightly change between rounds to add a dose of unpredictability to the gameplay.
This is one of the best options to check out if you want more games like Squad, and it's worth keeping an eye on as it moves out of early access.