Saints Row may have traveled more ground than any other franchise in gaming. What began as a Grand Theft Auto clone has somehow evolved into a title that lets you control a superhero-like President of the United States who must fight aliens through space and time.
The only word to describe a change like that is crazy. Saints Row is crazy fun. Crazy unique. And crazy addicting. But if you've already played all of the titles in the franchise more times than you can count, then you may be searching for some alternatives.
That's why we've put together our list of the 12 best games like Saints Row. It's full of games that are open-world, action-packed, and just plain fun to play. Keep reading to see what you should play next.
Grand Theft Auto V
What better place to begin than the gold standard for open-world action? Grand Theft Auto V is a modern classic that needs no introduction. But just in case you haven't tried it (or you haven't played lately) this should be at the top of your list if you want a game like Saints Row.
Grand Theft Auto V offers:
An in-depth story campaign told from three characters' perspectives
Complete freedom to interact with the world however you want
Online competitive and co-op play, including challenging bank heists that extend the game's story
More options for customization and personalization than you'll ever be able to play through
Whether you want to fly planes, rob banks with friends, or destroy a realistic replica of Los Angeles, there are endless hours of entertainment to have with Grand Theft Auto 5.
Just Cause 3
Just Cause 3 puts you in control of Rico Rodriguez, a man who hopes to end a dictatorship on a Mediterranean island. In the pursuit of that goal, you'll get to explore over 400 square miles of island territory, which includes skies, oceans, jungles, and more gadgets than you can possibly imagine.
This game may be one of the few titles that is as explosive as Saints Row. You can cross huge distances with a grappling hook, fight against enemy soldiers in the sky, hijack vehicles, and create chaos in more than a million ways.
When you put it all together, you get a one of the best sandbox games on Steam that's stood the test of time. Just Cause 3 is a title that's definitely worth trying out if you're looking for more action-packed games like Saints Row.
Destroy All Humans
Destroy All Humans is a cult classic that was recently remastered to bring the game to a whole new audience. You'll play as the evil alien Crypto-137, whose sole goal is, you guessed it, to destroy all humans.
You'll be free to do that in whatever way you want, with tons of classic and futuristic weapons to choose from as well as various mind powers that will help you reduce people and cities to rubble. It's got all the chaos and drama of Saints Row, but with more of a sci-fi flair.
The game has loads of story mode missions and tons of room to explore. So if you're a Saints Row fan looking for a fresh take on the sandbox gaming genre, then Destroy All Humans could be for you.
Postal 4: No Regerts
The Postal franchise is one that you may be familiar with if you're a fan of games like Saints Row. The franchise is chaotic, silly, and fast-paced.
This game is pretty simple. You play as a character called the POSTAL Dude who arrives in a new town and begins going to work to ruin it in every way imaginable.
If you're looking for fun, outrageous shoot-em-up action with weapons you won't find anywhere else (how about peeing on people?) this game could be your best option.
Aside from a few technical quirks here and there, this is a great game to pick up if you're a Saints Row fan. It's struck the right balance between silly and action-packed, and there's plenty of fun weapons and locations to keep things interesting.
Garry's Mod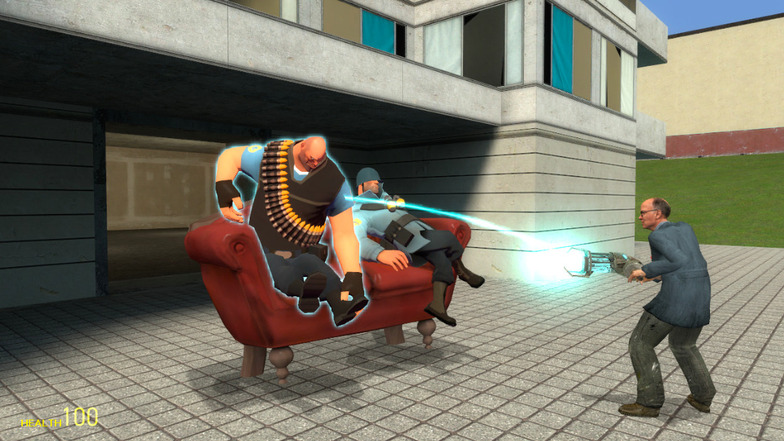 Garry's Mod was first released in 2006 and it still has the best reviews of any game on Steam.
It's one of the titles that first popularized the concept of the sandbox game. Essentially, you load into a server with friends and are left to your own devices to build the gaming experience you want together.
Since players have been on Garry's Mod since 2006, a ton of different game modes have been created and refined. There are roleplay servers, shooter servers, racing servers, and so much more to enjoy. One of the most famous ones is Prop Hunt.
That being said, Garry's Mod is as good (or bad) as the people that you play it with. If you have friends to join you, it'll be difficult not to get hours of entertainment out of this game. But if you can't find a good server to join, there won't be anything to do on your own.
Brutal Legend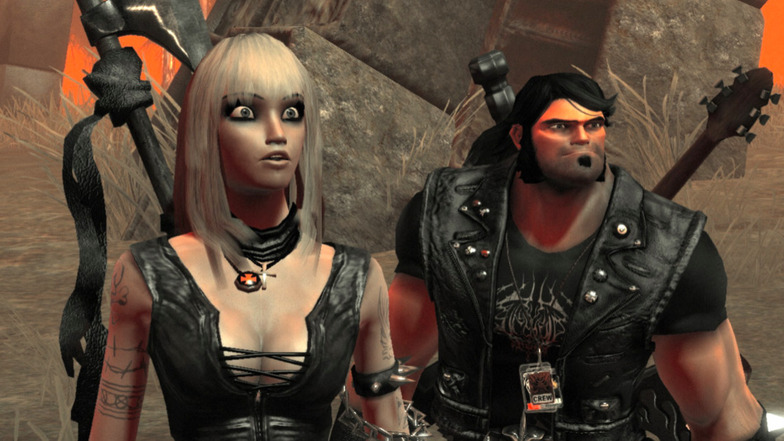 Brutal Legend is an action-adventure game that takes place in a fantasy world, taking inspiration from the likes of Lord of the Rings and Spinal Tap. Bit of an odd mix, but it works incredibly well. You play as Eddie Riggs, who is voiced by Jack Black, and need to destroy various demons and cover bands.
It's one of the best PC open world games with lots of freedom, just like Saints Row. The gameplay is a mix of classic hack-and-slash and real-time strategy, which gives it a layer of strategic depth that many titles lack.
Plus, Brutal Legend features more than 100 classic metal songs to enjoy and cameos from some of the biggest names in the industry. So if you're a fan of that genre of music, then this should be a really fun one for you to dive into.
Yakuza: Like a Dragon
Yakuza: Like a Dragon puts you into the heart of the Japanese underworld. You play as Ichiban Kasuga, a low-level Yakuza member who returns from prison only to find that his family has been destroyed. Your mission is to find out what happened to your clan and deal with the man who was responsible for its death.
That all sounds pretty serious. But Yakuza: Like a Dragon has a lot of silly fun in it as well. There are tons of random encounters that you'll have in the city with strange characters, like a full-grown man who's dressed as a baby.
The Yakuza franchise is one of the very best at blending a seriously engaging storyline with lighthearted humor. It's absolutely worth trying out, especially if you're into games with great combat and chaotic games like Saints Row.
Sleeping Dogs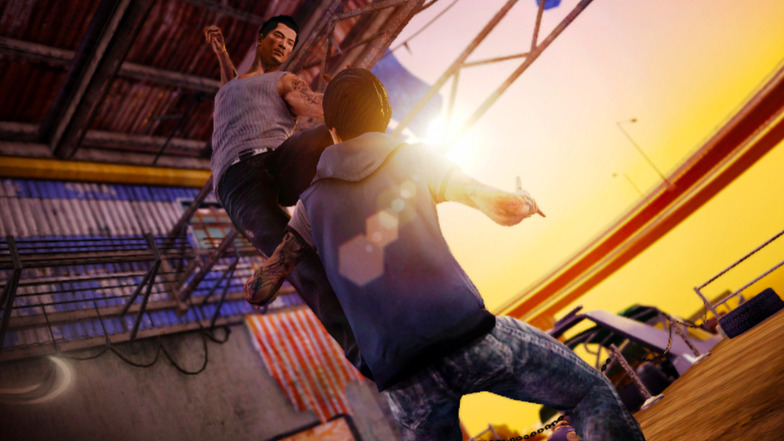 Ever wanted to be an undercover cop in Hong Kong? If so, Sleeping Dogs is the title for you.
This game is full of explosive action, martial arts, and high-speed thrills. It's got an engaging story that puts you in the center of a complicated police drama. But you'll also have plenty of opportunities to explore the illicit Hong Kong underworld through street races, gambling on cock fights, and karaoke.
The cool part about Sleeping Dogs is that you can play it however you want. You get to decide whether you're going to be a by-the-book cop who doesn't tolerate any illegal activities or a detective who toes the line between good and evil.
Bully: Scholarship Edition
Bully is one of the lesser-known franchises of Rockstar Entertainment (of Grand Theft Auto and Red Dead Redemption fame). It tells the story of Jimmy Hopkins, a 15-year-old boarding school student who has to navigate the complicated social hierarchy of adolescence.
You'll get to beat up bullies, play pranks on nerds, kiss the girl, and cause heaps of mischief in your quiet New England town. It all comes together to create a unique take on the open-world action game that's good for more than a few hours of entertainment.
This game is a great pick for fans of games like Saints Row who want something new and unfamiliar to spend their time on. It doesn't have many of the same themes, but it does contain a lot of similar and exciting gameplay that Saints Row fans will enjoy.
Fallout 4
Fallout 4 is an absolute powerhouse of a game.
If you're not already familiar with it, the game takes place in a post-apocalyptic Boston. Your job is to scour the landscape, build settlements, and survive. At the same time, you'll play through the storyline to search for your missing son Shaun.
The game is a masterpiece of choose-your-own-adventure fun. You can kill zombie-like mutants, look for resources that will allow you to survive the harsh environment, or focus on building the greatest settlement that the post-apocalyptic world has ever seen.
One thing to note is that Fallout 4 is definitely more serious than Saints Row. But at the same time, it doesn't take itself too seriously. So, if you're looking for a more subdued open-world adventure game that still offers plenty of shoot-em-up fun, this could be the best Saints Row alternative for you.
Mafia 3
If you've ever wondered what it would be like to be a member of the mob, then Mafia 3 is the game for you.
You play as Lincoln Clay, a Vietnam veteran who returns home only to find that his surrogate family has been wiped out by the Italian mob. This kicks off his blood-soaked mission for revenge.
In Mafia 3, you get to explore the world of Lousiana, while building a new criminal empire from scratch. The gameplay is gritty, there are plenty of opportunities for customization, and the story will keep you engaged for hours on end.
All of these features come together to make a game that's absolutely worth your time. It's one of the best Mafia games on the Xbox X and fans of games like Saints Row are sure to get a kick out of it.
Payday 2
One of the most popular features of Grand Theft Online is the game's heists. There's just something crazy enjoyable about robbing banks with your friends. And if you feel that way, then Payday 2 is a title you have to try.
This is an entire game that's built on the heist premise. You and up to four of your friends can descend upon Washington D.C. and participate in loads of different robberies, including kidnappings, small-time convenience store hold-ups, cyber crimes, and, of course, classic bank vault heists.
As you level up, you'll get to choose new skills to enhance your character's capabilities. There are also plenty of ways to customize the appearance of your character, such as with new masks.
All in all, this is a really unique game that takes something that's often a side quest in AAA titles and makes it the sole focus. That makes Payday 2 a game that's absolutely worth your attention, especially if you enjoy playing games with your friends online.