House Flipper is a single-player simulation video game developed by Frozen District, and it's one of the most enjoyable games that focuses on fixing up properties.
If you're a fan of interior design and simulation games, chances are that you've played this game before. It's detailed and immersive, and features enough content to keep you busy fixing, designing, and planning for hours on end.
There are plenty of other games similar to House Flipper that are worth checking out if you want more experiences like this. To help you out, we've handpicked the best 8 games like House Flipper to play today, including a few from different subgenres and styles.
Project Highrise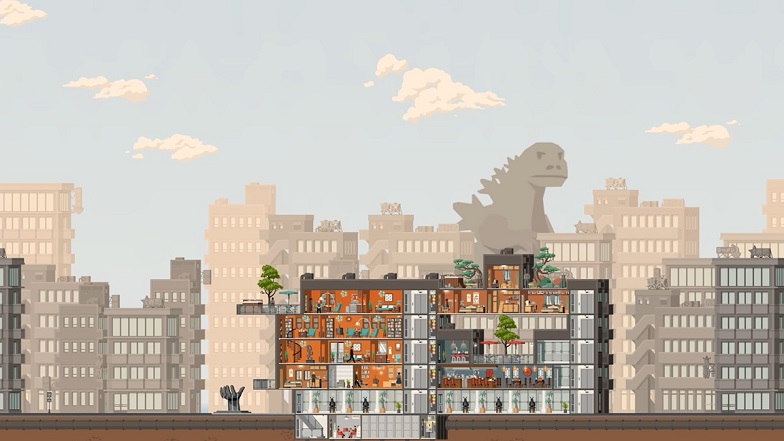 Project Highrise is a tower-building simulation game developed by independent studio SomaSim. You can play Project Highrise on Windows, PlayStation 4, Xbox One, OS X, and Nintendo Switch. There are also versions of the game for Android and iOS devices.
The game has a 2D perspective and it features a clean design. As a high-rise manager, you will need to work on building skyscrapers that are marvels of engineering and art. You'll need to design the exterior, and fill the interior with restaurants, shops, offices, and apartments.
When people start living or working in your skyscrapers, you'll have to manage everything to ensure they're satisfied, comfortable, and paying rent on time.
Your actions will heavily impact your reputation in this virtual world. If you do a good job building and managing your properties, everyone will want to move in or work in your skyscraper. On the other hand, tenants will leave and business owners will rent a space somewhere else if you don't attend to their needs.
This is a great game to pick up if you're a fan of games like House Flipper and want an experience that's more focused on the simulation and management aspect.
Demolish & Build 2018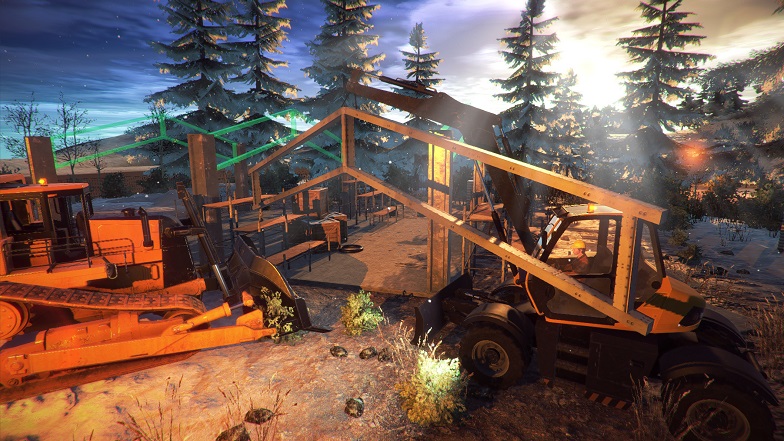 Demolish & Build 2018 is a construction simulation video game developed by Noble Muffins and it is available for Windows and Nintendo Switch. It's a great pick for fans of games like House Flipper who want a detailed, immersive experience.
There's a lot of construction in the game but there's also a big focus on demolition.
Most players find the demolition part of the gameplay very interesting. There are so many different games where all you can do is build structures. In this one, you get to destroy them. It's easy to get a hang of demolishing structures, making the game friendly to new players.
You'll have a variety of demolition and construction machines at your disposal. The crawler crane is the ultimate demolition machine, as it comes with a wrecking ball. There's also the skid loader, bulldozer, and even a demolition robot.
When it's time for you to construct buildings, you'll get to use cargo trucks, concrete mixer trucks, road rollers, tower cranes, and many more machines. Players can also use various hand tools for demolishing and building on a smaller scale. There are four different world locations you can pick in the game, each with a freely navigable world.
The most fun in the game is when you're demolishing and building stuff by yourself. But that doesn't mean you'll be doing everything alone. Players have the option to hire and manage workers who will boost your company's efficiency. If you manage your company properly, your rating and reputation will go up.
Builder Simulator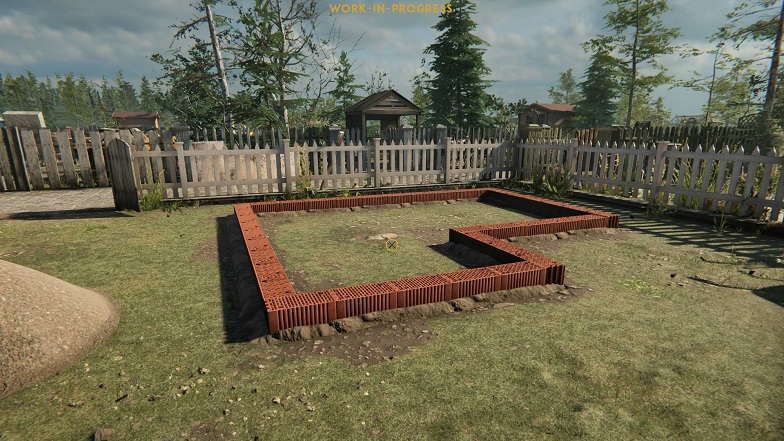 Builder Simulator is an indie construction simulation video game developed and published by Live Motion Games. It's an underrated title in the construction simulation genre, and is available for macOS and Windows. It's one of the best building games on Steam.
As the name suggests, this game is the perfect choice for any person who wants to build houses from the ground up. In Builder Simulator, you build everything one brick at a time.
There are different difficulty levels you can choose in Builder Simulator. If you're new to the construction simulation genre, you can choose the easy mode that comes with detailed instructions. This is a great way to learn how to build in games like this.
People who have experience in construction simulation games and want a real challenge can choose the hard mode. If you pick this level of difficulty, you'll never get any instructions or tips. In other words, you'll have to fully utilize your building skills to complete tasks.
Just like in real life, you can't build a house without a good plan in Builder Simulator. You start with a piece of paper and a pencil. Use this to design the house you want to build. Depending on your personal preferences, you can choose any design you want.
The only thing you'll need to bring to the table is your imagination. If you're a House Flipper fan who wants a full, cohesive building experience, this is the game for you.
The Tenants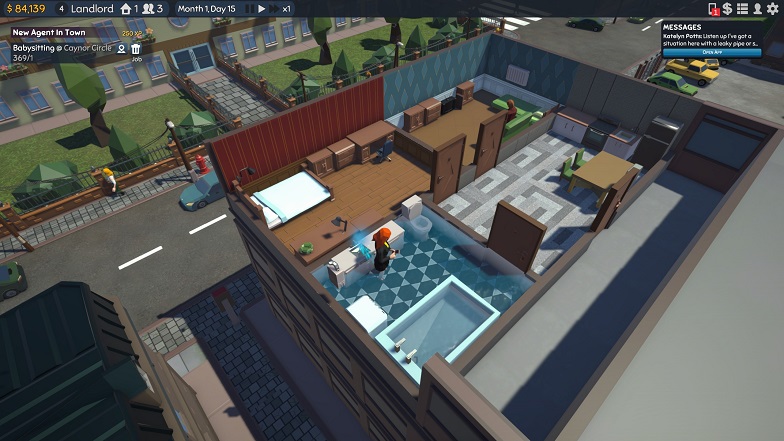 The Tenants is an indie economic strategy simulation video game developed by Ancient Forge Studio, and it's available on Windows and macOS.
Throughout the game, there are multiple activities you can engage in. You can buy old apartments that are in poor shape and renovate them. You can help to give the apartments a polished look, from painting the walls to placing new furniture. The Tenants features a building mode that's very similar to The Sims.
When you improve the shape of your apartments, you can rent out your properties. You'll need to do a background check on any person who wants to move in. If you don't, it may lead to problems with other tenants and can even attract police to your properties.
Renovating apartments and finding tenants is the easy part. The hard part is making sure that all of your tenants are happy and satisfied with your properties. That's why you'll have to resolve any issues they have, like broken water pipes to rat infestations.
Players in The Tenants have multiple professions. They are landlords, real estate agents, interior decorators, and interior designers. You have to work multiple jobs while making sure you don't break the bank, because the economy is an important part of The Tenants.
This is the ideal title for fans of games like House Flipper who enjoy in-depth simulation and management experiences. It's a lot of fun to play through.
House Builder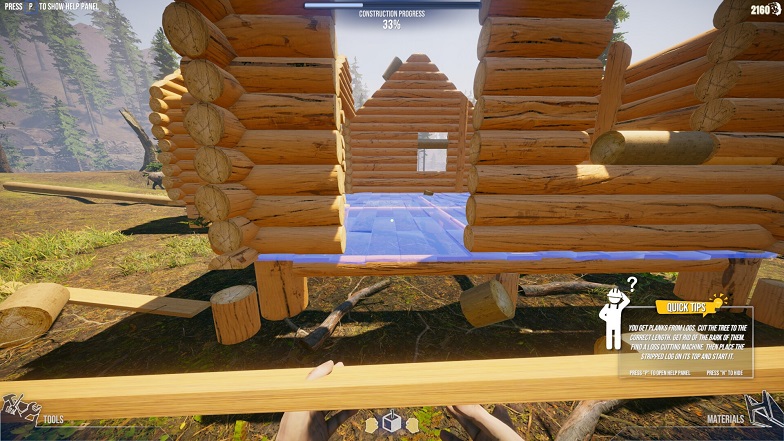 House Builder is a construction simulation video game developed by FreeMind S.A. and it is available on Windows. The gameplay allows players to travel across the globe and through the ages to build structures.
You won't only visit towns and cities like in most construction simulation games. Instead, players build in various locations across the globe, utilizing different techniques and technologies. One of your tasks will be to build an igloo in the Arctic, another will be to construct a log cabin in Siberia.
There are also many modern structures you'll have to construct in House Builders. As you start building more modern structures, the rules of construction will become more complex. You'll have to place hundreds of elements together to build a solid house made of bricks or concrete.
While you're building various structures, you'll learn more about various construction technologies from around world. Players get a chance to get familiar with different construction materials, along with their properties. It's a game that strikes a good balance between being educational and entertaining.
Building is one part of the game. The other is demolition, which is also incredibly fun. When simple changes aren't enough to make your structures better, you can demolish what you've built and start over.
Ranch Simulator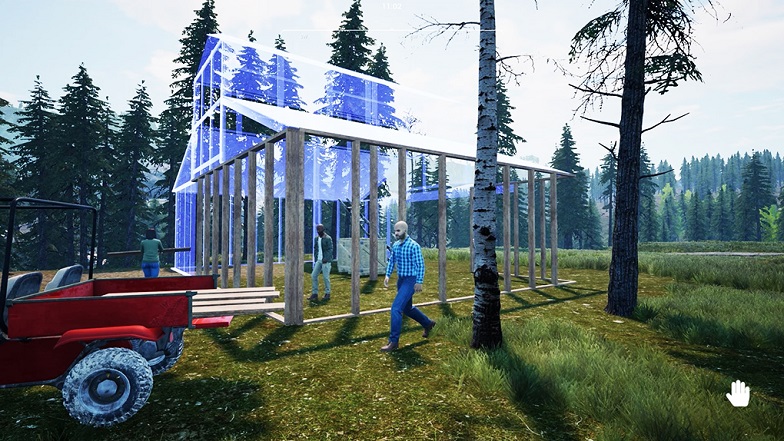 If you want to move away from cities in simulation video games and head out to the countryside, your best bet is to play Ranch Simulator. This game was developed by Toxic Dog and published by Excalibur Games, and is available on macOS and Windows.
While most construction simulation games support only a single-player mode, Ranch Simulator gives you the option to play with your loved ones. The multiplayer mode supports co-op gameplay with up to four players. Although your main focus in the game will be building and renovating, you'll also have to trade, hunt, and engage in other activities.
When you start the game, you find yourself on a family ranch that used to be the pride and joy of your grandfather but has since deteriorated. Your mission is to restore it to its former glory. You can start by chopping trees and carrying the wood over to the ranch so the renovation can begin.
You'll also need money for most things in Ranch Simulator. Players make money by selling their wares, like milk and chicken. You can also go hunting and sell the meat at your local store. Ranch Simulator features an impressive open world with an abundance of wildlife.
To have a sustainable ranch, you'll have to look after your livestock through regular feeding. Breeding will also increase numbers in your flocks and herds and provide you with additional income.
This is a great pick for fans of games like House Flipper who want to switch up their in-game location and the theming of their games. Moreover, it's one of the best Steam games to play with your partner or friends if you all enjoy building and sim games.
Moving Out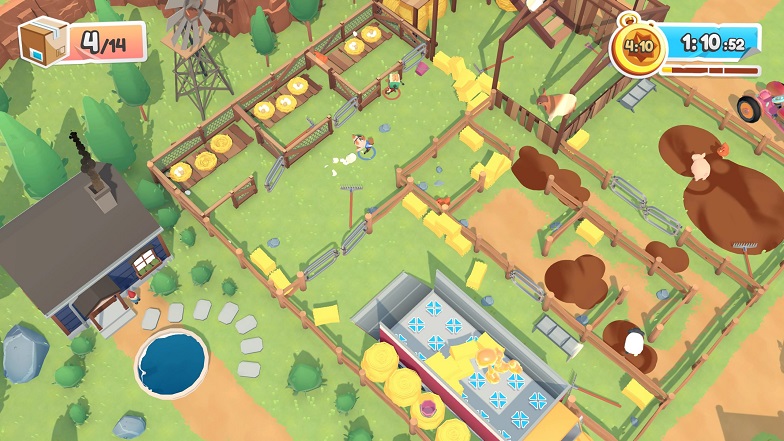 Moving Out is a moving simulation game that came about through a collaboration between Australian company SMG Studio and Swedish studio DevM Games. You can play Moving Out on Windows, Xbox One, PlayStation 4, and Nintendo Switch. This game has both a single-player mode and a co-op multiplayer mode.
The most fun thing about the gameplay in Moving Out is its exaggerated physics. Players are able to smash, lift, and toss various items to speed up the moving process. If a door stands in your way when you're transporting furniture, you can simply blast right through them.
Each task involves you moving selected appliances and furniture from a house to a truck. You won't be able to move at your own pace, as you'll always have a time limit for every mission. You have to find ways to make your process as efficient as possible to finish a task under your time limit.
The game can be quite challenging because you have to think fast. Players are able to reduce the difficulty by choosing the Assist Mode feature. Doing this allows you to extend the time limit, make objects lighter, and remove obstacles.
As your moving company builds its reputation, you'll go to various destinations and take on more missions. If you're a fan of games like House Flipper but you want to experience interior design and building gameplay from a new perspective, this is a great pick for you.
Medieval Engineers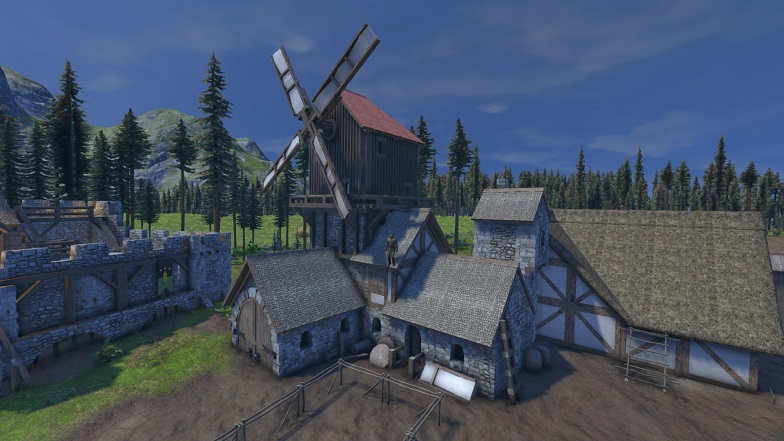 Medieval Engineers is a sandbox video game developed and published by Keen Software House, available on Windows. The game takes place on an Earth-like planet where players can manipulate, mine, and deform the surface. The game supports both single-player and multiplayer modes.
The gameplay is all about construction, engineers, and maintenance of a variety of structures using medieval technology. The game was inspired by technology from this era and how it was utilized to build architectural wonders. Players can use predefined building blocks to construct everything from small shacks to castles.
Players have to use only the technology that was available during the Middle Ages. Construction is the focal point of Medieval Engineers but you can also play it as a survival game. Players can use their skills not only to build houses but fortifications and catapults as well.
If you select the survival mode, your character will have three personal stats – food, stamina, and health. When you lose all of your health, you'll respawn with no inventory. Every once in a while, you may encounter barbarians who will attempt to destroy what you've built and kill you. This is more intense than other games like House Flippers, but it's still very fun.
You can interact with just about anything in Medieval Engineers, including trees, bushes, animals, and the planetoid's surface. There's a big world to explore in the game. You can expand your empire by taking enemy lands and securing their resources.