Image credit: Core Design
Tomb Raider is one of the most legendary video game series ever released. The first game in the series was released in 1996 and has since spawned multiple sequels and spin-offs. All Tomb Raider games feature a heavy focus on exploration and puzzle-solving.
Players in each game take control of a British archaeologist named Lara Croft who goes around the world searching for ancient artifacts. Lara has over time found her spot among the most recognizable video game protagonists of all time.
By 2022, more than 88 million copies of Tomb Raider games have been sold. The immense success of the series has led to it becoming a huge media franchise. To date, numerous Tomb Raider films, comics, and novels have been released.
If you fell in love with exploring beautiful virtual environments and solving puzzles after playing Tomb Raider, here are some similar games you should check out.
Horizon Zero Dawn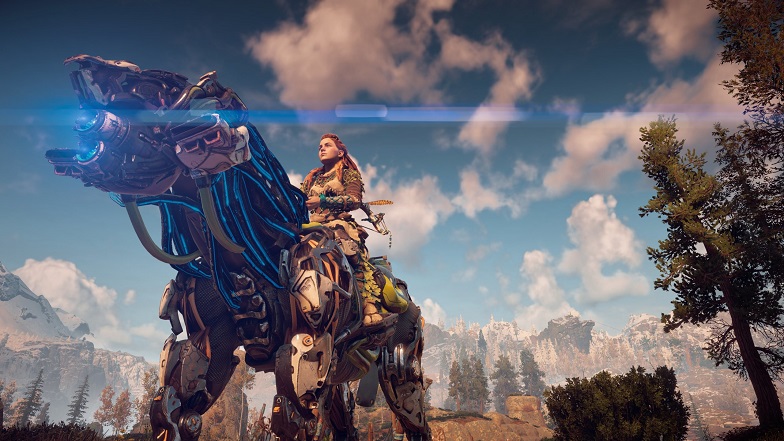 Horizon Zero Dawn is an excellent video game especially if you're looking for something similar to Tomb Raider. It is a single-player action RPG developed by Guerrilla Games that was released for PlayStation 4 in 2017. The game was also made available for Windows in 2020. It became one of the best-selling games for PlayStation 4 with more than 20 million copies sold by February 2022.
The events of Horizon Zero Dawn take place in a post-apocalyptic world. It's the 31st century and humans live in tribes while robots dominate the planet. Humans sometimes hunt robots to use them for parts. For a long time, robots and humans principally peacefully coexisted. Then a strange phenomenon occurred and robots became hostile. To make matters worse, deadlier robots have begun to appear.
Despite the horrors that have begun to take place on Earth, there may be one person who can save humanity. Aloy, an outcast, warrior, and huntress may be the only hope the planet has. She is precisely who you take control of when you play the game. Aloy goes on a journey to discover information about her past and save everyone from a catastrophic threat.
The character of Aloy is voiced by actress Ashly Burch who has been praised for her outstanding performance. Horizon Zero Dawn has also received acclaim for its story, open world, combat, and visuals. You have a range of weapons and traps at your disposal in the game. You will also encounter a number of puzzles you'll have to solve to make your way through this post-apocalyptic world.
As the story in the game progresses, you will go through different environments. You'll have to fight your way through desert, jungle, mountain, and forest regions. In case you love exploring virtual worlds in games as much as possible, you'll be happy to hear that you can find a lot of side quests and hidden locations while roaming around the post-apocalyptic Earth.
Horizon Zero Dawn was followed by a sequel titled Horizon Forbidden West. The sequel was released in 2022. There is also a TV show in development based on events prior to the story of the first game. The TV show is titled Horizon 2074 and is being developed for Netflix.
Assassin's Creed Origins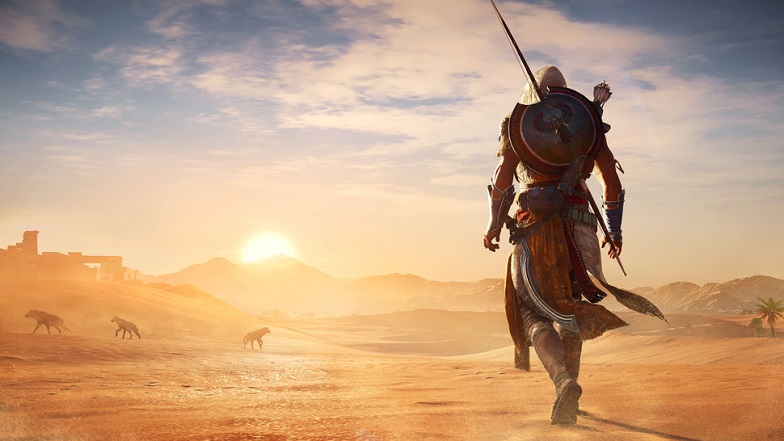 Although all video games from the Assassin's Creed series are somewhat similar to Tomb Raider, this release closest resembles the adventures of Lara Croft. Assassin's Creed Origins represents the tenth major installment in the series and was developed and released by Ubisoft in 2017. The game is available for Windows, Xbox One, PlayStation 4, and Stadia.
Assassin's Creed Origins is a single-player action RPG set in ancient Egypt for the most part. It follows the story of a character named Bayek, who became the last Medjay of ancient Egypt. In the game's story, Bayek and his wife set out on a mission to avenge their son. The game was a commercial success, selling more than ten million copies.
The development of Assassin's Creed Origins took four years and more than 700 people from Ubisoft studios across the globe were involved. The game was praised for its gameplay, story, visuals, world design, and historical accuracy. The development team made a huge effort to work with historians and Egyptologists to ensure the setting was as authentic as possible.
The game is considered by both critics and fans as one of the best Assassin's Creed releases ever made. Another strong point of Origins is the memorable characters you meet as you explore the ancient world. You can build your character and learn different skills as you progress.
The things you can do in Assassin's Creed Origins are so plentiful it's hard to list them all. When you explore the world, you can travel on foot, ride horses and camels, go on boat rides, and more. There are many weapons that will be at your disposal. Another feature some players find interesting is that you can even pet cats in the game.
Be prepared to encounter and fight numerous enemies. Gain experience points by defeating enemies and doing quests so that you can unlock new abilities. Your skill tree will have three different branches (warrior, hunter, and seer) that you can upgrade depending on your preferences. You will also have a lot of different puzzles to solve throughout the game.
A Plague Tale: Innocence
Every once in a while, a video game comes out that seems like it was produced by one of the biggest studios on the planet even though it wasn't. A Plague Tale: Innocence sold more than a million copies in the first year of its release, but it's still underrated. It was developed by French company Asobo Studio and is arguably one of the best games released in 2019.
You can play A Plague Tale: Innocence on Windows, Amazon Luna, PlayStation 4 and 5, Xbox Series X/S, Nintendo Switch, and Xbox One. The story follows a strong and independent young woman named Amicia who has to take care of her ill younger brother as they run and hide from soldiers of the French Inquisition.
A Plague Tale: Innocence is classified as an action-adventure stealth game. You will need to use stealth to avoid enemies. If you don't, enemies will find and kill you instantly. You also have a sling that you can use in various ways. For instance, you can create distractions, stun enemies, break chains, and even kill foes in case they're not wearing protective gear for their heads.
There are also many puzzles you will need to solve to keep yourself and your ill brother safe. Apart from the interesting gameplay and beautiful graphics, the story behind the game is quite touching. It focuses on family and is meant to show players how by staying together you can weather any storm.
Far Cry 3
When it comes to games with a heavy focus on exploration, you can't go wrong with some of the most prominent titles developed by Ubisoft. Far Cry 3 is the third installment in the Far Cry series, developed and published by Ubisoft. The game was released in 2012 and was a commercial and critical success.
The Far Cry series consists of six main games, out of which this installment most resembles Tomb Raider. The game takes place on a tropical archipelago known as Rook Islands. The archipelago is controlled by mercenaries and pirates who capture your friends and it's on you to rescue them.
You will have many different weapons at your disposal to defeat both hostile wildlife and human enemies. You'll be able to use everything from sniper rifles to rocket launchers. A stealth approach is also a good option and will have you relying on knives and silenced weapons. Be prepared to also solve some challenging puzzles to make progress in Far Cry 3.
There is a lot to explore on Rook Islands. You can use several modes of transportation to reach your destination. There are countless side quests you can embark on if you want to experience the game to the fullest. There are also interesting mini-games in Far Cry 3, such as knife throwing and poker.
Uncharted: Drake's Fortune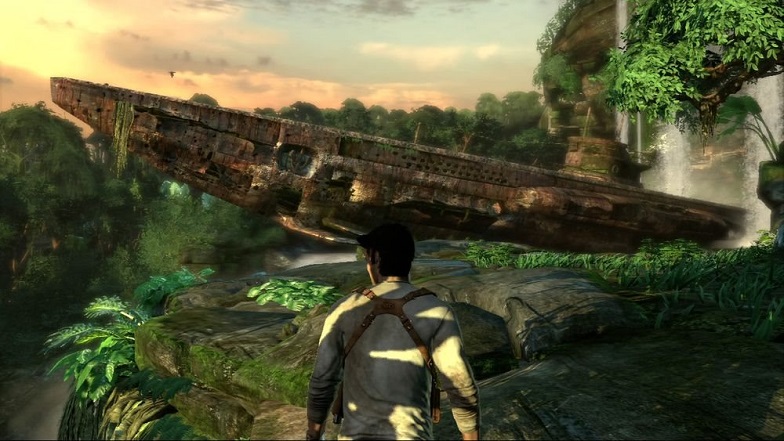 Developed by Naughty Dog, Uncharted: Drake's Fortune marks the first installment in the Uncharted series. Although you can see the resemblance to Tomb Raider in any game from this series, the original release gives a special vibe that's very reminiscent of Lara Croft's adventures.
The game follows the story of a treasure hunter named Nathan Drake and reporter Elena Fisher who set out to find a golden idol. The game features a combination of 3D platformer and action-adventure gameplay. As you explore the world in search of the golden idol, you will encounter enemies that you can defeat with weapons or melee attacks.
When you choose to perform melee attacks, you have the option to do combos and make critical hits. Some of the weapons you can use in the game include pistols, rifles, and grenade launchers. When you're not traveling or fighting enemies, you'll be solving puzzles to unlock access to certain areas.
Uncharted: Drake's Fortune was praised for its story, technical achievements, characters, and music. Several critics noted that playing the game felt like watching a blockbuster movie. Then 15 years later it turned into a blockbuster movie starring Tom Holland.
Beyond Good & Evil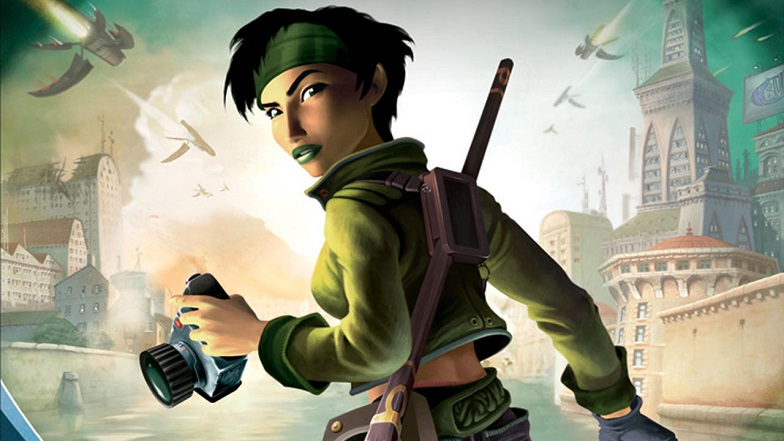 Next up is yet another video game developed by Ubisoft (we promise, this is the last one in this article). While most of the games on this list were released somewhat recently, Beyond Good & Evil is a timeless classic that came out in 2003. The idea for the game was conceived by Michel Ancel, famous for creating the Rayman franchise.
Beyond Good & Evil was not a commercial success, but it gained a cult following after its release. The low sales put a temporary halt on Ancel's vision to create a trilogy. A prequel has since been announced and is in development since 2016. There is also a film adaptation being made for Netflix.
The story of Beyond Good & Evil follows an investigative reporter named Jade who attempts to uncover a horrific government conspiracy after being fed up with an alien race bombarding her home planet. The game features elements of stealth-based and puzzle-solving games.
Jane doesn't have a lot of weapons she can use in the game. She only has a combat staff, a camera, and discs she can use for range attacks. There are a few different mini-games within Beyond Good & Evil. For instance, you have a hovercraft that you can use to faster explore the world but you can also use it for racing competitions.
Enslaved: Odyssey to the West
Enslaved: Odyssey to the West is an action-adventure game available for Windows, PlayStation 3, and Xbox 360. It was developed by Ninja Theory and published by Namco Bandai Games. The game received acclaim for its story, world design, and graphics.
The video game was initially supposed to be a CGI film but it ultimately made more sense to be developed as a game. Similar to Beyond Good & Evil, it was not a commercial success but gained a notable following.
Just Like Horizon Zero Dawn, this game is set in a post-apocalyptic world where only a small portion of humanity survived. There are still hostile robots that roam the planet. In Enslaved: Odyssey to the West, you take control of a character known only as Monkey. He is a strong loner who decides to help a technologically savvy young woman get back home after surviving a ship crash.
The young woman, named Trip decides to hack a device known as a slave headband and fit it on Monkey. This causes the device to link them together. This means that if she dies, he will die too. Enslaved: Odyssey to the West requires players to engage in combat, solve puzzles, and complete various platforming challenges.