Rune Factory is a fantasy role-playing simulation video game series that consists of seven games. Each Rune Factory game is loosely connected to one another but has its own unique story, setting, and a cast of characters.
The Rune Factory games are vibrant, colorful, and immersive. The games combine chilled RPG and simulation mechanics with charming worlds to explore. They're perfect for fans of classic RPGs and farming simulators alike.
With the first Rune Factory game coming out in 2006, there's been a lot of time for this series to gain a huge following. Every Rune Factory game has something unique to offer, but even the best games can feel old after a while. If you're looking for more games like Rune Factory, we've got you covered with our recommendations.
Here are the best 8 games like Rune Factory.
Stardew Valley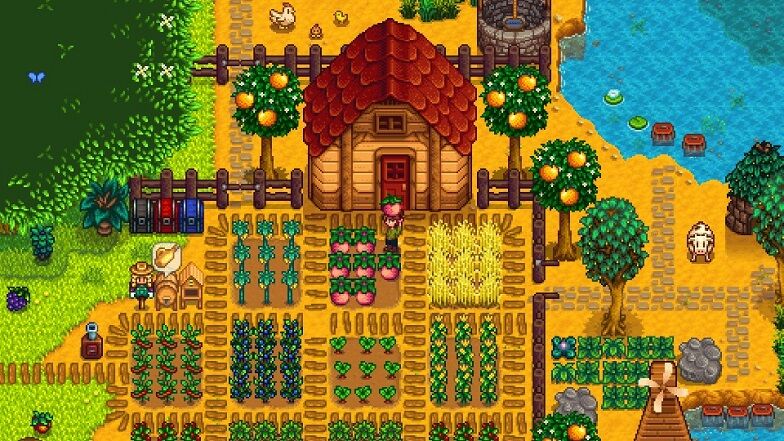 When it comes to simulation role-playing video games, there aren't too many releases that provide the type of experience Stardew Valley does. The game came out in 2016 and was the sole project of one man – Eric Barone. It took Eric about four years to finish making the game.
Although he put his heart and soul into making Stardew Valley, Eric didn't expect it to become as big as it did. Today, it is arguably one of the best video games of all time. It sold more than 20 million copies and received perfect scores from many publications.
Stardew Valley is available for Xbox One, Linux, Windows, macOS, PlayStation Vita, Nintendo Switch, PlayStation 4, iOS, and Android. When you start the game, you take control of a character who takes over a neglected farm and attempts to restore it. There are twelve different characters you can choose from in Stardew Valley.
There are plenty of activities you can do in the game, including foraging, fishing, mining, growing crops, cooking, and talking with townspeople. Players are able to marry and raise children. 
The game supports both single-player and multiplayer modes. You can invite up to three people online to help you build the farm. It's certainly one of the best games to play with a partner on Steam, especially if you're both fans of games like Rune Factory.
Apart from these activities, be ready to also engage in combat with a variety of monsters. You'll explore different environments and find powerful weapons as you progress in the game. Stardew Valley has got a lot of love over the years for its relaxing qualities, characters, and soundtrack.
My Time at Portia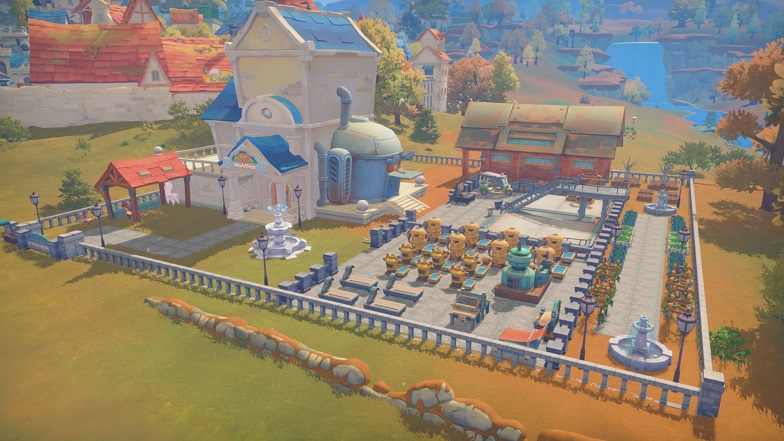 My Time at Portia is an excellent choice if you're looking for a game similar to Rune Factory. It combines elements of simulation and role-playing games.
Coming from the team at Pathea Games, My Time at Portia takes you on a journey to a world where civilization is in ruins. A long time after the catastrophic event that destroyed society, a new group of humans emerges from the underground on a mission to rebuild.
The game came out in 2019 and both players and critics loved it. It is available for Windows, Xbox One, PlayStation 4, macOS, and Nintendo Switch. Versions for iOS and Android came out in 2021.
In this game, you take control of a character who inherits a workshop from their father in the city of Portia.
You start off by gathering resources and working on villager requests to gain a reputation in the local community. Players can make items when they combine different resources. Tools then enable you to get more resources faster. You can sell your items for money, town favor, and rewards.
Your ultimate aim in My Time at Portia is to expand the city as much as possible. The game features many NPCs that are a delight to talk to. You'll get to interact with so many interesting characters. Who knows, you might even fall in love with a special somebody in the city of Portia.
Since it contains a fair amount of RPG elements, My Time at Portia is full of dangerous monsters that you'll have to fight. If you want a game that offers equal measures combat, crafting, and chilling, this is the best pick for you.
Kitaria Fables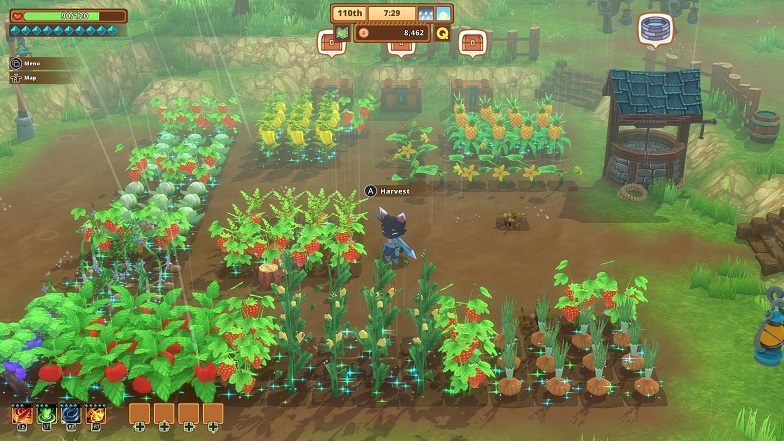 Are you looking for an underrated gem similar to Rune Factory? If so, we have the perfect game for you. Kitaria Fables combines elements of farming simulation games with role-playing gameplay to provide players with an interesting experience.
The game came from the team at Twin Hearts in 2021. You can play Kitaria Fables on Xbox One, PlayStation 4, PlayStation 5, Windows, Nintendo Switch, and Xbox Series X/S.
The story is set in a world called Kitaria. You start the game in Paw Village where you get a quest to defend citizens from increasingly aggressive wildlife.
You have the freedom to choose what you'll focus on in the game. Players who are more interested in the simulation elements prefer farming and gathering resources in beginning and going on quests later. On the other hand, RPG fans usually start with the quests and begin farming afterward.
The RPG elements in Kitaria Fables are quite impressive. You will have to face a variety of enemies as you complete quests. To do this, you'll have to equip yourself with good weapons and armor. You have the option to choose your battle style. There are multiple weapon styles available, and even some great magic spells.
Kitaria Fables has a lot of interesting characters that you'll bond with over time. The better relationships you build with citizens the higher your rewards will be. The game supports both a single-player and local co-op mode, and it's one of the best games like Rune Factory to check out today.
Craftopia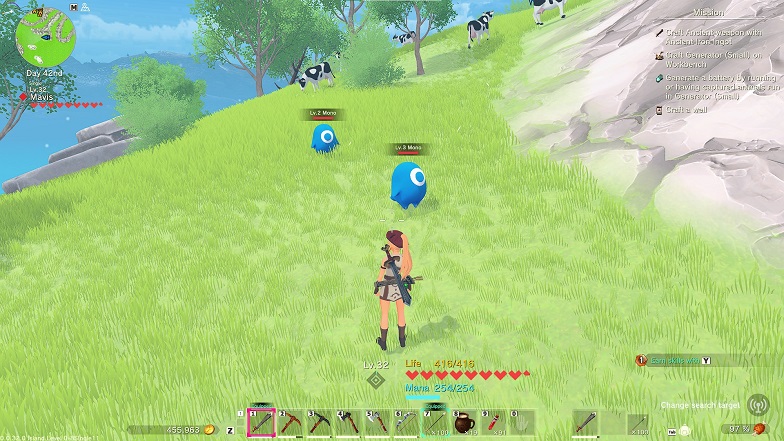 Craftopia is an open-world multiplayer survival action game, and it's a great pick if you're looking for more games like Rune Factory that give you plenty of freedom.
The team at Pocketpair has been working on this game with early access being available since 2020. The game studio made Craftopia with the goal to combine elements from some of their favorite video games and provide them all in a single experience.
The great thing about Craftopia is that it has so many different activities you can engage in. You can explore dungeons and fight monsters as you would in a hack-and-slash video game. You can automate activities just like in factory management simulations. Players are able to cast magic spells like in their favorite fantasy RPGs.
You can gather resources just like you would in a farming simulation. You'll need to monitor your hunger levels to stay alive as you would in a survival game. These are just some of the activities you can do. When it comes to farming, you'll have more than 20 different crops to grow.
Although you'll start off gathering resources by doing manual tasks like mining and chopping trees, you'll eventually be able to utilize automation. You can automate any task that involves gathering resources. This is one of the best open-world survival games on Steam.
You will be able to fully customize your character in Craftopia. Players also have more than a hundred skills to learn that will aid them in completing quests. When you want to explore the world, you won't have to walk or run. There are helicopters, motorbikes, tanks, air balloons, hoverboards, cars, and other vehicles at your disposal.
Littlewood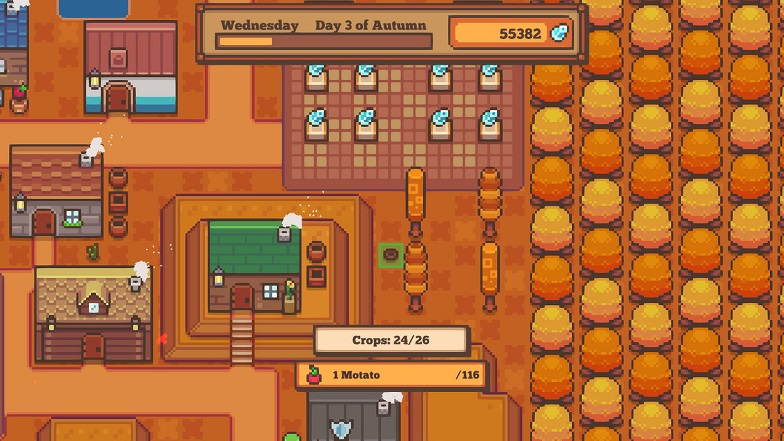 Similar to Stardew Valley, Littlewood was the work of one person, Sean Young. Although it didn't get the same critical or commercial success as Stardew Valley, Littlewood is not a game you should overlook. It came out in 2020 and is available for Windows, Linux, macOS, and Nintendo Switch.
The story of Littlewood takes place in a world called Solemn. You play a character that defeated an evil wizard and established peace in Solemn. However, you've lost all your memories of saving the world. As you progress in the game and talk to various characters, you'll start unlocking certain memories of the past.
Solemn is quite a large world that contains various places you can visit, including mining caves, fishing towns, and enchanted forests. The game puts a heavy focus on exploration. As you explore different parts of the world, you'll find rare materials and items you can either sell or use for crafting.
It's hard to become bored when playing Littlewood because there is such a large number of activities you can engage in.
Some of the top activities include farming, woodcutting, gathering, fishing, cooking, mining, crafting, and more. You can also improve your skills as a merchant by selling your items in the Shopping District. As you become a better merchant, you'll be able to find better items from other characters.
Littlewood is a single-player experience that features characters with a lot of depth that makes the game extremely fun. It's one of the best games like Rune Factory to play if you want a good mix of RPG mechanics and uplifting storytelling, and it's one of the best indie games on the Nintendo Switch, too.
Yonder: The Cloud Catcher Chronicles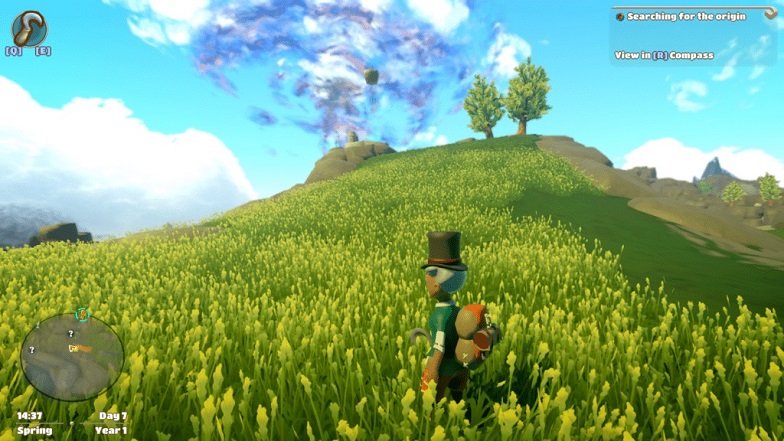 Yonder: The Cloud Catcher Chronicles is a single-player adventure game that Prideful Sloth released in 2017. It received generally positive reviews, but it never became overwhelmingly popular.
Yonder is an underrated gem that you should definitely check out if you want to experience one of the most charming open-world adventure games on Steam. Fans of games similar to Rune Factory are sure to love it.
You can play the game on Nintendo Switch, Xbox Series X/S, PlayStation 4, Windows, PlayStation 5, and Xbox One. The game studio behind Yonder mentioned that some of their main inspirations for it include Skyrim, Harvest Moon, The Legend of Zelda, and Animal Crossing. From these inspirations, it's easy to see why this game is similar to Rune Factory.
The story of Yonder is set on a natural island paradise called Gemea. There are eight different environments on the island, including everything from snow-capped summits to tropical beaches. Your quest is to protect Gemea from the mysterious evil Murk who has taken control of it.
There are so many different things you can do in Yonder: The Cloud Chaser Chronicles. When you start the game, you'll be able to fully customize your character and then begin learning different skills. You can master a lot of professions, including becoming a tailor, carpenter, and chef to serve the citizens of Gemea.
Players are able to explore the world at their own pace. Whether you want to complete quest after quest or enjoy some peace while fishing and farming is completely up to you.
Verdant Skies
Verdant Skies is a life simulation video game that was heavily inspired by Harvest Moon. It comes from the team at Howling Moon Software. The game studio that developed Verdant Skies noted that their ultimate mission was to create a game with a deep story and modern gameplay.
The story is set in an alien world called Viridis Primus. When you start the game, you find yourself on this planet where there is only a small number of people and a few structures. You're a colony on this planet that needs to create a self-sustaining society. You start as a farmer and then develop more skills.
Verdant Skies features gameplay very different from most games in its genre. Although you begin the game as a farmer and this is a simulation game, your main activity will be talking with other characters. Each character you can interact with in the game is incredibly well-written and has a lot of depth.
Even when a conversation seems like small talk, it can quickly turn into an exploration of some very deep themes. Through conversations with other colonists, you start to get a feeling of what it would really be like if you were on an alien planet.
This is one of the most unique sci-fi games on Steam, and you're sure to love it if you're a fan of the Rune Factory series.
Sakuna: Of Rice and Ruin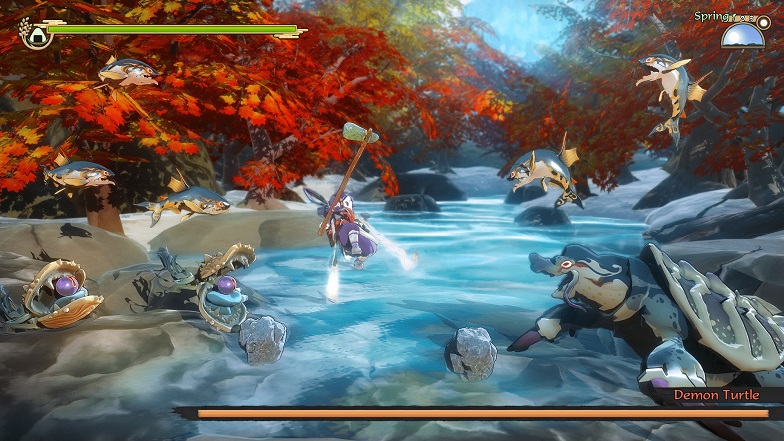 Sakuna: Of Rice and Ruin is a single-player action RPG with simulation game elements. Independent studio Edelweiss released it in 2020. You can play the game on Windows, PlayStation 4, and Nintendo Switch.
Sakuna: Of Rice and Ruin got a lot of praise for its story, gameplay, and environment. The game sold more than a million copies, making it a commercial success.
The story follows a spoiled princess named Sakuna who one day gets banished from her town with a small band of humans. They get sent to the Isle of Demons, which is a place that's as bad as it sounds. Here, Sakuna must rediscover herself and create a thriving community with the little she has at her disposal.
Sakuna is the daughter of a harvest goddess and warrior god. In the game, she must channel both her parents to tame the demons and the soil of the Isle of Demons.
Players have to follow a very detailed step-by-step plan to cultivate the perfect crop. You'll also have to face countless enemies to get the resources you need.
The group of people that are stuck with you on the Isle of Demons will help make items from the resources you find on your adventures.