The action-oriented gameplay of Hades often leaves players wanting more. Luckily, Supergiant Games, the developer of Hades, has two more games that are very similar.
And that's not all!
Many other games out there provide a similar experience, but with their own twist on the formula. Whether you're looking for the latest sci-fi adventure on PC or the most challenging pixelated title on Switch, there'll be a Hades alternative for you.
If you're seeking an action game with an isometric or top-down perspective, look no further. We've compiled a list of our top picks for the 10 best adrenaline-pumping action games like Hades.
Bastion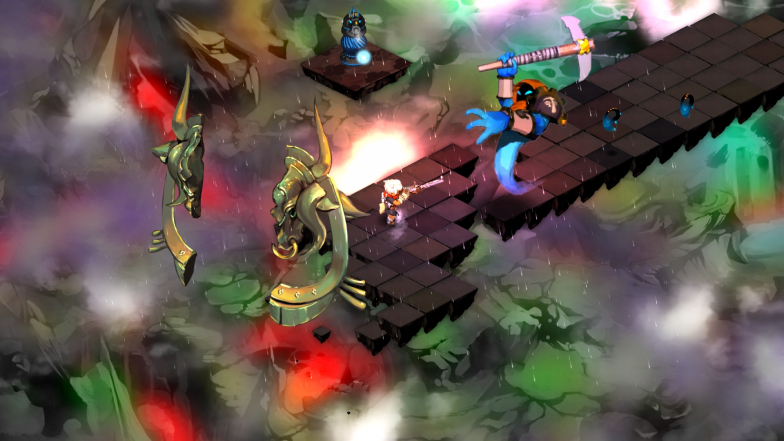 Bastion was a surprisingly unique game when it first came out and it still is a memorable experience. It was Supergiant's first step into becoming the successful developers they are today, and it is easy to see why it had such a big impact.
The game puts players in the role of the Kid, a character who must journey through a ruined city to revive a sanctuary. The combat is precise, fun, and challenging. As they progress through the game, players will unlock new abilities and exciting weapons.
Bastion's presentation is breathtaking. The art style features spectacular hand-drawn characters and a world that you literally see being brought to life as you explore it.
However, the most noticeable feature of this game is its ever-present Narrator. As he describes what is happening, the game makes you feel like you are actively creating or being a part of a story that unfolds as you play. It adds an artistic touch that elevates an already excellent game.
Transistor
Transistor is another must-play game from Supergiant Games, the developer of Hades. This intriguing game features an isometric perspective and has a deep and compelling story.
Players control Red, a singer armed with the powerful Transistor weapon, as she battles through a mysterious city, uncovering its secrets and the truth behind the weapon's creation.
The combat is both strategic and fast-paced, often feeling like puzzles. Making the wrong decision causes a huge setback, but making the right ones is incredibly satisfying. Transistor also allows players to pause the fight and plan their next move, adding a strategic layer to the game's fast-paced combat.
The game's art style is beautiful, with detailed character designs, impressive world-building, and a fantastic soundtrack. This title is especially enjoyable if you liked the gameplay in Hades and are a fan of cyberpunk games or sci-fi in general.
Dandy Ace
| | |
| --- | --- |
| Genre: | Action, Roguelike |
| Developers: | Mad Mimic, Mad Mimic Interactive |
| Release Date: | October 7, 2020 |
| Find at: | PlayStation Store, Microsoft Store, and Steam |
| Multiplayer: | N/A |
| Average Playthrough: | 8 hours |
In this game, players take the role of Dandy Ace, a master of illusions and a member of the magical society of Illusionists. The game's setting is a fantasy world full of magical creatures and dangerous enemies.
Players must go through many levels using a variety of abilities to defeat enemies and solve puzzles. The combat is fast-paced and incentivizes creativity. In Dandy Ace, the way you combine skills significantly changes how efficient you will be in combat.
The main character, Dandy Ace, uses cards players find in each playthrough to fight the hordes of enemies they encounter. These cards can provide different moves, attacks, and passive effects that change Dandy Ace's abilities. Add that to the roguelike nature of the game, and you have almost infinite replay value.
Dandy Ace is definitely worth checking out if you're looking for a game like Hades but with a different art style. It's a game that will offer a unique experience with its dazzling fantasy world and a charismatic protagonist that will keep you wanting to play more.
Death's Door
Death's Door is an isometric adventure game that feels like old Zelda games in many ways. Players take on the role of a Raven, whose job is to collect the souls of the dead and punch their time card.
The combat in Death's Door is intense and challenging. Players use melee weapons, arrows, and magic to defeat a fantastic cast of beasts and demigods.
The game's world is both beautiful and desolate. Players will venture beyond the Doors and explore a universe filled with exotic inhabitants and countless secrets.
Throughout the game, they will uncover a dark mystery that involves chasing and defeating colossal tyrants with different stories and motivations.
Death's Door's tale is dark but entertaining. Over time, the plot will reveal truths behind the flow of souls, the function of the Ravens, and the origin of the Doors. If you're a fan of games like Hades for the world-building and isometric perspective, this is the game for you.
Wizard of Legend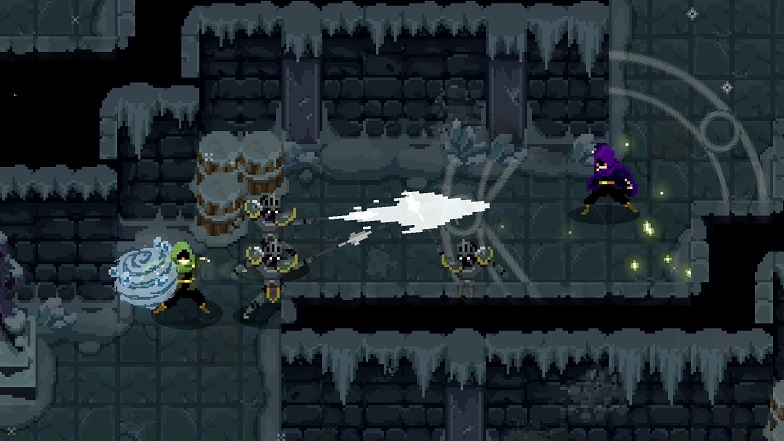 Wizard of Legend is a fast-paced roguelike game with an exciting spell system. The game's pixel art style, wizard-themed power fantasy, and fast-paced gameplay make it a standout in the genre.
In this game, players will come across different spells in each run and have to figure out the best way to use them.
Since it is a roguelike and players rarely find the same spells twice, they will have to experiment and create new combos as they go.
This makes Wizard of Legend fresh and engaging. Each playthrough feels like a new adventure, which is why I consider it one of the most interesting roguelike games on Steam.
Wizard of Legend is not just for fans of Hades; it's also great for those who enjoy action-adventure roguelikes and are looking for a unique theme in the genre.
Figuring out combos with spells you randomly acquired in each run is an incredibly satisfying experience.
With a bunch of creative spells, fast-paced combat, great replayability, and varied enemies, this game has everything you would want in an action-oriented top-down roguelike.
Curse of the Dead Gods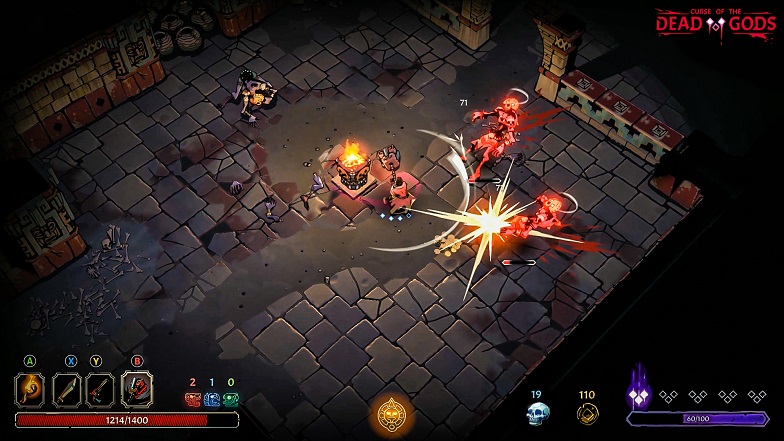 | | |
| --- | --- |
| Genre: | Action, Adventure, Rogue-like |
| Developers: | Passtech Games |
| Release Date: | February 23, 2021 |
| Find at: | PlayStation Store, Microsoft Store, and Steam |
| Multiplayer: | N/A |
| Average Playthrough: | 23 hours |
Curse of the Dead Gods takes place in an endless temple filled with enemies, traps, and secrets as players seek untold riches and divine powers. The gameplay is challenging, requiring players to collect Relics and weapons to explore deeper areas of the temple.
The combat system is similar to Hades, with many weapons to find and abilities to upgrade. However, there's a twist. This game's curse system is its standout feature, changing how you go about the temple in each run.
Some curses might cause enemies to spawn more enemies when defeated, while others might make you lose gold when you take damage. The curse system adds depth and challenge to the gameplay by forcing players to adapt their strategies for each run.
If you're a fan of Hades and are looking for another game that is similar but unique, Curse of the Dead Gods is worth checking out. With its curse system, challenging gameplay, and exciting boss battles, this game is sure to keep you coming back.
Dreamscaper
| | |
| --- | --- |
| Genre: | Action, Adventure, Rogue-like |
| Developers: | Afterburner Studios |
| Release Date: | August 14, 2020 |
| Find at: | Microsoft Store and Steam |
| Multiplayer: | N/A |
| Average Playthrough: | 45 hours |
Dreamscaper is an action rogue-like game with an innovative gameplay cycle. In this game, you take the role of Cassidy and fight monsters while awake and asleep.
By night, players delve into Cassidy's subconscious, facing nightmares in an ever-changing world filled with items, abilities, and challenges.
By day, players explore the city of Redhaven, build relationships, and unlock permanent upgrades to become more powerful for the next dream.
Dreamscaper's combat system rewards skilled play. As you progress, the game will grant you several weapons and abilities. They will help you defeat enemies representing Cassidy's negative emotions and keep the game engaging.
This game might not be as deep and frenetic as Supergiant Games' titles, but it still is a good roguelike with an unusual theme and setting. This is an excellent game for anyone looking for something like Hades, but still unique.
Enter the Gungeon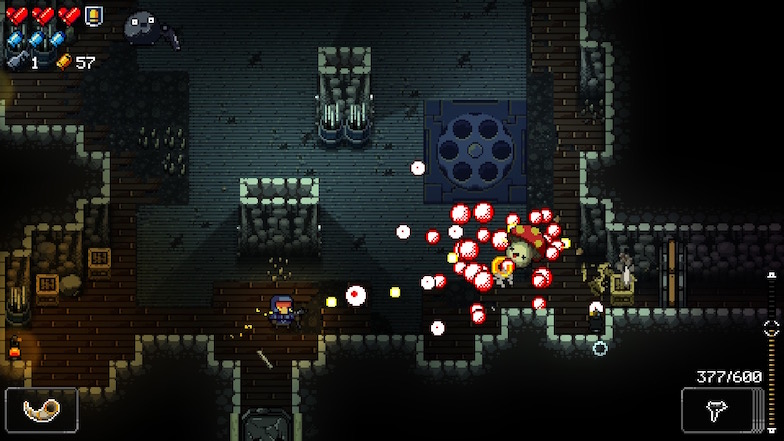 Adding Enter the Gungeon to the list is a bit of a stretch, but I don't think I can leave it out. Much like Hades, Enter the Gungeon is an intense dungeon-crawler game with roguelike features.
This top-down game doesn't take itself seriously, which is one of the reasons I like it so much. In this game, the main characters explore a dungeon to find the ultimate weapon, a gun that can kill the past. Besides being a top-down roguelike, Enter the Gungeon is also one of the best bullet hell games you can get on Steam.
The game features a wide variety of characters to choose from, each with their own unique abilities and starting items. This allows players to experiment with different playstyles and strategies to take on the game's challenging levels and bosses.
Considering the game's challenging gameplay and replayability, you know Enter the Gungeon is a must-play for anyone who enjoys games like Hades.
Children of Morta
Children of Morta is an action RPG in which players will live through the tales of an extraordinary family of heroes. Lead the Bergsons, with all their faults and qualities, in the battle against the imminent Corruption threatening their land.
As players take on the role of different family members, each with their own unique abilities and starting items, they must adapt on the fly to overcome challenging levels and bosses.
One of the standout features of Children of Morta is the co-op mode, which allows players to team up with friends online or locally to take on the game's challenges. The game also has procedurally generated dungeons, giving players a new and unique experience with each playthrough.
While it doesn't share the same Greek mythology setting as Hades, Children of Morta offers a similar level of challenge and replayability. If that's what you are looking for in a game, make sure to try this one out.
暖雪 Warm Snow
| | |
| --- | --- |
| Genre: | Action |
| Developers: | BadMudStudio |
| Release Date: | January 18, 2022 |
| Find at: | Steam |
| Multiplayer: | N/A |
| Average Playthrough: | 6 hours |
Set in a dark fantasy world during the Longwu era, Warm Snow follows Bi-an, a warrior on a quest to save a dying world from the evil Five Great Clans.
Warm Snow's unique setting and art style make it stand out in the genre. This game features a strong artistic identity inspired by Chinese culture.
Although this game is often mentioned as a Hades clone, it is actually quite different in many aspects. One of the standout features of Warm Snow is its loose upgrade system with a good amount of randomness involved.
Warm Snow is a great choice if you're looking for a different world and similar gameplay to Hades. The aesthetics and gameplay of this hidden gem make it one of the most underrated games on Steam.