Image credit: Pearson Education's Family Education Network
Poptropica is an online role-playing game created by American author and cartoonist Jeff Kinney. It is aimed at children 6 to 15 and developed to help them improve their problem-solving skills. The game was initially published by Pearson Education in 2007 but was sold to Sandbox Partners in 2015. Jeff Kinney currently serves as the creative director for the platform.
Five years after Poptropica was made available, it had more than 75 million registered users. The platform is adored by both children and parents because it gives kids a fun way to learn. The game is free to play but there is a monthly subscription model for users who want additional features.
In case you're looking for something similar to Poptropica for your kids, make sure you check out the games in this list.
Animal Jam Classic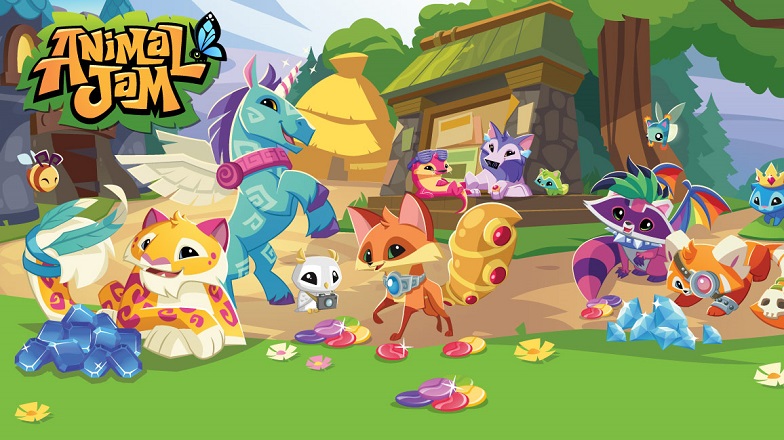 Formerly known as Animal Jam, this is a classic MMO game for children. It was developed by Wildworks and published in 2010 with the help of the National Geographic Society. Ten years after its release, it was reported that the game achieved a lifetime total of 130 million registered users.
The game is available for both Windows and macOS. The company also released apps for Android and iOS. The game is recommended for children up to the age of twelve. It features numerous adventures, puzzles, and mini-games designed to help kids learn about zoology.
Due to the meteoric rise in popularity, there have been various merchandise releases associated with the Animal Jam brand, including board games and books. The game has registered users from more than 200 countries across the globe. The games contain strong safety features to keep kids protected and parent tools that allow you to manage your kid's account.
Despite being targeted toward children up to the age of twelve, the game is also somewhat popular among teenagers. In Animal Jam Classic, you have your own virtual property that you can customize. You can also adopt pets. There is a virtual currency in the game that you can use to purchase furniture for your human, as well as clothing for your character.
The game is free to play but contains an optional subscription model that gives players access to exclusive in-game features. In Animal Jam Classic, you roam around an area called Jamaa that contains customizable animals and a variety of different biomes. The game contains educational video content from marine biologist and National Geographic explorer Tierney Thus. There is also content created by herpetologist Brady Barr.
If your kids love to learn about animals, creating an Animal Jam Classic account for them is a no-brainer. But even if they're not too interested in the topic, it can still be a fun game they can play while picking up interesting facts along the way.
Roblox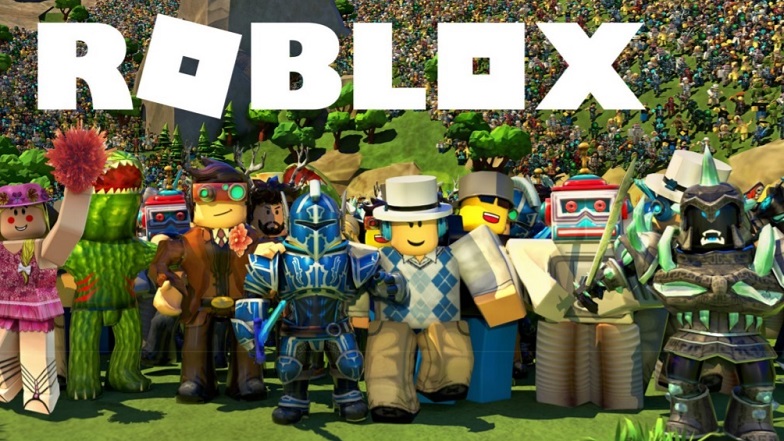 There's hardly a game that can achieve the level of success Roblox has reached. The massively multiplayer online game was initially released for Windows in 2006, followed by an iOS release six years later. Roblox was made available for Android in 2014 and Xbox One in 2015. It was developed by Roblox Corporation.
Although it has been available for more than 15 years, the game's player base remained relatively small throughout most of this time. It wasn't until the second half of the 2010s that it started to gain popularity. The number of players on the platform started to grow exponentially after the beginning of the COVID-19 pandemic.
In 2020, it was reported that the game had more than 164 million monthly active users. This number includes over 50% of all children from the United States under the age of 16. The game is suitable for everyone above the age of 10 and is most popular among teenagers.
Unlike Poptropica and Animal Jam Classic, Roblox enables your children to develop their creativity instead of digesting video and textual content. Although you can spend countless hours playing different games on Roblox, the great thing about the platform is that you can easily develop your own games.
In case your children are into video games, computer science, and programming there is hardly a better and more fun place for them to start learning how to make games than Roblox. More than 20 million games are made on the Roblox platform each year, and most of them are developed by minors.
The skills your child can pick up in Roblox may plant the seeds for a successful career in programming later on. The game is free to play and contains a virtual currency known as Robux. You can use Robux to get better equipment for your character, access to bonus in-game content, and even special abilities.
JumpStart
JumpStart is a massively multiplayer online game that contains many different educational games developed for children. All of them were developed and published by JumpStart Games. The first game the company ever released is called JumpStart Kindergarten and was made available in 1994. Due to the high quality of their games, JumpStart has managed to remain relevant for almost 30 years.
Apart from the educational PC games, the franchise also spawned direct-to-video films, workbooks, and mobile apps. The JumpStart online video game most people today know the company for was created in 2009. The ultimate goal of every JumpStart release is to help kids tackle challenging subjects in a fun way.
There are numerous mini-games for each subject, including math, English, Spanish, geography, coding, and more. When your children play this game, it will make it easier for them to tackle specific subjects in the elementary school curriculum. Each game contains a story where animated characters have a problem that they need help solving. The player has to help the characters and learns a lot during each adventure.
The JumpStart game series has won more than 300 awards to date. It is arguably one of the most successful and respected educational media franchises for children. It also became the first educational software series to cover all subjects in the elementary school curriculum by grade level. The quality of the content in JumpStart releases is achieved from input from a variety of teachers, child development specialists, and educational experts.
The games feature three different technologies that were developed to help kids learn. The first is known as the JumpStart Assessment Technology and it serves the purpose of customizing individual skill levels. The second is called the JumpStart Adaptive Learning technology and enables the software to identify the player's skills to then customize difficulty levels.
Finally, there is also something known as JumpStart Tutor Technology embedded in the games and is utilized to help players overcome challenges.
ABCmouse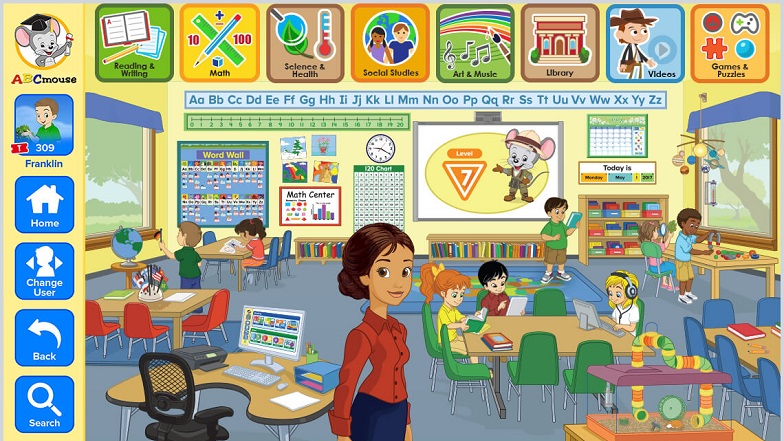 ABCmouse, otherwise referred to as ABCmouse.com Early Learning Academy, is a digital education program targeted toward kids ages two through eight. It was created by Age of Learning, Inc. and released in 2010. The program contains a website where children can engage in fun learning activities, as well as apps for Android and iOS devices.
The program focuses on subjects like math, reading, music, social studies, and art. There are currently more than ten thousand learning activities available on ABCmouse. The platform features an affordable subscription-based model.
Since the program has been around for more than a decade, the company remained relevant by adding important features. In recent years, it put a lot of focus and effort into creating daily interactive virtual classroom experiences. These experiences are led by qualified teachers who can help prepare your kids for subjects they'll learn in school.
When you subscribe to ABCmouse, you get various ebooks and progress trackers that you can use both online and offline. There are also many games that make learning easier for your kids. You have the option to register up to three children when you subscribe to the website and set difficulty levels for each child depending on their age and skills.
Some of the most popular content on ABCmouse include learning games, puzzles, coloring, poems, songs, and video content. Both the website and the app are incredibly intuitive to use, so even your youngest child will have no problem accessing the lessons.
Woozworld
Originally titled KidStudio 2.0, Woozworld is a game targeted toward tweens and teens. It represents a massively multiplayer online game that lets you explore fashion and connect with other players in a safe virtual environment.
In Woozworld, you're able to create your own character, start your own business, and set up new virtual spaces. In the first few months after the game's release, more than two million virtual spaces were created by players. The purpose of this game is to spark creativity in teens and help them define how they want to express themselves.
Apart from having a positive impact on creativity, Woozworld is a great way for tweens and teens to enhance their social skills. There is a warm and welcoming community that can be joined in the game. Players are able to become friends with children their age. Some of the skills you can develop by playing Woozworld include designing, planning, budgeting, money management, and writing.
The virtual community inside the game is called Woozin and is the place where players can post statuses, music, photos, and the environments they created. You even have the option of raising pets with another player. When you create your virtual space other players can vote on it and help you become famous by improving your rank on the Woozworld Leaderboard.
Jenny LeClue – Detectivu
Are you in search of a fun activity that can help sharpen your teenager's problem-solving skills? If so, you shouldn't look further than Jenny LeClue – Detectivu. This is an underrated gem of a video game that was developed and published by Mografi in 2018. It is available for Windows, Linux, macOS, Nintendo Switch, and iOS.
Jenny LeClue is an adventure video game where you play an aspiring young detective who sets out on a mission to find the truth after her mother gets accused of murder. The game features beautiful graphics and challenging puzzles in a world where your choices heavily impact the story.
It is a single-player game perfect for teenagers. Nevertheless, it also has drawn the attention of adults by striking a wave of nostalgia in every person who used to be a fan of teen detective novels when they were younger.
The environment features a hand-drawn design with aesthetics reminiscent of the mid-20th century world. You can interact with a ton of objects, which encourages players to snoop around as much as possible just like a real detective would. The game was built in Unity and made possible through a crowdfunding campaign on Kickstarter.
In Jenny LeClue – Detectivu you will explore libraries, mountains, graveyards, police stations, and mines to find clues that will lead you to the truth.
Webkinz
Webkinz is a virtual world targeted toward children ages six and up. It is a fun and safe online environment with more than 100 different games and activities. Your children can pick up a lot of valuable knowledge as they adopt pets in Webkinz. The game is available for Windows, macOS, iOS, and Android.
Webkinz was created by a Canadian soft toy company named Ganz. It is classified first and foremost as a stuffed animal franchise. What was special about their stuffed animals is that they each came with a code consisting of eight characters. When you register the code on the Webkinz website, you receive a virtual version of the toy.
In 2019, the company decided that it would stop selling plush toys and instead only focus on virtual pets. One year later, Ganz unveiled the new Webkinz site and logo. They also gradually started to improve the pets' design and introduce more social features to their game.
Some of the things you can do in Webkinz are creating shows using the Webkinz Studio feature, sending letters and gifts to players, participating in events, throwing parties, and trading items with other users.