Moonlighter is an excellent indie roguelike game that hits just the right spots for casual and serious gamers alike. We were all drawn in by the promise of exploring, running our own shop, and selling our collected items.
It ticks the elements of action RPGs by allowing you to explore dungeons with different difficulty levels and unique monsters. I loved how you had to display items in your store to sell them during the day, and then venture into the dungeons fighting monsters and collecting items at night.
The only bad thing about Moonlighter is that it only takes about 14 hours to complete. It's unfair that we have to end our journey that early on in the game. But, even with its short play time, it's still one of the best roguelike games on Steam, telling you a lot about the quality of the game.
Don't worry if you're looking for more games similar to Moonlighter, though. We've got you covered. We've collected 18 of the best games like Moonlighter to help you scratch that itch.
18. Cult of the Lamb
The first game like Moonlighter is Cult of the Lamb.
Cult of the Lamb is an action roguelike game available on the Nintendo Switch, PlayStation, Xbox, and PC. You play as a cute little lamb, possessed by an all-powerful deity who saved your life but is asking you to start a cult in its favor.
Don't let the cuteness in the game fool you.
Cult of the Lamb is full of intense battles and boss fights, exploring the game's five regions, and collecting valuable items along the way. Your enemies can range from rival cultists to non-believers and other animals you can rescue and ask to join your cult.
Cult of the Lamb also features a unique art style that looks amazing while not being too graphically demanding, allowing you to play it on almost any modern device. It's an overall excellent and surprising game that's ideal for fans of games like Moonlighter.
17. Crawl
If you're looking for a game like Moonlighter that has a multiplayer element, Crawl might be the best pick for you.
Crawl features a local multiplayer mechanic where up to 4 players can join the game through a shared screen display. It's one of the best games on Steam to play with your partner if you're both a fan of games like Moonlighter.
If you thought that the enemies in Moonlighter were not tough enough, then you're in for a treat. In Crawl, your friends control the monsters. Your friend takes your place every time you die, and you'll swap roles.
The game's goal is to collect enough XP and powerful items whenever you're controlling the main character to face the final boss. The local multiplayer element adds an extra layer of uniqueness and challenges to the game.
Crawl is definitely one of the quirkier games on the list, and it executes its concept elegantly. Your only problem now is to find some friends.
16. Enter the Gungeon
From the name itself, you've probably already guessed that Enter the Gungeon is all about guns, guns, and more guns. It's just a dungeon crawler, but instead of using melee and other close-range weapons, you'll be handling various guns of all shapes and sizes.
I highly recommend checking out games like Enter the Gungeon if you love using the bows in Moonlighter. You're getting a massive upgrade in terms of firepower. However, most of the core gameplay and mechanics that you loved about Moonlighter are still there.
Enter the Gungeon features four different classes called the 'Gungeoneers'. Each Gungeoneer has a unique item and weapon that can help you throughout your journey to find the gun that can kill the past.
It also features a local co-op system that unlocks a fifth playable Gungeoneer.
If you think that Enter the Gungeon isn't the right game for you, I highly encourage you to continue reading because we've saved some of the best games for last.
15. Dead Cells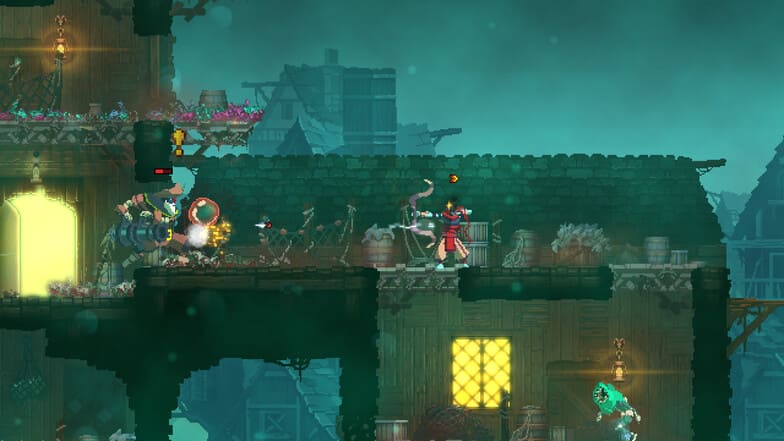 Dead Cells is one of the best games like Moonlighter that you can play if you're looking to up the stakes a bit. It's a fast-paced action-platformer and is one of the best Metroidvania games on Xbox, PlayStation, Nintendo Switch, and PC.
You take the role of a creature called the Prisoner. Your main goal is to escape an unforgiving island and kill the King. Along the way, you can collect weapons, treasures, and other unique items that can help you on your journey.
Dead Cells features procedurally-generated levels that randomly spawn various mutated creatures and enemies you'll have to slay. To make things worse, if you die in the game, you lose all items and currencies you have collected. It's basically a combination of Moonlighter with Dark Souls elements.
I highly suggest trying out the game if you're a huge fan of merciless, challenging, and high-stakes games.
14. Children of Morta
If you're looking for a game like Moonlighter that features a bit more emphasis on the story, then you're going to love Children of Morta. Children of Morta is a story-driven ARPG about the Bergson family.
The Bergson family is a remarkable family of heroes who are the protectors of Mount Morta. Your goal in the game is to defend Mount Morta from an evil force called the 'Corruption' using each family member's various abilities.
In Children of Morta, you get to play as the different members of the Bergson family. You'll unlock more members as you progress in the game, with a total of seven playable heroes all throughout. Each character has their own special abilities and gameplay mechanics, keeping the game very interesting because you keep learning new things.
Each procedurally generated dungeon takes place within the caves of Mount Morta, where you'll have to eliminate various enemies and bosses to progress in the game.
13. Traveller's Rest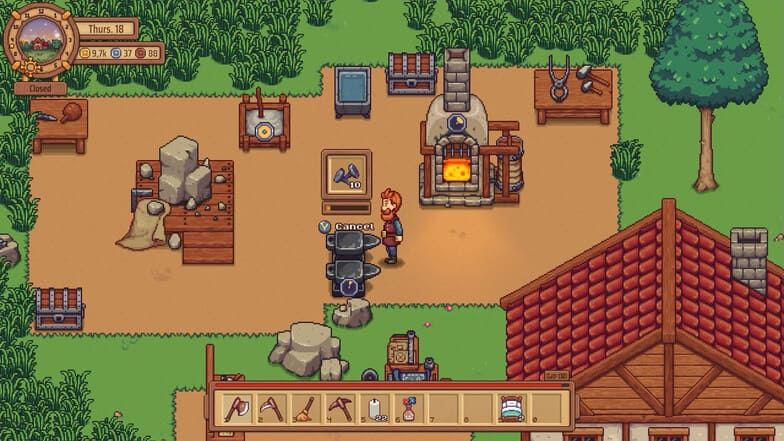 Traveller's Rest has you managing an inn, brewing your own beer, running a farm, and exploring the world, all while socializing and creating relationships with your customers. If you loved the micro-management aspect of games like Moonlighter, then Traveller's Rest is going to be perfect for you.
It's a small game that's very easy to run. It doesn't have the best graphics in the world, but its art style works well for the game.
At its core, Traveller's Rest is a tavern simulator where your main goal is to transform an old inn into a central social hub in your town.
You can completely customize and design your tavern with various equipment and decorations in the game. You also need to explore the world and forage for items that you can use as ingredients for your recipes. It's a very relaxing game that's fit for all ages.
12. Rune Factory 4 Special
The Rune Factory franchise was one of the very first games to introduce RPG elements into a farming simulator. Like Moonlighter, you can explore various locations, fight different monsters, craft your own weapons, find rare items, and sell treasures in Rune Factory 4 Special.
One thing that sets Rune Factory 4 Special apart is that you can also farm your own crops, raise animals, create potions, fish, and engage with the community in various ways.
You can even settle down and marry one of the 12 available marriage candidates.
Rune Factory 4 Special is an enhanced version of the original Nintendo 3DS game. It's one of the best farming games on the Nintendo Switch, Xbox, PlayStation, and PC. It's filled with tons of things for you to do and offers a unique fantasy gaming experience.
11. Graveyard Keeper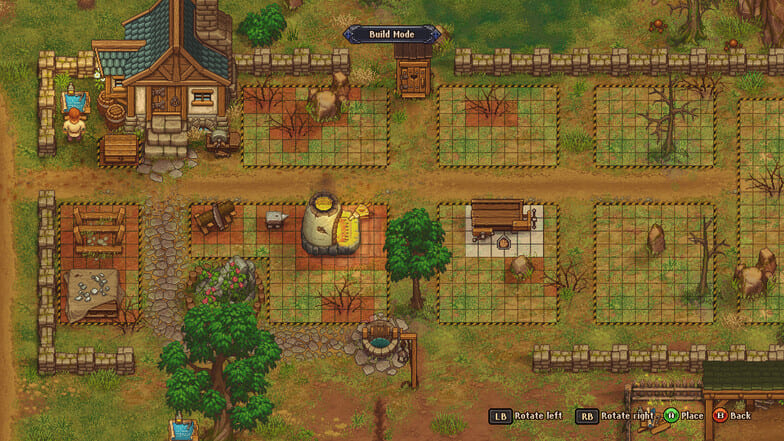 Graveyard Keeper is a hit indie game all about managing and building a medieval graveyard. I know that it may sound spooky or uninteresting to some. But just trust me on this one and give it a shot. Once you dive deeper into the gameplay, I'm sure you won't regret playing it.
Graveyard Keeper is one of the more unique games like Moonlighter on the list.
Like Moonlighter, Graveyard Keeper also has you managing every aspect of your business while exploring out in the world for items. Instead of running a shop, you'll simply be running a graveyard instead.
You get hit by a car and find yourself in a bizarre world where you have to take care of the local cemetery and church.
Your ultimate goal is to open a portal back to your lover in another world. You do this through managing the graveyard, quests, unlocking new technologies, farming, smithing, fighting enemies, and crafting.
10. Forager
Forager is an open-world sandbox game that has an overhead perspective. It takes inspiration from games like Legend of Zelda, Stardew Valley, and Terraria, as well as taking mechanics from idle games.
The game allows you to do tons of things from the basics, like crafting, fighting, and looting.
However, various secondary tasks like cooking, farming, hunting, fishing, mining, manufacturing, and engineering can have you playing Forager for hours upon end. Not to mention other factors like magic, economics, and land expansion that you also have to consider.
Forager is an excellent game like Moonlighter to play if you felt like Moonlighter was a bit too short.
It's a very grindy game that can get you easily addicted because of the endless stream of things you can do. It always feels like you constantly discover new things or unlock new items and advancements.
9. Stardew Valley
Next up, we have one of the best farming simulator games in Stardew Valley. Stardew Valley is an excellent farming simulator game that also features some RPG elements and roguelike characteristics.
In Stardew Valley, you are left with an old and worn-down plot of land in Pelican Town. Your main goal is to restore the farm by planting crops, raising livestock, generating enough revenue, and upgrading the farm's buildings and facilities.
There's also a dungeon-like system that you can access through the mines. Each section of the mine features various enemies. As you go deeper into the mines, the enemies get more challenging, but you also get more valuable items. You can craft your own weapons, armor, and items to fight these enemies.
The RPG mechanics in Stardew Valley are definitely a lot more toned-down when compared to Moonlighter.
However, there's just a huge variety of things that you can also do in Stardew Valley, making it one of the best simulation games on the Nintendo Switch, Xbox, PlayStation, mobile, and PC. It's worth checking out today.
8. Neon Abyss
Get ready for a colorful touch to your roguelite action-platformer experience. Neon Abyss features a run-and-gun shooter mechanic played in a side-scrolling perspective. It's definitely the shiniest and brightest game like Moonlighter that you can play.
Neon Abyss features a chaotic and fast-paced gameplay system that allows you to descend into the Abyss of procedurally generated rooms. You play as a 'Grim Squad' member and start your journey to explore the Abyss to hunt down and eliminate the New Gods and their followers.
You can choose from multiple weapons that can alter the game's rules or give you unique stat bonuses. You can also collect pets that have unique abilities and evolve the longer you survive between runs.
The sky is the limit during runs because all effects stack between items or pets. This allows you to create a chaotic environment filled with powerful weapons, crazy stat buffs, and insane rule changes.
7. Terraria
Next up, we have one of the best-selling games of all time called Terraria. Terraria is a sandbox action-adventure game in a procedurally generated 2D world with 8-bit graphics.
Depending on the game mode, it can take anywhere between 50 to 200 hours long to complete Terraria.
In Terraria, you start off only with some basic tools and an NPC guide to help you kick off your journey. From there, you can spend countless hours exploring the world, building bases and structures to survive, and gathering resources. You can craft items and weapons that you can use to fight the various enemies you encounter.
You can do numerous things in Terraria that are simply hard to put into words and you just have to experience them to understand and enjoy them. But trust me, it's one of the best games that you can play and offers way more play time than you can imagine.
6. Hades
Hades is the perfect game like Moonlighter for you if you enjoy Greek mythology. It's a roguelike dungeon crawler game that has you fighting and interacting with various prominent creatures, gods, and figures from Greek mythology.
You play as Zagreus, the son of Hades, as you attempt to escape the Underworld and reach Mount Olympus. You'll gradually progress through the game by clearing different rooms and moving on to the next. After each room, you'll get various rewards and gifts that can help you get stronger and ready to face more powerful enemies.
The hack-and-slash combat system of Hades works well with the weapons, items, and abilities that you can get from the Olympians as you progress. It's definitely exciting to see what each gift does and how you can use it in-game.
5. Risk of Rain 2
Risk of Rain 2 is a sequel to the wildly successful side-scrolling roguelike Risk of Rain. This time, it's beautifully translated into a 3D world, improving on the mechanics and features that its predecessor succeeded in.
In Risk of Rain 2, you and up to three other players must find a randomly located teleporter within each level. Once it's activated, get ready to fight a huge wave of enemies and bosses while waiting for the teleporter to charge.
Each alien you kill drops experience to help you level up and currency that you can use to open different chests scattered in each level. The chests can drop items that can give you various boosts, increase in stats, multiple effects, and even activate turrets or drones to help you out.
There's arguably no roguelike game like Risk of Rain 2 because of all the things it does so well. It's an excellent game to play if you love Moonlighter and can get you attached to the live-die-repeat gameplay.
4. The Binding of Isaac: Rebirth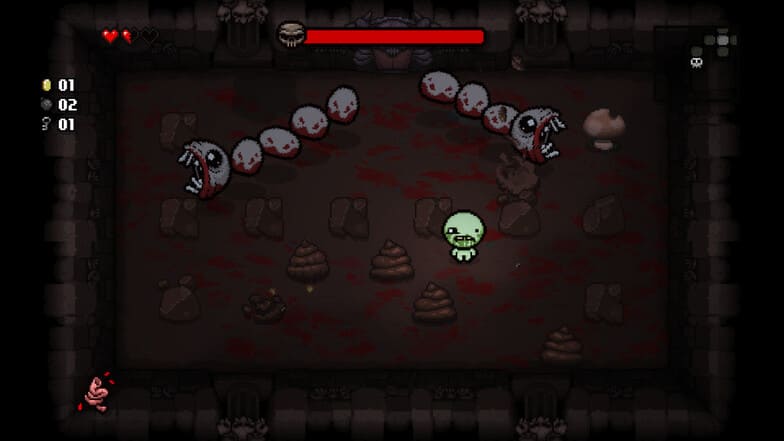 If you're looking for a creepy yet cute and unique game like Moonlighter, then The Binding of Isaac: Rebirth is a great choice.
The Binding of Isaac: Rebirth takes inspiration from a biblical story of the same name but takes place in a dungeon crawler environment.
It follows the story of a young boy who loses everything and gets locked in his room by his murderous mother. You then go through the basement and fight against various randomly generated creatures to escape your mother's wrath.
The Binding of Isaac: Rebirth is a 2D top-down game where you fight against enemies using your tears as projectiles.
You can play as one of the sixteen unlockable characters in the game, each with unique skills or effects. As you progress, you can also collect various items that can change your appearance, improve your attributes, or unlock new abilities for your character.
3. Recettear: An Item Shop's Tale
Recettear: An Item Shop's Tale is a role-playing game that follows the story of Recette Lemongrass. Recette has to turn her home into an item shop to help repay the debt that her father has left her.
The game features a daily cycle, but there are only a fixed number of periods. Every time you operate the shop, go out to find items, or return to your shop, time passes by. This makes it quite interesting since you'll have to carefully plan your day.
Recettear: An Item Shop's Tale is one of the best games like Moonlighter because they share almost every gameplay element. You'll, without a doubt, feel right at home here. It's a cozy and immersive game with some really interesting characters.
2. Wizard of Legend
Wizard of Legend is an action-packed indie roguelike game that began life as a Kickstarter campaign in 2016. It was a huge hit, mainly because it allowed players to play as a wizard and cast various spells to defeat enemies in a procedurally generated dungeon.
The game has a top-down 2D perspective and features 10 floors. Your main goal is to clear all the floors in the dungeon. Along the way, you'll have to defeat three major wizard bosses and eliminate the final boss, who is a master of all elements and chaos magic.
It's a short but enjoyable game like Moonlighter and can help you scratch that roguelike itch.
1. UnderMine
The best game like Moonlighter on our list is none other than UnderMine.
In UnderMine, you play as a random character who is on a journey to find fortune in the dangerous mines. Each room is procedurally generated, so you won't ever have to experience the same rooms or levels twice.
UnderMine features a great combination of mining, exploring, looting, and dungeon crawling. You must survive the mines starting out with only a pickaxe in hand. Find better gear, collect power-ups, and unlock new equipment or upgrades to help you defeat the different bosses in each level.
Overall, UnderMine is one of the best roguelike games on Xbox, PlayStation, The Nintendo Switch, and PC. It features everything you'd look for in a roguelike game and shares a ton of similarities with Moonlighter. You simply can't go wrong by playing UnderMine.