Anyone that's played through Oxenfree would know how exceptional the game is. It is expertly written, following a group of teens on what was meant to be a fun weekend trip to a local island—which, unsurprisingly, goes south.
The game is a wild ride from start to finish, from heart-touching moments to supernatural thriller elements. Throughout, the writers have also managed to balance this world with coming of age themes to deliver an unforgettable experience.
This is all backed by simple-yet-engaging gameplay, visuals, and branching story paths. There are also puzzle segments woven in to keep you captivated. Amazing, narrative-driven games like this are so rare and hard to find, which is why we put together this list of games similar to Oxenfree for you.
Whether you love graphic adventure games, the story-heavy elements, or coming of age themes, our list will help you find a new title to play.
Here are 8 great story-based games like Oxenfree to download and play today.
Thimbleweed Park
Available on PC, PS5, PS4, Xbox Series, Xbox One, Nintendo Switch, Android, and iOS.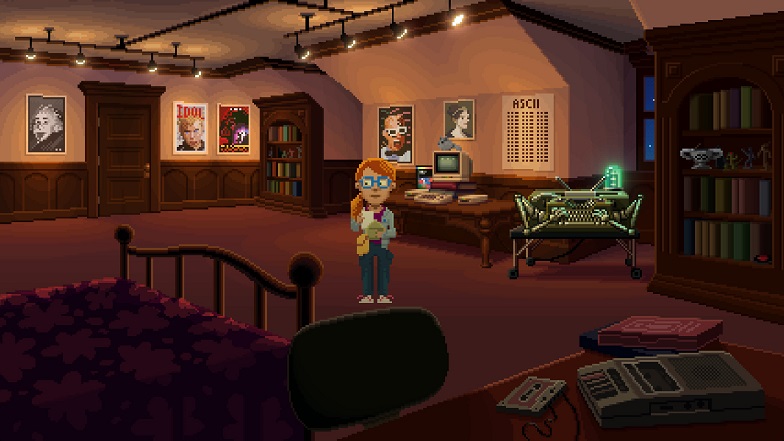 Did somebody say Twin Peaks video game? Because that's essentially what Thimbleweed Park aims to be—and succeeds. It captures the same creepy tones and strangeness. Fun fact, Thimbleweed Park came from the minds behind The Secret of Monkey Island and Maniac Mansion! They consider the game a spiritual successor to both.
The game opens up with a pair of FBI agents arriving at the seemingly innocent town of Thimbleweed Park. They're investigating a murder case where a dead man was found in the river.
This really shows in the gameplay and visuals. It's a real throwback and recreates the classic point-and-click adventure game experience, down to the user interface and art style.
The writing is also incredible. It combines the best of the weirdness and dark themes Twin Peaks has with the humor that's seen throughout The Secret of Monkey Island.
Thimbleweed Park manages to execute all of this superbly, without feeling dated at all. The developers also have a free, mini-adventure set in the same universe you can check out.
For fans of games like Oxenfree, the game offers well-designed puzzles and doubles down on the supernatural element. It goes hard on the neo-noir mystery vibes, too.
If you love the style and presentation of Thimbleweed Park, give our list of games similar to Night in the Woods a look. It's another Oxenfree-esque title, with plot twists and turns galore.
Emily is Away
Available on PC.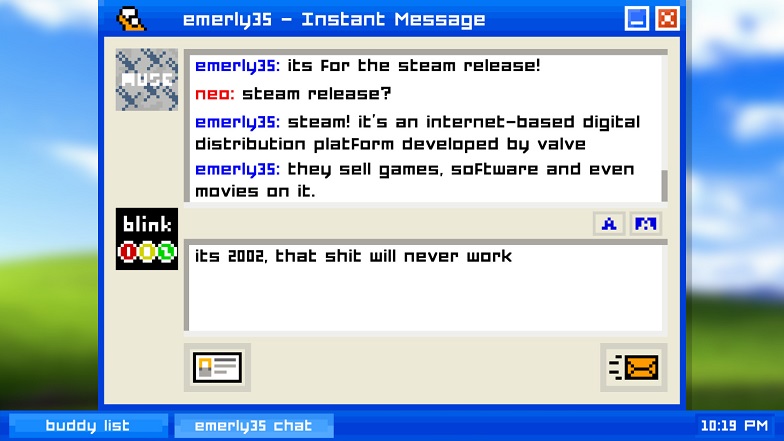 Emily is Away had the world reading out of its interactive story palms. It captures being a teenager so perfectly well, and is one of the few games aside from Oxenfree to recreate that experience. This is one of the best story-rich games on Steam, hands down.
An aspect that Oxenfree nails so well is its dialogue. It sounds organic, and the conversations between the characters feel genuine. Not only does Emily is Away nail this, but it also packages it up in an online messenger that hits the nostalgia bones hard. The entire game takes place over a faithfully recreated AOL-like messaging app.
It takes you to a time before Skype or Facebook existed. When Windows XP was new and fresh, and changing your messaging text color was something quirky, fun and cool.
Not only do you get to relive this, but the game also has an emotion-packed story that almost anyone can relate to. The highs and lows of interacting online and high school relationships.
It features over an hour's of worth of gameplay, and has a dialogue decision-based branching narrative. The story follows your chats with Emily, exploring your relationship with her.
Best of all, the experience is free! It's completely free to play. The game has also spawned (paid) sequels that build upon all the ideas in Emily is Away, and are just as amazing.
If Emily is Away sounds fascinating, we have a list of similar games for it.
Dead Synchronicity: Tomorrow Comes Today
Available on PC, PS5, PS4, Nintendo Switch, Android, and iOS.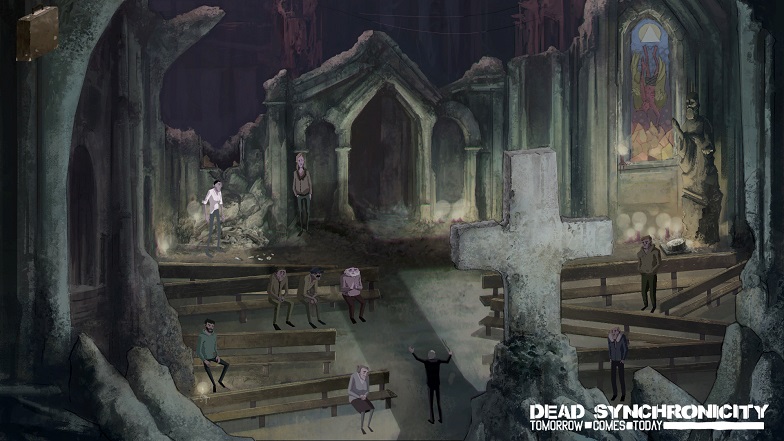 The end is coming… Time itself is on the verge of death. Dead Synchronicity is a graphic adventure in the vein of Oxenfree that delves deep into the dystopian and brutal.
If you want games like Oxenfree that touch mature themes and are overall darker, this is worth your time. Everything from the music, art style, and narrative is just grim. Dark.
The visuals use a very expressionist style. It perfectly depicts just how dire the situation is for the world. Coming from Oxenfree, this 2D graphics and the world traversal will feel familiar.
The soundtrack for this game is also off the charts. The music is haunting, and plays into building the end-of-the-world atmosphere, heightening the entire experience.
Dead Synchronicity has you playing as Michael, a man suffering from amnesia. He has no past, yet he needs to save the future. It's hard to say more without spoiling the story.
A pandemic has hit the world which is turning humanity into 'dissolved' beings. It gives the infected superpowers, but it's followed by a gruesome death not long after.
Along with this, the world has been hit by an event called 'the Great Wave'. A series of natural disasters, which destroyed Earth's energy sources and communications—sending everything into chaos.
As Michael, you'll explore this world in point-and-click style, uncovering the mystery behind the events… If you're lucky, you might even be able to stop time itself from dissolving.
The Darkside Detective
Available on PC, PS5, PS4, Xbox Series, Xbox One, and Nintendo Switch.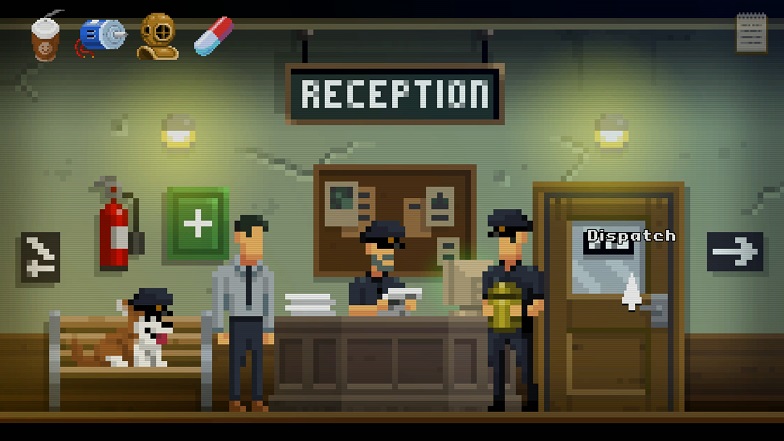 Welcome to the town of Twin Lakes and the Darkside Division, where you'll be investigating the outright baffling, mystifying, paranormal. Grab your trench coat and get your sixth senses ready.
If you are a fan of Oxenfree's supernatural elements and thriller segments—this is the game for you. The Darkside Detective places you in the shoes of Francis McQueen.
Did we mention the Darkside Division has a lack of funding? Because they're shamefully underfunded and overworked, and guess what? Francis McQueen is the division's lead detective. You.
It's no teen coming-of-age story, but it's a coming-of-the-occult one. The Darkside Detective has 9 different cases for you to explore. Each case is as weird as the next, just take a look at the titles: Malice in Wonderland, Tome Alone, and Polterguys. It'll give you a good idea of the humor and pun-packed stories awaiting you.
The game's writing is fantastic, and, if you couldn't tell already, has plenty of references to pop culture. It's also very satirical, drawing heavily from the buddy cop genre and horror classics.
It features the classic point-and-click adventure gameplay, which will feel familiar coming from Oxenfree. It's also backed by retro pixel visuals, which are oddly charming.
The game's soundtrack is also composed by the legendary Ben Prunty. The proclaimed 'audiomancer' behind other popular indies like FTL, Subnautica and Into the Breach.
Dropsy
Available on PC, Android, and iOS.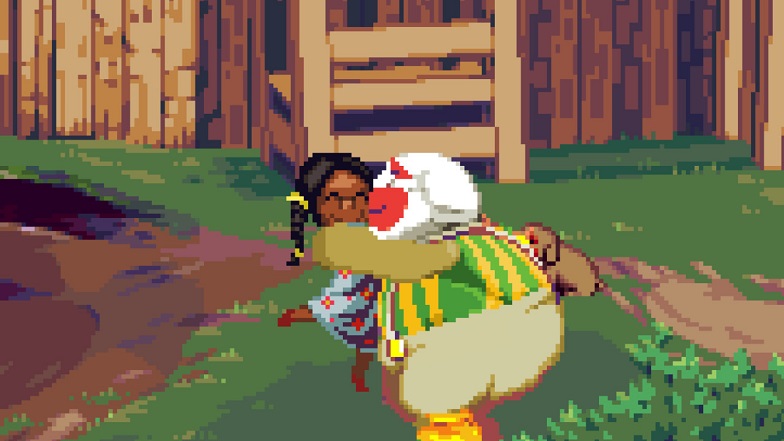 Hugs, hugs, and more hugs! Dropsy is a non-traditional take on the classic point-and-click graphic adventure style. For anyone who wants more games like Oxenfree, there's plenty to love here.
While the story doesn't follow teens with a coming-of-age plot, this is a different kind of self-discovery journey. You play as the horrifying-yet-cute Dropsy the Clown after his reputation is tarnished.
This game offers a fascinating, innovative story-based experience. Instead of the usual text-filled gameplay, Dropsy is nearly devoid of it completely. Instead, you'll communicate with the game's vivid and colorful cast of characters with expressive icons. As Dropsy, you can also dish out hugs to hopefully win the hearts of everybody you meet.
Dropsy's world design is also open world. You can explore any direction you want, and explore any path that folds open before you. This also gives the player the freedom to take things at their own pace.
For fans who loved Oxenfree's more puzzle-like segments, this game is full of them. There are a wide range of diverse, challenging puzzles to solve and complex situations to figure out.
This game is absolutely exceptional in every area, and this extends to the soundtrack, too. It's evocative, and the pieces are always in theme with the environment.
It really heightens the overall experience and story that Dropsy offers. The visuals are also splendid, the pixel art style evokes a very retro charm—it's also a change of pace from Oxenfree's darker atmosphere.
Digimon Survive
Available on PC, PS5, PS4, Xbox Series, Xbox One, and Nintendo Switch.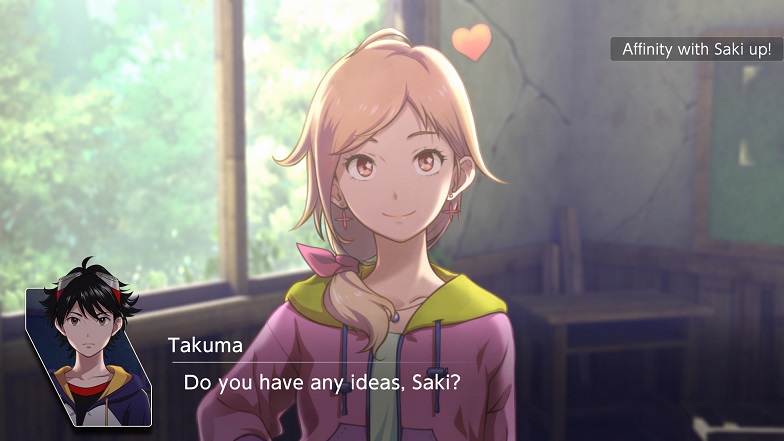 If you're searching for games like Oxenfree, the creature-collecting Digimon series might seem out of place, but trust us. You'll find the same, coming-of-age vibes in this game's teenage cast.
Digimon Survive is a visual novel crossed with tactical RPG elements. According to developers it's about a gameplay 70/30 split. However, the battle segments can still influence the story.
This game delivers a coming-of-age story in a very different format to Oxenfree, but you'll find the story beats familiar. It follows a group of high school students who find themselves in a different world.
This is where the title comes into play—Survive. Every decision you make in the game has impact and consequences. You'll play as Takuma and control whether the group survives the other world's dangerous environment.
The other world is also packed with Digimon. Some will be friends, others will be foes. If you've ever watched the original Digimon Adventures anime, this game is very reminiscent of Season 1.
It might not be Oxenfree's minimalist style, but this game's visuals are an absolute sight to behold. The artwork is gorgeous, environments will blow you away, and it's also backed by a strong soundtrack.
Even the game's main menu is captivating. Upon loading up the game, you're met with a captivating, heart-touching score.
Digimon Survive is full of heart with a story that is filled with emotion until the end. Any fan of story-based games should check it out, as it's one of the best interactive story games on the Switch and full of intriguing characters.
Tell Me Why
Available on PC, Xbox Series, and Xbox One.
Every games like Oxenfree list is always so quick to recommend Life is Strange, but what about the series' younger sibling Tell Me Why? This game is a supernatural adventure set in Alaska.
Tell Me Why is an episodic adventure game developed by the renowned Dontnod Entertainment. The developers are known for story-based graphic adventure titles, all worthy of an Oxenfree fan's attention.
The game's story follows the siblings, Tyler and Alyson Ronan, who are reuniting for the first time in 10 years, returning to their childhood home in rural Alaska. They haven't seen each other since their mother's death.
Together, they're investigating the events surrounding their mother's passing. While it doesn't feature the same coming-of-age elements Oxenfree delivers, it does share similar themes.
Tell Me Why similarly has supernatural elements interwoven into the story, with the twins being able to telepathically communicate. The game's theme of the fallacy of memory is also fascinating.
It's rarely touched upon in books and novels, let alone narrative-driven video games. Tell Me Why uses this to explore childhood trauma, and it can affect how people can remember events differently.
Gameplay in Tell Me Why is similar to Oxenfree, however, you're exploring and interacting with a 3D world. You'll also be met with a cast of well-written, developed characters and setting.
What really sets Tell Me Why apart and makes it a must-play is how it handles LGBTQ+ topics and trans people in particular. The main character, Tyler, is a trans man and the writers have handled it so respectfully.
Florence
Available on PC, Nintendo Switch, Android, and iOS.
Any fan of the interactive story genre needs to add Florence to the top of their play list. It's an extremely short, but beautiful experience and only takes about 30 minutes. Talk about time-friendly.
It's a very different format to Oxenfree's storytelling, but when it comes to narrative-focused games, it is incredibly unique. The story follows the 25-year-old Florence Yeoh, split into 20 chapters.
Each chapter is pretty short, but manages to tell an elegantly presented, emotional story. It is also filled with emotion-packed moments and puzzles spread throughout the game. Puzzles will range from helping Florence to brush her teeth, to even conversation. The story really blooms when Florence meets the talented cellist, Krish, performing on the street.
The game has you watching their relationship unfold, going from strangers to lovers. It's eloquently written, and the simple-yet-fun puzzles keep you engaged. It's a bright, colorful change to Oxenfree's atmosphere.
If you needed a cute escape from the supernatural, thrilling elements of Oxenfree – Florence provides a mellifluous world to jump into. The artwork is stunning, and even the soundtrack is superb.
Honorable Mention: Afterparty
Available on PC, PS5, PS4, Xbox Series, Xbox One, and Nintendo Switch.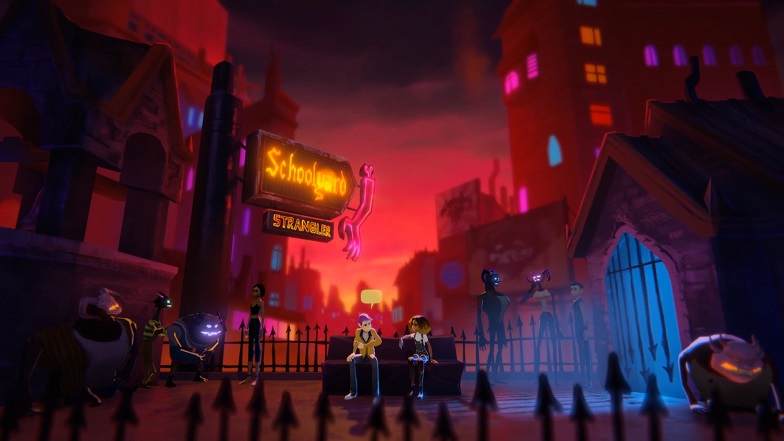 If you loved Oxenfree, why not try some of Night School Studio's other titles? Afterparty is another narrative-driven game from the studio, featuring the same controls and style.
Ever have a hellish hangover? Well… This game takes that literally. It follows two lifelong friends, Milo and Lola who find themselves in Hell—with no recollection as to how they got there.
Who? What? How? The exact details don't matter, but the pair know one thing: The only way to get out of hell and back to their lives on Earth is to outdrink Satan himself.
The game is crazy fun, and filled with mythological characters teeming with personality. From the hard-partying Asmodeus to even Death. It's an absolute blast and the story is a wild must-play.