Destiny is one of most innovative shooters you'll find in the world of modern gaming. It combines familiar elements of Call of Duty, Halo, and classic RPGs into a space exploration game that's teeming with co-op gameplay, cool upgradeable gear, and engaging storylines.
If you've explored the world of Destiny and what it has to offer, you may be ready for another in-depth game to sink your teeth into. There's plenty to love about the Destiny franchise, and heaps of other games have elements that fans will be able to resonate with.
If this sounds familiar, we've got the perfect list for you. Below, you'll find 11 shooting games like Destiny, all of which stand out for their addictive gameplay, space-based exploration elements, looting, and unmissable stories.
The Halo Masterchief Collection
Bungie is the studio that's behind the massively successful Destiny franchise. You might've also heard about their involvement in a little franchise called Halo, which has grown over time to become one of the biggest gaming series in history.
So if you're aching for some more Bungie gameplay, then why not try the franchise that started it all? The Halo Masterchief Collection includes:
Halo Reach
Halo: Combat Evolved
Halo 2: Anniversary Edition
Halo 3
Halo 3: ODST
That's every title that you need to enjoy the original Halo franchise and prequels in all of its alien-shooting-in-space glory. You get five games for the price of one as well, which makes this a cost-effective way to get your FPS gaming fix.
You'll get access to more than just the story missions in these games, too. You'll also get access to each game's online multiplayer modes, which each come with their own perks and styles of play.
That being said, much of the player base for MCC has migrated to multiplayer maps on Halo Infinite, so you may have some trouble finding a lobby sometimes. Still, this title is worth picking up for the engaging storyline and tough campaign missions alone.
Planetside: 2
Planetside: 2 is one of the only MMOFPS games that can stand toe-to-toe with the Destiny franchise. Like Destiny, this game also offers tons of space fighting action with loads of guns, vehicles, and even air combat options to sink your teeth into.
Players get to join one of three warring factions; the Terran Republic, New Conglomerate, or Vanu Sovereignty. Each faction has its own gear, weapons, and spacecraft, which means you'll have a unique playing experience based on which you select.
Gamers come together in this game to participate in faction-based battles across four huge continents that can accommodate thousands of user-controlled players.
It all makes for an online gaming experience that stands out from just about anything else you'll find when looking for games like Destiny on the Steam Store today.
The Division 2
The Division 2 doesn't take place in space, but it's one of the closest matches to a Destiny style of play that you'll find.
Set in an apocalyptic Washington D.C., The Division 2 is a looter shooter with an RPG story campaign, lots of co-op gaming opportunities, and PVP to boot. On top of that, the game has a super in-depth menu for customizing gear and weapons.
Each agent in the game also gets to customize their unique skills, with options like assault drone and chem launcher that bring something different to fights with both other players and computer-controlled bosses.
Put simply, this is a really in-depth game that you can explore in many different ways. That means you should be able to enjoy it regardless of what you liked most about Destiny.
Star Wars Battlefront II
Star Wars Battlefront II is a game that got a lot of heat from gamers when it was released because of its loot boxes and paywall-restricted content. These features have since been removed, and the overall experience is very fun.
The game gives you the opportunity to control the most beloved characters in the Star Wars franchise, each of which has unique abilities and weapons.
You'll get to play in galactic-scale space combat, like Destiny, and will have plenty of options to upgrade and customize your favorite heroes to make them your own.
Plus, you'll get to kill stormtroopers with lightsabers. Enough said. This is a great option for people who are hunting for games like Destiny that contain both immersive gameplay and a roster of familiar, iconic characters.
Star Wars: The Old Republic
Another spot on our list, and we've got another Star Wars game. This one offers a completely different gaming experience to Battlefront 2.
Star Wars: The Old Republic is an MMO game that puts your own customized character straight into the heart of the Star Wars franchise. You'll get to craft your own legacy with tons of branching choices to make about how you build your character and how you interact with the world around you while playing.
Whether you want to be a Sith Lord, a Jedi Master, a Bounty Hunter, or something else entirely, the choice is yours with this game.
It's clear that a lot of love has been put into this game, and it's well worth checking out if you're a fan of Destiny and other MMOs based in space.
Borderlands 3
Borderlands is the franchise that began the looter shooter revolution. Borderlands 3 is one of the most addictive and well made games in the franchise.
The game features everything that Borderlands fans have come to know and love about the franchise, including:
Practically endless weapons to choose from
Deep skill trees to customize your characters
Unique art style and graphics
Fun, silly dialogue
Seamless co-op action
When you put it all together, you get a gaming experience that's hard to match with any other title. And if you end up loving Borderlands 3, there are several other games in the franchise that you can go back to play once you finish this one.
Titanfall 2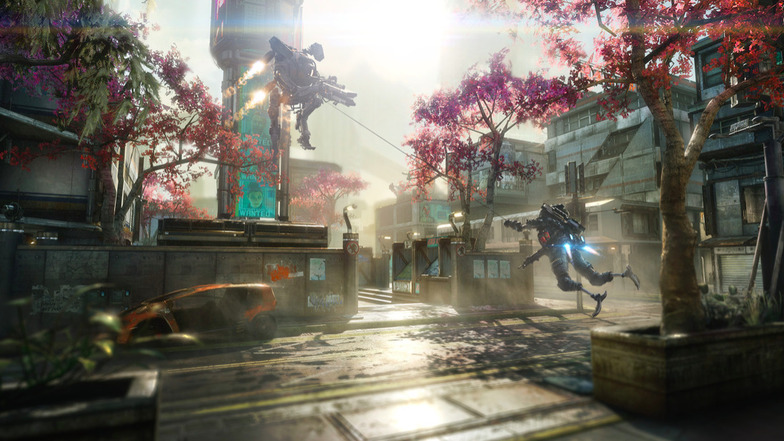 Titanfall 2 takes Destiny's concept of a space-based shooter and adds something extra to it. Mechs. Quite a few mechs, in fact, with wicked weapons and a fast-paced combat style.
This game is one that we'd encourage Destiny fans to check out, as it has an immersive, run-and-gun single player campaign, and some fantastic multiplayer modes to get stuck into too. It's not even close to an MMO, but it's still got some great options for playing with friends and creates a vast yet well-connected community.
The story in Titanfall 2 is rich and immersive, and the inner world looks brilliant, with some particularly vibrant and well designed maps.
It's one of the best mech games on Steam by a mile, and it's worth checking out if you're looking for a game like Destiny to occupy some time.
Warframe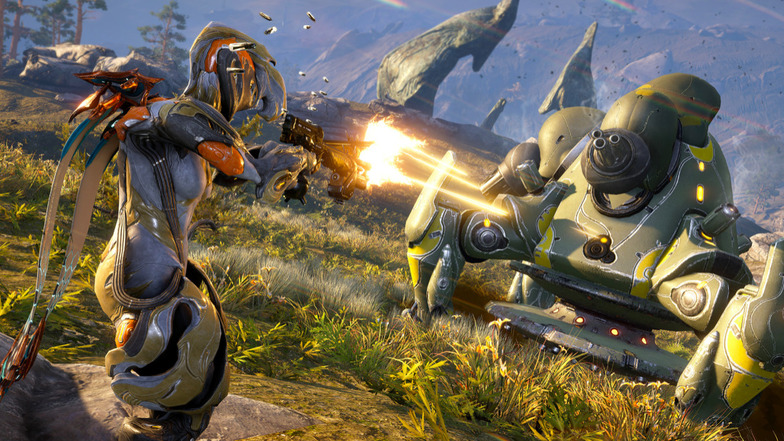 Warframe is an exceptional addition to the world of looter shooters, and it's perfect for Destiny fans who are on the hunt for something new yet familiar. It's one of the best sci-fi games on Steam and it's well worth your time to check out.
The Warframe world is rich and exciting, taking place in space and putting you in the shoes of a Tenno. A Tenno is a person that has a psychic link to a type of biomechanical being known as a Warframe, and Tennos can use their psychic link to fight as a Warframe.
It's a free-to-play game, which is incredible as there's so much content packed into it. It's a predominantly mission based game with some fantastic co-op options, some wicked bosses, and a few more surprisingly chilled options for end game like fishing and mining.
The location, theming, and combat style are all elements that we're sure Destiny fans will be able to get on board with. While it's not an MMO, there are still some great co-op options available to fill the gap if you're looking for more games like Destiny.
Star Trek Online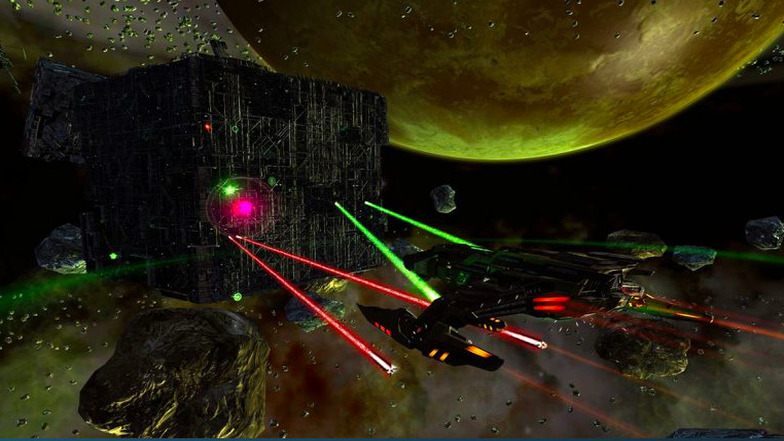 Now, we're going back to the realm of Sci-Fi games with Star Trek Online. It's a much older game compared to some of the titles in this list, but it's still worth having a look at if you're searching for brilliant titles like Destiny to get lost in.
There are two main selling points for this title:
Being able to insert yourself into the Star Trek franchise and write your own story within it
Driving a spaceship and blowing lots of stuff up in space
If either of those things interests you, then this could be a game similar to Destiny that's worth adding to your list.
Also, since Star Trek Online has been around for over a decade, it's got an insane amount of content that you can work through. The game has more than 160 episodic stories that span multiple story arcs. It's one of the most immersive sci-fi games
The Cycle: Frontier
The Cycle: Frontier is the first battle royale on our list. Like Destiny, it's a space-based game that puts you on a new planet and lets you search for resources and fight against other players and AI-controlled monsters by yourself or with a team.
If you've ever played Escape From Tarkov, then you'll be familiar with the general idea behind this title. Your goal is to go into a planet, get gear, and then make it out with that gear alive without dying to either another player or a monster.
There's a lot for a Destiny player to like here with space-based environments, FPS battles, and many different ways to upgrade and customize your gear. Features like these make The Cycle: Frontier a game that's definitely worth looking at.
Splitgate: Arena Warfare
Finally, we're rounding out our list with a game that's best described as a mix between Halo and Portal. Splitgate: Arena Warfare is an online multiplayer FPS shooting game with a unique twist.
It features portals.
Players can navigate across the map to take various objectives and defeat their enemies with strategically-placed portals. This feature makes the game stand out from other team-based FPS shooting titles quite a bit thanks to the many different ways that portals impact gameplay.
Another cool feature of this one is that it's cross-platform-enabled. So you can boot up the game on your PC and play competitive matches with a friend who's on their Xbox Series S with ease.