These days, online multiplayer is more widespread than ever — with fast Internet becoming as much of an everyday utility as water and electricity, a huge number of games have adopted some kind of online multiplayer mode.
And while most of those focus on huge, 128-player large-scale multiplayer battles — there are certain games that decidedly go the other way. These are games like A Way Out; a story-based, co-op adventure that sees you and another buddy take on the roles of two prisoners and make their daring escape from incarceration.
This relatively simple premise quickly unfolds into an emotional, unpredictable, and action-loaded adventure game. And the gameplay experience is pretty unique as well, seeing as A Way Out can only be played with another player — each one controlling one of the two main characters, Vincent and Leo. Along the way, you'll run, fight, drive, and sneak.
The only problem with these kinds of narrative two-player adventure games is low replayability — luckily, there are plenty of similar games you should check out once you're done with A Way Out, and we've got a couple of suggestions!
It Takes Two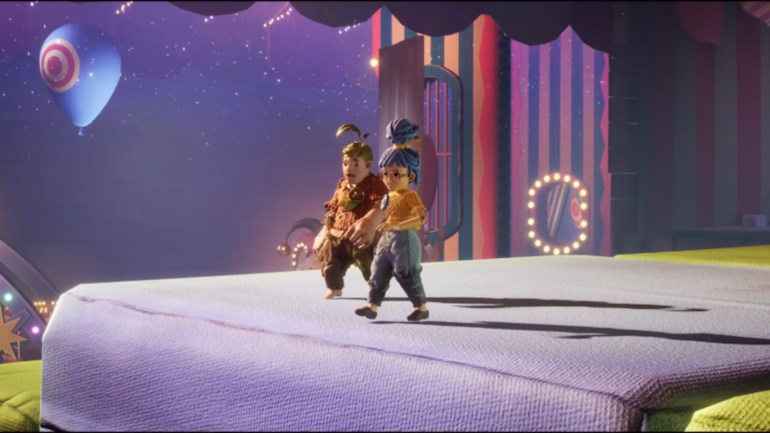 What is marriage, if not a grand co-op adventure? The creators of A Way Out seem to agree, at least judging from the game they released after their (prison) breakout hit: It Takes Two.
If you're looking for something similar to A Way Out, this is pretty much the best gameplay experience out there. It received all kinds of glowing reviews from critics and co-op players alike — even scoring a bunch of Game of The Year awards!
However, if you're looking for an online co-op experience, look elsewhere — this is a strictly local, split-screen co-op adventure. In it, you and another player step into the shoes of May and Cody — a married couple that's about to divorce before they inexplicably get trapped inside a fantasy world populated by their daughter's dolls!
They're aided by the comforting words of their therapist, now transformed into a self-help book for relationships. The book keeps encouraging them to work on their relationship — and work together in an attempt to get back to the normal-sized human world.
As you might have noticed, the narrative overtones that hide behind silly talking squirrels and joyful rollercoaster rides are quite heavy. Ultimately, it's a story about decaying love, and a daughter that's desperate not to lose her family. However, it's also about hope for a better future, and compromise in the face of adversity — and it's damn good fun as well!
Overcooked: All You Can Eat
People can get different kicks out of the same game genre. For example, if you've enjoyed A Way Out because of its compelling narrative — you'd be best served (the pun was very much intended) by another game on our list.
Overcooked: All You Can Eat is, however, an excellent choice if you loved yelling at your friend or loved one because of decidedly uncooperative courses of action they might have taken in a co-op game.
Also, unlike most of the games we've taken a look at here, you can play this Overcooked game alone — but also with up to four people. The premise is simple: you're running a kitchen, in various settings, and you need to keep it running at all costs.
Now, this is the third game in the franchise, before which there was also Overcooked and Overcooked 2. All three of them follow an almost identical gameplay structure, but the latest Overcooked title is the only one that's available on Xbox Series X and PS5.
It's more of a remaster than a straight sequel because it overhauls the first Overcooked game to feel and look more like its sequel — but without the option of flinging food at fellow players.
If nothing else, the hugely improved loading screens will cut down on the waiting you had to endure with the previous titles — and there are dozens of new bonus levels bundled in with the original ones.
Sea of Thieves
| | |
| --- | --- |
| Genre: | Action, Adventure, MMO, Open World |
| Developers: | Rare Ltd |
| Release Date: | June 3, 2020 |
| Find at: | Steam, Microsoft Store, and Amazon |
| Multiplayer: | Online Co-op, Online PvP |
| Average Playtime: | 42 hours |
Have you ever wondered how fun it would be to have an actual pirate simulator — but more along the lines of Pirates of the Caribbean than Port Royale? If you want to have fun as a swashbuckling, arrr-yelling pirate — Sea of Thieves is an excellent choice.
And the plural in "Thieves" isn't for nothing — while you can play alone, the intended experience is having a full crew with you. The game supports cross-platform co-op, and countless adventures await once you assemble your rag-tag group of buddies: you could take on monstrous sea creatures, kill undead skeletons, and dig up buried treasure.
While the game has been out for nearly two years, it's found its true footing only recently, as a bunch of Twitch streamers helped it reach a huge audience. This success can also be attributed to continued developer support, as this Jack Sparrow simulator has received a bunch of huge updates.
The last four major additions to the game have greatly expanded the awesome pirate co-op sandbox, though the core gameplay loop has stayed the same. You have a handful of NPC vendors that give you quests, which are spread across different islands. Once you sail out to these, you either solve riddles, fight enemies, or dig up treasure. Then, it's time to take it back to port and get some gold you can spend on cosmetic items — before repeating the process all over again.
When you play it with people, it can get insanely fun — so it's a definite recommendation.
Unravel Two
For our next pick, we're going back to two-player indie-looking platformers — which can only mean Unravel Two. As a follow-up to the first Unravel, it has managed to expand the core gameplay mechanics and the story quite a bit — seeing as the first game was only single-player. So, the "Two" in the title isn't just there to show you that you're dealing with a sequel — it's also a pun on the game's new multiplayer mode.
And speaking of the gameplay, it's definitely quite a bit more challenging than Unravel 1 — but that has only led to even more popularity and rave reviews from both critics and the average gamer. If you're someone who likes the aesthetics and the co-op gameplay of A Way Out, but also craves a harder challenge — you'll find Unravel Two to be a great choice.
In the sequel, the physical tools of Unravel remain much the same — however, you've got two tiny Yarnys instead of one. And they're connected via a single thread, meaning there's no progress for one without the other.
There are countless possibilities for physics-based puzzles here — two players hang from a tree branch, effectively creating a swing that one of them will use to build momentum and leap forward. The two players can work together to deal with complex pieces of machinery while serving as each other's counterweights — there are plenty of original ideas across the lengthy seven levels you'll get through with teamwork.
Portal 2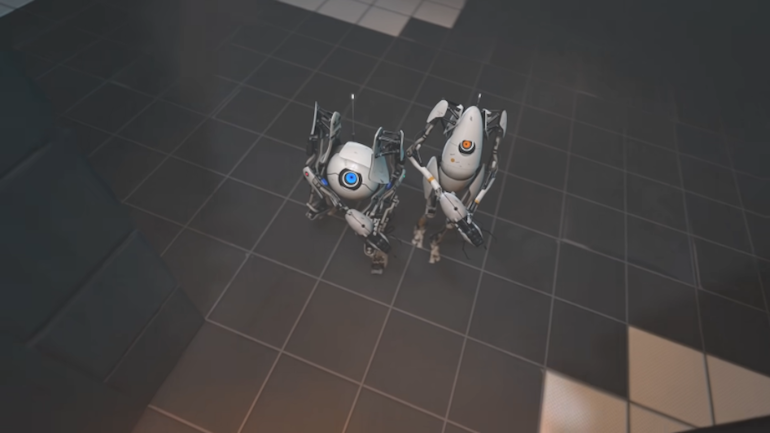 | | |
| --- | --- |
| Genre: | Action, Adventure, Puzzle, 3D Platformer |
| Developers: | Valve |
| Release Date: | April 19, 2011 |
| Find at: | Steam, Microsoft Store, and Amazon |
| Multiplayer: | Shared/Split Screen Co-op, Online Co-op |
| Average Playtime: | 9 hours |
Back in the day, most platformers and puzzlers were third-person games — your Princes of Persia and Tomb Raiders — while most first-person games were straight-up shooters. However, that's just one of the many things Valve changed in the world of gaming.
With their first Portal game in 2007, Valve unleashed a whole new genre upon the world: first-person puzzle games. Naturally, the sequel that followed had to be at least just as good — and they certainly outdid themselves.
Apart from the iconic single-player campaign that introduced new characters and deepened the old ones, there was an entirely new multiplayer co-op campaign — allowing two players to lead their respective robots through the cavernous ruins of Aperture Science.
And while Valve could've simply introduced another character to the single-player campaign, they were never a cookie-cutter studio. That's why there's a completely different story to get through in the co-op mode, and it's just as thrilling as the "main" narrative from the single-player campaign.
The sequel is just as revolutionary in terms of the main gameplay mechanics — there are a number of new things to play around with, like the Propulsion Gels, the energy bridges, and all kidneys of new surfaces.
Of course, none of this would be worth much if the puzzles built around these enemies weren't just as great — and they're simply astounding! There's no game series that can make you feel like equal measure genius and dumb, but that's what Portal excels at.
The Escapists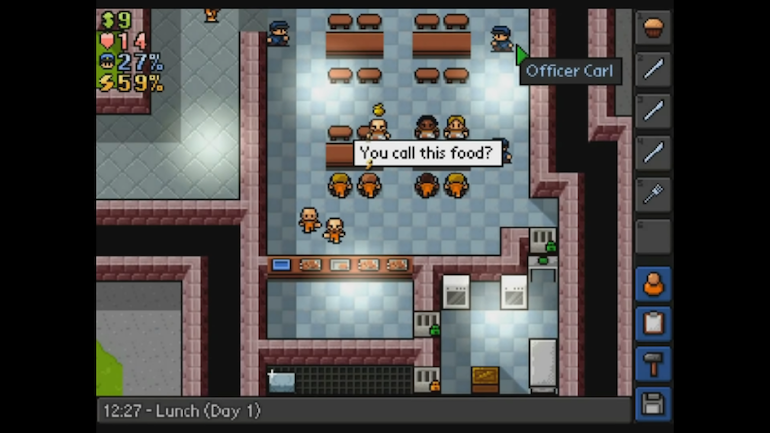 | | |
| --- | --- |
| Genre: | Survival, Action, Adventure, Simulation, Strategy |
| Developers: | Mouldy Toof Studios |
| Release Date: | February 13, 2015 |
| Find at: | Steam, Playstation Store, Microsoft Store, Nintendo Store, and Amazon |
| Multiplayer: | Shared/Split Screen Co-op, Online Co-op |
| Average Playtime: | 20 hours |
If you were an A Way Out fan because of its story and setting, The Escapists will be a great choice for your next game. This is another prison break story — but it's told from a completely different perspective. To be precise, it's a 2D top-down pixel art game.
And your other co-op players are also prisoners. All of you are seemingly just living out your daily lives in the prison — while secretly being on the prowl for escape opportunities. As you control your small pixel-art convict, you'll have a fully-designed top-down prison to explore.
Every single day, you need to guide your inmate through their usual routine — from the roll call in the morning to lights out at night. And you'll do just about everything in between — exercising, a prison job, three meals, and most importantly: making progress on your escape plan.
The most crucial part of this is interacting with fellow prisoners. Over time, you might start earning some money through small errands, like creating useful distractions for their illegal actions or stealing a chocolate bar from the kitchen.
And you'll need that money to buy all the items necessary for the escape plan — usually a series of objects that act as either a weapon or a digging implement. Plus, seeing as the guards will be ever-vigilant for anything that seems out of place, you'll also need to create a cover for your final breakout attempt.
If you find all of this fun, there's an excellent sequel — as well as a spin-off called The Survivalists.
Halo: The Master Chief Collection
| | |
| --- | --- |
| Genre: | First Person Shooter |
| Developers: | 343 Industries, Bungie Inc., Splash Damage, Saber Interactive, Certain Affinity, United Front Games, Rockstar Dundee |
| Release Date: | November 11, 2014 |
| Find at: | Microsoft Store and Amazon |
| Multiplayer: | Shared/Split Screen Co-op and PvP, Online Co-op and PvP |
| Average Playtime: | 65 hours |
While the main draw of games like A Way Out is their cooperative puzzle-solving and narrative — the game also contains some great cover-shooting action, though it remains secondary to the main gameplay mechanics.
If you enjoyed co-op shooting, in particular, there are a bunch of great games out there that provide all the FPS split-screen thrills you'd want. And Halo: The Master Chief Collection is definitely one of the better ones!
As you probably know, Halo won't give you any of the challenging puzzles most other co-op games on this list have — and as much as we've enjoyed Master Chief's saga, it's not exactly a hear-wrenching, deep story. Still, there's plenty of great co-op combat that will keep you and another player glued to your seats for hours on end.
And if you don't have someone to play with locally, there's always online matchmaking for the PvP combat that made the series great. Plus, there are all kinds of interesting multiplayer modes, some of which have little to do with the regular shooting; like Grifball, that's made a comeback in this Master Chief Collection edition!
Plus, there's plenty of bang for your buck that you get with this collection if you're a fan of singleplayer FPS as well — it includes every single Halo game from the first Combat Evolved all the way to Halo 4.