Rollercoaster Tycoon is an iconic construction and management simulation video game series that has been around for more than two decades. It's got a score of dedicated fans, and with good reason. It's a hell of a lot of fun.
If you've played Rollercoaster Tycoon before, you'll know that the games offer a great level of control over almost every element of your digital theme park. You can change every ride, attraction, and facility, all while getting to focus on attracting visitors and keeping them happy. It's a very in-depth game, yet it manages to be approachable too.
If you're looking for a game with a similarly detailed yet addictive style of play, there's a handful of other simulation and management games that you're sure to love. To help you find your next favorite title, here's 8 games like Rollercoaster Tycoon to play today.
Parkitect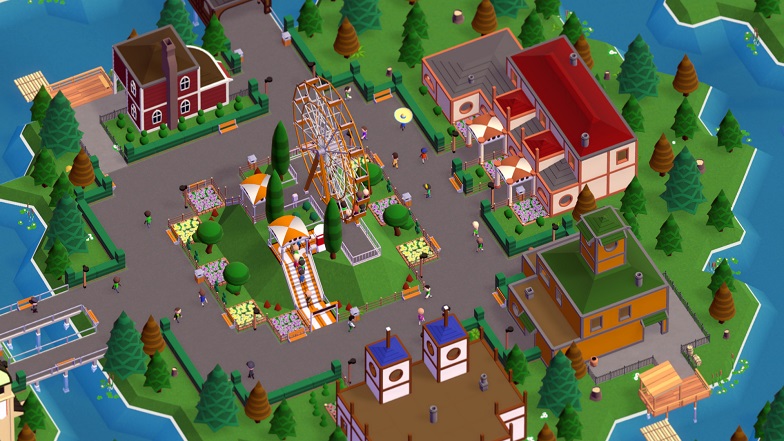 This is a construction and management simulation video game that came in 2018. You can play Parkitect on Windows, macOS, and Linux.
Parkitect is often thought of the spiritual successor to Rollercoaster Tycoon 2. However, there are some gameplay elements that set the two releases apart. For instance, some of the elements available in Parkitect that are not in any Rollercoaster Tycoon game include hidden staff-only areas and resource depots.
There are two main modes you can choose from in the game. The first is the standard campaign that features numerous missions and a branching map system. The other is the sandbox mode where you have all the freedom to play around and construct whatever you like with no resource limitations.
You can play either of the two modes in Parkitect by yourself or together with up to seven other players online. This makes it one of the best games on Steam to play with a partner, if you're both fans of management and sim games.
There are many things that you can do in Parkitect to build the theme park of your dreams. Players have the freedom to deform the terrain, construct various structures, place water, and so much more. Your rollercoasters can feature everything from looping to flying.
To create a successful theme park, you will need to make sure your finances are in check and that your guests are satisfied. This is one of the best games like Rollercoaster Tycoon to check out if you want the same theme and level of control over your park.
Zoo Tycoon
If you're looking for a nice business simulation game with a theme that doesn't involve roller coasters, then Zoo Tycoon is the one for you. It came out in 2013 and can be found on Windows, Xbox 360, and Xbox One.
This particular game represents the third instalment in the Zoo Tycoon series. Don't confuse it with the original title in the series, which is also called Zoo Tycoon but is from 2001. On Steam, you can find a version of the 2013 release named Zoo Tycoon: Ultimate Animal Collection. It features enhanced graphics of the 2013 title, as well as new animals like koalas and kangaroos.
There are three gameplay modes in Zoo Tycoon, including campaign, freeform, and challenge.
The campaign takes about 15 hours to finish and is really fun from start to finish. If you play the freeform mode, you will have unlimited money. Finally, the challenge mode features short missions you have a limited amount of time to complete.
The Ultimate Animal Collection edition of Zoo Tycoon features more than 200 animals. Apart from managing the whole business, you'll also be able to enter what's known as the Zoo mode. In this mode, you're free to explore the zoo from a first-person perspective and watch or play with the animals.
Planet Coaster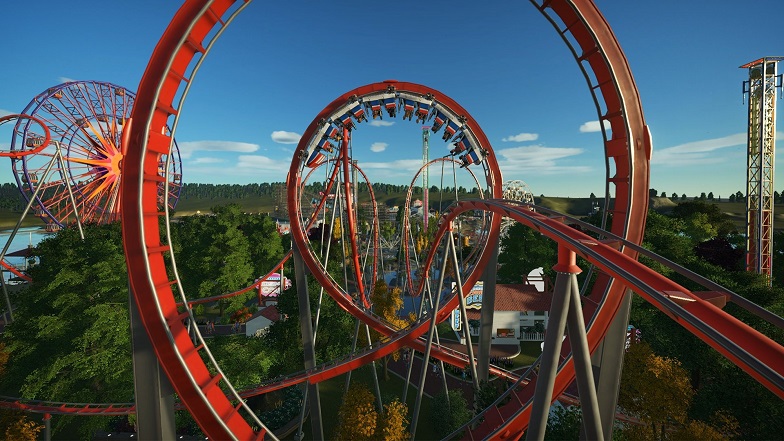 Frontier Developments made this game, which is the same company that created Zoo Tycoon. The game features only a single-player mode and is available for Windows, macOS, PlayStation 4, PlayStation 5, Xbox Series X/S, and Xbox One.
When you start the game, you'll be able to choose one of four game modes – career, sandbox, challenge, and scenario editor.
The career mode is what you should pick if you've never played Planet Coaster before. It's filled with interesting objectives including constructing roller coasters and managing theme parks. As you complete different scenarios with objectives, you'll progress in the game.
The sandbox mode gives players full freedom over how they'll build their theme park. You have infinite resources to build whatever you want.
Choosing the challenge mode will give you the task to build a theme park on an empty lot with limited funds. You'll get random objectives throughout the construction that you can accept or decline. Whenever you complete a certain challenge, you'll either get money or a better rating for your theme park.
The scenario editor mode allows you to create custom scenarios you can later challenge others with.
This is a fantastic pick if you're looking for games like Rollercoaster Tycoon that offer a similar experience but a few new features and perks.
Planet Zoo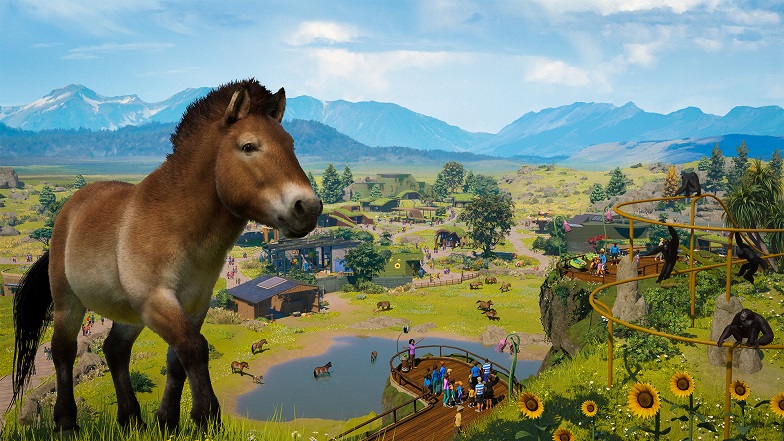 Planet Zoo is yet another construction and management simulation game that Frontier Developments made. It serves as the spiritual successor to the Zoo Tycoon games. The gameplay in this game contains elements that were in Planet Coaster and you can find it on Windows.
The game was well received after coming out in 2019. People praised the game for its focus on wildlife conservation, zoo-creating tools, and realistic animal portrayals. Planet Zoo is, without a doubt, one of the best business management simulation games.
There are more than 70 different animal species in the base game. You can unlock an additional 60 species with DLC packs. The animals have clever AI built in that mimics their behavior to be similar to how they'd behave in real life. For instance, wolves have a pack mentality programmed into them.
Another cool thing is that animals of the African plains, like zebras, buffalos, and giraffes can live together in a single habitat. Each animal in your zoo will have a genome within the breeding system featured in the game. The genome will provide you with information regarding fertility, life expectancy, health, and size.
The gameplay in Planet Zoo is very complex, but that's what makes playing the game so fun. It's a great pick for fans of games like Rollercoaster Tycoon who don't mind branching out with the theming of their games.
Thrillville: Off the Rails
Frontier Developments has made some really great construction and management simulation video games, including Thrillville: Off the Rails. This game came out in 2007 for PlayStation 2, Nintendo Wii, Xbox 360, and Windows. It serves as a sequel to the Thrillville game, released a year earlier.
The gameplay in Off the Rails offers many activities you can engage in. You have a big collection of minigames that you can play. Players are also able to go on various rides in a theme park.
For players who are more interested in construction and building, there's an exceptional campaign mode to check out. When you start the single-player campaign, you will become the manager of an existing park.
Your campaign objectives in Thrillville: Off the Rails include beating the competition, keeping guests happy, and making sure critics give you positive rankings.
Economics is not a strong focus in this game. While you are able to advertise your theme park and set the prices, it won't have much impact on the gameplay as you'll usually have enough money to do whatever you want.
Building roller coasters in Off the Rails is fairly simple. Some games on this list are incredibly challenging even for experienced players. The simplistic mechanics featured in Thrillville: Off the Rails make this the perfect game for Rollercoaster Tycoon fans to play in order to relax and unwind.
Mashinky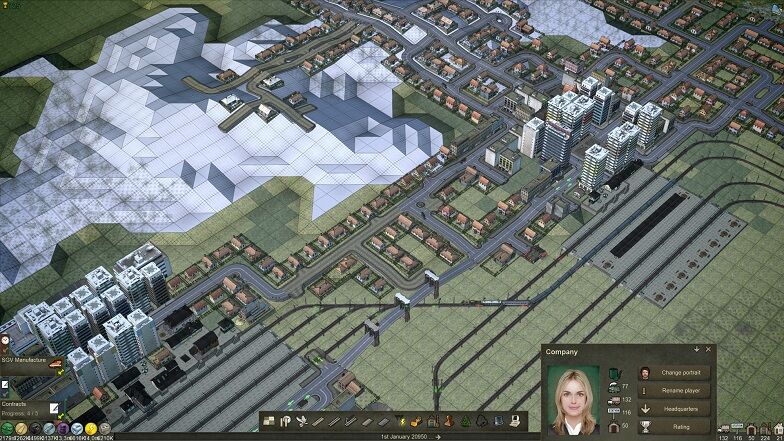 Mashinky is a tycoon strategy simulation game created by sole developer Jan Zelený. You can play the game on Windows and macOS. Mashinky supports both single-player and multiplayer modes. The multiplayer modes include online co-op and PvP games.
When you start playing the game, you can see how it draws inspiration from the classic Transport Tycoon. However, a lot of time has passed since Chris Sawyer released Transport Tycoon in 1994 and Mashinky has built upon the classic formula in an innovative way. It's one of the most engaging building games on Steam for strategy fans.
The gameplay in Mashinky provides players with a blend of an isometric construction mode and realistic graphics in different viewing modes.
When you start the game, you're given the important task of building a transport empire on a randomly generated map. This is by no means an easy task. You will have to research and purchase new vehicles, construct tracks on rough terrain, and manage routes.
These are just some of the activities you'll take part in, all while making sure you make as much profit as possible from transporting both cargo and passengers.
As your empire starts becoming bigger, you'll be able to upgrade it in various ways. You can add special wagons and new engines to your trains. You can also upgrade various industry buildings. With each upgrade, you'll get the benefit of a unique bonus.
In Mashinky, you'll start simple and first build tracks that only connect two stations. However, you will soon enough be building sophisticated networks. This is an in-depth and immersive game that fans of Rollercoaster Tycoon are sure to love.
Sid Meier's Railroads!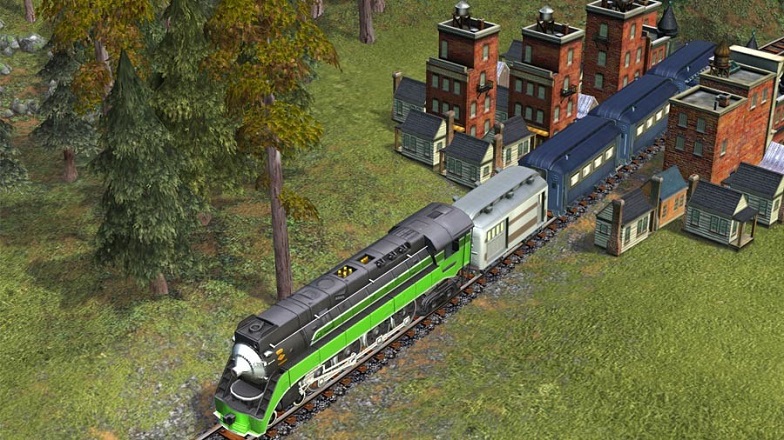 If you're a fan of strategy video games, you most likely recognize the name Sid Meier. This is a legendary programmer and designer who is behind the famous Civilization games.
Sid Meier made the original Railroad Tycoon game after a visit to the Miniatur Wunderland in Germany. The result was an extremely interesting business simulation game that became known as Railroads! You can play it on Windows and OS X.
Unlike previous entries in the series, Railroads! is completely 3D.
There are some notable real-time strategy elements sprinkled in the gameplay. An emphasis is put on economics. Players will need to work on developing railroads they will then use to build and sustain entire industries. The industries you'll have to sustain depend on your location. In Europe, they include alcohol and dairy products, while the focus in the United States is gold and oil.
If you enjoy games like Rollercoaster Tycoon but want something with a heavier emphasis on strategy and management, this will be the best game for you in this list.
Tropico 6
Tropico 6 is a management and construction game that came out in 2019 and can be found on Windows, macOS, Linux, PlayStation 4, PlayStation 5, Xbox Series X/S, Xbox One, and Nintendo Switch.
Apart from there being a heavy focus on construction and management, Tropico 6 is also a government simulation game that will suit fans of Rollercoaster Tycoon who want to try something out with a new theme. It's one of the best simulation games on the Nintendo Switch, and it's packed full of interesting features.
Players take on the role of the leader of an island nation called Tropico, which is situated in the Caribbean. In previous installments in the series, you only had one island where you could build. In Tropico 6, you have an entire archipelago at your disposal.
Your character is referred to as El Presidente. You have the freedom to decide what type of leader you'll be. There is an impressive research system that focuses on political aspects, which will help you become the greatest dictator on the planet. Additional interesting features include election speeches that you'll have to use to persuade people to vote for you.
There are a lot of fun things you can do in Tropico 6. You can send special agents to steal huge monuments from other countries, and build bridges and tunnels both locals and tourists can use to travel from one island to another. You can do all of this either by yourself or in an online multiplayer mode that supports up to four players.