Twisted Metal is an iconic video game series. The premise is simple, but incredibly effective.
Riding around in modified vehicles and fighting other drivers is a hell of a lot of fun. The first entry in this series came out in 1995, and it's still got a huge fanbase to this day. If you've played a Twisted Metal game before, chances are that you're looking for more games like it.
To help you find more adrenaline-filled, chaotic games, we've picked some similar titles out for you. Here are the best 7 games like Twisted Metal to check out today.
Wreckfest
Wreckfest is a vehicular combat racing game from Bugbear Entertainment and THQ Nording. Wreckfest came out for Windows in 2018 and has since become available for Xbox One, PlayStation 4 and 5, Nintendo Switch, Xbox Series X/S, and Stadia.
One amazing thing about Wreckfest is that it finds the perfect balance between traditional racing gameplay and vehicular combat. While every race will focus heavily on you taking other drivers out by ramming them or shunting them into barriers, you will have to be strategic about your actions.
The game becomes more fun as you progress and are able to upgrade your vehicle. There are also a ton of customization options that will help your vehicle stand out in multiplayer matches. As the name Wreckfest suggests, prepare to see a lot of wreckage on the tracks.
These action-packed moments are only made better with the in-game true-to-life physics simulation.
There are many vehicles to choose from in Wreckfest. Whether you prefer to drive around in old American classics or agile European cars, you will find something that perfectly fits your style.
When you're customizing your vehicle, you will need to be mindful of your choices. Adding something like enhanced body armor may offer protection but it will negatively impact your speed and handling.
There are three different modes available in Wreckfest – career, multiplayer, and challenge. Most players prefer the online multiplayer mode, but it's recommended that you make your way through the career mode to earn experience and unlock new upgrades. The challenge mode is also a lot of fun as you'll be able to ride in everything from school buses to lawn mowers.
Road Redemption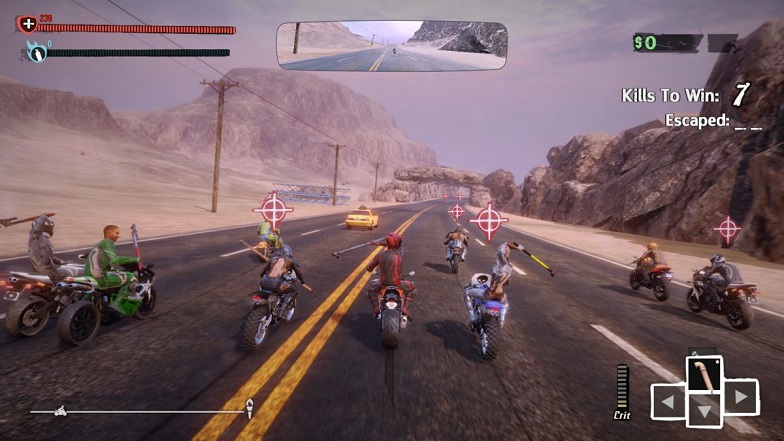 The game came out in 2017 and is available for Windows, Linux, macOS, Xbox One, PlayStation 4, and Nintendo Switch.
The idea for the game initially came about after developer Ian Fisch wrote a blog post about the legendary motorcycle racing video game series Road Rash. Ian thought the blog post would convince EA to reboot Road Rash, but he soon realized that established studios wouldn't think a game like that could be profitable.
Not achieving what he set out to do with his blog post, Ian ultimately decided that he should make a game. The inspiration taken from Road Rash is evident when you start playing Road Redemption. You can also see that Twisted Metal served as a big inspiration for the game.
Road Redemption is a motorcycle racing video game set in a post-apocalyptic world. The story takes place after the assassination of the leader of the biggest weapons cartel in the country. There is a $15 million bounty on the assassin's head and every biker gang is attempting to claim it. To get the money, you will have to take out everyone who gets in your way.
There are many different weapons in the game, which makes it super fun. Some of the weapons you'll be able to choose from include hammers, shovels, pipes, shotguns, and more. You will also have a massive skill tree for your character. As you get money in the game, you'll be able to use it to upgrade everything from your character to your weapons.
There are multiple modes in the game. The standard single-player experience is something you shouldn't miss out on. Most fun happens in the online multiplayer mode. There is also a 2-4 player multi monitor co-op option available, as well as a 4-player split screen co-op mode.
Fans of games like Twisted Metal will love this game. It's fast-paced, chaotic and fun, and there's enough content to keep you busy for hours.
Gas Guzzlers Extreme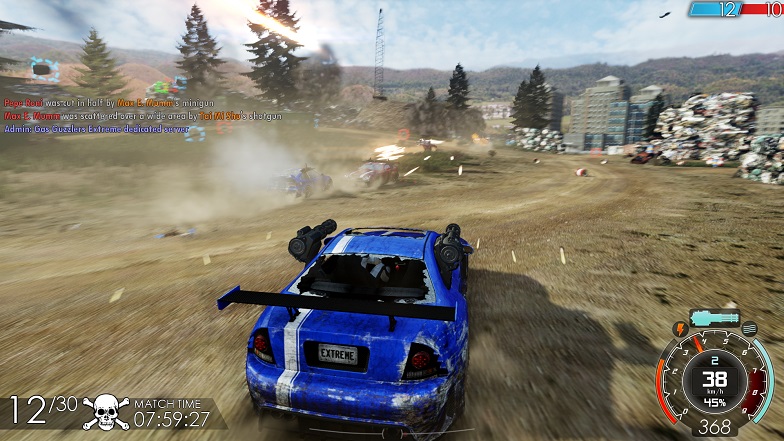 Coming from Gamepires and Iceberg Interactive, Gas Guzzlers Extreme is a combat racing game that came out in 2013. You can play it on Windows, PlayStation 4, Nintendo Switch, and Xbox One. The game is exactly what you would expect from a release that's similar to Twisted Metal.
What can you do when someone is in a vehicle in front of you and blocking your path? In Gas Guzzlers Extreme, you can take a shotgun or a machine gun and blow his vehicle to pieces. If you're searching for an entertaining gaming experience with fictional cars and multiple modes, you shouldn't look any further.
The game offers both a single-player and multiplayer mode. The single-player campaign is very good and provides players with more than twelve hours of gameplay. In the beginning, you ride around in low-performance vehicles but as you earn money you can upgrade to better models.
There are seven different types of races in Gas Guzzlers Extreme, including Knockout, Last Man Standing, Power Race, Battle Race, Capture the Flag, Deathmatch, and Classic Race. There are 40 tracks in the game, along with eight arenas, and seven environments.
You have twelve unique weapons at your disposal, as well as many power-ups. Choose one of 18 customizable cars that you can upgrade as you progress in the game. The game is full of humor and will provide you with a memorable experience. The visuals are great considering Gas Guzzlers Extreme is almost a decade old.
There's so much variety in this game that it stands out as one of the best games like the Twisted Metal series by a mile. It's an absolute must-play.
GRIP: Combat Racing
Are you looking for a high-speed racing experience with stunning visuals and vehicles that look out of this world? If so, GRIP: Combat Racing is the perfect game for you. The game comes from Caged Element and Wired Productions. You can play it on Windows, Nintendo Switch, Xbox One, and PlayStation 4.
GRIP: Combat Racing takes the genre to a whole new level by giving you airborne or gravity-defying wheeled cars. You don't have to use a race track anymore because in this game you'll be able to drive on walls and ceilings. After you gain some experience in the game, you will be able to perform ridiculous stunts.
In case you like a bit more action in a racing game, you'll be happy to hear there are numerous weapons available in the game. From machine guns to missile launchers, you will be able to blast your way through your opponents to make it to the finish line.
There are five different race modes in GRIP: Combat Racing, such as Time Trial, Speed Demon, Ultimate Race, Elimination Race, and Classic Races. There are also two additional modes – Arena and Carkour. As you might have presumed, the latter involves a parkour-style race with unique obstacle courses.
In case the action you experience on your PC or console isn't enough, you can put on a VR headset for max intensity. GRIP: Combat Racing is a VR-compatible game in which you can experience adrenaline like never before.
The game has received a lot of praise for its mechanics, environments, music, and visuals. It's one of the best racing games on Nintendo Switch for gamers who want something a little more manic and action-packed, and fans of games like Twisted Metal will love it.
Rocket League
Rocket League is, without a doubt, the most popular video game on this list. It comes from the American studio Psyonix. It came out in 2015 and is available for Windows, Linux, macOS, PlayStation 4, and Xbox One.
Rocket League is a bit different from other titles on this list, but it adds a unique element to racing video games. It's a worthwhile option for fans of games like Twisted Metal who want to check out a vehicular game with a twist.
The gameplay involves players controlling rocket-powered vehicles to play something that resembles indoor soccer. Essentially, you have to use your car to hit a ball larger than your vehicle and score goals.
There are both single-player and multiplayer modes in Rocket League. In most cases, matches last five minutes. In the event that there is a tie after five minutes, players enter a sudden death overtime phase. Matches can be between two up to eight players. This is one of the best party games on Steam by a mile.
Shortly after the game came out, Psyonix began introducing new modes that have become known as mutators. These modes feature modified aspects of the game, such as decreased or increased ball speed, bounciness, and gravity. Additional game modes feature Rocket League variations on sports games like ice hockey and basketball.
Mad Max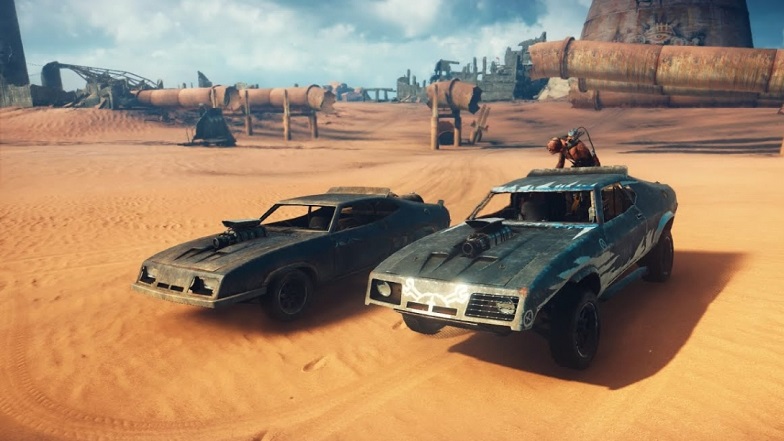 Mad Max is a video game from Avalanche Studios that came out in 2015. Mad Max comes from Warner Bros. Interactive Entertainment and is available for Linux, PlayStation 4, Xbox One, macOS, and Windows.
The setting features a post-apocalyptic wasteland filled with some very crazy characters. When you play the game, you journey through various canyons, deserts, and caves. It is described as an action-adventure video game set in an open world.
However, Mad Max also has a very strong vehicular combat side to it. The developers note that around 60% of the gameplay focuses on driving. You have multiple weapons at your disposal when you're in your vehicle. Twisted Metal fans will love it.
To take out your enemies when you're driving, you can use everything from sniper rifles to flamethrowers. If you're a fan of Twisted Metal games, you're surely going to love Mad Max. The open-world action-adventure side only makes it more fun. What makes it different from other titles on this list is that it only has a single-player mode.
In the game, you take on the role of a character named Max Rockatansky, who journeys through the post-apocalyptic wasteland as he's building a vehicle he calls the Magnum Opus. The gameplay is in a third-person perspective for the most part. When you're riding around in the Magnum Opus, you can switch to a first-person view.
The game allows you to define your own style. You can choose between an aggressive and a stealthy approach. However, if you're a fan of Twisted Metal games, there is no doubt you'll opt for the aggressive style.
Destruction AllStars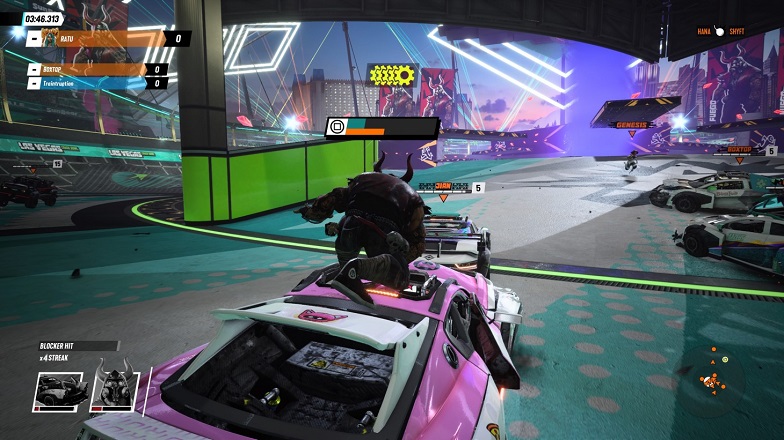 Destruction AllStars is a vehicular combat video game from Lucid Games that came out in 2021. It comes from Sony Interactive Entertainment and is currently available only for PlayStation 5.
The game supports both single-player and multiplayer modes. Players have the option to choose one of 16 characters, commonly referred to as AllStars. Each character is tied to a specific vehicle. This encourages players to develop unique strategies based on the characters they choose.
What separates this release from nearly all vehicular combat video games ever released is that you can be on foot during games. This happens whenever you get ejected from your vehicle. You can eject yourself voluntarily or it can happen automatically when a vehicle is destroyed.
Creator of the Twisted Metal series David Jaffe praised Destruction AllStars for its gameplay and character roster. It's a worthwhile pick for Twisted Metal fans.