Civilization is a series of turn-based 4X strategy video games that has been around for more than 30 years.
Legendary programmer and designer Sidney K. Meier made the first game in the series, which came out in 1991. His name is usually found in the formal titles of the games in the series.
All Civilization games revolve around the same concept but differ in some gameplay elements and graphics. In every game, players have to build a civilization that spans millennia. You start in prehistory and take your society to the near future through strategic planning and technological advancement.
In almost all Civilization games, you have multiple ways to win. You can achieve victory through military conquest, building an interstellar spaceship, or reaching a certain level of culture. They're incredible games, and luckily for Civ fans, there's plenty of other games like them to enjoy.
Here are the 8 best strategic games like Civilization, including some 4X games and some other strategy titles that fall into different categories.
Old World
Old World is a turn-based strategy game that Mohawk Games released in 2021. It is available for Windows, macOS, and Linux. Soren Johnson, the previous lead designer for Civilization IV, handled the design work for Old World.
In Civilization, you need to build a society from prehistory to the near future. The concept behind Old World is a bit different. You start in Ancient history and have only 200 years to progress. Each turn in the game represents a year, so you have to quickly develop a strategy that will lead you to victory.
Players can choose from eight different nations in Old World, including Babylonia, Egypt, Persia, Greece, Assyria, Hatti, Carthage, and Rome. There are also dynasty simulation elements in the game inspired by the Crusader Kings video games.
As years go by, rulers will die, which means their heirs need to replace them. The choices you make in the game will develop the leader's traits. The leaders in Old World can give various instructions. However, there is a limit to the number of instructions you can give in each turn.
There are more than 3,000 unique events that you can experience in Old World, all of which are inspired by mythology and history.
The music in the game is absolutely perfect. It comes from Christopher Tin, who also did the music for Civilization.
There are plenty of multiplayer modes in Old World that you can enjoy with your friends.
This is one of the best turn-based games on Steam, and fans of games like Civilization are sure to love it.
Endless Legend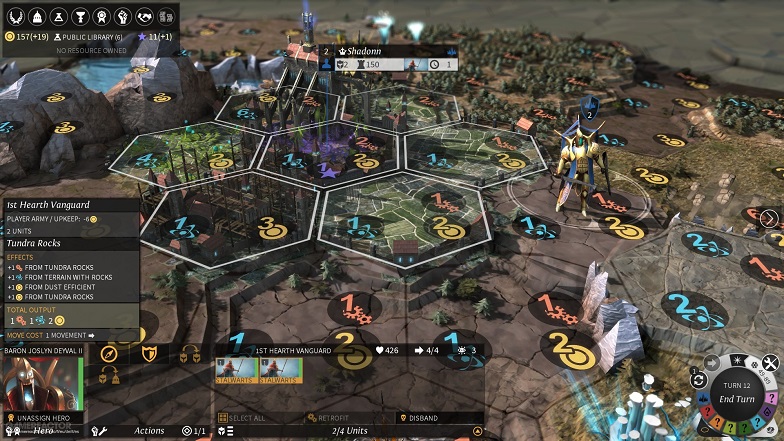 Endless Legend is a great turn-based 4X strategy game to play if you prefer having lots of factions to choose from. In this game, players can choose one of fourteen different factions. Eight factions are in the standard game, while an additional six are available with the expansions. Each has its own units, appearance, and abilities.
Amplitude Studios released this game in 2014. It contains both single-player and multiplayer modes. You can play Endless Legend on Windows and Mac OS X.
The gameplay takes place in a fantasy environment where both advanced technology and magic exist. The maps use a hexagonal grid, just like in Civilization V and Civilization VI. There are multiple biomes in each map, which have certain effects on your units.
There are multiple activities you need to focus on in Endless Legend, including gathering resources, building cities, and researching.
Research is split up into four areas, such as economy and population, military, empire and expansion, as well as science and industry. The resources you gather in Endless Legend include food, influence, dust (the in-game currency), science, and industry.
You can achieve victory in the game through one of nine different win conditions. For instance, you can be victorious by collecting a sufficient number of diplomatic points or by having the highest number of overall points by the 300th turn. Another way to win is to claim 80% of the map.
If you enjoy the challenge of games like Civilization, you'll love Endless Legend. It's immersive, intricate, and a lot of fun.
Age of Wonders III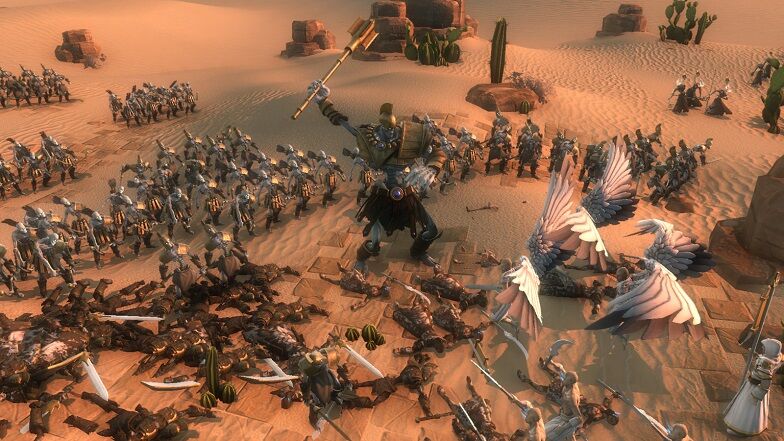 Age of Wonders is another video game series that's been around for quite some time. The first game in the series came out in 1999 and spawned multiple sequels. Despite what you might assume from the name, Age of Wonders III is the fourth game in the series.
This is another amazing turn-based 4X strategy game. It comes from the team at Triumph Studios and takes place in a high fantasy setting. Age of Wonders III came out in 2014 and is available for Windows, OS X, and Linux.
There are some RPG elements in this game, such as the leader classes. Your leader can be a Sorcerer, Warlord, Rogue, Dreadnought, Archdruid, and Theocrat. You can develop and upgrade skills for each leader.
For instance, the Archdruid can call wild creatures for aid by channeling the power of nature. On the other hand, the Rogue is very good at using dark magic, thievery, manipulation, and stealth in both warfare and diplomacy.
There are six available races in Age of Wonders III – Humans, Goblins, High Elves, Draconians, Orcs, and Dwarves. The available races, immersive setting, and detailed mechanics make this one of the most interesting strategic fantasy games on Steam.
Both leaders and recruitable hero units can gain experience and achieve higher levels. Your actions in the game will have an impact on whether NPCs consider you to be a good figure or a bad figure.
The gameplay also involves elements like exploration, exploitation of resources, combat, diplomacy, and more. Players can experience the game in a multiplayer co-op mode with friends. You can also compete with up to seven other players online.
Humankind
Amplitude Studios released Humankind in 2021. Humankind is a turn-based 4X strategy video game. You can play Humankind on Windows, macOS, Stadia, Xbox Series X/S, PlayStation 4, PlayStation 5, and Xbox One.
The gameplay in Humankind is very similar to other games like Civilization. Players will need to lead a civilization through six different eras. There is a big difference though, as you get to pick one of ten civilization types in each era.
One continent in Humankind will have multiple territories. However, players can only build one city in a territory. Land development is by far the most important gameplay element in Humankind, but that doesn't mean you shouldn't also focus on diplomacy and warfare.
Warfare revolves around turn-based combat between two armies. Players are able to use special abilities of their units and take advantage of the terrain they're fighting on to claim victory in a battle. You'll also have the option to auto-resolve battles if you don't want to spend time on combat.
Kingdoms Reborn
Kingdoms Reborn is a city builder strategy video game from independent studio Earthshine. You can play it on Windows and macOS. The game supports both single-player and multiplayer modes.
The gameplay in Kingdoms Reborn is kind of like a mixture between Civilization and Banished. Your main task in this game is to guide a group of settlers into the wilderness and build an empire with them.
What sets Kingdoms Reborn apart from most releases with similar gameplay is its unique card-based system. This system provides a charming experience reminiscent of playing a tabletop game. There are three types of cards in the game – building, interaction, and policy.
When you play a match in Kingdoms Reborn, the map will be randomly generated each time. There are seven distinct biomes that will be on the map. Each biome will feature different resources.
The maps are absolutely huge. As you expand your empire, you're bound to stumble upon other settlements. The local tribes you run into will often join your empire as it grows.
Your initial priority in Kingdoms Reborn will be to gather enough food for your civilization. If you don't, they might starve or begin to abandon your settlement. Once you have sufficient farms and hunting lodges for food production, you can start to focus more on housing, trade, industry, and research.
You can take your nation through four different eras in Kingdoms Reborn, which is clearly inspired by the gameplay in Civilization.
Europa Universalis IV
The Europa Universalis video game series doesn't have as long a history as Civilization, but it has been around for more than two decades. The first Europa Universalis video game came out in 2000 and eventually became a surprise hit. Europa Universalis IV is the fourth game in the series and it came out in 2013.
Europa Universalis IV is a grand strategy game that is available for Windows, macOS, and Linux.
There is so much good content in the game, including many interesting historical events. Some can be civil wars that only affect a particular nation. Others can be something that had an impact on the world, such as the Protestant Reformation.
In Europa Universalis IV, you will need to control a nation over a period that spans almost four centuries.
This is an incredibly complex game and features an interactive map of Earth. The world has lots of different provinces that make up nations. Each province can have both a positive and negative impact on your nation. For instance, it can be a great area to gather resources but it can also contain rebellious citizens.
There are more than 500 nations in Europa Universalis IV. You can conquer the world in multiple ways, like becoming a colonial superpower or establishing trade dominance. Some of the most important gameplay elements include warfare, diplomacy, trade, administration, and colonization.
Crusader Kings III
Crusader Kings III comes from the same company that made Europa Universalis IV.
The game came out in 2020 and received near-perfect scores from multiple publications. It serves as the third entry in the Crusader Kings series. You can play the game on Windows, PlayStation 5, Xbox Series X/S, macOS, and Linux.
Crusader Kings III perfectly blends elements from both grand strategy and role-playing video games. The events that take place in the game are set in the Middle Ages. What's different about Crusader Kings III compared to almost all other strategy games is that you start with a single character.
You may begin the game as a character in either 867 or 1066, with your main task being to develop a dynasty that spans centuries. Your dynasty will become extinct if you die and there is no one in your immediate bloodline to fill your role.
To bring glory to your dynasty, you will need to carefully plan marriages, become a master at diplomacy, and engage in combat. You will be able to choose one of five lifestyles for your character. There are different skills you can upgrade for each lifestyle.
An interesting gameplay element in Crusader Kings III is stress. If your character is a good leader and you make them do evil things, they might become insane. This can have disastrous effects on your whole empire.
This is one of the most impressive medieval games on the Xbox Series X / S, and fans of games like Civilization are sure to love it.
Field of Glory: Empires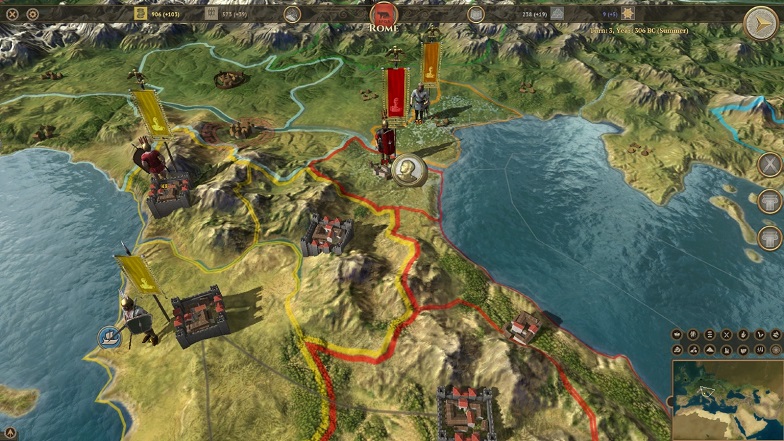 If you're an avid strategy video game fan and are searching for a truly underrated gem, then Field of Glory: Empires is perfect for you. This game comes from the French studio AGEod and it came out in 2019. You can play Field of Glory: Empires on Windows and macOS. The game features only a single-player mode.
This is a grand strategy game that features around 70 historical factions. Some factions are incredibly small and occupy only a tiny region while others are huge nations like the Ptolemaic Kingdom. Each faction has its own special buildings, starting position, and objectives.
There are seven different resources available to players in Field of Glory: Empires.
The resources you'll gather include food, money, metal, manpower, culture, equipment, and infrastructure. There are also four categories of buildings in the game, such as military, infrastructure, food and health, as well as economy and culture.
When you and another army engage in warfare, you will switch to a tactical combat screen. The outcome of the battles will revolve around a series of dice rolls which is awesome if you like playing tabletop games. If you're looking for more games similar to Civilization but want to try something with new mechanics, this is the game for you.