The fact that video games are the world's most popular interactive medium doesn't mean that there's no place for more traditional party games anymore.
On the contrary, games like Quiplash show us that the traditional tabletop games that have made many a gaming night insanely fun can be work well in a digital medium. If you've played Quiplash, you'll know that it's fun, chaotic, and silly.
There are plenty of similar games to enjoy and play with your friends, too. While Quiplash tests your ability to do amusing improv, there are also games that focus on some of your particular skills or reflexes.
To help you liven up your next games night, we've handpicked 8 games like Quiplash! They're all multiplayer party games, some with similar mechanics and aesthetics, and others slightly different and more out of the box.
Super Mario Party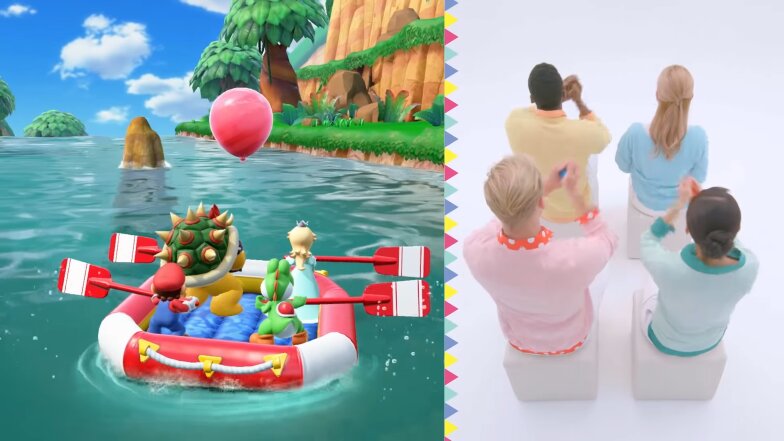 While Nintendo's consoles haven't always been the most powerful or the most practical among its peers, they've certainly stayed the reigning champions of fun party games. And among those, Mario Party is probably the best one.
It's one of the oldest Mario spin-off series, dating back to the age of the N64. And in its stylish iteration for the Nintendo Switch, Super Mario Party remains as fun as ever. It'll quickly reveal your family's most competitive person – or the most cutthroat win-all person in your group of friends.
The great thing about Super Mario Party for the Switch is that it's basically a board game with the same basic premise as its predecessors. You need to collect the most stars to win. However, there's far more to the game than that because you'll collect these stars through a stunningly large library of various mini-games.
It's got everything from food preparation to boat racing, and just about every other mobile mini-game you can think of in between. You've got an insane catalog of challenges in which you'll need to beat your friends, each of them making great use of the Switch controllers.
Also, once you tire of playing against each other, you can split up into teams and play co-op, where communication and teamwork will be crucial for your success. It's one of the best party games on Switch by a mile, and ideal for fans of games like Quiplash.
Jackbox Party Pack 6
We can't really have a conversation about games like Quiplash without describing the awesomeness that is Jackbox Party Pack – or, to be precise, its sixth edition.
If you want to play one of the most popular party games known to man, get ready and get your smartphones charged, because every single game in the Jackbox Party Pack is sure to keep your attention for hours.
Each of the packs up until this iteration has included five individual mini-games, and the selection we've received with the 6th pack doesn't disappoint. When taken as a whole, the games provide a great all-around experience that fans of games like Quiplash will love.
So, how does the game actually look? Well, each player needs their own device, like a computer, tablet, or phone. And seeing as this is a pack of party games, after all, it supports up to 10 players.
The experience itself is wonderfully varied. You can test your trivia wits in the macabre fun of Trivia Murder Party 2 or show off your word-smithery in Dictionarium. And once you're done with knowledge-based games and want something more personal, you can try out Role Models.
The funny person in your friend group will probably get the most out of Joke Boat, a comedy contest mini-game – but there's also Push The Button as a classic hidden identity title. All in all, this is bound to be a party pleaser. It's one of the best party games on Steam.
Overcooked 2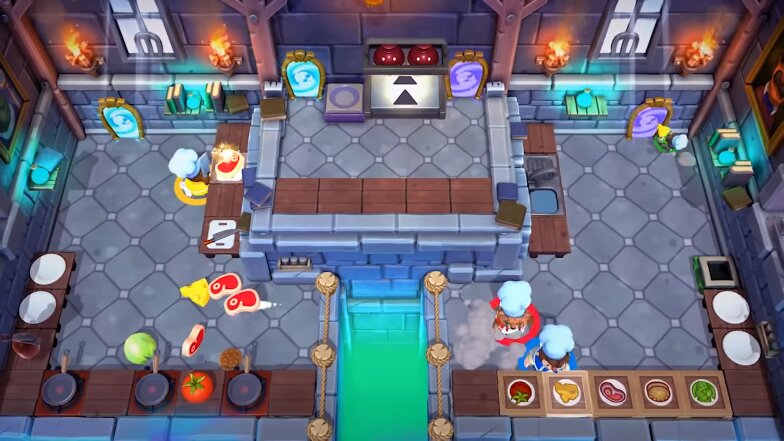 If you need something for up to 4 players, how about the insane food fest that is Overcooked 2? It's the perfect recipe (pardon the pun) for a fun evening with your guests.
And sure, there are plenty of madcap kitchen management and food preparation games. However, they're smartphone games not intended for multiple people, or they support two players at most.
On the other hand, Overcooked 2 is a party game, through and through – and being a famous chef in real life is probably just as mad and exciting.
In the game, you play as a team of cute tiny cooks whose job is, predictably, to prepare and mix up all the necessary ingredients for the maximum number of dishes you can deliver within the given time limit.
Naturally, great teamwork will be necessary if you want to get the top rating. And there are six different levels to go through, each with its own challenges and obstacles. It's a great breath of fresh air, seeing as other similar games usually just increase the speed at which you need to complete the same tasks.
However, with Overcooked 2, you get everything from suddenly collapsing floors to magically shifting surfaces. Also, if you're playing on a console, we recommend the remastered original as well, called Overcooked: All You Can Eat Edition.
If you're looking for more games like Quiplash that offer a different style of play but the same goofy, chaotic vibe, this game is perfect for you.
That's You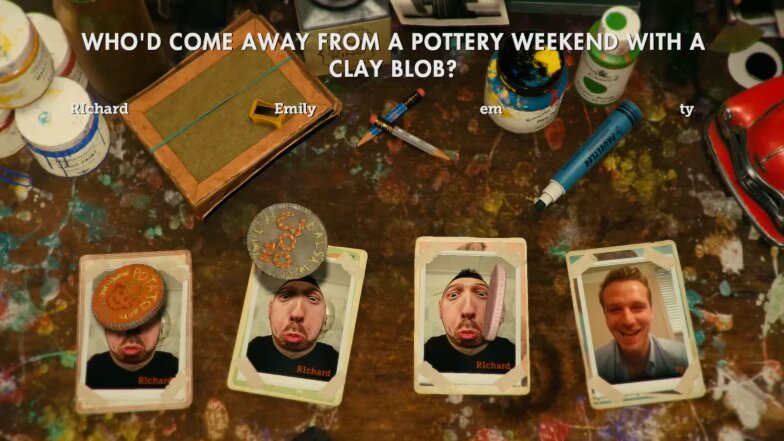 Showing your prowess in general trivia is all well and good – but the truth is, there's nothing more fun than personal questions, especially when you're playing with family and friends. Want to discover (or uncover) who ate glue as a kid, or who's the sap that falls for someone after the first date? Well, That's You is the game that will let you do it all.
If you believe that you know your loved ones, That's You will truly test that knowledge for the first time. There's a wide variety of topics to tackle, from love and pastimes to school. And a maximum of six players will receive questions, after which all of you decide the one among you to answer.
So, how does this look in practice?
Well, let's say the question is "Who's the most likely to lie while picking up a girl?" In that case, all of you will bet on who among you will admit to it – and the more people agree on a single person, the more points they'll get if they're correct. Then, the person is put on the spot and they're supposed to answer truthfully.
As you can see, the premise is pretty simple – but that simplicity is precisely what lends the game so much replayability. It's one of the closest games to Quiplash in this list and is highly worth checking out.
Knowledge Is Power
Of course, there's no real party without at least one clever trivia game. And that's where Knowledge Is Power Comes in. A maximum of six players can partake in a complex trivia game that will test their general knowledge and prowess in a wide range of fields.
Bear in mind that the game is a PlayLink title, which means you and your friends will need to connect your smartphones to play. However, that's probably not too much of an issue, considering the fact that everyone has one these days.
The only question is whether you'll put up with the minimal hassle of connecting them to your console.
Once you do, though, you'll have a wonderful selection of quirky characters to choose from. You can play as anyone from a cowgirl to a wacky guy in a hotdog suit, and once you select your character, you also take a selfie that further personalizes it.
In terms of the game itself, the process is pretty simple. Just like in a number of other game shows, all players vote for their desired categories. Once you pick a category, all of you get the same multiple-choice question – the goal is to answer correctly, but also quicker than the rest of the players.
Drawful 2
Drawful 2 is one of those games that were originally shipped as a Jackbox Party minigame – but soon became popular enough to warrant their own standalone edition. Essentially, this title is an interesting spin on the more famous Pictionary.
The premise is simple. You and seven other players use their tablets or phones to draw something, while the others have to guess what it is; though, the process is easier due to the existence of multiple-choice questions, rather than open-ended ones.
However, the main draw (pun intended) of Drawful is that you get some really weird and difficult drawing prompts – and the main twist is that there's no eraser. That's right: you can't correct anything you start drawing, which means the others will soon have to guess what the scribbley monstrosity in front of them is.
Naturally, most of the drawings are awful, hence the name. And you don't have to follow the game's prompts either; you can write custom ones that are more specific to your friends or family, making an already creative party even more fun.
Fans of games like Quiplash will love the silly and frantic gameplay this title offers.
Rocket League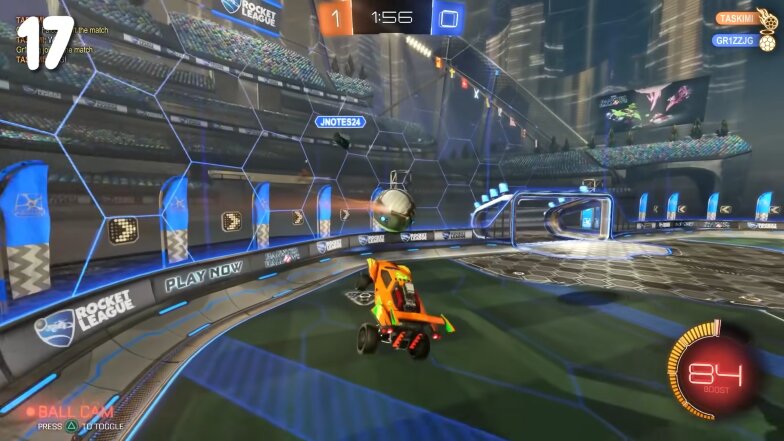 Okay, so most of the games we've mentioned here are simple party games for a general audience – meaning that even people who aren't avid gamers are likely to find them extremely fun. However, if you're going to host a gaming party for your gamer buddies, you've obviously got the freedom to go a bit more off the rails.
And that's exactly why you should organize a Rocket League night. The manic, fast-paced spin on traditional football and the short matches give you plenty of opportunities for more than one tournament and different team setups over the course of the same night.
If you're not familiar with the premise of Rocket League by now, you'll find it thoroughly refreshing – it's football, but it's quicker, and with rocket-powered cars that can fling themselves through the air.
Since the game's original launch, tons of different modes have been implemented in the game, though the basic one is still probably the most fun and original. Still, the fact that you can also play rocket ice hockey or rocket basketball in the game just amps the level of fun you're going to have.
While this isn't the closest out of the list to Quiplash in terms of gameplay, it's still ideal for parties, presents multiple ways to play, and has a unique, fun theme. Fans of games like Quiplash who enjoy other game genres will get a kick out of this game.
Tricky Towers
While trivia and similar party games are always fun, why not try something different for your next get-together? For instance, a title that evokes the magic of physical tabletop games like Jenga. Introducing: Tricky Towers, which sees you and three buddies play wizards with different magical abilities.
Each of you will use your powers to, yes, build a tower by stacking blocks.
However, those blocks have different sizes and shapes, so it's like Jenga with a heavy dose of Tetris. In the process, you'll constantly weigh the risk-reward ratio of placing individual pieces into different slots – even the slightest miscalculation could mean the collapse of your whole tower.
Also, if you want to up the stakes, there's a race mode that brings an additional level of difficulty to the proceedings, because the fastest player wins.
This is an alternative to Quiplash that offers a quirky style of play, a fun and upbeat vibe, and a handful of unique game modes, too.