Champions of Norrath quickly became a fan favorite in the world of RPGs shortly after it came out in 2004. If you've played Champions of Norrath before, you'll know that it offers some of the best hack-and-slash gameplay even to this day. It's a game that offers lots of freedom and customization options to players.
Champions of Norrath is set in the EverQuest universe. EverQuest put its stamp on the gaming world by becoming the first MMORPG to employ a 3D game engine on a massive scale.
If you're a fan of Champions of Norrath and you want to get your hands on a similar game, we've got you covered. In this list you'll find 7 games like Champions of Norrath to check out, focusing on games with great combat, similar mechanics, and player autonomy.
Divinity: Original Sin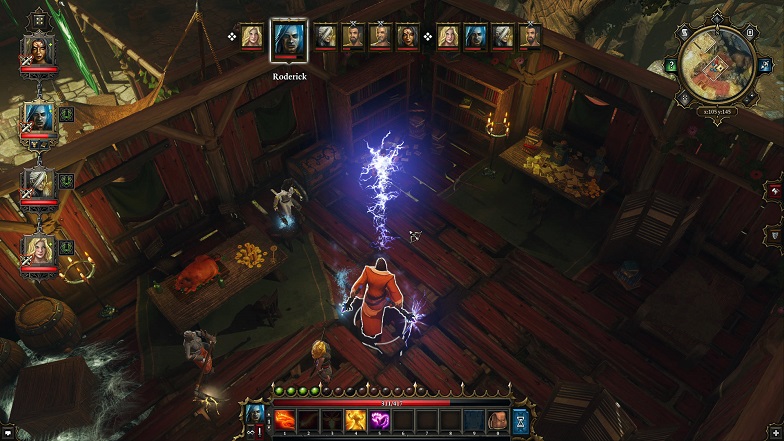 Ten years after Champions of Norrath, Divinity: Original Sin came out and became the RPG that revitalized the genre upon its release. Nostalgia for fans who remembered the glory days of Baldur's Gate and other top-down games with turn-based combat is what drew most RPG fans to Divinity: Original Sin.
The game came from Larian Studios, after being partially funded through the famous crowdsourcing platform Kickstarter. You're able to explore this virtual world either by yourself or with a friend in co-op. The game is available for Windows, Linux, OS X, PlayStation 4, and Xbox One.
Divinity: Original Sin was a huge success for Larian Studios, becoming its fastest-selling game. It features everything you'd expect from a fantasy world, including orcs, demons, magicians, and barbarian mercenaries.
The game represents the fourth entry in the Divinity game series and serves as a prequel to the famous Divine Divinity, released 12 years prior. Apart from doing quests to boost your abilities and attributes, what's interesting about Divinity: Original Sin is that you're also able to control the faith of your characters by making difficult moral choices.
The story starts in an area known as Rivellon, where you (and your friend, if you're playing co-op) are members of an organization that aims to educate a specific type of magic known as Source. Your formal title in the game is Source Hunter. You start by investigating a murder in what seems like a basic RPG story.
After a few hours of playing, you start to notice that the story goes much deeper and starts to spiral. Combat requires a lot of thinking, which is very common in turn-based games. You'll have to use a combination of melee and ranged weapons, spells, and traps to defeat your enemies.
This game is a must-play for any fans of games like Champions of Norrath, and anyone who enjoys classic RPGs in general. It's one of the best fantasy games on Steam with some of the best turn-based combat, too.
Gothic II
Orcs, dragons, wizards, mercenaries, and ancient gods are only some of the things that you'll encounter in Gothic II. The first three entries in the Gothic series came from Piranha Bytes and, although there are more games set in this world, this trilogy is arguably the best of the bunch.
Gothic II is the best Gothic game ever, due to its incredible story and numerous options that the main player can choose from to determine their fate. It came out in Germany in 2002, and then came out for the rest of the world the following year.
At the time of its release, the graphics in most RPGs were more advanced than in Gothic II. However, this game featured almost no loading time. Also, what it didn't have in graphics, it certainly made up for when it comes to the storyline and gameplay.
The game became so popular among fans of the Gothic series that it received the only official Gothic expansion ever made by Piranha Bytes. With the expansion set, you get to explore a completely new world filled with bandits, pirates, and ancient beasts. What's also special about the expansion pack is that it significantly increases the difficulty of the game.
In case you're interested in playing the expansion pack, it's recommended that you first finish the original game. In Gothic, you're an unnamed hero tasked with bringing order and balance to the world. This is no easy feat, so expect to spend hours upon hours fighting various monsters as you complete important tasks in the isle of Khorinis and beyond.
Gothic is a game that completely transports you to a new world due to its attention to detail in its storyline. You can discover how people derive different values from different ancient gods, enter a portal through time, and meet many fictional characters that will make you question everything in this virtual world.
If your favorite thing about games like Champions of Norrath is the challenge and the theming, this game will be an instant favorite for you, we're sure of it.
Baldur's Gate: Dark Alliance
Most of the games on this list came out after Champions of Norrath, but we mustn't forget the title that somewhat inspired it. Baldur's Gate: Dark Alliance is an action RPG that came out in 2001, featuring one of the best 3D engines at the time. In fact, Champions of Norrath expanded on this engine.
Initially coming out on PlayStation 2 and Xbox consoles, a 4K port of the game became available 20 years after its release. This means that you can now play it on PlayStation 4 and 5, Xbox One, Nintendo Switch, and Xbox Series X/S.
The gameplay featured in Baldur's Gate: Dark Alliance follows the rules of Dungeons & Dragons 3rd Edition. Both single-player and co-op multiplayer modes are available. In the co-op multiplayer mode, you share the same screen as the other player and can't move very far from them.
Although only a spin-off of the original Baldur's Gate series, fans loved this game so much that it got a sequel in 2004. It also marks the first release of the series that came out for consoles instead of PCs.
Like any other hack-and-slash RPGs, you have different core attributes that you can boost throughout the game to make your character more powerful.
There are also three race/class combinations to choose from, including an elven sorceress, a dwarven fighter, and a human archer. Depending on the race/class combination you choose, you will have to develop different strategies to beat the game.
Baldur's Gate: Dark Alliance is a game that is still played more than 20 years after its release, and now is the perfect time to experience it, since you can get the remastered version. If you're a fan of games like Champions of Norrath, this is a must-play.
Shadows: Awakening
What if you could have the classic hack-and-slash RPG experience in a unique and innovative way? Shadows: Awakening allows you to do just that with its modern and sleek virtual environment and variety of options not available in almost any other game in this genre.
What's interesting about Shadows: Awakening is its mechanic that enables you to switch between different characters. You initially take control of the Devourer, a demon from the Shadow Realm, who as the name suggests, devours the souls of long-dead heroes. You can use the souls you consume to employ different tactics throughout the game.
Shadows: Awakening is a single-player game and although you won't get to share the experience with another player, you'll have plenty of fun switching between characters. This unique approach allows the game to have a party-based RPG focus while having the option to play only one character at a time.
The graphics are quite enjoyable and the game has an isometric perspective. As you would expect, you have to finish numerous quests to progress the story of the game.
There are also many puzzles you'll have to solve. Most puzzles are not that hard to solve, but there are some that will keep you wondering what you have to do for at least a few hours at a time.
Shadows: Awakening is available for Xbox One, PlayStation 4, and Microsoft Windows, and fans of games like Champions of Norrath are sure to love it. It's one of the best adventure games on Steam with a hack-and-slash style of play.
Grim Dawn
Often labeled as a spiritual successor to Diablo 2, Grim Dawn takes the familiar hack-and-slash RPG aesthetic and adds a unique touch and hours of quality gameplay to provide an extraordinary gaming experience.
Coming out in 2016 from Crate Entertainment, the game immediately gathered attention from hack-and-slash fans who noticed slight resemblances to Diablo 2. Apart from the gameplay, dark ambience, and scary monsters, Grim Dawn also features some incredible music.
Like Champions of Norrath, you can play Grim Dawn by yourself or in a co-op multiplayer mode with up to four players.
What's really special about this game is its high level of character customization and development. You have the option to choose from six different base classes, each having more than 25 distinct skills. Various equipment add-ons enable you to build a character with more than 250 unique skills.
There is a wealth of main and side quests in Grim Dawn. The decisions you make throughout the game will affect everyone from single strangers you encounter on a side road to villages that you spend time in. You can make the land thrive by rescuing people and helping them rebuild their homes.
If you're up for a serious challenge, there are quite a few dungeons that you can visit with specially crafted keys. In these dungeons, you'll only be able to find an exit only by defeating the monsters inside and making it through to the other side.
Dungeon Siege
Dungeon Siege is a video game that's had a lot of blood, sweat, and tears put into it. It was the first game from Gas Powered Games, a company featuring Canadian video game designer Chris Taylor who is known for a strategy game called Total Annihilation.
Dungeon Siege is one of the two games on this list that came out before Champions of Norrath. Nevertheless, if you're a Norrath fan, you will surely enjoy playing this classic from 2002.
Despite being released 20 years ago, the Dungeon Siege graphics are still great and the gameplay is as good as it gets in the action RPG genre.
The main character in the game can be additionally joined by up to seven other characters. You only get to control one character at a time, while the others have AI controlling them.
Set in a pseudo-medieval fantasy world, you'll need to defeat an army of evil to bring order to the world. The game became so popular that it became a trilogy. However, most fans still consider the first installment to be the best Dungeon Siege game ever released.
The Ascent
All of the games we previously talked about in this list are set in a sort of medieval fantasy environment that resembles the Champions of Norrath. But for the final title, we'll give you a game set in a cyberpunk world.
Although it might be a different environment, the feeling you get when you play the Ascent is sure to trigger memories of making your way through the world in the Champions of Norrath.
The graphics are stunning, the gameplay is very interesting, the array of weapons you can use is super fun, and it only gets better if you play the game in co-op multiplayer. You get to take the role of a worker enslaved by a fallen megacorporation in a dystopian world and prevent evil factions from taking control of it.
Character appearance in the game is fully customizable. You also have many options to boost your abilities and skills in The Ascent. It's a must-play for any fans of games like Champions of Norrath who don't mind picking up a game with a new aesthetic.