Image credit: Crate Entertainment
Grim Dawn was developed by Crate Entertainment and was released in the year 2016. This ARPG got a lot of attention over the years, thanks to its complex combat, character development, and loot system.
The game offers you a lot of options but does not allow you to experience all of them in one go. As a result, players feel the need to replay it many times but in a different way. The experience is fun and highly addictive, which is the main characteristic of great ARPGs.
If you enjoyed this masterpiece and want to discover more like it, the gaming industry has plenty of great titles to offer. In this article, you'll learn more about 10 games like Grim Dawn.
1. Nobody Saves the World
In Nobody Saves the World, you play as Nobody and yes, you attempt to save the world. This ARPG may look cartoonish at first but its design is exceptional. The game was launched in January 2022 and has received very positive reviews from almost everyone who played it.
DrinkBox Studios, the company behind Guacamelee, has done an excellent job at capturing the essence of action RPG and Hack and Slash. The unending waves of monsters are fun to fight and the levels are intuitive to play through. At the same time, there are plenty of challenges to keep you interested and strategizing.
Nobody Saves the World should ideally be played using the co-op mode because it provides a great experience for friends, family members, and couples. The feeling of accomplishing something together with a loved one is addictive and will keep you interested for longer.
But even if you play on your own, this game will give you lots of fun memories. The diversity of classes is one of the best things about it. Your default form is Nobody, but as you play you start to unlock more than a dozen different classes that are unique in how they move and attack. And these are not your casual ARPG classes either.
For example, you can turn into a horse, a robot or a dragon. Or you can be a turtle. As you can imagine, a horse plays very differently from a turtle. Different situations will require you to become different beings.
2. Hades
Hades is a beautiful mix of ARPG, Roguelike, and Indie elements. The game was released in 2020 by Supergiant Games, the same company that created Bastion, Transistor, and Pyre. As you can imagine, their 4th game was an instant success. More than 1 million copies were sold almost immediately and the reviews are overwhelmingly positive.
In Hades, you play as Zagreus, the son of Hades, and your objective is to reach Mount Olympus. To do this, you must fight your way through the Underworld and escape it. Every now and then, the Olympian deities will offer you gifts, but you'll also discover many treasures yourself by fighting your enemies and exploring the Underworld.
The implementation of the Hack and Slash mechanic in this game is incredibly addictive. As soon as one enemy gets killed, you want to fight the next one. Much like in Vampire Survivors, the pace of the action is relentless and hours of gameplay can fly in an instant.
Attacking is done in a variety of ways. You can either use your main weapon, a dash ability, a magic ability, or a special attack. The main difference between a game like Hades and many ARPGs is that here, you can't afford to get frequently hit. You must dodge incoming attacks as much as you can and discover patterns in your enemies' actions.
Hades was built with replayability in mind, so there are numerous viable builds that you can use. Some may seem much stronger at first, but as you play the game, you'll discover that the system is well-balanced.
3. Victor Vran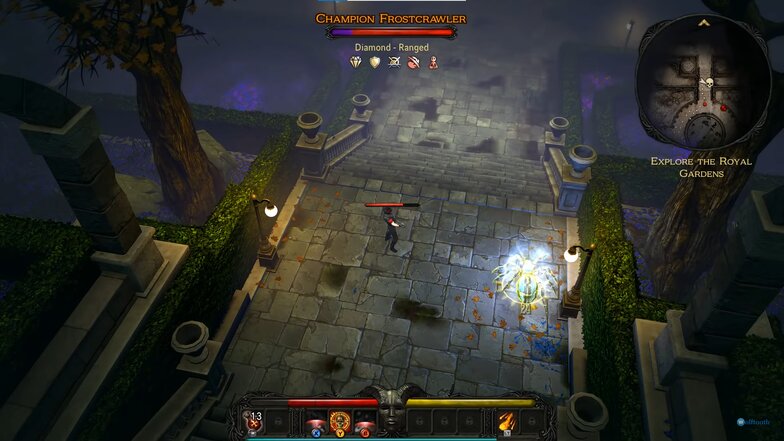 Victor Vran was released in 2015 and will offer you a pure ARPG experience. The game is set in a world that's constantly invaded and ruined by hoards of demons and you begin by traveling to a city named Zagoravia. You're searching for a friend named Adrian, whose profession is identical to yours, and along the way you're fighting demons.
Soon, you discover that the friend you believe had died is actually alive. He's the only one who can lead you to the answers you've been searching for. Unlike other Hunters, your character possesses demon powers, which is a mystery you are trying to solve.
The game's story is a bit philosophical and quite engaging for an ARPG. You are told, for instance, that fighting demons is not only difficult. It's also risky from a spiritual point of view, because of the ways in which they can tempt you: "Beware that, when fighting monsters, you yourself do not become a monster…"
Apart from that, the game sticks to the classic ARPG formula, sending lots of enemies at you and offering you great rewards for killing them.
One thing you'll instantly recognize about Victor Vran is his voice. If it sounds familiar, it's probably because it is the voice of the same actor that voiced Gerald in The Witcher, Doug Cockle.
The specializations you can choose in Victor Vran are numerous. There are around 20 demon powers and around a dozen types of weapons. How you choose to beat the game is up to you.
4. The Incredible Adventures of Van Helsing
The Incredible Adventures of Van Helsing is a title that may sound familiar to you. And that's because Van Helsing is a Horror / Fantasy film from 2004, and great actors like Hugh Jackman were part of it.
The game uses the same concepts and themes, giving you the chance to be a vampire hunter in a world full of monsters. This ARPG was released in 2013 and received very positive reviews on Steam. If you want to play it, you should get it during a sale, when it usually costs only a few dollars.
The first thing you'll notice about this game is the sound effects. This is one of the most important parts of any ARPG, because if it doesn't feel good to destroy stuff and kill monsters, you'll likely give it up after less than an hour of gameplay.
The Incredible Adventures of Van Helsing does have that excellent sound quality about it, which is why people love it so much. The abilities and items you'll get to use in this game are also well-designed, both visually and in terms of their sound effects. So if you like vampire games and ARPGs, you'll definitely enjoy this one.
One thing that you can do to boost the challenge level and compensate for some of the mistakes that were made by the developers, who made certain parts of the game a bit too easy, is to select a higher difficulty level.
5. Diablo 2 Resurrected
Diablo 2 is probably the most copied ARPG game of all time. It was released in the year 2000 but its remake, Diablo 2 Resurrected, dates back to 2021. And the beautiful thing about it is that all of the features that were great about the original were kept intact. The improvements are mostly related to the game's graphics.
Diablo 2 Resurrected offers players a brilliantly crafted loot system. You can fight powerful bosses as many times as you wish and each time, you have a small chance of getting exceptional items for your efforts. But you can also craft your own items using the Horadric Cube, runes, and other ingredients.
There are plenty of Diablo 2 recipes that you'll find online and many of them produce an item of spectacular quality.
The game lets you play with one of 7 character classes:
Paladin
Necromancer
Barbarian
Amazon
Assassin
Sorceress
Druid
Each class is completely unique, and even has exclusive item collections and exclusive stand-alone unique items. But Diablo 2's replayability goes much deeper than that. To complete the game, it's not enough to beat it on just one difficulty. Instead, you need to beat it on 3 difficulties.
Some of the content changes from one difficulty to the next, and the quality of the loot you get goes up proportionally with the monster level. This makes Diablo 2 Resurrected a very fun game and nobody plays it just once. This is the type of ARPG that you'll find yourself playing over and over again. And if you love loot-based games, you can try other genres as well.
6. Titan Quest Anniversary Edition
Titan Quest Anniversary Edition combines Titan Quest and Titan Quest Immortal Throne, and was released in 2016. The original game dates back to 2006 and sold around 1 million copies.
Titan Quest is very similar to Diablo 2 and uses a tried and tested formula. But it's still unique in terms of its world. The action takes place in ancient Greece, ancient Egipt, and ancient China. Few other games transport the player in so many locations but TQ does it well, without breaking one's feeling that he has completely left the original story.
As an ARPG, Titan Quest will reward you with a lot of epic loot in exchange for fighting and defeating its great bosses. One thing about these bosses is that they were inspired by monsters and creatures that can be found in Greek, Egyptian, and Chinese culture.
For instance, you will fight Talos, the Lernean Hydra, the Gorgon Queens, the Manticore, the Chimera, and other powerful beings that are derived from their associated cultures.
There are 5 acts in total and the locations and themes are blended in a way that naturally stirs interest. This is a captivating game for those who enjoy learning about foreign cultures and their mythologies. You probably shouldn't play it otherwise, because there are better ARPG games out there.
7. Dungeon Siege 2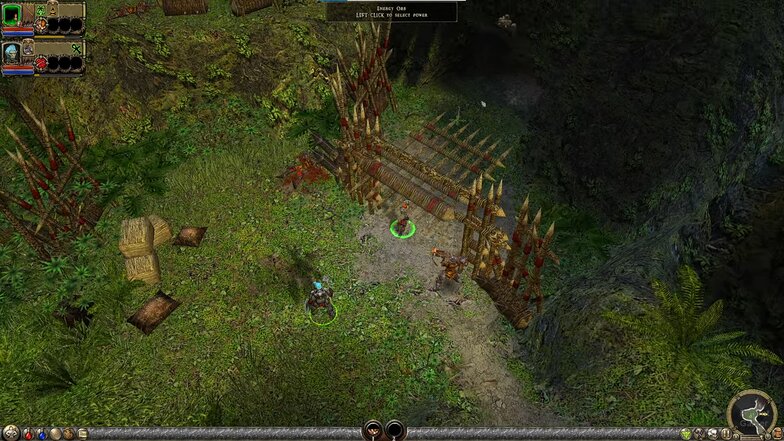 Dungeon Siege 2 is an ARPG that excels at most of the same things that Diablo 2 excels at: loot, epic bosses, atmosphere, and replayability. Its story is not that impressive, but if you want to play a party-based ARPG, Dungeon Siege 2 is a great choice.
In this game, you can choose between 4 character classes: Fighter, Ranger, Combat Mage, and Nature Mage. And your party is made up of 4 characters. Some players like to pick every single class for maximum versatility during combat. Others like to pick one tank and support it with 3 ranged characters.
The system is quite flexible and there are many viable combinations, but you should know that some of them have a hard time defeating certain enemy groups and bosses. The game will challenge you in all sorts of ways, so you need to be prepared to deal with a wide variety of situations.
Perhaps the best thing about DS2 is its loot system. There are many excellent items in this game that can greatly enhance your capabilities, and you have 4 characters that you need to equip. This creates a situation where the desire to find more loot is much stronger than in other ARPGs, in which you only have one character to strengthen.
Just like Diablo 2, Dungeon Siege 2 can be played in 3 levels of difficulty and each level becomes increasingly better. There's a lot of amazing loot that drops in the Veteran and Elite levels.
8. Torchlight 2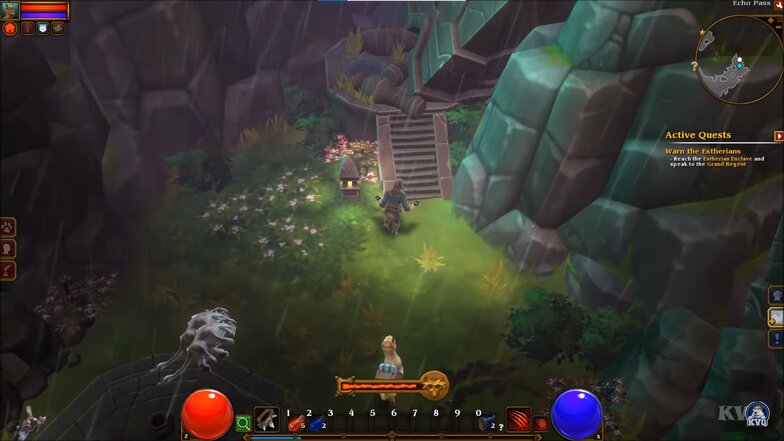 Torchlight 2 is one of the most beloved ARPGs ever created. Runic Games did an excellent job and built this game on top of the previous one in the series. This gave them the chance to add a lot of new elements and make everything more enjoyable.
What's truly important is that the second game is a genuine spiritual successor of the first one, and that can be felt in its atmosphere, character design, and quests. If you liked the original Diablo 2 or its predecessor, Diablo, you'll probably like Torchlight 2 as well, because it was created by the same people.
There are 4 classes that you can choose from: Outlander, Embermage, Berserker, and Engineer. The playstyle of each class is completely unique. To make your experience even more unique each time you play the game, the loot system offers many items that can only be used by one class.
The fact that you can use a shared stash gives you the possibility to find elite items with one of your characters and then equip them with a different character. Thanks to this, players often start a 2nd, a 3rd, and even a 4th playthrough, just to experience the game in all of its variety.
Torchlight 2 will surprise you not just with great loot and strong bosses but also with smaller things, such as the ability to fish, or the fact that you can have a pet that helps you.
9. Throne of Darkness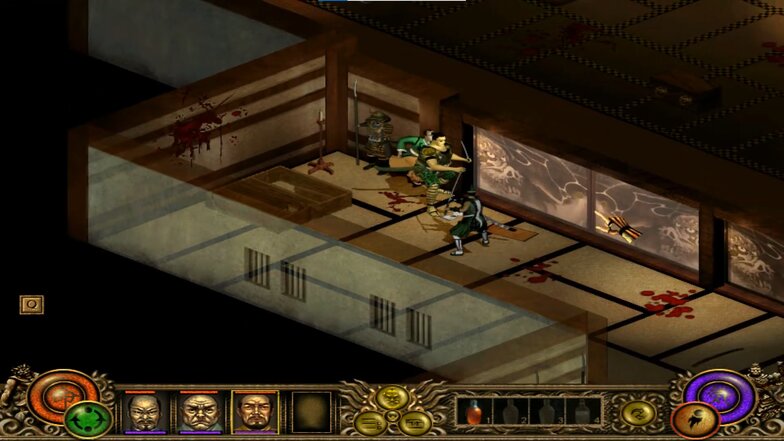 Another great game that was developed by the same people who created the original Diablo 2 is Throne of Darkness. This ARPG is a little bit underdeveloped and you will feel that in the characters' skill systems, which overlap when they shouldn't. But apart from this flaw, Throne of Darkness is amazing.
The atmosphere in this game is memorable, every battle feels important, all of the loot you will get can be utilized in one way or another, and the story is captivating.
There's a lot to love about this game, which features multiple unique elements that have revolutionized the genre. First of all, you control a party of 7 characters:
The Leader
The Wizard
The Berserker
The Archer
The Brick
The Ninja
The Swordsman
All of these characters, as well as the game itself, are inspired by Japanese culture. If you love this culture, ToD will be one of the best ARPGs you've ever played. The game has a soul, and that more than makes up for its flaws.
When you play, you control 4 characters at any given time and you die only if all 4 of them get killed. You can swap one character with a reserve one whenever you wish. And each of them needs to be leveled up, properly equipped, and so on.
The style of Throne of Darkness is unique in the ARPG genre, and it's a pity that it's not utilized more often. The blend between ARPG and CPRG elements is highly addictive.
10. Path of Exile
The last title on this list of games like Grim Dawn is Path of Exile. No ARPG list would be complete without this title, which has given gamers many hours of fun since its release. The game is free to play and was developed by Grinding Gear Games in New Zealand. Its formula captures the essence of the ARPG genre to perfection.
There are 7 character classes that you can choose from:
Marauder
Duelist
Ranger
Shadow
Witch
Templar
Scion
Apart from the last of these classes, each of them has 3 ascendancy subclasses that you must choose between. This aspect of the game makes it amazing, but it's just one of the things PeE does better than almost anyone else.
Other elements that have contributed to the game's success include the epic boss fights (similar to the ones you encounter in RPGs like Elden Ring), the regular updates from the development team (which keep the game fresh and add a lot of new content to it), the loot system, and the co-op mode.
Everything about Path of Exile is done at the highest ARPG quality standard, so if you want to experiment with the genre for free, just download the game on Steam and play for a few hours. It is going to be an eye-opening experience that will show you just how good an RPG can get when the developers care about their community.