Ever wondered what an anime Dark Souls game would look like? Well, the release of Bandai Namco's Code Vein answered everyone's question. This vampire-themed JRPG blends in elements from the genre with the Soulslike formula.
Anyone who's played Code Vein would tell you it's basically Dark Souls with a gorgeous anime reskin. There's even an XP currency named 'Haze' that works the same way Souls do, and instead of Bonfires, you get Mistles.
Code Vein is more than just a simple Dark Souls clone, however. From the unique setting and improvements it makes to the Soulslike formula, it creates an action-filled experience that you can't miss out on.
Finding more games like Code Vein is a challenge, but luckily, we have a few titles that'll fill your vampire cravings. Here are the best 8 games like Code Vein.
Stranger of Paradise: Final Fantasy Origin
Available on PC, PS5, PS4, Xbox Series, and Xbox One.
You play as an Eminem-lookalike in a boy band group, with Soulslike combat, slashing through enemies set in Final Fantasy's world. What more reason do you need to jump into this game?
Strangers of Paradise is a game that lives up to its title. Everything from the premise to the presentation is outlandish, but it works. It delivers a Soulslike experience that fans of games like Code Vein are sure to love.
If you're a fan of the Final Fantasy franchise, you'll find the plot to be a delight. The story is an isekai, and ties into the original Final Fantasy game. It follows Jack (Eminem) and his party of warriors.
The group have to destroy Chaos. You'll hear about chaos over and over throughout the entire game, but if you can overcome that, there's an action-packed experience to enjoy.
While the art style isn't as heavily stylized as Code Vein, it still has an anime-like aesthetic that the modern Final Fantasy games have. It's also got a unique take on the typical Soulslike combat.
Instead of taking down foes with a singular foe, this game gives you a party to aid you. You can also swap between the party members, which adds a whole new layer of depth. For Final Fantasy regulars, party-based battles won't come as a huge surprise. The other, unique element of Strangers of Paradise comes from the FF-inspired Job system.
There are over 20 different Jobs/Classes to assign characters, allowing for plenty of playstyle variety. If you're a fan of this franchise, you should read our titles similar to Final Fantasy list.
Honkai Impact 3rd
Available on PC, Android, and iOS.
When you're searching for titles like Code Vein, if all you want is anime action, Honkai Impact 3rd has everything you'll want. Genshin Impact's lesser-known sibling focuses on two things: cool anime characters and battles.
You'll find Honkai Impact 3rd's visual style welcoming. It features a similar sort of 3D cel-shaded graphics, with heavily stylized characters. This is also backed by fantastic voice-acting and cinematics.
Instead of a Soulslike, timing-based combat style, you'll be met with fast-paced combo systems. You'll be chaining together moves, and each character in the game offers a different playstyle.
From giant flame swords to edgy chains-with-blades, there are a variety of options in this game. There are over 15 characters to choose from, and more are constantly being added.
The cast is also full of personality. Just like with Genshin Impact, the developers have put care, passion, and detail into the story when bringing the characters to life.
Honkai Impact does more than just your hack-and-slash. The game melds together a variety of genres to keep things fresh. There's platformer-like gameplay, bullet hell segments, and even dungeon crawling modes.
For the co-op fans of games like Code Vein, this game offers multiplayer modes too. You can team up with a friend to take on raids. There's also matchmaking online for easy jump-in gameplay.
Best of all—the title is free-to-play and also offers crossplay between platforms. If you love fast and intense action JRPGs, our list of games similar to Nier is worth reading as well. There's plenty of exceptional games out there that you're sure to enjoy.
Elden Ring
Available on PC, PS5, PS4, Xbox Series, and Xbox One.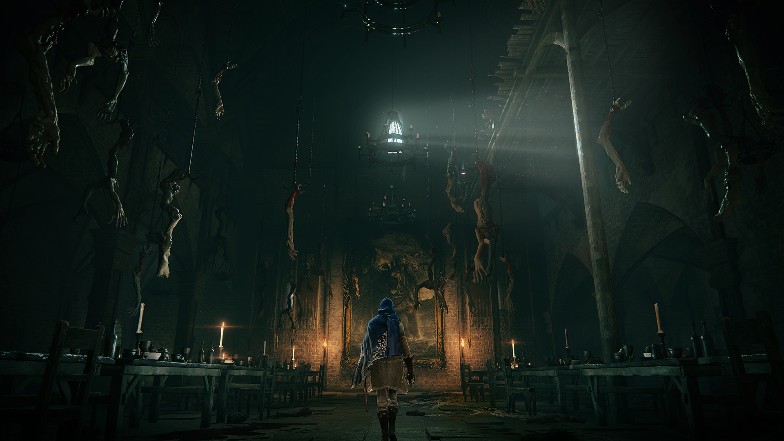 What better way to satisfy your Code Vein vampiric urges for blood and monsters than to play the very titles that inspired it? Elden Ring is a successor to the franchise that started the Soulslike genre.
Elden Ring comes from the same team behind Dark Souls, FromSoftware. The group have shown they can capture lightning in a bottle more than once, and their signature game style shines through in this game.
The game is an 'evolution' of the Dark Souls format, and incorporates open-world inspirations from titles like Breath of the Wild. If you loved Code Vein's gameplay and dark aesthetic, you need to play this.
Imagine if Code Vein's world wasn't as linear and there was a massive world to explore. That's what you'll find in Elden Ring. You can freely adventure between the game's massive, six locales.
There is a huge focus on exploration, as you traverse the open-world environments and delving into dungeons. The main goal of the game is to take down the demigods in each area and repair the titular Elden Ring.
This game is filled with phenomenal world-building and is rich to the brim with lore. Arguably, it's even better than Dark Souls. It also had the famed G.R.R. Martin on board to help with writing.
The game feels like G.R.R. Martin's take on Lord of the Rings. It blends in the gritty and darker elements of Game of Thrones, and then adds in a fresh Dark Souls-esque coat of paint. This is one of the most impressive games like Code Vein to check out.
Star Wars Jedi: Fallen Order
Available on PC, PS5, PS4, Xbox Series, and Xbox One.
This title belongs on every 'games like Code Vein' list.
The reason for this is that Star Wars Jedi: Fallen Order draws gameplay inspiration from the same, Dark Souls-inspired sources. Both games share the Soulslike-influenced combat systems and mechanics. Just like with Code Vein's 'Haze' and 'Mistles', Fallen Order also has its own Bonfire/Soul counterparts.
The main character, Cal, can meditate in 'resting' areas, using the experience he gains from killing enemies (mostly Stormtroopers). This can unlock new Force abilities and upgrades
Where this game really shines is where it combines the Soulslike genre with a Metroidvania style of exploration. This alone makes it ideal for Code Vein fans to check out.
As you progress through the game, you'll unlock more force abilities, which gives you good reason to revisit planets. New skills can unlock new areas in old environments, with plenty of secrets to discover.
A welcome change from Code Vein that you'll find is difficulty settings. In Fallen Order, if you want a super challenging experience, there's an option for that. There's also a 'Story' mode.
Swinging around a laser sword in space never gets old. Cal can freeze a Stormtrooper's laser shot midair, and even throw enemies into it. Not only is the combat enjoyable, but you can get really creative with the skills.
It's also backed by some of the best writing in the Star Wars universe. Period. Even compared to the fan-favorite legacy content. The story is full of emotional scenes even non-Star Wars fans can enjoy. This is one of the best games set in space by a mile.
Tower of Fantasy
Available on PC, Android, and iOS.
If you're open to moving away from RPGs like Code Vein and checking out MMORPGs, this game offers a Code Vein-esque experience on a larger scale. Tower of Fantasy is a cross-platform and crossplay title that takes the anime action online.
The game draws inspiration from popular MMO titles and offers a massive, sci-fi world to explore with plenty of visual style options. Whether you want a vibrant and colorful world or an apocalyptic dystopia, this game has art-style settings that you can tailor to your preferences.
Did you love Code Vein's character creator? Just wait until you see Tower of Fantasy's customization options. It easily rivals Code Veins, and you can even share your characters with other players, and download theirs.
The combat system is also just as fast-paced as Code Vein's battles. You'll be slicing away at enemies at lightning speed, with a range of abilities and weapons in your arsenal. There is a wide range of different guns and sword options, and even magic.
Traversal and exploration in this game are also a treat. From jetpacks to motorbikes, it encourages adventure.
The game's world is full of other players, and teeming with life. You can party up with other people to take down world bosses, dungeons, or just quest together.
If you're a social gamer, this game is absolutely incredible. While the content isn't as challenging as Code Vein, the combat is just as exhilarating and the animations pack a punch.
Monster Hunter Rise
Available on PC and Nintendo Switch.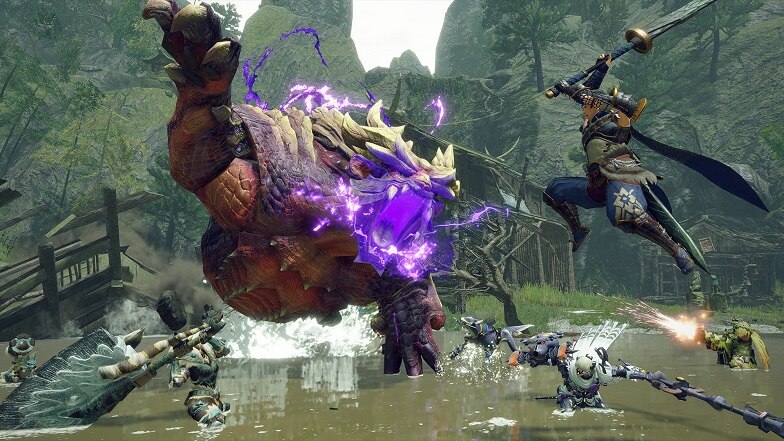 Who hasn't heard of Capcom's flagship Monster Hunter franchise? If you want a skill-based action RPG, Monster Hunter Rise should be one of the first games you check out.
While it only errs on the side of being considered 'Anime', if you're coming from Code Vein you'll find the character customization satisfying. There are plenty of options and different gear options.
In comparison to Code Vein, this game also offers more in the way of playstyles. There are 14 different weapon types to choose from, ranging from guns to bows and even hybrid sword-axes. The combat has always been the Monster Hunter series' strong suit. Rise is no different and actually refines the systems and animations.
If you were searching for story-driven games like Code Vein, this might not be it—but it delivers on a timing-based, skill-heavy action experience. You'll be hunting down massive monsters, with no special magic skills to back you up.
Instead of the typical, level-based progression system, in Rise, you'll be relying solely on your skill and gear. You'll upgrade your weapons and armor using parts you harvest from the beasts you slay.
Compared to Code Vein's 2 player co-op, this game's multiplayer features are more expansive. You can go hunting in parties of 4, and guess what? Progression happens for everyone. It's an accessible and immersive style of multiplayer play.
It might not be edgy anime vampires, but the monster designs in Rise are fantastic. It draws from prehistoric times and the mythological. From dinosaurs to fire-breathing dragons, you'll fall in love.
Final Fantasy 7 Remake (Intergrade)
Available on PC, PS5, and PS4.
Fast-paced action combat, anime visuals, a legendary story, and the most iconic JRPG cast ever—what more could you want from games like Code Vein? Final Fantasy 7 Remake Intergrade should be on everyone's to-play list.
Final Fantasy 7 Remake's cyberpunk metropolis setting is quite different compared to a vampire post-apocalypse, but the two share a few themes in common. Both games feature dystopian worlds and themes.
People wanting more from Code Vein's writing will find 7 Remake's narrative a delight. The storytelling is masterfully written. It's more emotional and filled with fleshed-out characters.
The action combat in this game is also more in-depth. Characters have deep customization options, and battles require strategy. It's a nice change to Code Vein's more timing-based, Soulslike fights.
The original Final Fantasy 7 is arguably one of the most influential JRPGs in history. It leaves behind a strong, and everlasting legacy, which the Remake lives up to. Arguably, 7 Remake is going to leave behind its own legacy and have just as much impact on the industry. The game excels in every area, even down to the soundtrack.
While Code Vein delivers on a lovable and fun anime-action experience, it isn't the best the genre has to offer. If you want to see the greatest, then Final Fantasy 7 Remake is it.
*A little note, the Intergrade edition of Final Fantasy 7 Remake is only available on PC and PS5.
Ender Lilies: Quietus Of The Knights
Available on PC, PS5, PS4, Xbox Series, Xbox One, and Nintendo Switch.
If you loved Code Vein's dark atmosphere, then Ender Lilies is worth checking out. If you don't mind jumping to a 2D, side-scrolling view, this game offers a tight Soulslike experience.
Similarly to the earlier mentioned, Star Wars Jedi: Fallen Order, this game combines the Metroidvania genre with mechanics from Dark Souls. It has enticing action RPG style of play.
This game features a fascinating combat system, where you actually control two characters. You play as the mysterious girl Lily, who has joined forces with a cursed knight. Your goal is to unravel the mystery behind the kingdom that fell to the Rain of Death.
The best way to describe the game's aesthetic and style is 'a beautiful ghost'. The visuals are breathtaking, while also being dark and haunting. This atmosphere is also backed by a just as chilling soundtrack. Also, how it handles the storytelling is different to other Soulslikes.
This also includes Code Vein—the ending of the game will depend on your characters' actions. While the swap to a two-dimensional world might be jarring at first, you'll find familiarity in the combat.
Combat in Ender Lillies is still timing-based, and you'll need to learn your enemies' attack patterns. You can also mix-and-match abilities, to create unique builds and there are items to change things up.
The game is also incredibly respectful of your time. There's not much backtracking, and it removes death penalties. Systems like fast travel are also available from the get-go. If you're a fan of games like Code Vein, you'll love this post.
Honorable Mention: Scarlet Nexus
Available on PC, PS5, PS4, Xbox Series, and Xbox One.
Just look at the gameplay screenshot—Scarlet Nexus looks near identical. If you're looking for more games like Code Vein, this title is worth playing, and guess what? It's by the same developers!
Both titles come from Bandai Namco, and come from the same mastermind, Keita Iizuka. While the games' universes aren't connected, you're sure to find plenty of similarities between the two.
The first thing you'll notice is Scarlet Nexus shares the same art style. It features the signature anime visuals, however, the fidelity and quality are a huge step-up over Code Vein.
If you were to grab a character from Scarlet Nexus and threw them into Code Vein's world, you wouldn't even notice. There are the iconic face masks, too.
This isn't the only department where Scarlet Nexus builds on its spiritual predecessors. The action combat system and story are also huge improvements over Code Vein's experience.
Battles are just as fast-paced and engaging, with a unique system for sharing abilities between party members. This game also has a bigger focus on the storytelling and writing aspects.
Scarlet Nexus was made with launching a new, narrative-driven IP as a main goal. It's set in a 'Brain Punk' futuristic world, filled with high-tech and brain-powered psychic abilities.
There are two intertwining storylines you can choose to play from, featuring recruits from the Other Suppression Force (OSF). An organization dedicated to preserving humanity and defeating the beautiful-and-hauntingly designed alien creatures, known as Others.