There's a mood that each genre in gaming is most suitable for, and sometimes, such genres can scratch multiple itches at the same time. A good example of that is the action-adventure category.
This genre contains a bulk of the most popular games on the PlayStation, so it can be a real struggle to settle on one option. Even worse, there are just as many bad games as there are good ones – possibly more.
Obviously, it'll be much easier to decide if you can choose from a significantly trimmed list. So, I put together this guide to the best action-adventure games for PS5. It is the product of time-consuming research, so you bet every single option was carefully reviewed before selection.
Deathloop
Deathloop is not without its faults, but the good bits far outweigh the bad and make it worthy of a mention as one of the best action-adventure games for PS5.
The title is a bit of a giveaway to the premise of the game. Your character – an amnesiac named Colt Vahn – finds himself stuck on an island called Blackreef, where he is forced to relive each day over and over again.
The rest of the inhabitants of the island are cursed with the same fate, but they appear to be unaware of it as Colt is. That makes things a little difficult for him as he tries to figure out what in tarnation is going on and how to get out of the loop.
Deathloop has elements of a roguelike, but this Groundhog Day reincarnation is as exciting as it gets.
A particular group of enemies that you will face and have to turn into a statistic, called "visionaries", have special powers. When you manage to kill any of them, their special powers become yours, and soon enough, you'll be able to do pretty cool stuff like teleportation or invisibility.
Combat in Deathloop is pretty intense. Many times, the action is fast-paced and "guns blazing", but there will also be occasions where stealth is key.
The whole thing comes together in a pretty pleasing visual package too. There are multiple graphics modes that impact visual quality and performance depending on which option you select.
In Performance mode, you get a steady 60fps framerate at a dynamic 4K resolution
In Visual Quality mode, there is a preference for sharper, more detailed images, still at 60fps.
In Raytracing mode, you get the best of cutting-edge graphics while sacrificing 60fps for 30fps and a dynamic 4K resolution.
The DualSense controller of the PS5 is also put to good use here. Every gun has its own custom feel, every step you take is perfectly synced with the rumble of the gamepad, and it all makes for a pretty immersive experience.
Summarily, Deathloop is a truly fine release from Arkane Studios and Bethesda Softworks.
Assassin's Creed Valhalla
Ubisoft's Assassin's Creed franchise obviously has to get a mention on any list of quality action-adventure games. There's a wide range of options to choose from, but I decided to go with Valhalla since we're talking about the PS5.
Valhalla is the 12th major game from the series, so the developers have clearly had a lot of time experimenting, fine-tuning, adding, and removing bits and pieces to make a well-rounded experience.
The result is a game that embodies the true heritage of the League of Assassins, and the history and best bits of gameplay from the franchise.
Your character in Assassin's Creed: Valhalla is Layla Hassan. She partners with a couple of other assassins on a mission to save the world, with very little to go on in the way of clues or messages.
The lack of help forces Layla to blast herself into the past by using an Animus machine to alter her physical self and relive the life of Eivor, a 9th-century Viking.
Accordingly, the weapons that you get to use here are quite simple – daggers, axes, spears, swords – you know the types. However, you can still upgrade each one to alter their appearance or make them more devastating.
Riding through England on horseback has never been as intriguing as it is in Assassin's Creed: Valhalla – especially on the PS5 version.
There are a handful of significant boosts in graphics and performance compared to the PS4, including a framerate boost from 30fps to 60fps, 1400p resolution on the PS4 Pro to dynamic 4K on the PS5, faster loading times, activity cards, 4K video capture, and a host of other little things that you'll notice when you play.
It's a good-looking game with very enjoyable gameplay, and those are two important factors that you want to see in the best action-adventure games for PS5.
The Pathless
Giant Squid's The Pathless might not be as popular as the previous two titles that I've discussed, but it is every bit just as worthy of being named on the list of the best PS5 action-adventure games.
The game manages to cut across a couple of other genres too. It could easily pass as a puzzle game or a platformer and still be considered an excellent release for either one of those categories.
It's really impressive how excellent the visual quality of The Pathless is, despite the relatively small budget that the developer must have had to work with.
Your character here is a huntress whose job is to rid the land of an evil curse brought upon it by the Godslayer, an incredibly powerful warrior. As far as clues go, most of them will be notes from the dead – past hunters that have tried and failed in your mission. No pressure.
A good adventure game must have well-sized maps for exploration, and The Pathless delivers in that department with large open-world maps that you can run across to your heart's content.
The method of travel is…interesting, to say the least, but it is better experienced than explained. That, alongside an excellent soundtrack selection, fantastic boss fights, and creative art direction combine to make The Pathless a true action-adventure beast.
Immortals Fenyx Rising
The second Ubisoft title on this list, Immortals Fenyx Rising is an open-world action-adventure game with elements of a shooter.
The game was released in December 2020 but has received a couple of expansions since then to add even more content, including the Lost Gods DLC that was released in April 2021.
There is a popular opinion that Immortals Fenyx Rising was inspired by Legend of Zelda: Breath of the Wild, and it is easy to see why.
However, despite there being clear similarities in the way that both games approach the action-adventure genre, Immortals Fenyx Rising still has enough to offer on its own.
The customizable main character, Fenyx, has a set of wings that aid flight, although it could almost pass as paragliding. It's a pretty useful ability though, as it helps when exploring the vast open world spread out in front of you.
The story is simple. Fenyx is on a mission to rescue four ancient gods that have been help by a monster. You are to help these gods return to their natural form, and then take down the monster that held them in the first place.
It helps that the game runs smoothly on the PS5 at 60fps with 4K resolution, so you're getting great visual quality and performance as you traverse the world of mythical Greece.
It's not the most innovative of games, and it is unlikely to win any awards, but Immortals Fenyx Rising is an interesting, more casual take on Greek mythology that doesn't take itself too seriously and as a result, manages to be charming enough to warrant a second, third, and fourth look.
Cyberpunk 2077
Oh, Cyberpunk, a victim of lofty expectations that CD Projekt Red disastrously failed to meet at its initial launch. How different things could've been.
You know what they say about first impressions? Well, Cyberpunk 2077 arrived in 2021 after a ridiculously long wait, and it failed dramatically to meet up to expectations. In fact, the near-general consensus was that the studio had released an unfinished game.
It was less about the visual quality, premise, or mechanics and more about annoying bugs, crashes, the lack of a visible narrative, and other things that made Cyberpunk 2077 pretty much unplayable back then.
However, the game has since been patched with fixes and new content, and a PS5 upgrade was even published in 2022. It mostly runs well nowadays, which makes it much easier to enjoy the experience as it was originally intended.
Your character, V, is one of many inhabitants of Night City, a place where there is a hierarchy that directly affects the quality of life of inhabitants.
As you complete missions and weave through combat sequences, you slowly work your way up the hierarchy, each time closer to your goal of making a better life.
As far as PS5 features go, Cyberpunk 2077 comes with stunning ray tracing, and it is a true delight to behold under the colorful night lights of Night City.
The game's use of the DualSense controller features is excellent, loading times are snappy enough, and dynamic 4K looks as sharp as ever.
If you played this game when it launched, delete that experience from your memory and give it another go. If you've never played it, it's even better for you. With the patch, it is one of the best action-adventure games for PS5, easy!
Metro Exodus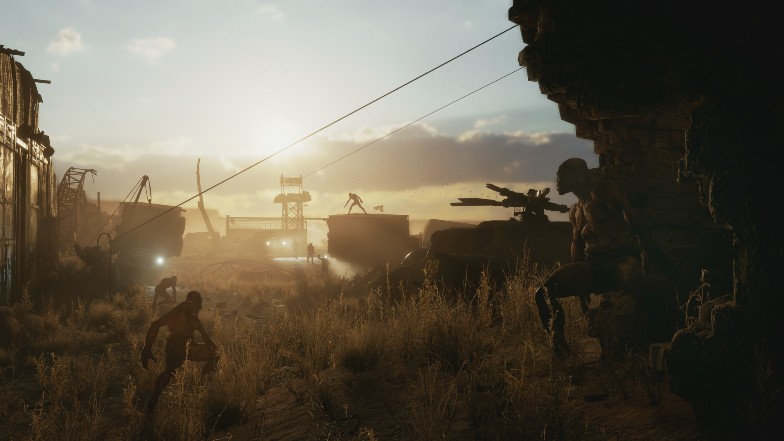 The post-apocalyptic narrative has been flogged extensively in various adventure games, so it is interesting to see a game that still manages to breathe some fresh air into that particular premise.
Metro Exodus was a fantastic experience on the PS4 when it was first released, and it has managed to improve further with a PS5 version.
In fact, one could argue that the PS5 version has allowed the game to truly fulfill its potential, as it sometimes felt too advanced even for the PS4 Pro.
The protagonist, Metro, is on a mission in search of life outside Moscow's underground metro. For 25 years, he has held the belief that he is part of the only living society on the planet, but that belief is shaken when he sees a speeding train from his lookout post one day.
Combat is nicely varied, with the usual options of "full guns blazing" or "stealth mode", depending on the situation and time of the day. When you kill an enemy, you can loot their bodies for materials and goods that will prove useful to you further down the line.
With 4K resolution and 60fps on the PS5, you're guaranteed crispy visuals and smooth performance in Metro Exodus.
Add on top of that excellent use of 3D audio and ray tracing, and you're looking at one of the most gorgeous and immersive gaming experiences in the action-adventure genre.
Sifu
Every time you die, you get older. Is that attention-grabbing enough?
Sifu is an interesting take on the fighting/action/adventure genre from Sloclap. You start the game as a young, fit, athletic martial artist, but there's a catch. Each time the enemy manages to end you, you come back older than you were the last time.
It's an interesting premise, but Sifu has more going for it than just that. There is a lot to learn and understand, so this is not a game that you should expect to beat within the first few attempts.
In fact, it is one of the more unforgiving action-adventure games for PS5 out there.
The story here is that your character is the child of a martial arts school's sifu on a revenge mission to find the people responsible for his father's death.
He has a magical talisman that revives him each time he is killed, at the cost of aging but also gaining more powerful attacks to go again.
Combat is fantastic in terms of mechanics, sound selection, and animations. It leans a bit toward defense more than attack, but you still need to master various moves and techniques to be efficient.
Summarily, Sloclap's Sifu is the sort of game that frustrates the hell out of you when you're playing. But, if you do manage to beat it, it won't be out of place to get on your feet and do a slow clap. I'll show myself out.
Star Wars Jedi: Fallen Order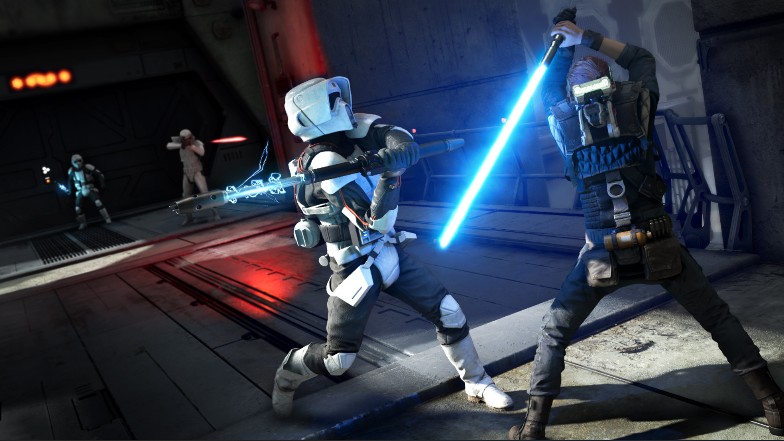 Star Wars Jedi: Fallen Order was an unexpected souls-like take on the Star Wars franchise. It was also arguably the best iteration of the game from the series at that point in time, redeeming publisher Electronic Arts for a couple of sub-par releases that had come before.
The game was originally published in 2019, but a PS5 update was later released in 2021. The update did not come with any significant gameplay or content changes, and even though you can play at a higher resolution on the newer console, the visual quality is not significantly different.
However, this is not to say that Fallen Order looks subpar – far from it. It is still a good-looking game with plenty to be happy about when it comes to content, gameplay, and graphics. It just won't compete with titles that were released specifically for the PS5 – especially visually.
That said, you can run the game at 60fps on the PS5 if you're willing to sacrifice a bit of the resolution, and load times are also better with the speed of the SSD.
These differences already make a difference for a game like this where there is often a lot of action on-screen. Combat sequences feel smoother, and that's always a good thing.
EA could probably do more to maximize the power of the PS5 for this space adventure. However, even without those upgrades, it is still a top sci-fi title and definitely a fantastic action game too.
Tales of Arise
Tales of Arise was a massive win for the series with the launch of the PS5 version. Sure, there are better-looking PS5 games, but the difference between the previous version and this one really stands out in a good way.
Tales games, for all the fun and character that they come with, have always seemed a bit dated visually when placed side by side with games released around the same time.
Well, it appears that Bandai Namco has fixed that with Tales of Arise. It still has all the character and creativity that made gamers fall in love with the series. But now, it also has a certain panache that is helped by the fact that it looks significantly better than the older iterations.
Japanese role-playing games such as this one are, more often than not, developed with relatively modest budgets which makes it difficult to compete with big-budget titles that can throw money at production.
It is for this reason that, despite producing some of the most brilliantly written games of all time, JPRGs often struggle for the attention that big-budget titles get at launch. As a result, many of the most underrated games fall within that genre.
The story here follows a man named Alphen. Alphen is trapped in an iron mask and also struggles with a failing memory. His home world is named Dahna, and his life is thrown into a state of confusion when Dahna is overthrown by the Renans, a race from another planet.
Enslaved alongside his people, Alphen seeks to break free and overthrow his oppressors. His efforts to do so lead to a topsy-turvy adventure whose end game is determined by you and how well you take to the game.
Control: Ultimate Edition
Remedy Entertainment's Control had gamers waiting impatiently for a PS5 upgrade. After a lot of back and forth, mistakes involving premature release, and protests from fans of the game on social media, Control: Ultimate Edition was finally released.
The general consensus is that this next-gen upgrade was well worth the wait, and it is easily one of the best action-adventure games for PS5. In fact, it is up there with the best PS5 upgrades in any genre.
The Ultimate Edition comes with two expansions that were released after the initial launch of the game – The Foundation and Alan Wake. If the extra content is not enough to get your attention, then you should know that there are significant visual upgrades too.
There is a Graphics mode that runs the game at the same 30fps that was on the PS4 version, but you wouldn't believe how much more solid it is on the PS5. There was no stutter in performance, and that was an issue on the PS4.
Control: Ultimate Edition's Graphics mode also includes one of the best implementations of ray tracing on the PS5 so far, and the accompanying 1440p resolution feels plenty sharp and detailed.
If you want even smoother performance, you can play the game in Performance mode with the same 1440p resolution, but an improved framerate of 60fps minus ray-tracing.
As you step into the shoes of the main character, Jesse Faden, newly-appointed Director of the Federal Bureau of Control, you're immediately thrown headfirst into a crime scene and an investigation involving otherworldly entities.
There is more than enough action to keep your gunplay cravings satisfied, and when you mix that up with paranormal powers and a mission to find the truth, what you get is an excellent action-adventure thriller for the ages.
Judgment/Lost Judgment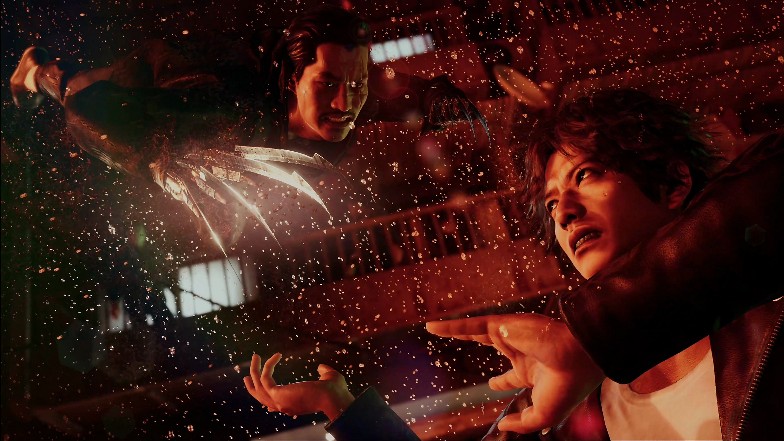 These two games are part of the same series, with Judgment being the older version of the two.
However, I felt the need to include them in one review because, despite the fact that the plots of both are different, there are enough similarities to dispel the need to address them as separate games that try to do things differently.
Judgment and Lost Judgment are both spinoffs of the popular Yakuza series, another beloved series in the JPRG genre. Judgment was released in 2019 and later got a PS5 upgrade, while Lost Judgment was released as a sequel in 2021.
Judgment follows the story of a private detective, Takayuki Yagami as he investigates a serial murder case in the fictional city of Kamurocho.
Over the course of the investigation, you can also take on side quests that provide a welcome distraction especially if you begin to feel jaded from the main case.
Lost Judgment picks up where Judgment left off with another case for Yagami. This time, he is investigating a criminal accused of murder and sexual harassment.
Kamurocho remains as colorful as ever, especially under the night lights, and the streets remain full of thugs and unwanted elements that you occasionally have to deal with.
Both games run and look pretty good on the PS5. Judgment runs at 4k with a framerate of 60fps and Lost judgment can run with the same settings. Graphically, both games are quite similar on the PS5.
Based on the reception from fans of the series, the overwhelming opinion is that while Judgment has a better plot and story progression, Lost Judgment does everything else better.
In a way, that should make the decision of which game to play (if you had to choose and couldn't just get both) easier. Is a better story more important, or are you more particular about visual design and combat?
Whichever option you choose, you cannot go wrong. These games are easily two of the best action-adventure games for PS5, and I imagine they will age extremely well too.
Marvel's Guardians of the Galaxy
Join Rocket, Gamora, and the rest of the crew on this adventure across the galaxy in Square Enix's Marvel's Guardians of the Galaxy.
This game is one of the best-executed superhero games out there, with a story that has a good amount of depth compared to other titles that would place more focus on combat and all the typical superhero stuff.
Combat in Guardians of the Galaxy is still a key part of the game, and it is a lot of fun, even if it takes some getting used to the slightly complicated mechanics.
However, if you're looking for the best action-adventure games for PS5, then that means you need something with an interesting backstory too, something that has character, and that is why GOTG is an excellent option.
The dialogue in GOTG is really engaging, following pretty much the same pattern that is seen in the movies – especially from Rocket. Here, you only directly control the Star-Lord, making decisions and calling the shots for the rest of the crew as you traverse the galaxy, taking on odd jobs for money and helping out wherever you can.
Since its initial launch, the game has seen a couple of updates, including one that added ray-tracing and uncapped framerate modes on the PS5.
When ray tracing is enabled, the game runs at 30fps with a dynamic 4K resolution. In Performance mode, ray-tracing s disabled, but you get an improved framerate of 60fps.
Either way, this is a really good-looking game, and it runs pretty well on the PS5 regardless of which mode you choose.
Resident Evil: Village
The eighth installment of Capcom's Resident Evil series was published in 2021.
The game retains a good portion of the horror and dread that the series has become accustomed to, but it also balances it out fairly with a good bit of adventure and action, making it one of the best action-adventure titles for PS5 on the PlayStation store.
Resident Evil: Village picks up three years after the events of Resident Evil 7. You play Ethan Winters, who is basically kidnapped alongside his daughter Rose by a familiar name from the Resident Evil franchise, Chris Redfield.
Somehow, Ethan wakes up to see that his kidnappers have been killed in a car crash involving the entourage transporting them, and Rose is gone.
He goes through the woods close by in search of her and stumbles across a seemingly empty village that later turns out to be infested by werewolf-type creatures. That is where the adventure begins.
The 3D audio capabilities of the PS5 really come to the fore here with the sound design of the game, and it promotes even more immersive and realistic horror gameplay.
The DualSense controller also comes out to play with decent implementation of haptic feedback, and it is all novel enough to make this PS5 version of Resident Evil Village a must-play if you're a fan of the series.
Marvel's Spiderman: Miles Morales Ultimate Edition
Marvel's Spiderman: Miles Morales is a visually stunning addition to the Spiderman franchise.
This iteration was developed by Insomniac Games and published by Sony Interactive Entertainment in late 2020, around the same time that the remastered edition of Marvel's Spiderman was published.
Both games are stellar and that remaster could easily be considered one of the best action-adventure games for PS5 too, but I decided to pick one of the two, and Miles Morales was my choice.
Playing as the titular character in this dedicated PS5 game often feels quite close in gameplay mechanics to the older Spiderman, but the real difference is in the story and character presentation.
When the game begins, Miles and Peter Parker are right in the thick of things as always, escorting a convoy transporting Rhino – a supervillain.
Something goes wrong and the young, inexperienced Miles has to step up big time, setting the tone for what is to come in the rest of the game.
The inclusion of ray tracing really takes the visual presentation to the next level in Spiderman: Miles Morales. Lights, reflections, and shadows look brilliant, and everything is sharp and crisp.
Performance is great too, whether you're running with the 30fps in Fidelity Mode or 60fps in Performance mode. You can't go wrong with this one.
Uncharted: Legacy of Thieves Collection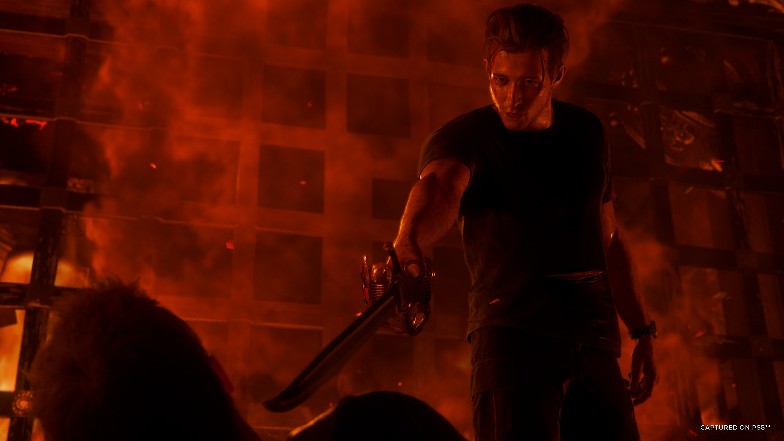 Uncharted: Legacy of Thieves Collection includes two of the best games on the PS4 – Uncharted: The Lost Legacy and Uncharted 4: A Thief's End.
In fact, the entire series has been hugely successful for Sony for many years, and whoever came up with the idea of combining these two games and giving them a PS5 feature boost needs to get a raise.
Performance-wise, the game boasts faster loading times, and most impressively, framerate options of 60fps or 120fps.
As far as the action-adventure experience goes, it doesn't get much better than what is on offer here. The game offers a deep level of exploration in gorgeous environments, fantastic combat sequences, solid character development, and good implementation of the DualSense controller's haptic feedback.
A Thief's End is directly responsible for the bulk of the content, and you'll spend more time completing that than you will in Lost Legacy.
In A Thief's End, you relive Nathan Drake's adventure in the hunt for legendary pirate treasure, while Lost Legacy focuses on Chloe Frazer's treasure-hunting thrills alongside a previously secondary character – Nadine Ross.
Elden Ring
Elden Ring is undoubtedly one of the best games for PS5.
Trying to fit in a significant portion of everything there is to say about this fantastic, imaginative, epic RPG feels like a disservice, and we have a detailed Elden Ring review that you should check out if you want to know more.
Developer fromSoftware has a pretty impressive catalog of games, and Elden Ring is another brilliant feather in that cap. It is an open-world adventure of near-endless exploration and some of the most intense boss battles that you'll ever witness in a console game.
Despite a huge load of content, the pacing in this game is fantastic to ensure that you're not overwhelmed by too much at a time, and you can take a break with side-quests or just go off and explore for a bit at times.
An incredible amount of detail has gone into creating the world that you see here, so you're bound to get a lot of replay value, even though the first playthrough should be more than enough by itself.
Elden Ring genuinely offers the best of both worlds – an adventure like no other across a vast map, and action at its very best with furious battles at constantly increasing levels of difficulty.
Returnal
Returnal is a third-person shooter roguelike from developers Housemarque, backed by the big budgets of publishers Sony Interactive Entertainment.
The game was published amidst a lot of well-deserved fanfare, and it can invariably hold its own amongst the best action-adventure games for PS5. Heck, some would say it was the best of the bunch at the time of release.
The PS5 launched almost six months before Returnal was published, so you can tell that these guys took their sweet time to perfect the game and create a masterpiece that would show true value as a next-gen title.
The story of the game revolves around Selene Vassos, an astronaut that lands on a strange planet on a mission to find the "White Shadow", but finds out that she appears to be reliving the same day over and over again.
It is a very futuristic, sci-fi-type adventure – even the weapons look like stuff from the future. It is up to you, in this unfamiliar terrain, to help Selene through the situation and find the closure that she craves.
Visually, Returnal is arguably the best-looking game for PS5, and it's not just about the numbers either, even though those are excellent.
Unlike other titles that require ray-tracing to be disabled to run at 60fps, Returnal can play at 60fps with 4K resolution and ray-tracing enabled. The results are, to put it mildly, stunning.
Much has been said of the credentials of Astro's Playroom as a fantastic audition for the PS5's next-gen features, but Returnal brings those features into an action-adventure experience that offers just that little bit more depth.
Horizon Forbidden West
Speaking of the best-looking games on PS5, Horizon Forbidden West is also up there with the best of the bunch.
As far as first impressions go, the game is a brilliant one right from the opening scene and continues on in that fashion through to the end of the story.
Forbidden West is a sequel to Horizon: Zero Dawn, so the story here still follows the main character, Aloy. Zero Dawn was a pretty good game, so it is a credit to Guerilla Games that they've managed to improve on that in Forbidden West.
In this sequel, set six months after the events of Zero Dawn, Aloy is on a mission to stop mass extinction on the planet. As usual, she has to face obstacles of every kind, including the brutal Tenakth tribe.
It helps that she has her own army of machines by her side, so it's a fairly even matchup at the end of the day.
Similar to Zero Dawn, there are enough plot twists here to keep you sufficiently entertained. Away from all the action, the experience of exploring the stunning 4K environment is yet another reason why Forbidden West is one of the best action-adventure games for PS5.
Ghost of Tsushima: Director's Cut
Ghost of Tsushima was one of the best games for PS4, and when the Director's Cut version for the PS5 was published, it took what was already a great game and added a bit of polish and extra content to it.
The game is another one from Sony's lineup, and they worked with developers Sucker Punch Studios.
The story follows a vengeful samurai named Jin Sakai as he traverses the open world of Tsushima lsland (including the Iki Island expansion in the Director's Cut version) during the first Mongol invasion of Japan.
The PS5 enhancements here are a bit tame and only really offer a small upgrade to the already-stellar experience on the PS4, but they're nice to have nonetheless.
The 4K graphics look better, and the framerate feels smoother as well. The DualSense controller's haptic feedback and adaptive trigger resistance are fairly well implemented, and the same applies to 3D audio.
Death Stranding: Director's Cut
Death Stranding is another action-adventure game for PS5 that offers a Director's Cut with additional content in the form of new missions.
The premise, gameplay, and plot are the same as they have been since the game was initially published by Sony Interactive Entertainment, but you do get PS5 enhancements in the form of an upgraded 4K resolution experience targeting 60fps.
If you like the concept of being a "delivery boy" in a post-apocalyptic setting brimming with an assortment of enemies that can end you in multiple creative ways, then Death Stranding is what you're looking for.
Ratchet and Clank: Rift Apart
Ratchet and Clank: Rift Apart is a visual powerhouse. It is the 16th installment of the Ratchet and Clank series, and it is undoubtedly the best one of the sixteen.
The game was published by Sony Interactive Entertainment in 2021, but there are not too many titles that have been released since then that look better or adapt the raw power of the PS5 in a much better manner.
The titular characters are as likable as ever, and this time, their adventure takes them on a journey across multiple dimensions and realities where they have to go up against a never-ending stream of enemies and bosses.
The good news is that you can collect up to 20 weapons to make your job easier as you play through the game, and each one of these weapons is uniquely devastating.
Ratchet and Clank: Rift Apart is the representation of a multiple-genre title at its very best. Its combination of platformer, third-person shooter, and action-adventure is a true delight.
Death's Door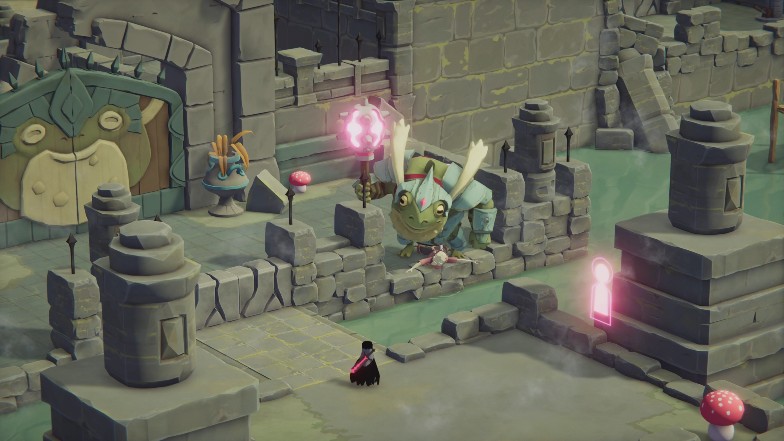 Death's Door is an indie title that deserves a lot more attention than it gets. The game was published by Devolver Digital of Enter the Gungeon and OlliOlli World fame.
Your character is the Reaper, a small crow. When the game first begins, the Reaper sets out to claim a soul, but something goes wrong and it ends up being taken in by a much older crow that is looking to open a "Death Door" of some sort.
Death's Door does not have the backing of a big budget, but what it does offer is a satisfying challenge that involves memorable dungeon crawls, fast-paced combat, a great selection of music, intriguing art direction, and characters with depth.
If you're looking for a simple action-adventure game that offers enough entertainment without overwhelming you with too much detail, then you should check this one out.
Far Cry 6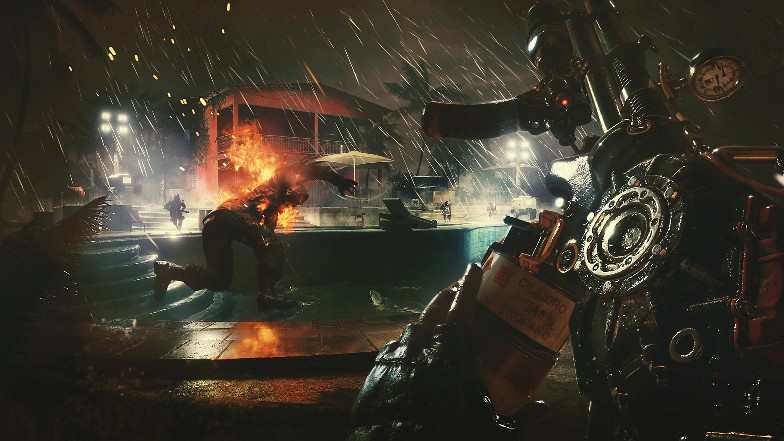 Ubisoft's Far Cry 6 is a great first-person shooter and action-adventure that serves as the sixth installment of the Far Cry series.
Honestly, if you've played Far Cry 5, then you have a pretty good idea of what to expect from this one. It's basically a similar game but set in the jungle. That's not a bad thing at all, because Far Cry 5 was an excellent game.
I guess it is to be expected, though. The Far Cry series has shown over the years that they're not exactly trying to be innovative.
They're happy to offer a solid, open-world adventure with just enough action and a story progression to keep fans happy and interested in the next installment each time – and that's okay.
This time, the bad guy is Anton Castillo, the President of Yara (a fictional, tropical paradise) and a slave driver who rules the people with an overly strong hand.
Your character, Dani Rojas, understandably hates Anton and sets out on a mission to take him down, working his way up from the officials that the President has put in place to enforce his rule, up to the big target himself.
On the PS5, Far Cry 6 has stunning visuals and performs really well, hitting 60fps and maintaining that level regularly. There is no ray tracing here, but the level of detail already present is more than good enough.
What better way is there to end a review of the best PS5 action-adventure games than with a title as popular and well-rounded as Far Cry?
If you're looking for titles that focus more on the adventure side of things rather than a balance of action plus adventure, we've got a guide to the best adventure games as well, so check that out next!