Party games are a great way to get people involved in a group activity where everyone can have a lot of fun without getting in too much trouble.
Whether it's one game with a singular story, or a pack of minigames under one title, as long as you can get multiple people involved, you're good to go.
On that note, I discussed some of the best party games for PS5 in this review. It's not the most exhaustive of lists, but it's a great place to start if you're looking for options. That said, let's get into it!
The Jackbox Party Pack 8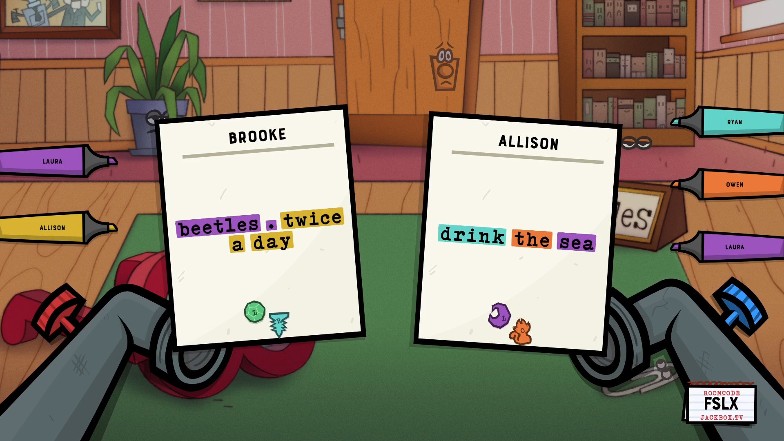 Genre: Trivia, Party
Developers: Jackbox Games
PlayStation Release Date: October 14, 2021
Buy from: PlayStation
Multiplayer: Local co-op/multiplayer
Average Playtime (Main Story/Objectives): N/A
The Jackbox Party Pack was first released in 2014 on old-gen consoles such as the Xbox One, Xbox 360, and PlayStation 3. Since that time, seven more iterations have been released as the series has continued to garner positive feedback from gamers, especially in the party game genre.
The Jackbox Party Pack 8 comes with five new additions to the Jackbox catalog, including Drawful Animate, Poll Mine, The Wheel of Enormous Proportions, Job Job, and Weapons Drawn.
Drawful Animate is the star of the edition, and the idea is for players to draw a picture twice in such a way that it looks like an amateur animation when put in a loop. Then, the other players have to guess the title of the animation based on the information provided by the drawing.
Poll Mine is a team game where teams of up to four players are expected to get through a cave by collecting torches. The only way to earn a torch is to answer a poll correctly or face the penalty for a wrong answer.
The Wheel of Enormous Proportions is a "spin the wheel" trivia game with a twist. In this game, the questions asked usually have multiple answers, and each correct answer given earns the player a wheel slice.
The player then gets to put their slice anywhere on the wheel, and if a spin brings the wheel to land on that spot, that player earns the points attached. There are many more nuances and twists to the game, and it's probably the most immersive of the collection.
In Job Job, the players undergo a "job interview" and are required to answer a bunch of interview questions. The words used in their answers are then shared among the group and used to construct answers to more questions.
It is a lot more interesting than it sounds, as you'll get many weird and hilarious responses in the process.
If you're familiar with the hugely popular game, Among Us, then you have some knowledge of the premise in Weapons Drawn.
It's a game where players have to guess who the killer is, and that killer will be someone among the group that's pretending to also be looking for the killer. Pretty straightforward, but it gets a bit tiring and drawn out.
Just Dance 2022
Genre: Music, Party
Developers: Ubisoft, Room8
PlayStation Release Date: November 4, 2021
Buy from: PlayStation, Amazon
Multiplayer: Local multiplayer
Average Playtime (Main Story/Objectives): N/A
Just Dance 2022 is part of a series by Ubisoft – the thirteenth of the lot, in fact. As the name implies, this is a fun-filled game where players try to achieve a high score by mimicking dancers in the game.
For this 2022 version, the developers worked with Todrick Hall from TikTok, and famous dancers Teo and Ayo from 1M Studio and K/DA respectively. The result is a very intriguing and well-thought-out choreography of dance moves that are not only fun to execute but also trigger a strong level of competition among players.
There are a bunch of jazzy and popular tunes to dance to, including songs by Sia, Camilla Cabello, Meghan Trainor, Katy Perry, Imagine Dragons, Billie Eilish, and movie originals from Frozen, Toy Story, and Moana. There's even a "kid" mode where you get to dance as some of the well-liked characters from those animated movies.
For a game like this, graphics are not the most important metric for judgment, but they're still nice. If you're looking for the best party games for PS5, is there a better way to party than with music and dance?
It Takes Two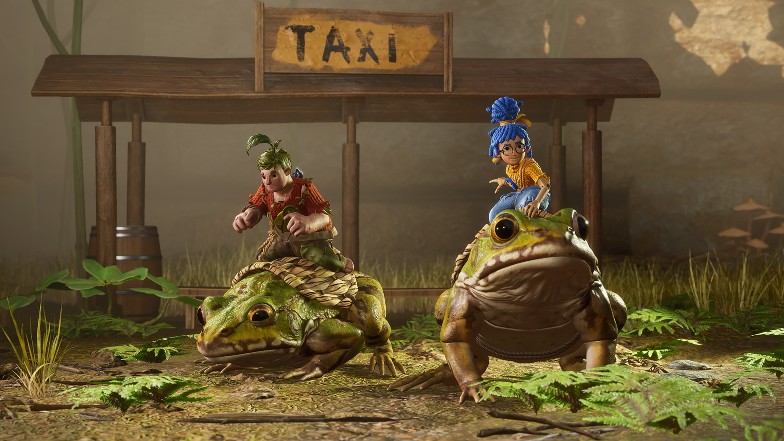 Genre: Action-adventure, Platformer
Developers: Hazelight Studios
PlayStation Release Date: March 26, 2021
Buy from: PlayStation, Amazon
Multiplayer: Local/Online co-op
Average Playtime (Main Story/Objectives): 13 hours, 30 minutes
It Takes Two is a mixture of many elements – family, divorce, magic, comedy…all the fun stuff. The story follows the journey of two characters, Cody and May who are married but are trying to get a divorce.
When they break the news to their daughter, Rose, she escapes to her room and grabs two dolls that look like her parents. As she holds them, she begins to cry.
What happens next is completely out of left field and raises questions about the humanity of Rose. Somehow, her tears fall on the dolls she's holding, and her parents are transformed into doppelgangers of those dolls.
The mission is to get Cody and May back into their regular, human bodies. They are helped by Dr. Hakim, a relationship advice book that was supposed to be helping them find reconciliation. Dr. Hakim shows up on each level to tell the couple where their next port of call is.
There is a lot of depth to the story in this game, and by the end of it, you will probably feel some level of connection to the experience of the couple as they try to navigate the pressure of finding their human bodies while in the process of separation. The dialogue is really fantastic and realistic, and it adds a lot of character to the overall experience.
For the multiplayer mode, the action is manifested in a split-screen mode where both players have to work together to fight bosses, solve puzzles, and find answers in this new world that consistently throws new curveballs at every turn.
Rocket League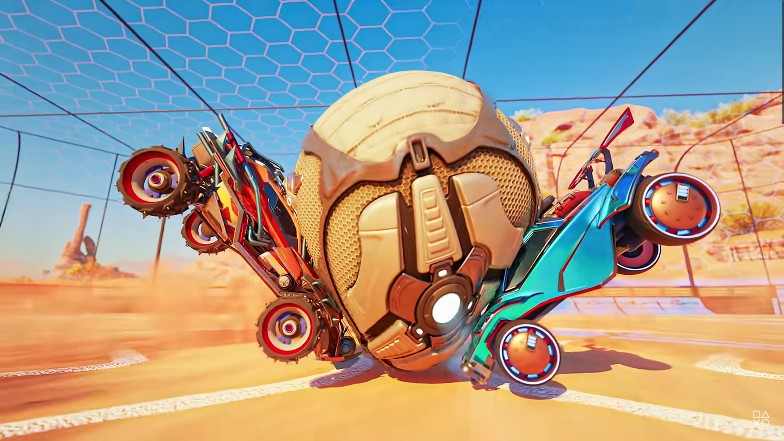 Genre: Sports
Developers: Psyonix
PlayStation Release Date: August 18, 2021
Buy from: PlayStation
Multiplayer: Local/Online Multiplayer
Average Playtime (Main Story/Objectives): N/A
In 2021, Rocket League, the popular car-soccer game from Psyonix finally got a next-gen treatment for the PS5, six years after the game was originally launched. That update is why it is on this list of the best PS5 party games, and why you need to get it right now if you haven't already.
The premise of the game is really unique, which is a major reason why it was a "love it or hate it" situation when it first launched years ago. I mean, who thinks up the idea of playing soccer…with cars?
Anyway, the result of that merger is a pretty interesting and mostly exhilaratingly fun one.
The main mode of the game features a 3v3 match where cars of similar performance levels are pitted against each other, and each team tries to use their cars to dribble around the flashy arena and shoot the oversized ball into a really tight space.
Realism was obviously far from the idea here. I mean, if you can play soccer with cars, then what should you not be able to do?
You can drive on walls and ceilings, and change direction mid-air as easily as though you were turning a gear, defying the laws of gravity at will. And you know what? That's barely scratching the surface.
I can just imagine the multiplayer mode on this for a group of people looking to have a load of no-frills fun. With the addition of 4K resolution at 60fps with HDR, the gameplay is much smoother, and the visuals are much better. You can even run the game at 120fps if you can live with a resolution of 2688 by 1512, which really isn't that far off 4K anyway.
On top of all that, Rocket League is now free-to-play in the PlayStation Store, and that was the final conviction that I needed to stamp my seal of approval. If you're a fan of racing and whacky sports, this is one for you.
Overcooked! All You Can Eat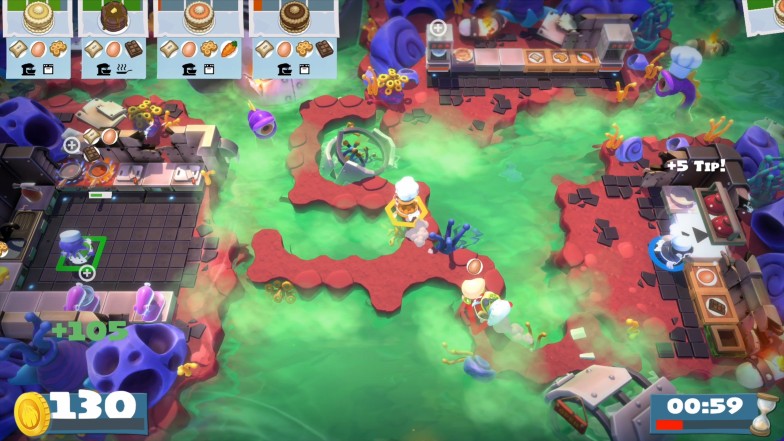 Genre: Simulation, Strategy
Developers: Ghost Town Games, Team17
PlayStation Release Date: November 10, 2020
Buy from: PlayStation, Amazon
Multiplayer: Local/Online multiplayer
Average Playtime (Main Story/Objectives): N/A
Cooking is a fun activity that can involve a bunch of people at once, but it can get messy, which is a bit discouraging. So, what do you do? Put on your virtual chef's hat and fire up Overcooked!
Before this version, there was the original Overcooked!, and then an Overcooked! 2. Overcooked! All You Can Eat is a combination of the original two (including all the downloadable content), complete with visual and performance updates that made the already-enjoyable game near-perfect.
If you're not already familiar with the game, don't worry! It's pretty easy, and you get a bunch of tips and clues if you play with assist mode. On the other hand, if you've become so familiar with the game that it is now too easy for you, you can switch things up with the new four-star challenge.
The game is pretty straightforward. You're running a restaurant as you would in real life, and each level starts off slow before things start to heat up and you find yourself speeding in and out of the kitchen to serve orders.
All you have to do is cook and serve food – as a team, of course. You, alongside your friends, have to make sure that orders are prepared and served to the exact right specifications, and in the right order. Each time the timer finishes, you're rated out of 3 before you move on to the next one.
If you're looking for a fun, group cooking experience without the mess that comes with cleaning up in real life, you can't go wrong with Overcooked! All You Can Eat.
Fortnite
Genre: Survival, Battle-royale, Sandbox
Developers: Epic Games
PlayStation Release Date: December 6, 2018
Buy from: PlayStation
Multiplayer: Online multiplayer
Average Playtime (Main Story/Objectives): N/A
Fortnite needs no introduction, so I won't be providing any. If you really have never heard of the game, here's your L.
What I do want to point out is the fact that playing Fortnite on the PS5 is a fantastic experience, especially in multiplayer modes such as Battle Royale and Save the World. The game actually makes good use of the DualSense controller's haptic feedback and adaptive triggers, which makes Battle Royale matches more exciting.
Another exclusive PS5 feature that Fortnite takes advantage of is activity cards. With these, you can go directly from the game menu into battle royale mode with one button press, which is just a brilliant time-saving perk.
The visual updates are stunning too. The game is now running at 4K resolution and the difference is clear in the details of the environment and the players.
For your multiplayer party, you can play in split-screen mode if you want to invite a player to play with, or you can just play the Battle Royale mode with your squad and see how long it takes to have your last man standing.
Fortnite is definitely one of the best party games for PS5, and even outside of the multiplayer mode, is just a genuinely fun experience.
Monopoly Madness
Genre: Casual
Developers: Engine Software, Ubisoft
PlayStation Release Date: December 9, 2021
Buy from: PlayStation, Amazon
Multiplayer: Local/Online multiplayer
Average Playtime (Main Story/Objectives): N/A
Monopoly Madness is a fun party adaptation of the hugely popular monopoly board game. In the same way that Overcooked! is fast-paced, you'll be doing a lot of frantic moves here, which is a direct inverse of the regular Monopoly game where each player patiently takes turns.
At every given point in time, you must find a way to keep an eye on every corner of the board so you don't miss out when a property is going up for auction, or a player is taking some action that directly affects your game. Why, you ask? Because there are no turns – everyone is playing at once!
Since we're focusing on the multiplayer bits, you should know that there are up to 20 maps and characters to choose from, and the game generally has a bunch of modifiers and power-ups that give you a ton of options in terms of what you can actually do within the game. If it's all a bit too much, you can disable some of these.
You can also time the games to 5, 10, or 15-minute matches to make sure that it doesn't stretch out for too long, and also increase the urgency by which each player tries to gather as many valuable properties as possible.
The result of all this is unending chaos that lasts the entire duration of each game, so be ready for a lot of shouting matches if you're playing locally with friends.
There have been a couple of variations to the original Monopoly game over the years, but Monopoly Madness is the wackiest of the lot, and it is the most suitable option for this list of the best PS5 party games.
Nickelodeon All-Star Brawl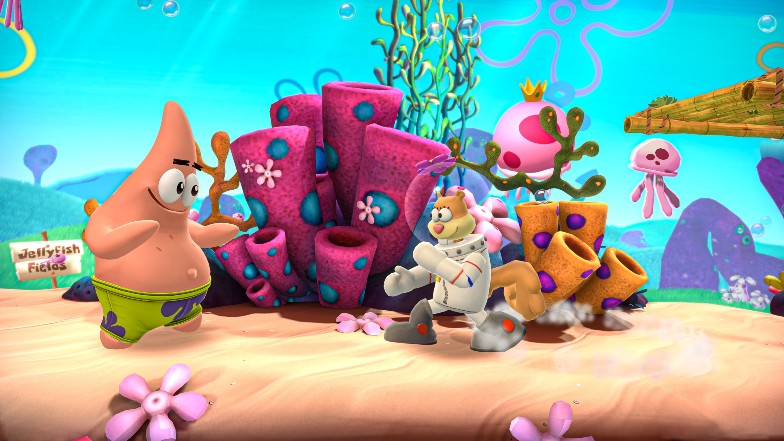 Genre: Fighting
Developers: Ludosity, Fair Play Labs
Release Date: October 5, 2021
Buy from: PlayStation, Amazon
Multiplayer: Local/Online multiplayer
Average Playtime (Main Story/Objectives): N/A
Speaking of wacky, Nickelodeon All-Star Brawl's take on the "Super Smash Bros-type" platform fighter genre fits that title too.
It's more of a nostalgic attempt to manipulate the love that people have for these old Nickelodeon characters than a real attempt to make a unique game, but it still works if you're looking for a bit of mindless group fun.
The game is centered around a bunch of your favorite 90s Nickelodeon characters from various shows (Spongebob Square Pants and Teenage Mutant Ninja Turtles are two of them), and you can choose any of these characters to fight locally or in online multiplayer mode with friends. It really brings back memories that should be fun to share even when the game ends.
Visually, the animated characters look really good, and the detail pops a little bit more on the PS5. It would've been nice to get some funny dialogue and banter between them during the fights, but it's mostly silent which is a bit disappointing.
If you're a Nickelodeon fan, then you should enjoy this title regardless of its quirks. If you're not, you still might enjoy it, but to a lesser degree.
For more games that you can enjoy in groups, check out our guide to the best online multiplayer games on PS5.