Most games belong to one of two categories: 2D or 3D. It's easy to tell the difference between the two, but basically, 2D games are flat games that allow you only to move up, down, left, and right, while 3D games allow for a broader range of motion.
After the release of Sony's PlayStation in 1994, many developers abandoned the idea of 2D games and focused more on the fascinating new atmosphere of 3D graphics.
Creating and marketing 3D games became the new normal, and no one wanted to be left behind. In fact, you might be interested in some of the games with the best graphics to see how far the trend has come,
Fortunately, some developers were brave enough to stick with 2D games, building on them to make them more impressive and stand the test of time so you and I can enjoy them for years to come.
In this researched article, we'll be looking at some of the best 2D games on PS5. Let's dive in!
Among Us
First on this list of best PS5 2D games is the famous 2D multiplayer game Among Us from developer and publisher Innersloth. The game was initially released in 2018 before coming to the PS5 in 2021.
Observed from a top-down view, Among Us tasks you with preparing a spaceship for a journey. It involves cooperating with other players to carry out various assignments.
As a player, you play one of two roles – a Crewmate or an Imposter. Crewmates win by completing all the given tasks or identifying all the Imposters and throwing them off the ship.
Imposters win by either killing the Crewmates before they meet all their tasks or causing a disaster that can't be resolved in time.
As an Imposter, you'll need to be sneaky enough to perform deeds without being detected. However, Crewmates can figure out Imposters by monitoring other players' actions and spotting Tells.
Among Us offers you various customization options and unique mechanics. The game features clear and colorful 2D graphics in 4K 60fps that reflect its funny and pleasant premise.
It's a social sensation that shines especially when played with friends.
Cotton Reboot!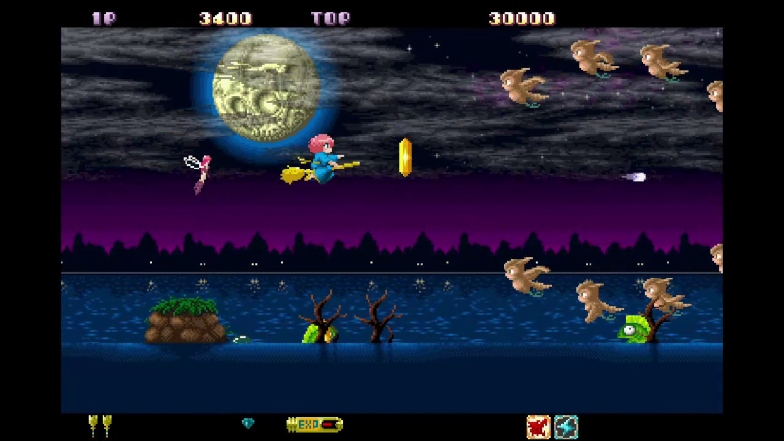 You can always expect a remake to be stronger and better than its original, although there are a few cases of the original outshining the refreshed version.
In this case, however, Cotton Reboot! does well to come out on top with significant improvements and updates.
Cotton Reboot! is a 2D side-scrolling game whose storyline originated back in 1991. This new version was developed by Rocket Engine and published by BEEP in 2021.
The protagonist, Nata de Cotton, is a young witch who traverses a dream-like fantasy world in an attempt to find her Willow candy. Her friend Silk accompanies her, and together they embark on a journey where they face several monsters and enemies.
You can defeat these enemies by blasting them with magic spells and Cotton's firepower, which can be enhanced with crystal power-ups.
The game also features RPG elements that allow Cotton to level up her attacks.
Cotton Reboot! comes with new voice acting, improved screen visibility, elaborate mechanics, a new Arrange Mode, a beautiful soundtrack, new characters, lesser bug fixes, and the inclusion of the 1993 X68000 version.
These new features are even more bewitching than Cotton's Willow candy.
Sheepo
Sheepo is a 2D Metroidvania platformer published by GameMaker in 2020.
You control Sheepo, a sort of pale armless creature that has landed on the planet Cebron intending to preserve this world's lifeforms and ultimately save the planet from destruction.
Your supervisor, Cynthia, is ever-present to guide you on how to complete your mission most effectively.
As you progress, you'll discover eggs from some of the Cebron animals. These eggs give you the ability to transform into different creatures.
This 2D platformer is combat-free, and the only way of defeating bosses is either by outsmarting them or compelling them to harm themselves. Defeating a boss unlocks the ability to turn into a special bird.
Apart from non-combat battles, there are hazards and dangers like spikes and toxic swamps you must avoid.
Sheepo is a creative and welcoming Metroidvania game with beautiful visual designs, a brilliant soundtrack, and slick aesthetics. It is a game definitely worth checking out.
The Binding of Isaac: Repentance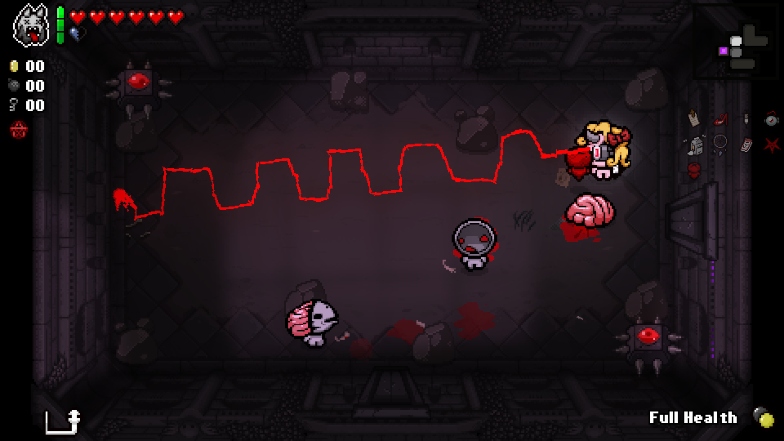 The Binding of Isaac: Repentance is the last expansion of The Binding of Isaac: Rebirth, a remake of The Binding of Isaac.
Upon launch, it enjoyed a good reception from the gaming world, quickly earning a reputation as one of the top rogue-likes in the space.
The protagonist Isaac and his Christian fanatic mother live together in a small house. Isaac loves to play with his toys and draw pictures, while his mother is fond of watching Christian broadcasts on TV.
One faithful day, Isaac's mother hears a voice that claims her son needs to be cleansed of his sins. Believing this strange voice, she seizes all of Isaac's possessions and locks him in his room.
The voice further convinces her to offer up her son for sacrifice, causing Isaac to escape through a trap door in his room. Isaac will face monsters through this door, explore dungeons, and collect items.
The gameplay and plot are similar to Rebirth, the only difference being the endings. Repentance includes additions like 100 enemies, two new endings, 20 new characters, 130 items, and 25 bosses.
The game offers a lot of new content that makes it feel like a sequel. It is an excellent game for both veterans and newcomers alike.
Disney Classic Games Collection
Disney fans would love these remastered versions of four classic platformers based on Disney characters.
Disney Classic Games Collection was published by Nighthawk Interactive in 2021.
The game consists of four sections: The Jungle Book, The Lion King, and two Aladdin games – one from Sega Genesis and the other from Super Nintendo.
In Aladdin, you assume the role of Aladdin, whose goal is to obtain a magic lamp.
In The Jungle Book, the protagonist is Mowgli, a boy raised by animals. Mowgli must defeat Shere Khan, a wild tiger hunting him.
In The Lion King, you play the role of Simba, a lion orphan on a journey to reclaim his throne from his evil uncle.
Each of these games is a side-scrolling action platformer where you scale obstacles, face enemies, and avoid several traps.
Each game incorporates movie art which utilizes size comparisons, color guides, style guides, and character art.
This is one of the best 2D platformers for young gamers. But who's to say adults can't enjoy this game as well?
After all, every adult was once a kid, and this game has the effect of tapping into your former younger self and recalling endearing, nostalgic moments.
Bloodstained: Curse of the Moon 2
Bloodstained: Curse of the Moon 2 is the third main entry in the Bloodstained game franchise and a sequel to Bloodstained: Curse of the Moon.
The game follows the events of its predecessor. You control Zangetsu, a demon slayer who journeys to a castle to send its hellish spawn inhabitants back to where they belong.
He is accompanied by Dominique, an exorcist wielding a spear, Hachi, a dog piloting a massive steampunk mech, and Robert, the rifle-wielding ex-soldier.
As you advance in the game, you can switch between characters anytime. This is great because each character has their own unique abilities.
Along the way, you'll encounter enemies, avoid several obstacles, and battle bosses on each level.
Zangetsu has two powerful swords he uses for battle: Soul Eraser and Zanmatou, which can't hurt righteous beings.
There are two difficulty levels: Veteran, where your respawn is limited, and Casual, where you can retry several times from the previous checkpoint.
Curse of the Moon 2 offers a nostalgic experience filled with mindless action and new characters. If you've been craving more content from the Bloodstained series, here you go!
Souldiers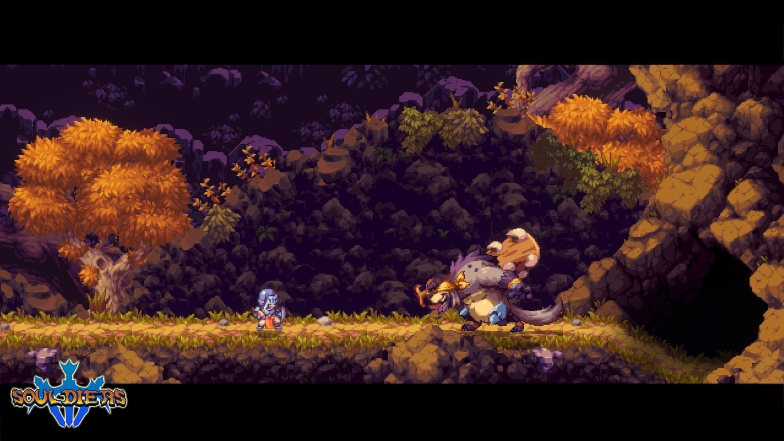 Souldiers is a 2D indie Metroidvania action game published by Dear Villagers in 2022. The creator of this title is Retro Forge.
The Zarga nation is preparing for a war against the Dadelm army. The King of Zarga's leading advisor insists that the Zarga army heads toward a cave.
Unfortunately, an earthquake occurs, and the troops get stuck in the darkness, where they encounter a strange figure that invites them to Terragaya, a world torn between the living and the dead.
You have three upgradable characters to pick from: a spell caster, a sword-wielding scout, and an archer.
After choosing your character, you'll explore a vast interconnected world where you battle many bosses and enemies, solve environmental puzzles, and platform across several obstacles.
Souldiers features detailed animated attacks and vibrant pixel art graphic designs from the 16-bit Soulslike era. If you're a fan of heavy-action Metroidvanias, you'll absolutely love this game.
The Darkside Detective: A Fumble in the Dark
The Darkside Detective: A Fumble in the Dark is a sequel to the 2017 point-and-click adventure game, The Darkside Detective. Spooky Doorway is the creator of this title which was published by Akupara Games in 2021.
The game's action takes place right after the events of its predecessor. You assume the role of Detective Francis Mcqueen from the previous entry as he investigates the supernatural activities going on in Twin Lakes town.
Mcqueen and his partner, Patrick Dooley, run a police department called Darkside Division. This agency's duty is to protect the residents of Twin Lakes from the paranormal forces lurking around the region.
Somehow, the two officers have been able to keep the mysterious things going on in the town a secret.
After Dooley's mysterious disappearance, Mcqueen sets out on a journey to rescue his partner while solving interconnected paranormal criminal cases spread across six chapters.
During his journey, he will visit different locations like a retirement home and an amusement park, solve puzzles, and interact with NPCs.
The game is similar to its predecessor. It utilizes 2D pixel art designs for its background and characters and is filled with humor. It is a fun game with an entertaining atmosphere.
Nobody Saves the World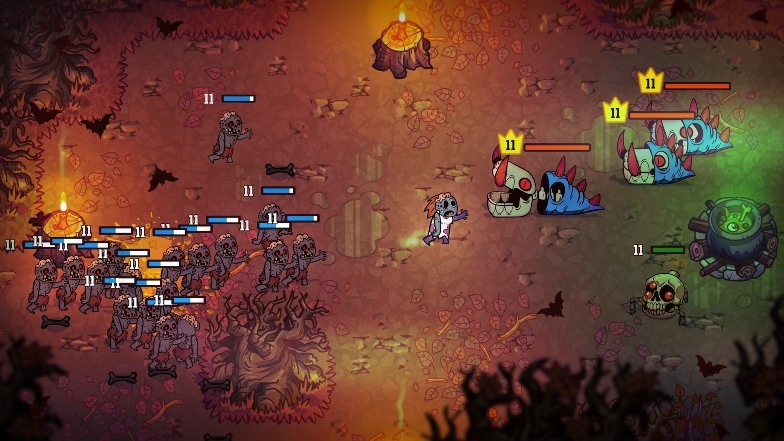 In Nobody Saves the World, you control a character called Nobody as he explores procedurally generated dungeons and overworld, equipped with a magic wand that enables him to transform into 18 different forms with different abilities.
For instance, the turtle can engage in distant battles, and the agile rat can execute fast attacks.
At the start of the game, each form possesses two basic skills, but as you progress, you can unlock new skills and abilities, some of which can be combined to form powerful combo attacks.
There's an in-game currency called Star, which you can earn by completing objectives and quests. You can then use this currency to unlock more dungeons which you can explore and collect items like treasure chests.
Be careful, though, because these dungeons are filled with traps and enemies, which become more challenging as Nobody grows stronger.
Some highlights of Nobody Saves the World include how the various forms interact with their environment and the remarkably creative combat system.
The game is truly amazing – a good recommendation for anyone looking for a fun adventure in 2D.
Silt
Silt is a puzzle-adventure horror video game published by Fireshine Games.
The game takes you on an adventure where you explore the deep sea and its mysteries. The protagonist is a snorkeler with the ability to possess any aquatic life he encounters.
Each underwater creature has unique abilities that will help advance to higher levels, including electric eels that can charge machinery, piranhas that can bite through cables, hammerhead sharks that can smash through obstacles, and crabs that can break equipment with their tough outer shell.
The game is set in a surreal black-and-white world filled with strange sea creatures, fantastic structures, old machinery, and abandoned ruins. The 2D puzzler is more about the experience it takes you on than solving brain-teasing puzzles.
Silt also features stunning visuals, a fascinating atmosphere, and immersive sound effects that provide a genuine sensation of being underwater.
I encourage you to pick this title up if you want an eerie but exciting experience.
Tails of Iron
Published by United Label in 2021, Tails of Iron is a 2D RPG action-adventure side-scrolling game of the souls-like genre.
The game draws inspiration from the Redwall series by Brian Jacques, and it clearly puts that inspiration to good use with its exceptional side-scrolling design.
Tails of Iron takes you to a world where frogs and rats are at war. The rodents have conquered and are now enjoying their victory in the medieval era.
However, the battle is far from over as the Frog Clan attacks the rodents and kills their ruler, King Rattus. It's up to Redgi, the heir to the rat throne, to defeat these amphibians and take back his kingdom.
The game features mechanics and elements that create a responsive and engaging combat system.
For instance, you can tell how to approach an enemy by the color of the marker around their head. Yellow indicates attacks you can parry; red is for attacks you can dodge, and white signals for attacks you can block.

Like A Fumble in the Dark, this game contains a bit of humor but this time mixed with a dramatic effect. If you enjoy great action RPGs with solid narratives, Tails of Iron is a strong choice.
Roguebook
If you've played Faeria, a TBS collectible card video game developed by Abrakam Entertainment, then you know what to expect with Roguebook.
Roguebook is a 2D single-player roguelike deck-builder released by Nacon in 2021 for PC and then in 2022 for PS5.
Roguebook is about a book that is said to grant godly powers to whoever manages to read it to the end. Reading the book is no easy feat as it generates a unique world on each page – a world filled with dangerous tasks and monsters.
Your adventure begins with you choosing two heroes of different attributes and characteristics.
Among the available heroes, you'll find Sharra, a combat specialist, Aurora with her intelligent frog craft, and Seifer Blood Tyrant, who possesses devilish powers that can transform him into a demon.
You'll have to beat three levels of increasing difficulties and defeat a powerful boss. Each map is different, and while exploring them, you'll engage in battles and discover various items.
Roguebook is an appealing title with beautiful hand-drawn designs of attractive locations and creatures. It's definitely worth a look.
Eldest Souls
Eldest Souls is a 2D RPG game published by United Label in 2021.
After successfully trapping the old gods for a long time, humans have built a peaceful and wonderful civilization.
Unfortunately, this bliss doesn't last, as the gods were able to place a curse on humanity just before their banishment. With the world in chaos, the only way out is to destroy the gods permanently.
The game's action is observed from a top-down view. As a player, you control a sword-wielding lone warrior whose task is to explore the Citadel, the place the gods were imprisoned, and kill them all.
During your exploration, you'll fight with powerful deities, and upon defeating them, you'll gain special powers for future battles.
An unusual albeit interesting aspect of the game is that you increase your health by landing powerful sword strikes rather than retrieving health pickups. It's kind of a way of rewarding and encouraging aggression. Cool right?
Another highlight of Eldest Souls is its unique and thrilling boss rush battles. The pixel art design is also beautifully detailed.
If you're a fan of the souls-like genre and you genuinely enjoy bloodstained fighting, you're sure to like this game.
Ender Lilies: Quietus of the Knights
Ender Lilies: Quietus of the Knights is a 2D Metroidvania side-scroller published by Binary Haze Interactive in 2021.
The story takes you to Land's End, a dark and desolate world experiencing a cataclysmic rain shower known as the 'Rain of Death.'
This downpour transforms people into savage undead creatures known as the 'Blighted.' The only person who can save this world is a young priestess named Lily, who alone possesses the power to rid the afflicted of this virus.
However, there's one major problem – Lily doesn't know how to fight! It's not so bad because she has companions who do the fighting for her as she explores gloomy and grimy locations to unravel the mystery of the endless deadly rainfall.
Some of her companions include the Umbral Knight and other powerful spirits.
There's a myriad of bosses and enemies to fight. Defeating them involves not just fast dodges and quick counter-attacks but also innovative and strategic moves like taking advantage of your enemy's weak points.
Overall, Quietus of the Knights is a solid game with a constantly evolving and fun combat system. It is an excellent representation of the Metroidvania genre.
Monster Boy and the Cursed Kingdom
Imagine your brother flying over to you (yes, flying!) and telling you your uncle has gone crazy and is turning everyone into animals!
Ok, that's probably the craziest thing you've heard all day, but that's the foundation of Monster Boy and the Cursed Kingdom.
This game was published by FDG Entertainment. Game Atelier collaborated with Ryuichi Nishizawa, maker of the famous 1989 classic Wonder Boy in the Monster World series, to create this awesome 2D side-scroller.
In the game, you control Jin, who sets out on a journey to find and stop his mad Uncle Nabu from turning everyone into animals.
When he finally catches up with his uncle, he turns Jin into a pig. To break this curse, Jin must find the magical McGuffins scattered around the world.
He must scale through obstacles, defeat huge bosses, and discover secret passages and powerful tools if he ever wants to be human again.
Each McGuffin is guarded by a boss, and upon defeating a boss, you get new abilities in a new animal body.
Even with its classic '80s and '90s vibe, the game does an excellent job of fitting right in with modern standards. It is a worthy successor to the Wonder Boy series.
Doki Doki Literature Club Plus!
Are you ready for some high school drama? If you said no, you might want to skip to the next game on this list of best PS5 2D games.
Doki Doki Literature Club Plus! is a paid and updated version of the 2017 2D visual novel, Doki Doki Literature Club, developed and published by Team Salvato.
You take on the role of a high school student coaxed into joining the school's literature club by his childhood best friend, Sayori. After being charmed by the beautiful members of the club, he realizes being a member won't be so bad after all.
Each choice you make further advances the plot and impacts the protagonist's relationship with the female characters.
The game lacks voice acting, so be ready to do a lot of reading. You interact with the girls by writing poems filled with their favorite words.
Doki Doki Literature Club Plus! 's gameplay and plot are practically the same as the original game.
However, this updated version comes with a few updates like new side stories, higher video definition, 100 unlockable images, and new music tracks, which provide a more complete experience than the original.
Record of Lodoss War: Deedlit in Wonder Labyrinth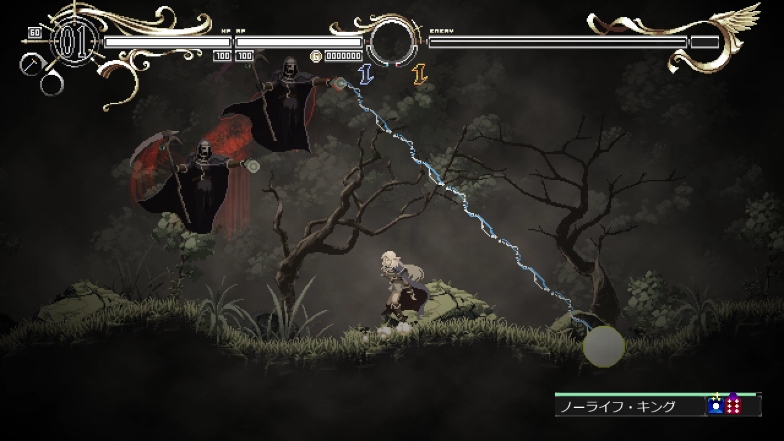 Record of Lodoss War: Deedlit in Wonder Labyrinth is a 2D action platform RPG co-published by Why so Serious? and Playism.
The game takes you to the world of Forcelia, where an elf called Deedlit wakes up in a labyrinth. Having no idea where she is, she sets out on a journey, exploring this labyrinth and seeking clues to what is going on.
Traveling through the labyrinth's linked locations, you'll retrieve power-ups and other items, solve environmental puzzles, battle enemies, and fight bosses. You'll also find weapons like bows and arrows, which you can sell at Ghim's shop.
The game incorporates the use of elements in its combat system. So, you can fight with fire – literally, using the fire spirit Salamander, or you can launch wind attacks with help from the wind spirit, Sylph.
Record of Lodoss War: Deedlit in Wonder Labyrinth checks all boxes that make up a strong Metroidvania game. It's a great game and would be even better if it was a bit longer.
Chicory: A Colorful Tale
Chicory: A Colorful Tale is a puzzle video game published by Finji in 2021. Here you take control of an anthropomorphic dog whose name depends on your favorite food.
The game takes place in a colorful universe called The World of Picnic, which is filled with characters named after food that correlates with their unique attributes.
Chicory, the protector of the land and the wielder of a powerful magic brush, goes missing. His absence causes the colorful world to lose its color and become black and white.
Your task is to take up the brush and restore color to The World of Picnic. Your character constantly receives support from the other creatures of the world.
There's even a hint system where your character can reach out to its parents for guidance and advice.
Chicory: A Colorful Tale features a unique soundtrack, cool paint mechanics, and a solid storyline. All of this combines to make the game one of the PS5's best puzzle games.
Lacuna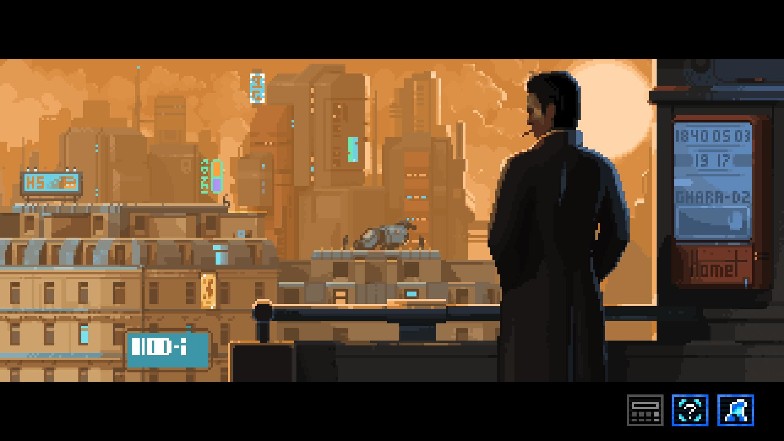 Lacuna is a sci-fi noir detective game published by Assemble Entertainment.
In Lacuna, you take control of a detective named Neil Conrad, who has to make many difficult decisions that come with consequences in order to solve a murder case. Depending on your approach, your outcome might be different from others.
Neil Conrad works for the CDI, a law enforcement body in Planet Ghara responsible for investigating major crimes. He has been assigned to the murder case of the foreign minister of a neighboring planet, Drovia.
What Neil doesn't know is that this investigation will turn the world as he knows it upside down, putting both his life and the solar system in jeopardy.
During his investigation, he will travel to several locations by train and sometimes carry out non-detective activities like visiting his daughter and ex-wife.
Lacuna does well in narrating a tense story competently. This brilliant storytelling, coupled with consequential decision-making elements, futuristic vibes, and a solid protagonist, makes for an interactive and meaningful noir experience.
Hades
Hades is a production of American Indie developer Supergiant Games, famous for creating Bastion, Pyre, and Transistor.
The studio was also responsible for releasing this 2D roguelike game in 2020 for PC and 2021 for PS5.
In Hades, you assume the role of Zagreus, the son of Hades, the Greek god of death. Going against his father's wishes, Zagreus embarks on a journey where he attempts to escape from the underworld and get to Mount Olympus.
Fortunately for Zagreus, he is supported by other Olympians who grant him gifts that aid his quest.
The game is viewed from an isometric perspective. It requires you to fight through various rooms filled with randomly determined enemies.
The game incorporates a slash 'em up combat system that presents you with basic and special attacks as well as abilities like mobility and a means to summon tremendous god power.
Hades also offers new story insights and character upgrades. As you progress, you'll develop your character's skills, and although you are bound to die often, you come to life and use your newly gained experience to advance further.
With its stylish touches, haptic feedback application, great voice acting, emphasized animated aesthetic, and various playstyles,
As a complete package, Hades has truly earned its spot as one of the best 2D games on PS5.
Unbound: Worlds Apart
Unbound: Worlds Apart is a 2D Metroidvania puzzle platformer released in 2021 for PC and 2022 for PS5. The game was published by Romanian developer Alien Pixel Studios.
In Unbound: Worlds Apart, you play Soli, a young mage from Rhu, a village located in the magical world of Vaiya.
Just before the ceremony of The Guardian that takes place annually in Rhu, Soli leaves the town only to come back and see it destroyed. With his portal-opening abilities, it's up to Soli to save his land since the old mages are too weak to do it.
The protagonist is tasked with using portals to retrieve crystals that lead to the dark world.
Portals can invert gravity, manipulate time, and transform creatures or even Soli himself. There are ten portals, each possessing unique abilities as well as items for you to collect within them.
Unbound: Worlds Apart delivers a constant supply of fresh experiences that keep it interesting and keeps the player determined to complete the game.
The inclusion of portals into the game's mechanics is genuinely innovative and is one of the highlights of this polished 2D platformer.
ScourgeBringer
So far, I've reviewed a lot of roguelike games on this list of best PS5 2D games, but this one – ScourgeBringer – is unique as it draws inspiration from award-winning games, Celeste and Dead Cells.
The game was originally published by Dear Villagers in 2020 before it came to PS5 in 2022.
The game is set in a post-apocalyptic world that was destroyed by a mysterious and poisonous creature. You control Kihra, a dangerous warrior, as she traverses various territories in an attempt to find hope for humanity.
As you progress through ScourgeBringer, you will visit various randomly generated underground locations and dungeons filled with items, enemies, and traps.
The game has different stages, and each one ends with a mini-boss battle that leads to the main boss.
After clearing a level and defeating a boss, you're rewarded with a currency that you can use to get upgrades in the shops scattered around the game's map.
ScourgeBringer comes with an engaging soundtrack that blends perfectly with the fast-paced combat action.
Although the game might sometimes feel repetitive, it is still an enjoyable 2D roguelike.
Sir Lovelot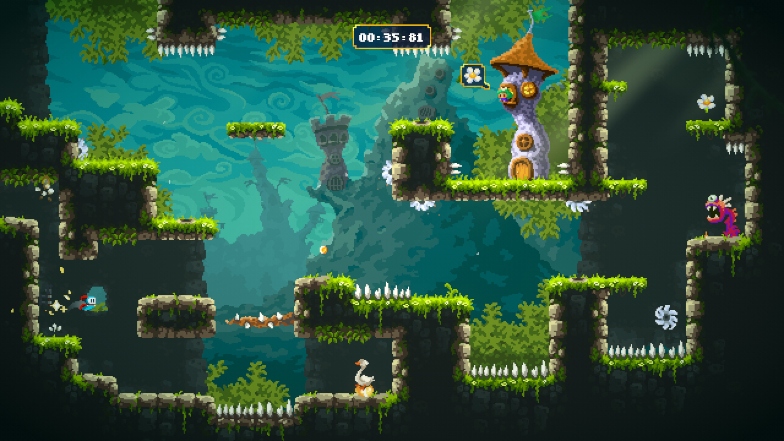 From an indie developer and publisher, Pixel Games, comes the challenging and fast-paced platformer Sir Lovelot.
The game takes you to a land called Lululand, and the protagonist is a knight looking for love. To do this, he wanders from one tower to another, presenting gifts to damsels hoping to woo them into loving him.
Sir Lovelot comes with 40 levels, each beginning with a heartbroken damsel who will let you up to her tower only if you bring her a flower.
The levels are well-designed and are littered with enemies and obstacles like deadly spikes to prevent you from reaching your goal.
The knight has various skills such as diving, jumping, sliding down walls, and rope climbing. He can also shoot bullets at enemies and use a dash move during battles.
If you die, you jump back to the beginning of a level, but thanks to the PS5's fast loading times, respawning occurs in no time.
Sir Lovelot features vibrant and gorgeous pixel art graphics. It's one of the most enjoyable platformers you'll find out there, so I suggest you grab a copy.
Aeon Drive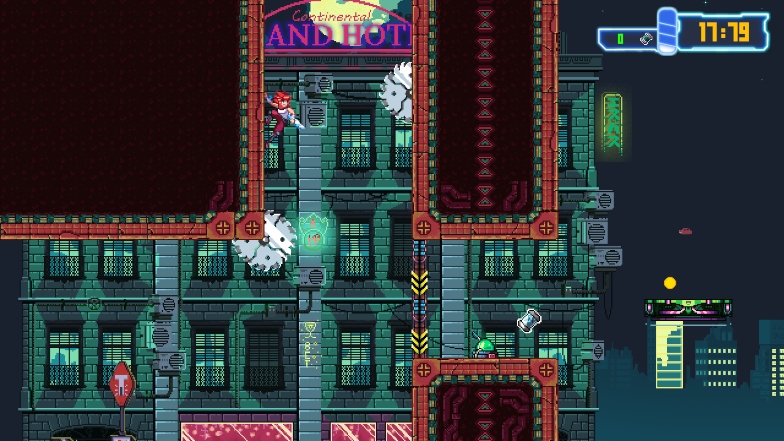 Aeon Drive is a 2D platformer developed by 2Awesome Studio and published by Critical Reflex in 2021. It is a continuation of the 2017 shooter, Dimension Drive.
The game takes place within a cyberpunk setting in Barcelona. The protagonist is a space ranger called Jackelyne, who is on a mission to find machine elements to fix her ship.
Jackelyne is armed with a teleportation dagger and a sword. Your task is to guide her through various levels where she will jump on platforms and avoid several traps like spikes and lasers.
However, be conscious of your time as each level must be completed within 30 seconds.
The protagonist is very vulnerable to attacks; one hit sends you back to the beginning of the level. So, not only must you clear the level before the timer stops, but you also must do this in one perfect try.
Aeon Drive has a way of pushing your skills to the limit, but it's a satisfying experience, especially when you successfully clear a stage.
If you're a fan of action platformers and speed-running games, this is definitely a game you want to play.
Gunvolt Chronicles Luminous Avenger iX 2
Gunvolt Chronicles: Luminous Avenger iX 2 is a 2D platform video game published by Indi Creates. It is a sequel to the 2019 platformer Gunvolt Chronicles: Luminous Avenger iX.
You take on the role of a soldier named Copen, who, after discovering an old machine rifle, decides to uncover its origins.
Like Ender Lilies: Quietus of the Knights, the game's setting is in a desolate world, but here, the inhabitants are decaying robots called Workers.
After conversing with one of the workers, Copen and his team journey to a tower called Grave Pillar in an attempt to save this wasteland.
You'll need to retrieve keys from six Gatekeepers to get to the top of Grave Pillar.
During your journey, you'll face several enemies who you can easily defeat with the protagonist's three-hit combo and quick air dash. However, the boss fights at the end of each stage are much more challenging.
Gunvolt Chronicles: Luminous Avenger iX 2 features a dark premise consisting of pixelated and colorful visuals, tightly designed game levels, and snappy controls.
It is a phenomenal game that is perfect for those familiar with the Gunvolt series and newcomers alike.