Japanese games generally have a huge following that stretches far beyond residents of Japan or Japanese-speaking people.
In fact, more often than not, the majority of players are from outside the country, particularly for big titles such as Judgment, Resident Evil, and games in the Yakuza series.
However, a potential problem that limits just how invested non-Japanese gamers can be into these titles is the fact that some of them do not offer support for the English language in any form – whether through an audio dub or subtitles. An example of such a game is Atelier Ryza 2.
It can be frustrating, especially when the game is a thoroughly enjoyable one. To save you the hassle of looking for the options that you have in this regard, I have compiled a list of the best Japanese games for PS5 with English support, and it's a pretty fun one.
Persona 5 Royal
Persona 5 is one of the "best value for money" games in the PlayStation store. The original was already worth over 100 hours of gameplay, and this Royal update includes all of that content in addition to new content.
Persona 5 is a Japanese role-playing game that was initially released in 2017, three years before the Royal version was published by SEGA. If you've already played the original, you will still have to play through those 100 hours of old content before settling into the new story.
The Royal update follows two new characters – Kasumi Yoshizawa and Takuto Maruki, although the protagonist in the original, Joker, is still involved in the story.
Performance-wise, Persona 5 Royal also comes with some significant updates. It runs at 2160p 30fps compared to 1080p on the original, it has faster load times that are even speedier on the PS5, and tweaks have been made to the gameplay for more convenient combat.
The story is one of the best parts of the game, but I'll leave you to experience it for yourself – no spoilers here!
Without a doubt, this is one of the best Japanese games for PS5 with English support. Unlike the original version, Royal comes with five subtitle language options including English, French, German, Italian, and Spanish.
Disaster Report 4: Summer Memories
Disaster Report 4 was a game that showed a lot of promise on the PS4 Pro but was ultimately let down with poor performance and a messy framerate.
It was initially published in Japan by Granzella in 2018, but the global version was published by NIS America in 2020.
Since the game has become available for the PS5, the performance situation has changed massively as pretty much all the existing issues are gone, and you can enjoy the story as it was intended.
It now runs at a consistent 60fps, whereas it fluctuated wildly between 20-60 on the PS4 Pro.
The story follows a protagonist in the city of Hisui who's visiting for a job interview. An earthquake hit, and the bus they're riding on crashes, leaving them stranded in the city.
Your character manages to escape the wreck and then begins a journey that involves meeting and interacting with various types of people in the collapsing city. Each time, it is your job to make the decisions that determine what will happen next, and you'll be given multiple options to choose from – no pressure.
If you want the English-supported PS5 version of Disaster Report 4, then you can get the dub on the global version.
Ghostwire: Tokyo
Ghostwire: Tokyo is one of the Japanese games in Bethesda Softworks' catalog. I'm a fan of a good number of titles released by the publisher, and this one has earned a spot as one of the best Japanese Games for PS5 with English support.
The story follows your character, Akito. After being in a motorcycle accident, Akito is possessed by a spirit detective named KK.
In the midst of all these, a large number of Tokyo's population has vanished, and Akito's sister has been kidnapped too.
KK's possession grants Akito supernatural powers that he could never have dreamed of in his regular life, and he uses them to good effect against the monsters that have taken over Tokyo.
Those monsters are called Yokai, and Akito has to battle them while trying to unravel the mystery behind the disappearances of the people in the city, including his sister.
Considering the setting of the game, it makes perfect sense that the default language is Japanese. However, if you want English audio, you can switch to it in the Options menu – there are a few other languages in there too.
Resident Evil: Village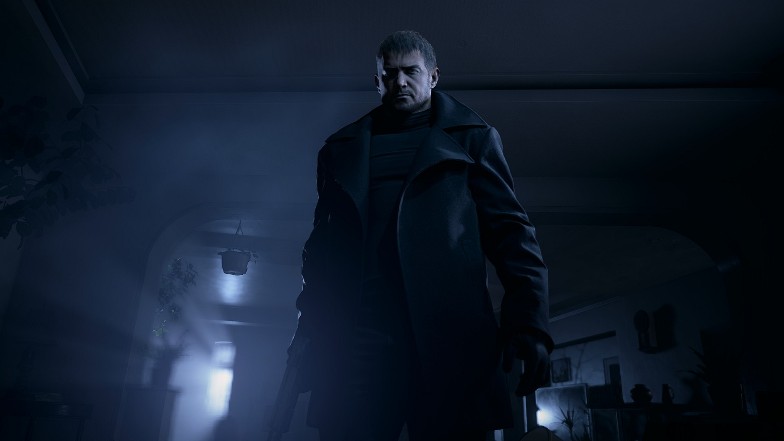 Resident Evil is generally referred to as Biohazard in Japan, and there are some differences between both versions, especially in terms of graphic content.
Despite the fact that this is pretty much seen as a global franchise, the publisher of Resident Evil, Capcom, is a Japanese company and as such, this is a Japanese game.
However, this is really still an American-targeted game, and it can be argued that the global version is preferable since it does not have the restrictions that Japan's censorship boards have placed on Biohazard Village.
Regardless, the good news is that you get English support either way, so language, at least, should not be an issue.
Gran Turismo 7
Polyphony Digital's Grand Turismo 7 is another example of a Japanese game that has achieved enough popularity to be mistaken for an American one.
The fact that the game is published by Sony Interactive also provides a significant profile boost due to the massive reach that the company has globally.
Grand Turismo 7 is a simulated racing game that serves as the 8th installment of the Grand Turismo series, and it was published in 2022, two years after it was initially announced.
The game features a single-player campaign titled GT Simulation Mode, where you can tour championships across various tracks on various continents.
There are other modes that are pretty fun too, such as the Music Rally mode where you drive through a set of courses as far as you can before the music being played for that stage ends.
On the PS5, Grand Turismo 7 has some seriously impressive graphics. The game takes full advantage of the console's next-gen tech with the DualSense controller, particularly in the haptic feedback department.
As far as realism goes, Polyphony has really put a lot of work into trying to make cars run as they would in real life, bringing the idea of "simulation" to a whole new level.
Braking, changing gears, screeching tires in sudden turns…everything looks and sounds fantastic with the adaptive triggers and vibration of the DualSense, making the game as immersive as any other top-notch racing simulator out there.
As I said, this is a Japanese game at its core. However, it is standard for a major title from Sony Interactive such as this one to support various languages, including English, and it does.
It's not your typical Japanese role-playing game (hugely popular genre, and for good reason), but it is still one of the best Japanese games for PS5 with English support.
Astro's Playroom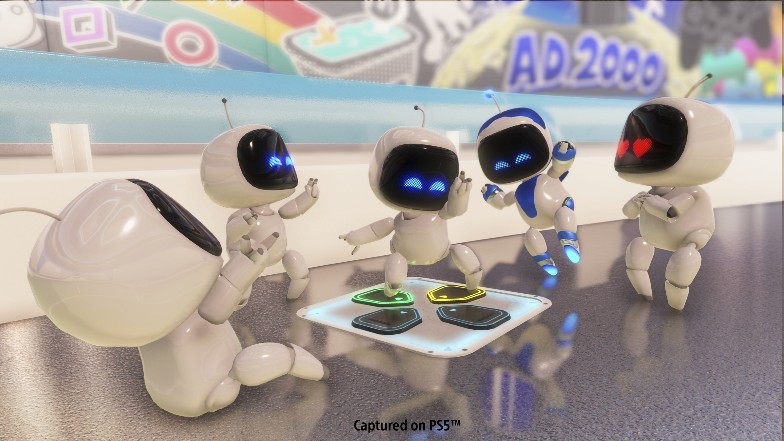 Astro's Playroom is another game from a Japanese developer that was published by Sony Interactive Entertainment. The game is Sony's way of showing off the features of the PS5's DualSense controller, and it does so very nicely indeed.
It comes free with every PlayStation 5 console too, so you don't even have to worry about value for money as you literally have nothing to lose. However, despite being a free-to-play game, Astro's Playroom actually offers a gaming experience that is immersive enough to keep you glued for hours at a time.
The central character is Astro, a blue and white robot with a really cool jetpack. In Astro's world, basic move sets are made more interesting with the setup of the environment. For instance, a simple move such as jumping is "spiced up" with springboards set up across the scenes.
As I said, Sony intentionally used this game to show off the new controller. The vibrating haptics is brilliant and it really feels as if you've been transported into Astro's world and are experiencing the environment around you as it is.
Even the various types of ground that you'll run across feel different with the feedback from the controller, from sandy beaches to fluffy clouds.
Away from the shenanigans of the DualSense controller, Astro's Playroom is actually a really good 3D platformer in itself. There is a nice progression to the way that the levels are set up, and the gameplay is really smooth running at 60fps.
English is one of the multiple language choices that you get here, and it is the most important qualifying factor for this list of the best Japanese games with English support.
Judgment
Judgment is one of the most popular PlayStation titles of Japanese background, and it is a huge fan favorite, especially among people that love the Yakuza series.
The game was initially published by SEGA in 2018, but the remaster for the PS5 that was released in 2021 really took things to a whole new level visually. The character models, the environment, the facial expressions, the lighting…everything looks so much better.
If you already played the game on the PS4, then you should know that story-wise, there's no real difference here. However, it's worth experiencing the game all over again just to take in the stunning visuals and smoother gameplay.
For English support, you may decide to go with Japanese audio and English subtitles, or a dubbed English audio version. That depends solely on your personal preference.
For more details about the plot of the game, and insight into how well it runs on the PS5, go click that link to my review of the best adventure games for PS5.
Demon's Souls Remake
Bluepoint Games' PS5 remake of the 2009 classic, Demon's Souls is one of the best remakes that the PlayStation as a console has witnessed. The game was launched on the same day as the PS5 in the United States, Canada, Mexico, Japan, South Korea, Australia, and New Zealand.
I think it is really difficult to take a game that enjoyed such high praise so long ago, remake it, and still get high praise for it.
More often than not, remakes are too jarring with the number and types of changes that developers apply to them, and they often take away the nostalgia effect that die-hard fans are really looking for.
Somehow, Bluepoint Games has managed to make it work here, again with the backing of Sony Interactive Entertainment as the publisher. The PS5 version of Demon's Souls is just as immersive and infuriating as the original, and what's more, it's incredibly gorgeous now too.
A quick lowdown of what to expect from the game if somehow, you've never heard of it before is this. Demon's Souls is a third-person-led combat game of the soulslike genre, and it is set in a lore-heavy world with raging demons (obviously) and a protagonist with the unenviable destiny of restoring a world filled with dark magic back to normal.
When the remake was announced, Sony Interactive Entertainment mentioned the fact that it features Japanese voice acting. Thankfully, this is a multi-language game and English is one of the supported languages.
Scarlet Nexus
Another game, another series of unfortunate events in Japan's capital. Scarlet Nexus follows the story of a young protagonist living in near-future Tokyo.
The city has been invaded by grotesque monsters that are sort of a mix between animals and objects and feed exclusively on human brains. It's definitely an odd combination, but the oddity of it is less worrying than the fact that you have to defend the city from these monsters.
Bandai Namco published Scarlet Nexus in 2021, just over 6 months after the PS5 was released, but it was enough time to develop the game to take advantage of some of the console's advanced features.
However, while the game does have some pretty quick loading times, the visuals are not exactly on the same level as some of the stunning ones we've seen from other developers of sci-fi/adventure PS5 games.
Regardless, the story progression and fluid combat in this game more than makes up for the relative lack of cutting-edge graphics. It also supports multiple languages, so you should be able to switch between the Japanese voice acting and the English dub easily in the settings menu.
Yakuza: Like A Dragon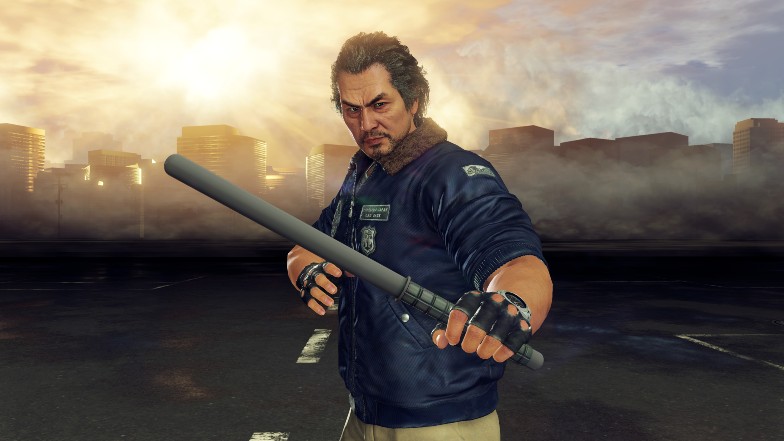 The Yakuza games have been going strong for many years now, and Yakuza: Like A Dragon was a fitting release to mark the series' 15th anniversary. It is the seventh Yakuza game, and with it came a new hero and a new combat system.
Like A Dragon was initially released in late 2020 on the PS4 and other platforms, but the PS5 update came later in March 2021. The update did not really add anything new in terms of content, but it does look and run better on the newer console.
The new hero, Ichiban Kasuga, is raised as an adopted child in the red-light district of Kamurocho, and his loyalty lies with a Yakuza family.
A member of the family gets accused of murder and Ichiban, out of loyalty, takes the fall and goes to prison for 15 years. What follows is where the main plot of the game lies, as Ichiban tries to rebuild his life after getting out of prison.
The major change to combat here is that you now get to attack with up to four characters in a turn-based, sequential manner, whereas combat in the older titles lacked such depth and you pretty much just smashed buttons to fight.
If you go into the "Settings" menu on the game, you'll see an option for "Audio Language". There, you can switch between Japanese and English audio and enjoy Yakuza: Like A Dragon in whatever language is your preferred option.
Final Fantasy 7 Remake Intergrade
FF7 Remake Intergrade is a Japanese role-playing game that is an enhanced version of the FF7 Remake released in 2020.
Intergrade arrived in 2021, and with it came some enhancements – mostly visual – that make the game worth getting a PS5 version. This version was designed by Naoki Hamaguchi and Teruki Endo, and published by Square Enix.
It comes with four language options – English, Japanese, French, and German – that you can choose from in the "Language Dialogue" menu under "Options". The original voice acting is Japanese, and the other language options are dubbed.
If you've played FF7 before, but not on the PS5, there is a near guarantee that you've never enjoyed silky smooth combat with crisp and detailed visuals in the way that the PS5 presents the game.
If you've never played it before, then the visual experience will be even more enjoyable for you, although it may be hard to follow the story without context from the previous titles.
Either way, FF7 Remake Intergrade is one of the best-looking games in its genre, and also one of the best PS5 Japanese games with English support.
Guilty Gear Strive
If you like manga, then you'll love the visuals of Guilty Gear Strive. This stunning release from Arc Systems Works is a real delight to look at and to play, as it really puts the superior graphics of the PS5 to good use.
Make no mistake, the art and visual direction may be beautiful, but this is a brutal fighter game in its own right, and the combat reflects that fact.
At times, there is so much going on that the screen is just a chaotic blur of color and particle effects, but this does not affect the gameplay negatively in any way. If anything, it does justice to the high level of energy that the characters in the game effuse in each fight.
On a less positive note, it would have been nice to see more fighter options to choose from at the start, with only 15 available when the game was launched. Also, the single-player modes need a bit of expansion in terms of content, but at least the Arcade mode is really good.
Undoubtedly, online multiplayer mode is where the juice is at, and it is the most accurate test of your skills as a Guilty Gear Strive fighter. The ranked system brings a level of competition that just cannot be replicated in single-player mode, and the option to watch replays back helps you to improve.
Despite the relative lack of depth in content, there's still a fair bit going on in Guilty Gear Strive Story mode, so in a way, it's a credit to the developers that players want more.
The game has three voice language options, including Japanese, Korean, and English. You can switch between these languages in the sound settings under the options menu.
Nioh 2 Remastered – The Complete Edition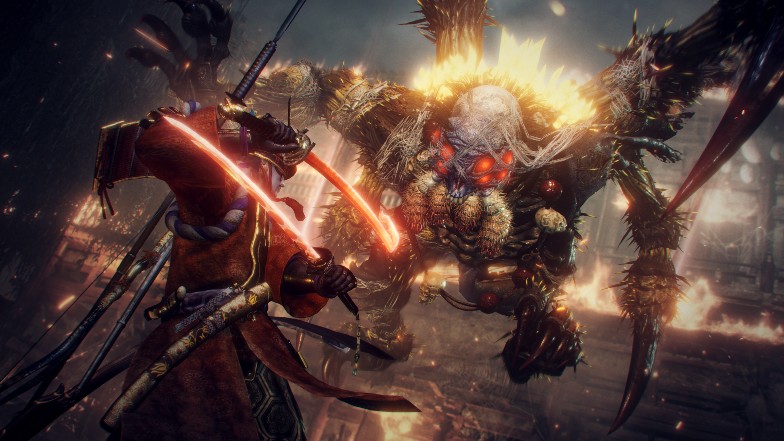 Nioh 2 Remastered – The Complete Edition is an action role-playing hack-and-slash game, but I can probably think of three more categories that Nioh 2 wouldn't look out of place in. The lines are getting really blurred nowadays.
As far as visuals go, it doesn't get much better than the 4K resolution at 60fps that you get with Nioh 2 on the PlayStation 5. It looks really good, and there are some cool alternatives for combat aside from the large arsenal of weapons available to you.
You can use your character's half-yokai powers, and you can even harvest the powers of demons that you've laid to waste and use them to your advantage.
If you're planning to get this on the PlayStation Store, be sure to get the Complete Edition because it includes the full game as well as three expansions that contain more story chapters.
That means you get more content, more hours of gameplay, and more excuses to stay indoors for as long as you want.
The default voice setting features Japanese voice actors, but you can change this in the title screen before loading the game.
From the system menu, go to language settings, choose between text or voice language settings, and adjust the selected option according to your preference. You can choose between English, French, Spanish, and Portuguese language replacements.
Final Words
For a while now, Japanese developers have been consistently churning out some of the best games across various genres and platforms, and the creativity and imagination of these developers really show when backed by the big budgets of a super studio such as Sony Interactive.
While some developers remain negatively inclined towards making their games more universally accepted by providing English support, we should be thankful for the ones that do have that option. Long may it continue.
On another note, if you're a fan of Japanese games, then you'll enjoy our selection of the best JRPGs on PS5. Be sure to check it out!