Games have provided an excellent way for anyone with an internet-connected device to "drive" around the world, using just a gaming pad and a console.
Fittingly, racing games have become one of the most popular genres in console gaming and it has a thriving esports scene too.
These games come with varying concepts, graphics, and sometimes, storylines to cater to every gamer's tastes.
While some gamers prefer racing games that simulate real-world driving, others prefer alternatives with arcade driving experiences often accompanied by insane stunts, drifts, etc.
I've sifted through a myriad of racing games on the PlayStation Store to compile a comprehensive list of the 11 best racing games for PS5. You'll find something here that tickles your fancy.
Hot Wheels Unleashed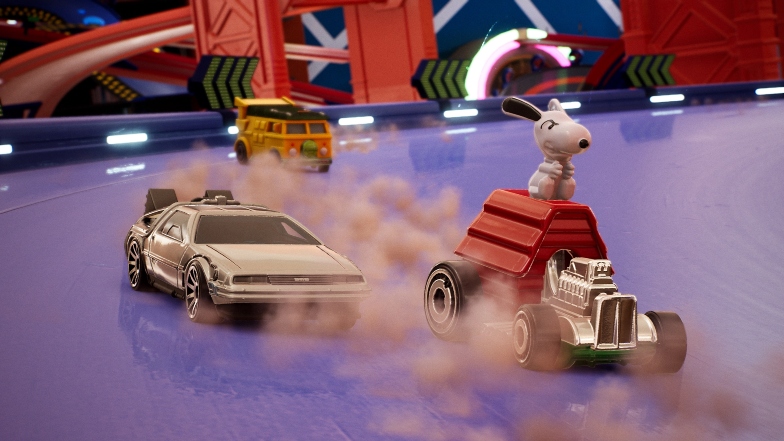 Unlike Milestone's previous releases, which feature simulation-style racing with realistic tracks and locations, the developers instead opted to resurrect Mattel's diecast racing cars for the game. Throughout the game, you can collect dozens of classic and exotic hot wheels vehicles – the developers recreated almost every single diecast you can think about.
Driving around in Hot Wheels Unleashed transforms your mind into an arcade universe. The cars look like realistic toys that can make crazy drifts, and the tracks have lots of twists, nervy curves, and several obstacles coupled with insanely fast gameplay.
The single-player campaign is loaded with beautiful maps, time trials, quick races, and five boss fights that are played in order. The more events and races you complete, the farther you progress.
The controls are pretty easy to grasp for anyone who's ever played any racing games on a console. Even if you're new to console gaming, you should still do okay as the game controls feature only a gas pedal, a boost button, and a brake pedal.
In Hot Wheels Unleashed, players are allowed to play offline split-screen multiplayer races. However, you'd need two DualSense controllers; you can't match a DualShock and a Dual Sense with the PS5 version of the game.
Gran Turismo 7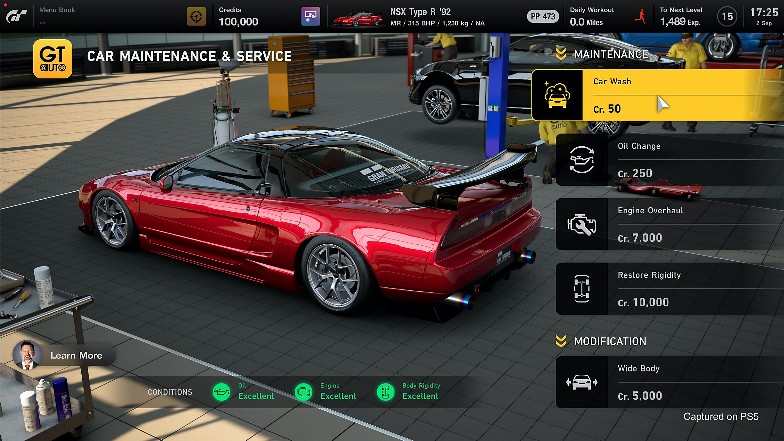 Gran Turismo 7 is part of a long line of releases in the series from developer Polyphony Digital. The game was released officially in March 2022 and is easily one of the most popular PS5 racing games.
Since the first Gran Turismo was released in 1997, they've constantly pushed the limits in graphic simulation and realism, and GT7 is no exception. The racing experience of the game is sublime, providing gamers with one of the most realistic and accurate racing sim experiences to date.
Whether you're driving a mint DeLorean, Honda Civic, or a Ford Mustang, each car is designed to function as it would in real life. Players can complete missions that are dished out by a forest cafe owner. He assigns you several tasks to complete as you progress throughout the game.
Anytime you return to the cafe to get a new mission, you'd meet fellow cafe patrons, driving experts, and some top real-world car designers who provide you with short lessons and information on each car you collect throughout the game.
Playing GT7 feels fantastic with the PS5 Dual Sense Controller. The game brilliantly utilizes the controller's haptic feedback, allowing you to feel resistance when you change breaks, hit bumps in the track, or sweep your wipers.
If realistic simulation is important to you, then this game is as good as it gets.
Dirt 5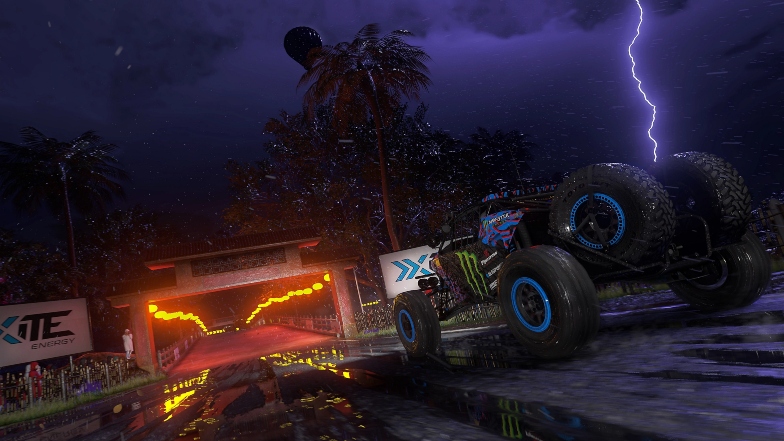 Dirt 5 was an excellent release on the PS4, but it's even better on Sony's latest console. Thankfully, if you bought Dirt 5 on the PS4, you get a free upgrade to the PS5 version on the Playstation Store. However, all your progress would not be transferred when you upgrade to the PS5.
Dirt 5 was published by Codemasters, and the developers have since gone on to make a few upgrades from the PS4 version such as the addition of ray tracing to further improve the game's graphics. 
Each race has its varying difficulty level, maps, tracks, and difficulty levels that sometimes become pretty hard to pass.
Like PS racing games released post-PS5 launch, Dirt 5 uses the DualSense adaptive triggers by offering you adaptive accelerators and brake pedals that change automatically depending on the race track. For example, on a plain surface, the accelerator would be much easier to press in contrast with a slippery or rocky race track.  
As suggested, the graphics of Dirt 5 are expectedly better on the PS5 too. A few tweaks in the HDR settings will leave you with a wonderful presentation, especially on a 4K display.
One major issue with Dirt 5 on the PS4 was load times; it took forever for matches to start. However, on the PS5, load times are totally removed or significantly reduced.
Overall, Dirt 5 is a fun arcade game that gives you a slightly different narrative than heavy hitters.
F1 2022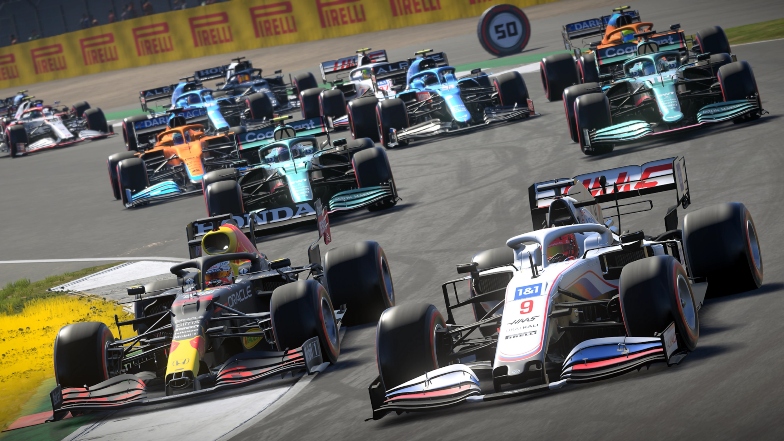 It's hard to make a list of top racing console games without including at least one title from Codemasters. This list has two so far, and the second is another excellent PS5 racing game released by the publisher in 2022.
Players familiar with F1 titles know pretty much what to expect from the game; league competitions, ranked multiplayer modes, time trials, custom Grand Prix – all the good stuff.
You can play the game's career mode as a driver or a team owner. It is packed with content, including a brand-new story mode (Braking Point) that can be completed in a couple of hours. To progress further in the story, you'd have to attain a minimum position in each race consistently.
As a side note, some players would argue that playing Braking Point mode is a waste of time. You don't get any rewards, and your accomplishments are not acknowledged, bar a trophy at the end of the story to compensate for your time.
F1 2022 allows for extensive customization, especially on the expert level, where you can alter pretty much anything; weather, assets, simulation, and a lot more. The higher your rank, the greater the level of customization.
The two-player career mode is another significant addition to the game on the PS5. In this mode, you can team up with a friend to play a full career mode either as a team or compete against each other. 
Codemasters also provide players with purposeful practice sessions that help players improve their skills, and those practice sessions can also help you develop your car quicker.
Wreckfest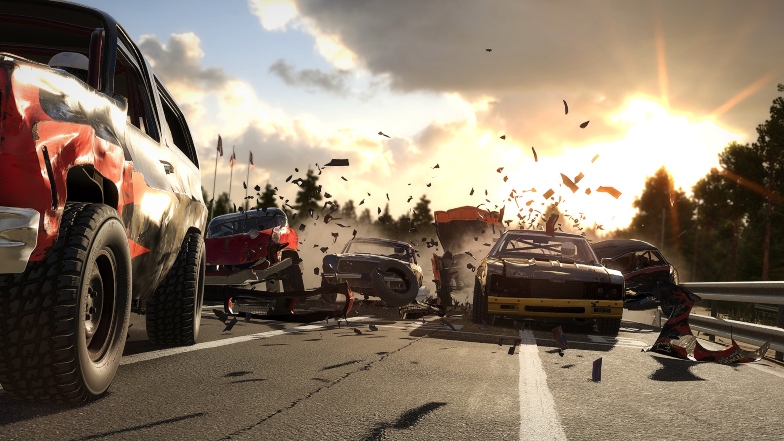 Not all racing games follow the traditional way of racing where you're just drifting, accelerating, and braking. Instead, games like Wreckfest offer users a combination of chaos, racing, and vehicular combat.
Wreckfest was published by THQ Nordic.
Bugbear Entertainment has constantly pleased gamers with demolition derby titles like the Flatout series, and Wreckfest is the latest installment in the long line of demolition derby games. Blowing stuff up can be a lot of fun, and with Wreckfest, you get a whole army of cars to crash into things as you progress throughout the game.
The developers made some significant improvements to the PS5 version such as a framerate upgrade from 30 fps to 60 fps, and a noticeable increase in the realism of destruction and chaos. Also, players can also use activity cards to fast-track their progress and get into career events quicker and more easily.
Wreckfest seamlessly utilizes the DualSense controllers to spin up various triggers throughout the race. For example, if your car is at high damage, it's harder to accelerate compared to when you're at lower damage.
In-game, you play as a faceless driver wearing a fitted helmet, and you can choose to play the career mode, multiplayer, or custom game mode. As you progress, you must upgrade your car to fit different tracks and terrains.
Like most racing games, finishing first or being the last man standing is the goal, but with Wreckfest, players have several ways to win a race.
Being the fastest or most skilled driver doesn't guarantee you a win. You can knock a player off the track or completely destroy their car. As long as you're the last man standing, you're guaranteed a win no matter how you do it.
WRC 10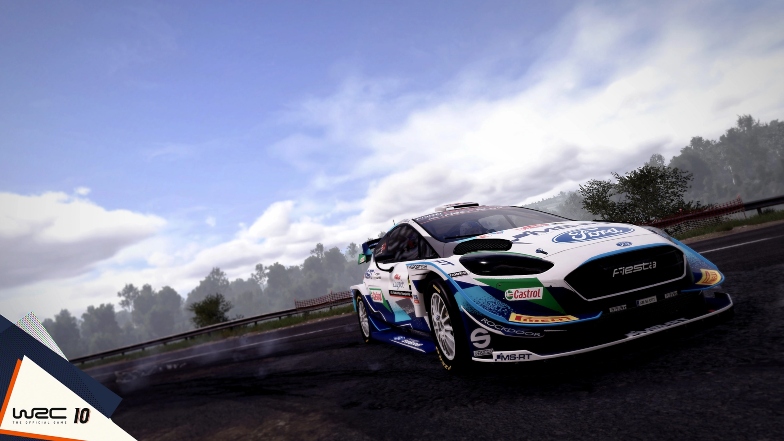 WRC 10 has been available on PS4 for quite a while, and its success on the PS4 console birthed the release of the game on Sony's PS5.
WRC 10 benefitted largely from Sony's improved SSD allowing it to load much quicker than previous versions. The game also takes advantage of the DualSense controller to help players interact more efficiently with their on-screen actions.
Unfortunately, WRC 10 did not get significant graphical upgrades on the PS5. However, the PS5 version allows you to play at varying resolutions; 30 fps and 60 fps. You can also crank it all the way up to 120 fps, but you'd have to connect it to a supported display.
The driving aspect of the game is pretty similar to most racing sim games, offering lots of customizations and allowing you to tweak the difficulty of the game to your ability. There are several iconic racing events included, such as the 1973 Acropolis Rally Event, Alpine's first win in the A110 Berlinette event.
Players are partnered with co-drivers that give them information on the terrain, tracks, and tips on how to improve their driving. You can also team up with a buddy and play WRC 10 offline on split-screen or go online to enjoy more game modes.
If you're looking for a fun, up-to-date racing simulator, WRC 10 is an excellent option.
GRID Legends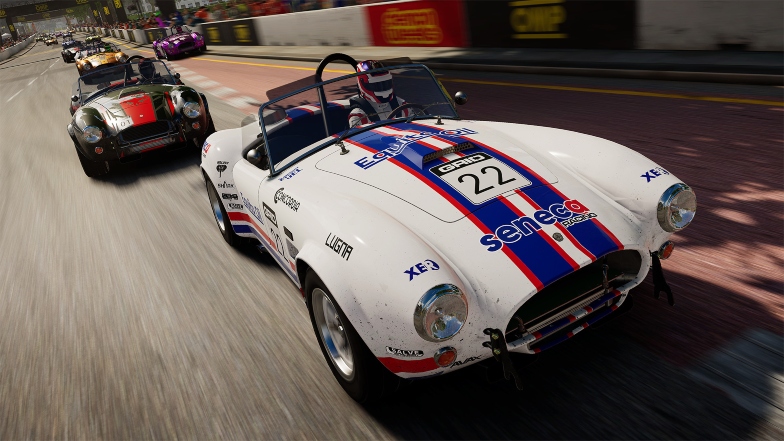 GRID Legends is yet another racing game developed by Codemasters. Interestingly, the developer launched the title barely one week before the release of the much-awaited Gran Turismo 7.
It was a bold move that really put the game in a tough spot because many people must have opted to wait for the more popular GT 7 instead.
However, this did not change the fact that GRID Legends turned out to be one of the best racing games for PS5. Despite the fanfare surrounding Gran Turismo's release, GRID Legends still found a way to hold its own.
The game's design focuses heavily on single-player campaigns, featuring a brand-new story mode that includes about 36 events. 
Of the 36 events, each one features about one to three races, including a few minutes of storytelling to help advance the narrative. Your character is 'Driver 22', and as you progress throughout the game, you will link up with the Seneca team and compete against rivals such as Manzi and McKane.
Codemasters clearly put a lot of work into the narrative of GRID Legends, so much so that it almost seems like a documentary at times. Hardly one event passes without a short 2-minute introduction to each race. 
The racing events are pretty standard, including the regular time trials, elimination rounds, and more.
Disappointingly, Codemasters did not capitalize significantly on the PS5's next-gen features as much as they could have to improve the overall experience of playing the game.
DualSense controller support is also limited as haptic feedback isn't overly impressive. However, adaptive triggers do a fair job of compensating for that fact by offering up solid resistance without distracting them from the actual gameplay.
Art of Rally
Art of Rally is another excellent PS5 racing game that offers a very simple but high-performing racing model.
The graphics of this game are pretty basic, as Funselektor Labs opted for a more simplistic approach in that department.
When you load up Art of Rally, you're greeted with an artistic design that looks like it was cooked up in the mind of a kid. The soundtracks are very entertaining, which you'll enjoy if you're one to turn on in-game music as you play.
Unlike most racing titles that race against opponents (online or offline), Art of Rally pits players to race against themselves and compare their finish times at the end of each race.
Aside from its rally-focused gameplay, the game also hosts several other modes to shake things up a bit. There are dozens of vintage cars that competed in rallies held in the 60s, 70s, 80s, etc.
If you've played Art of Rally on other consoles, you will find the cars in this PS5 version pretty easy to handle. However, for new players, mastering the driving techniques of the game may not be as easy compared to other racing titles.
The haptic feedback here is very impressive – each car is customized with its own feedback. For instance, the feedback on the Mini Cooper is far different from that of the La Montaine (the Escort).
Riders Republic
Riders Republic is an excellent arcade racing game with lots of extreme and immersive multiplayer events played in an open world.
The idea here is an extreme sports game featuring a ton of characters, gears, and an open world to explore. The in-game characters are a bunch of young kids who've quit the regular kid routine (whatever that is nowadays) to race in some of America's most iconic parks.
You'll find Riders Republic a walk in the park if you've played open-world racing games like Forza Horizon before. Players get to explore a beautiful open world loaded with collectibles, gears, and several races or contests to their heart's content.
Most open-world games allow players to drive vehicles cross-country, and in Riders Republic, your terrain determines what your choice of "transport" will be. This means that you should expect to switch constantly between these choices – a bicycle, a wingsuit, a snowboard, or even a pair of ski boots.
There can be up to 62 players swinging or flying around one map, which can be frustrating at first but also gives rise to new levels of intense competition.
Need for Speed Hot Pursuit Remastered
Well, we can't have a qualitative list of the best PS5 racing games without including a Need for Speed title. In this case, I've selected the Need for Speed Hot Pursuit Remastered.
An earlier version of Hot Pursuit was released way back in 2010 by Criterion, and over a decade later, the remastered version was launched.
As expected, the remastered edition arrived with better graphics, gameplay, and handling. In 2010, we didn't have games running on 4K displays at 60 fps. That's why Criterion decided to resurrect the Hot Pursuit title to allow gamers to experience the title at its best, and it's a decision we're all very thankful for.
The game allows cross-platform competition, which is great for multiplayer modes. There are several of these multiplayer modes to choose from, and players can choose to race as cops or street racers.
You don't need complex customizations or explicit knowledge to control cars here – just pick one and hit the road. Several cars allow you to hit speeds of over 200 mph, but you'd need to be careful at such speeds because maneuvers at curves are not a walk in the park.
If you want some time away from the rush of competition, there's a free roam mode that allows you to play with zero objectives – just drive peacefully around the track.
Graphics-wise, there aren't many improvements in comparison to the PS4 Pro. The older console already offered up to 60 fps in performance mode, which is the same as what you get on the PS5 in backward compatibility mode.
Need for Speed Hot Pursuit is a perfect game for adrenaline junkies and speed freaks.
Assetto Corsa Competizione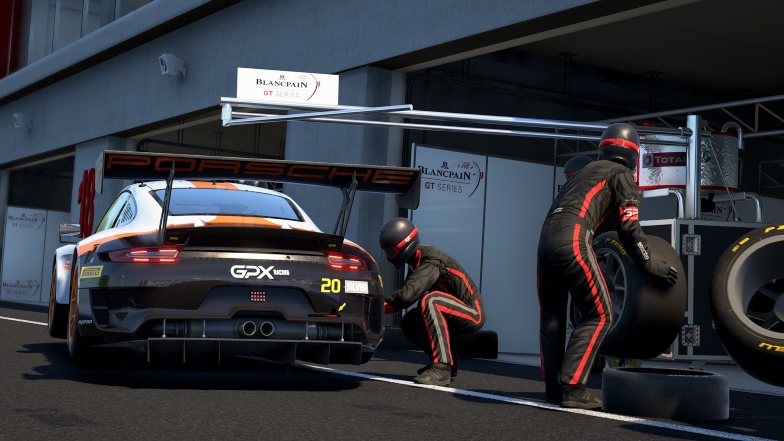 If you're a hard-core sim racing fan, you should definitely give Assetto Corsa Competizione some attention.
The game was released in 2018 by KUNOS-Simulazioni Srl and has constantly served as a high performer for folks looking to simulate a real-world driving experience. It's so good, you can probably use it to practice real-world driving.
Fans of the game were previously restricted to playing it on a PC (a suitably specced out gaming PC, mind you) due to the game's intense performance and power consumption. However, it has been available to play on consoles like Xbox One and PS4 since 2020.
Initially, performance on these consoles left much to be desired, and the graphics were not the best either. However, things improved quite a bit on Sony's PS5, and it is now possible to enjoy the game at its best.
On the PS4 console, Assetto Corsa Competizione suffered from an unstable framerate, but with the PS5, the game runs smoothly at 60 fps. Loading times are also greatly reduced on the PS5 to help improve your gaming experience.
Additionally, the game's audio is arguably one of the best in the racing game genre, providing gamers with a very realistic sound design to simulate real-world racing.
The game modes in Assetto Corsa Competizione are pretty similar to most similar games. You get a traditional single-player campaign mode with events like time trials, elimination, and several multiplayer modes.
Summarily, Assetto Corsa Competizione is a well-rounded package that you can't go wrong with, especially if you're a true racing game stan.
If you're looking to get into competitive racing off the smooth tracks, we've also got a guide to the best off-road games, so you should check that out next!