Metroidvania is one of my favorite genres, and with good reason. I find it amazing how these games can be extremely different even when they share basic design principles.
From the classics like Castlevania to newer titles like Blasphemous, there's no shortage of Metroidvania games available on PS5. Especially because this console allows you to play PS4 games, too.
Whether you're looking for fast-paced action or deep exploration, these are the 18 best Metroidvania games on PS5!
Blasphemous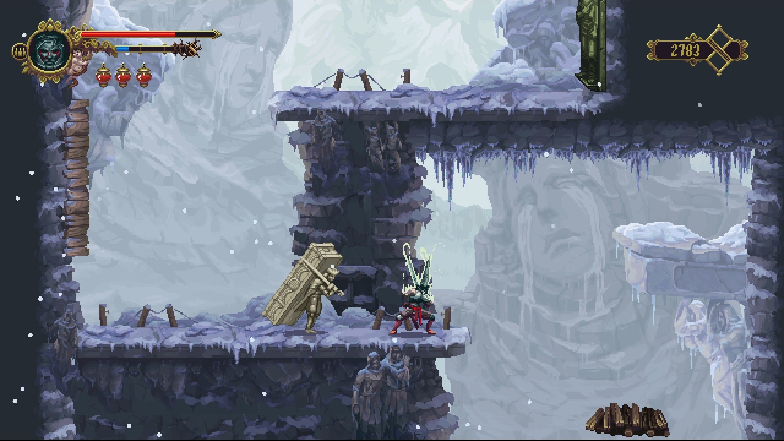 This is, without a doubt, one of the best 2D platformers I've ever played. Blasphemous features some of the most stunning pixel art I've ever seen, terrific music, and good mechanics. The gameplay is both brutal and satisfying.
Numerous unique design choices make Blasphemous feel new, mysterious, and enjoyable. However, the dark fantasy setting of this game appears to be a reference to the 16-bits era as well as souls-borne games. 
Despite the fact that some battles can be challenging, the game is fair. If you enjoy a fair but tough challenge, you will have no problems with Blasphemous. You might have trouble with some of the giant, gorgeous bosses in the game, but defeating them is extremely satisfying.
There's a lot of pattern and location learning when handling enemies. However, the way that these elements were designed makes the game better.
Blasphemous is undoubtedly one of the best Metroidvania games on the market.
Dust: An Elysian Tail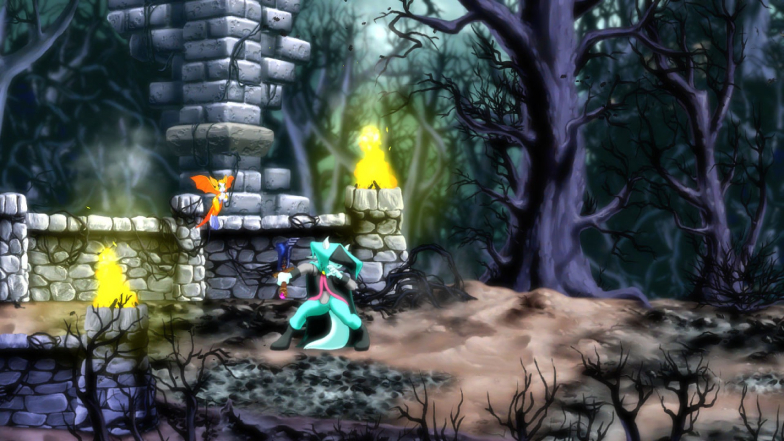 Control Dust through a beautiful hand-drawn universe to pursue your true identity and end a cruel ongoing war.
The action-packed quest as the enigmatic warrior without a past will take you from calm meadows to cold mountaintops and many other areas. Dust is accompanied by the mythological Blade of Ahrah, which transforms its wielder into an overwhelming destructive force.
Dust also counts on Fidget, the Ahrat's guardian, who is proficient with magic. Combining Dust's martial abilities, Ahrat's power, and Fidget's magic, they can land devastating magic attacks.
This game has you taking a variety of quests from friendly villagers, discovering ancient secrets, and uncovering the story of an ancient civilization on the verge of extinction.
Dust is a work of art with memorable characters and beautifully animated hand-drawn characters. It also has one of the best stories I've ever seen in a Metroidvania game.
Strider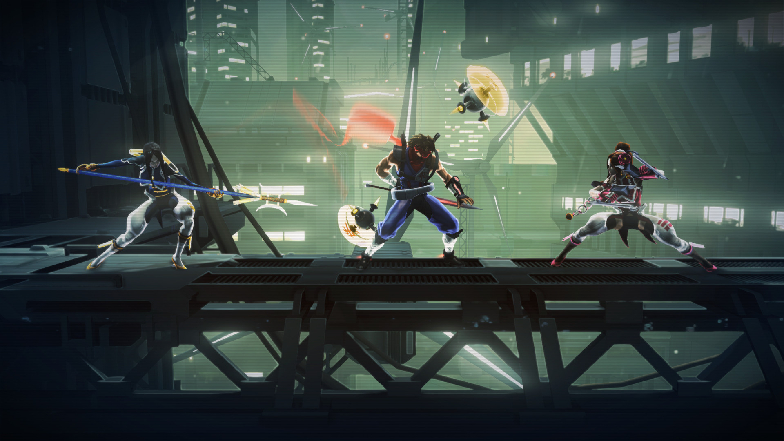 Strider Hiryu is one of my favorite characters. He is a beloved Capcom character that has been in some of the most famous fighting games ever released.
He was also a star of a series of Strider games, which is why I was so excited when I first saw this Metroidvania. Bringing Strider Hiryu to this genre was a genius move. It pleases fans of the older games and presents him in his newest design to those who know him from other titles.
Besides, the very platformer nature of the genre makes it easy to make a Strider Hiryu game. In Strider, the Metroidvania game, you get to play a badass sci-fi ninja who spins and swings through human and robotic enemies.
If that is not enough to make you interested, I don't know what will be. Combat is fun, there are many traversal and combat upgrades, and the boss battles are incredible. If you like ninjas, sci-fi, or Metroidvanias, you will probably enjoy Strider.
Hollow Knight
Hollow Knight is a game that quickly enchanted fans of the franchise. Although I do not think this game is necessarily innovative gameplay-wise. However, it was masterfully designed. It took known elements to a new level of excellence.
The combat of Hollow Knight doesn't have many complicated mechanics. It's a jump-and-swing game that introduces special attacks over time. However, the bouncing and parry mechanics, both used with the same attack button, add a surprising depth to the game.
It also has a very unique art style that is instantly recognizable because of how distinct it is from other games of the genre. This is one of the things that made the game stand out, bringing players to it that would eventually experience it for the whole well-produced project that it is.
Hollow Knight is a fantastic example of how to make more with less and how to make a game a game with fun action and exploration. You have a clear goal, but you are also allowed to bypass certain areas and explore.
This game is, in itself, a lesson on how to make a good Metroidvania game.
F.I.S.T.: Forged in Shadow Torch
This game looks different from most titles of the genre, which is a great way to be noticed. After all, not many games have you controlling a rabbit who carries a giant metal fist in a dieselpunk world.
F.I.S.T. charmed me as soon as I knew this was a game in a dieselpunk universe, a rare type of setting in video games. However, it is a very competent game from an independent studio. It even counts with English voice lines to all its many scenes with lots of dialogue.
Combat and exploration aren't impressive at first, but they become increasingly more interesting as you unlock new abilities. At some point, you will be double jumping, air-dashing, spinning your giant fist, and extending combos with cool moves.
F.I.S.T.: Forged in Shadow Torch is exactly what it tries to be, a modern Metroidvania game with great graphics and fun gameplay.
There's no new mechanic here that stands out as something innovative. However, I don't think that such a thing is needed for a game to be good, and F.I.S.T. is a good game.
Record of Lodoss War-Deedlit in Wonder Labyrinth
Record of Lodoss War-Deedlit in Wonder Labyrinth has you playing as Deedlit, a spell-casting, powerful elf from the Record of Lodoss War anime.
This game is heavily inspired by Castlevania: Symphony of the Night, and it shows. The Similarities are present in the way Deedlit walks, the overall pacing, and even the general feel and look of the map. You even explore a castle, which is already a huge reference to the Castlevania series.
Generally speaking, this game has a lot of fan service when it comes to its story, but you don't need to know what is going on to have fun.
With time and exploration, you will encounter new weapons and spells that will change how you deal with enemies and traverse the map.
Record of Lodoss War-Deedlit in Wonder Labyrinth is a solid, beautiful Metroidvania game that knows what it is and what it's doing. It's an easy game to recommend to fans of the anime and the genre.
Bloodstained: Ritual of the Night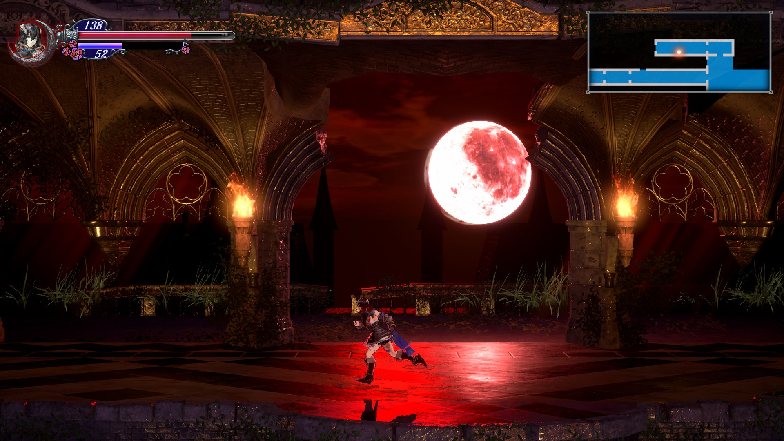 Bloodstained is the closest thing to Castlevania: Symphony of the Night that you will find in the genre. Although the game is arguably not as remarkable, it was clearly made to resemble Alucard's game. Regardless, it still is a good Metroidvania experience.
It is fair to say that Bloodstained: Ritual of the Night is a love letter to Symphony of the Night's fans. It recaptures all the magic of hunting an ancient evil in a 2D castle filled with demonic creatures.
The way you approach the game is also very customizable, from weapons to clothing and skills. Although not as memorable as Symphony of the Night's soundtrack, Bloodstained's music and sound design are pretty good and in sync with the game's overall theme.
It's fair to say that Bloodstained: Ritual of the Night will please anyone who is looking for something like the original Metroidvania Castlevania game. It is also fair to say that it is a good game even to those unfamiliar with Alucard's most famous title.
Ender Lilies: Quietus of the Nights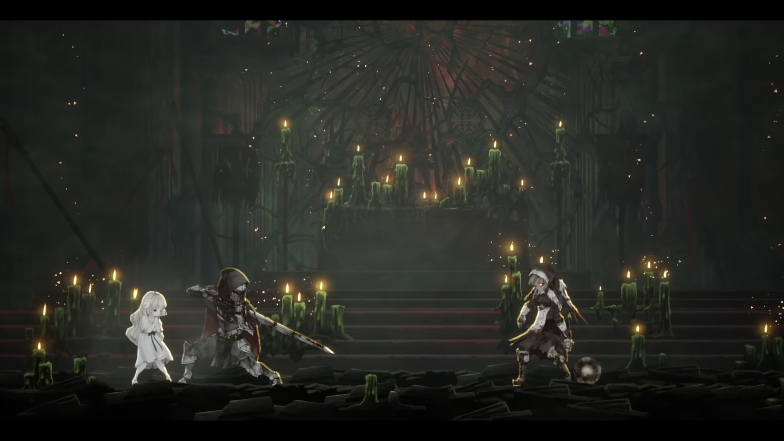 In Ender Lilies: Quietus of the Nights, you play as the last surviving priestess of Land's End. Your objective is clear, to purify the land that has been corrupted by the ever-falling Death Rain.
This game is fairly unique, at least when it comes to its approach to combat. Lily, the main character in this game, doesn't really fight anyone herself.
She is protected, at first, by an Umbral Knight who was tied to her by an older priestess. However, Lily can purify the soul of a boss after winning a battle, and that boss will become one more character that will fight for her.
This new take on combat causes the progression to be more and more enjoyable. Wanting more guardians made me curious, so I kept playing because I wanted to know what was coming next.
Ender Lilies: Quietus of the Nights is excellent for those fond of dark fantasy settings and Metroidvania in general. It might feel a bit different at first. It is indeed a bit odd.
However, generally speaking, it is a somewhat traditional, high-quality Metroidvania with plenty of new abilities to find and exploration to do.
Salt & Sanctuary
If you're looking for a challenging game that will keep you involved and coming back for more, look no further than Salt & Sanctuary.
This game is more of a 2D Dark Souls, but I do think it still fits the genre. In my opinion, it's quite appropriate. I do feel like the original Dark Souls is essentially a 3D Metroidvania game.
Salt & Sanctuary may be for you if you're seeking a challenging platformer and enjoy FromSoftware's design philosophy. Not everyone will enjoy Salt & Sanctuary, but I certainly did.
Given how extensively this game is influenced by Dark Souls, this was most likely the developer's intention. This game is far from easy. Yet, when you successfully overcome one of its numerous obstacles, you feel like an absolute champion.
It's an adventure that will test your talents and patience from beginning to end, and I enjoyed every second of it.
Death's Gambit
This is a game that clearly tried to be one of the "2D Dark Soul" games. Death's gambit has voiced dialogue and pretty good gameplay.
Although it might not be as memorable as some other games on the list, it still is a solid Metroidvania game with a strong identity.
In Death's Gambit, you work for Death itself once you die. Your objective is to claim the souls of immortal guardians.
There are seven different classes, each with its own skill tree and abilities. The game has 20 different boss battles, exploration, customizable equipment, and much more.
If you like good writing, Death's Gambit story is at the very least an intriguing one. At first, this game was not great. However, updates pretty much fixed it, making Death's Gambit easy to recommend if you are a fan of the genre.
Castlevania Requiem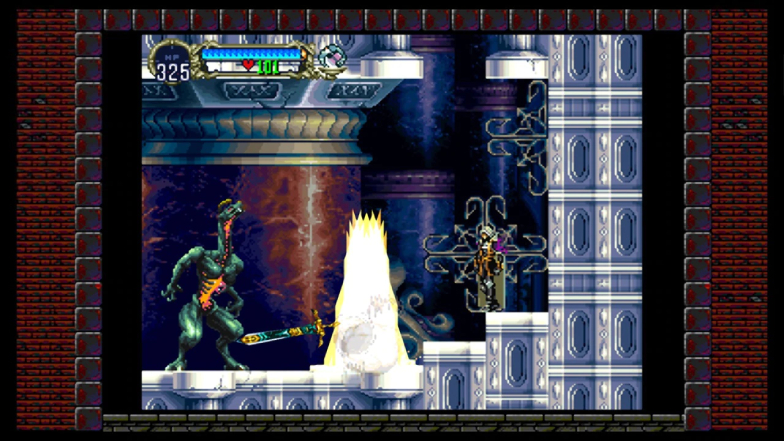 Castlevania Requiem comes with Castlevania: Symphony of the Night. This is one of the games that inspired and named the Metroidvania genre and is by far one of my favorite video games ever.
In Symphony of the Night, you control one of the most popular half-vampires of videogame culture, Alucard. This game has you going into Dracula's castle, fighting various enemies, unlocking new abilities, and battling huge bosses.
Like Super Metroid, the game has an overall world map that shows you areas you have visited. It also counts on backtracking once you have new abilities to pursue new paths.
To this day, Castlevania: Symphony of the Night is an excellent game with good sprites, gameplay, mechanics, and one of the most memorable videogame soundtracks of all time.
Greak: Memories of Azur
This is a very interesting Metroidvania game for a number of reasons. In Greak: Memories of Azur, you play with up to three different characters in a charming game with hand-drawn animations.
Greak: Memories of Azur has a very basic approach to combat at first. In fact, the game starts feeling a bit basic, but things don't take long to get much better.
You get to play Greak who has a double jump, and two other characters. The other characters are Greak's siblings. Azure is a magical girl with a floaty jump, and Raydel is an armored guy who can't swim. Each has different abilities, strengths, and weaknesses.
The game demands some calculation on how to bring each character to certain areas. You have to be mindful of each character's strengths and weaknesses.
There are also many challenges in which they have to work together. Some enemies are easier to defeat when you control one character, and some are easier when you control another.
Greak: Memories of Azur has its flaws, but generally speaking, it is charming, it is fun, and it is a good Metroidvania game with original ideas.
Sundered: Eldritch Edition
As someone who loves cosmic horror and Metroidvania, I was destined to enjoy a game like Sundered. This game is a perfect mix of platforming, frantic 2D action, and Lovecraftian creatures in a single game.
Sundered has high-quality, fluid hand-drawn animations, tons of enemies on the screen, and a unique setting that makes the game fresh.
Although many rogue-like elements might be frustrating at times, they keep you hooked with frequent challenges and instant rewards if you are defeated. Unfortunately, like in many rogue-like games, the rooms on the map are not very memorable.
Surprisingly, the rogue-like elements don't ruin the Metroidvania exploration in Sunderer. You do find items and shortcuts that allow you to traverse the map and reach new areas.
This might not be a game for everyone. Still, I enjoyed the challenge, the setting, and the rogue-like elements in this nightmarish world.
The Messenger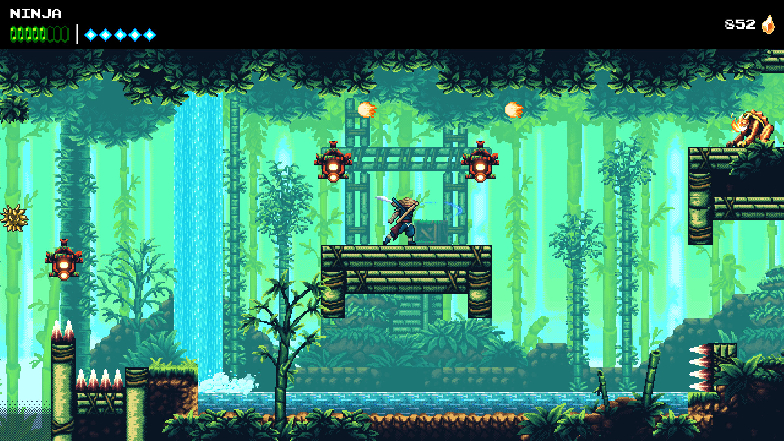 The Messenger is a clear homage to old Ninja Gaiden games. It looks similar to them, feels identical in many ways, and even tries to reconstruct many aspects of those games.
However, there are plenty of original elements to The Messenger, including the fact it is a Metroidvania game. Generally speaking, The Messenger starts as your typical 8-bits action platformer. You control a ninja who can run, jump, and swing his sword horizontally.
Over time, you get new ways to interact with the world around you, making The Messenger a high-skill platformer with many mobility options and challenges.
There is also a gimmick where you can go to the future for a while. That causes the game to change from 8-bit visuals to 16-bit visuals that resemble the SNES era. This is something that I particularly love about this title, although it wasn't necessary to make it a good game.
The Messenger is a love letter to Ninja Gaiden at first, but it doesn't take itself too seriously in that regard. After a while, it stops being just a game that looks like an old platformer and becomes something original. It is definitely worth trying.
Castlevania Advance Collection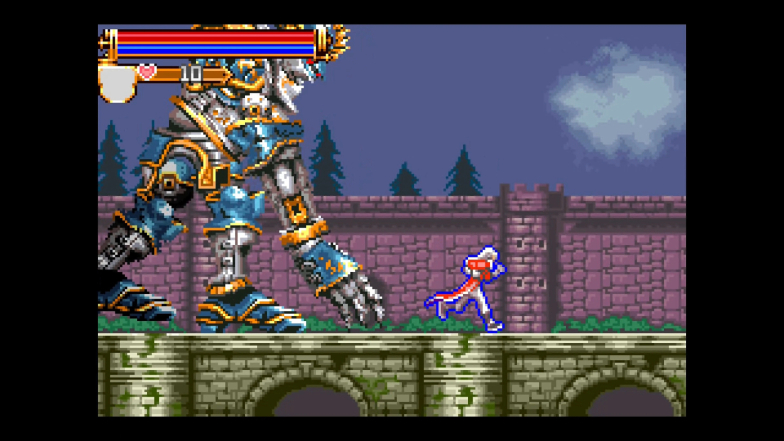 Game Boy Advance has some of the best Metroidvania games I've ever played. This made me very grateful for this collection.
Castlevania Advanced Collection counts with Castlevania titles such as Aria of Sorrow, Circle of the Moon, Harmony of Dissonance, and even Dracula X, which is not a Metroidvania title.
Castlevania: Circle of the Moon is one of my favorite titles of the franchise. I appreciate RPG elements in my Castlevania games, but I was a bit tired of them when I first played this game.
Luckily, Circle of the Moon did not include grinding for levels in its design. You count on cards and magic to become stronger. Still, there is a lot of old-school exploration and whipping that I can truly appreciate.
Castlevania: Aria of Sorrow and Castlevania: Harmony of Dissonance do have levels and experience points, but the games are so long and so full of things to do that you will get stronger naturally.
These are all high-quality Metroidvania games and some of the greatest Castlevania games ever made in a single collection.
Axiom Verge
Axiom Verge has an 8-bit aesthetic and is clearly influenced by the Metroid series. In this game, you play as a character who wakes up in an alien world and has to find his way out.
Basically, you find new weapons and tools that allow you to destroy everything in your path so you can survive and get out of there. Although it is Metroidvania, Axiom Verge clearly is very much more Metroid and less Castlevania.
Although you do play as a regular human, it's only a matter of time until you become a doom guy like Sci-Fi Rambo. With many weapons and upgrades at your disposal, it all becomes a matter of finding the right tool for the job.
One can argue that this is not the most memorable game. I didn't necessarily find the rooms or the world of this game outstanding. However, it is a decent Metroidvania title with plenty of sci-fi and horror elements. If that is your thing, then Axiom Verge might be the right game for you.
Guacamelee!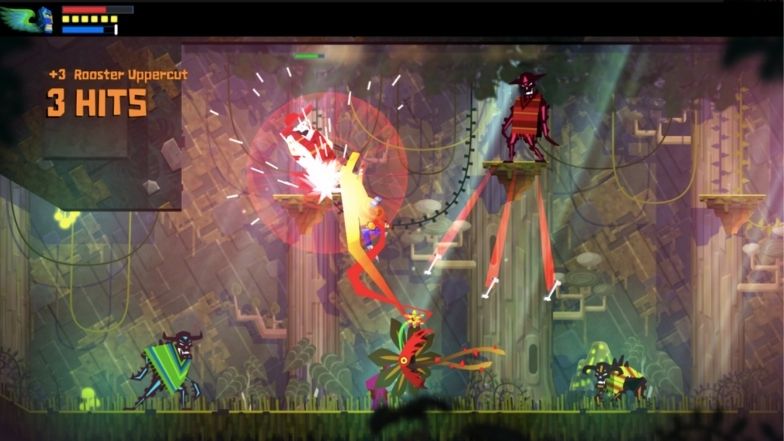 If being a masked luchador has any appeal to you, you must have already come across this game. Guacamelee! has you controlling the masked luchador, Juan, traveling through multiple dimensions to fix the world.
There are fun platforming obstacles and well-designed battle systems that you expect in the genre's greatest games. Juan can vanquish his opponents using a variety of remarkable powers and fighting tactics thanks to his magical luchador mask.
The game has a good variety of foes, traversal challenges, and platforming puzzles that prevent players from getting tired of the game's core loop.
One can argue that this is a Metroidvania like other games with similar gameplay designs. However, the combination of aesthetic style based on Mexican culture and near fighting-game mechanics make this game stand out.
Guacalemee! and Guacamelee! 2 are two fantastic games worth trying out. If you enjoy one, you will certainly enjoy the other as well.
Axiom Verge 2
Axiom Verge 2 is a sequel to a known Metroid-inspired game. Unlike its predecessor, the main character's primary attack is a melee one.
The game focuses much more on navigation puzzles than combat, which might be off-putting to some players. However, if you enjoy the exploration and traversal part of Metroidvania games, this change might be something you will enjoy.
This is a game that looks and feels completely different from its predecessor. Generally speaking, it has a visual art style that resembles something from the 16-bits era.
Although plenty of things can be considered a reference to Metroid in this game, the overall feel and gameplay are not among those things.
This game might not be for you if you are looking for a deep combat system. Yet, the traversal and exploration of this game make it stand out as a great Metroidvania with parallel realities and traversal puzzles.
There's a certain visual style that appears to be common with Metroidvania games. If you're interested in similar styles with games in other genres, I recommend checking out our guides to the best retro and pixel games as well.