It's a bit of a conundrum how wrestling as a sport has so many fans, but the attention given to it by the gaming world just doesn't match that energy.
Essentially, there is only one franchise that regularly publishes wrestling games, and that's 2K Games of WWE 2K fame.
I'm undecided if this is a result of the fact that WWE is the most popular wrestling franchise globally, or if it is just a distinct lack of interest from developers to create something that has a fairly niche group of fans.
Either way, I did some research and put together a list of the best wrestling games for PS5. I could just list the WWE 2K games and be done with it, but that'll hardly be helpful for anyone, so I've tried to avoid doing that. Unfortunately, that means the options are few, but let's get into it anyway.
Fire Pro Wrestling World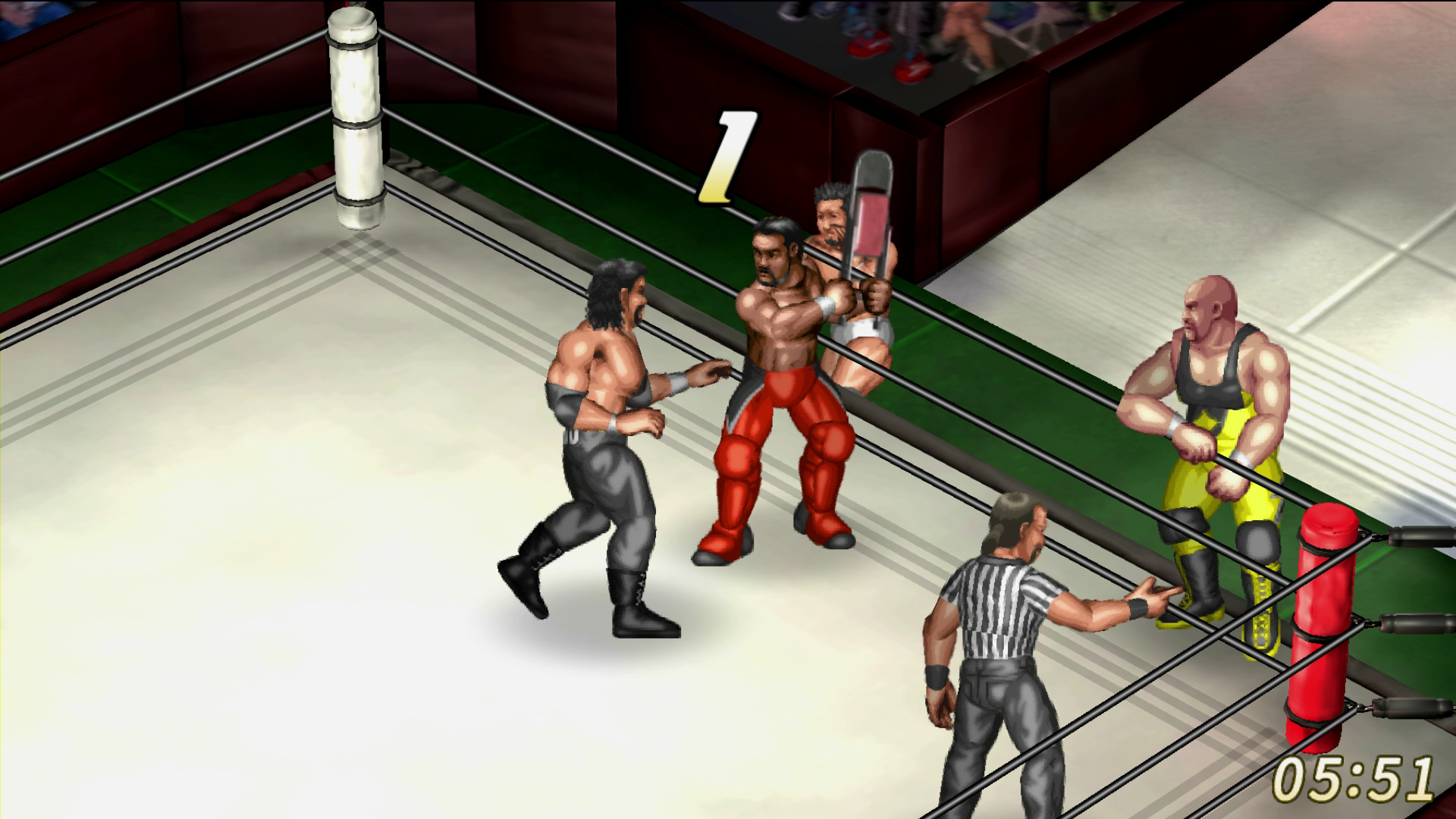 Don't be fooled by the basic-looking 2D graphics here, the simplicity of Fire Pro Wrestling World is one of the things that makes it such a great game.
Fire Pro Wrestling World was published by Spike Chunsoft in 2018, which technically makes it an eighth-generation game.
However, among the few options that there are to choose from, it remains one of the best wrestling games for PS5.
The series started as far back as 1989, five years before the PlayStation even became a thing. At its core, this more recent release is still the same as the first version that was released.
FPWW is as old-fashioned as it gets, which is a good thing if you want a break from the WWE titles that have pretty much taken over the genre for many years now.
Here, you don't even get a heads-up display for stuff like stamina or health, which means you have to use your intuition and visual cues to see when your fighter is about to be laid flat.
There are no specific buttons for signature moves or finishers, and the button combos that you use for light, medium, and heavy attacks vary from wrestler to wrestler.
You do get a tutorial function that's hidden away somewhere in the menus, and I strongly advise that you use it to familiarize yourself with the game especially if you're used to the 3D alternatives that offer a different perspective and almost completely different gameplay.
One thing that I think most people will enjoy on FPWW is the deep customization options available for building your wrestler. There are so many things that you can adjust if you want to, and it's fun to play around with it for a bit.
There's no dedicated upgrade for the PS5, but you will notice faster loading times and generally improved performance in matches. 8-person matches in particular seem to run much better than they did on the PS4.
Summarily, if you want a different experience from the familiar gameplay of WWE games, then give Fire Pro Wrestling World a chance.
WWE 2K Battlegrounds
2K Battlegrounds is another attempt to offer a more casual, light-hearted take on the wrestling genre.
The game was published by 2K Games in 2020, but it just missed out on the release of the PS5 by a couple of months.
As you may have guessed from the picture that I attached, the approach here is an arcade, over-the-top alternative to the more polished and realistic 2K titles.
It was a period of change for 2K Games with the coronavirus epidemic, the change in developer from Yuke's to Visual Concepts, and the underwhelming reception that WWE 2K20 received.
These factors contributed to the decision to skip WWE 2K21, so 2K Battlegrounds was efficiently the only release from 2K Games for the wrestling genre in that period.
The characters here are exaggerated, cartoonish representations of past and present superstars who, for some reason, do not obey the laws of gravity or physics as a whole and can execute some inhuman moves.
From the start, you already have a wide variety of these characters to choose from, from Randy Orton to Hulk Hogan.
However, you only get 24 out of 70 playable characters for free from the start, the rest have to be unlocked with Battle Bucks (earned by playing the game) or Golden Bucks (real money)
There are a couple of modes for different moods, including the Exhibition mode, Battleground Challenges, and King of Battlegrounds.
In Exhibition mode, you can play singles matches, tag team games, the Royal Rumble, or cage matches.
In Battleground Challenge mode, you can build your own superstar, fighting your way from the bottom to the top of the hierarchy.
In King of Battlegrounds, you can match up with other players online in a Royal Rumble format game where everyone is competing at once to be the last man standing.
There are also mini-games and daily challenges that add extra content to the game, so it's fairly loaded in that regard.
It's hard to see why anyone would choose 2K Battlegrounds over the alternatives available on this list, but it can actually be a fun experience on the PS5.
WWE 2K19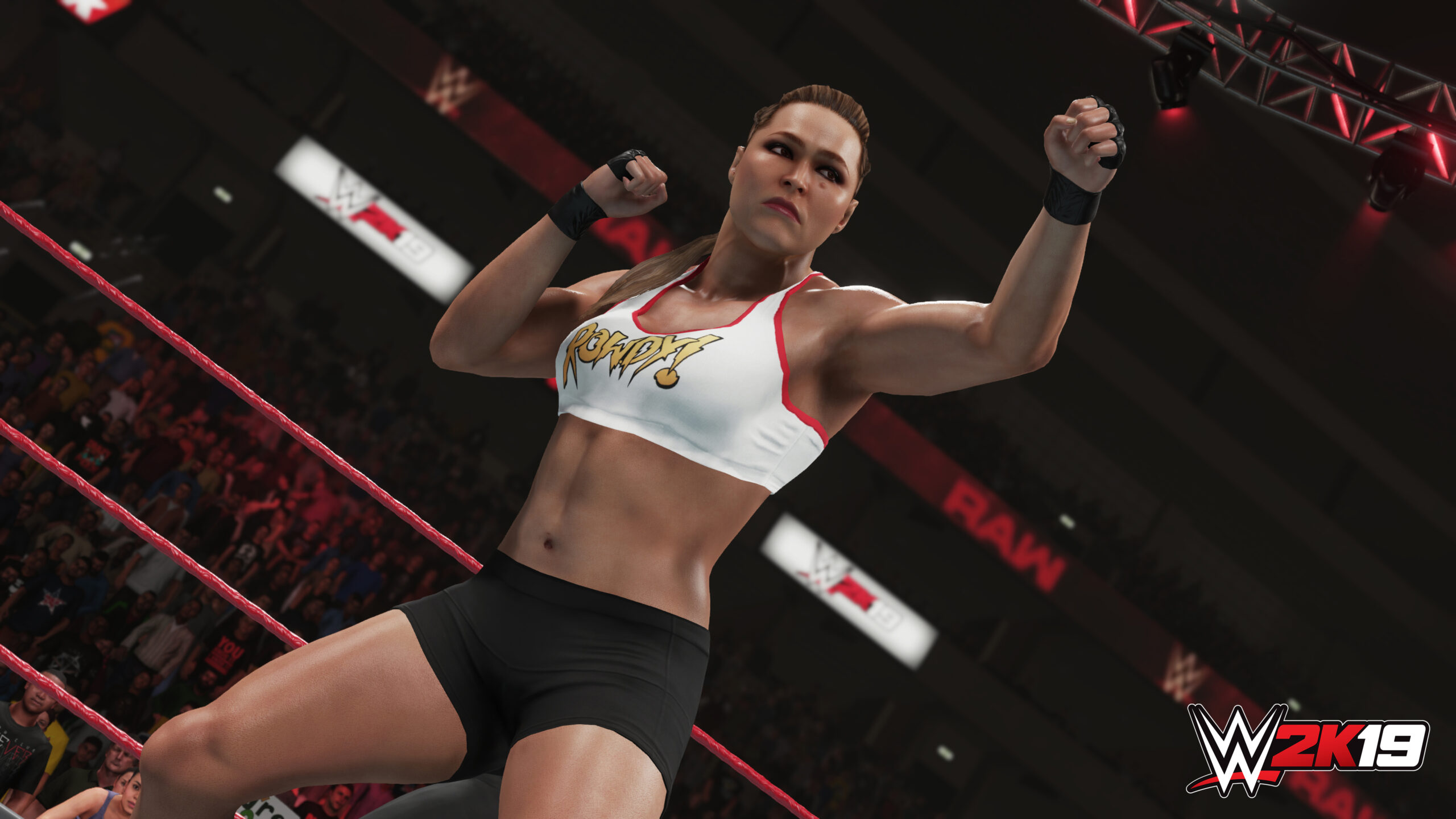 We're on to the big boys now, the annual wrestling game release from 2K Games.
WWE 2K19 was the last WWE game to be developed by Yuke's, and it was released worldwide on October 9, 2018. Importantly, we're not saying this is the newest version of the game, they just have different developers now.
At the time of its release, it was the best wrestling game out there.
With the release of ninth-generation consoles, 2K19 is still holding up well and remains one of the best wrestling games for PS5.
In fact, some gamers still prefer the gaming experience on 2K19 to the more recently released 2K22, and that's why both titles are on this list.
Each one offers something slightly different from the other, and where there are performance gaps in one, the other seems to do better.
For instance, WWE 2K19 has a better roster than 2K22. There are updated characters on 2K22, but the variety in selection is better on the older version. Characters such as Rick Rude, Lita, and Mr. Perfect were enjoyable to use on 2K19 but are no longer part of the game on 2K22.
Additionally, Universe Mode on 2K19 is an altogether better experience than the newer version.
A less noticeable thing on WWE 2K19 was the fact that face paint would break and fade as the match wore on, for wrestlers that had them.
Little bits of detail like that add to the immersion and realism of the game, and they form part of the reason why WWE 2K19 is simply the best wrestling simulation game even after the release of 2K22.
WWE 2K22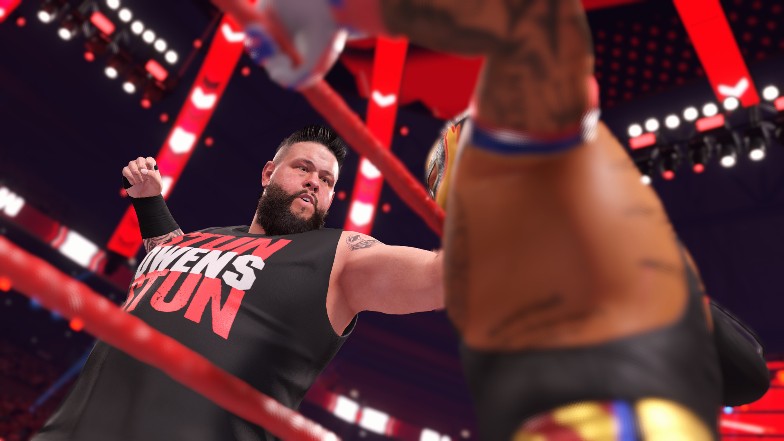 WWE 2K22 was the first wrestling game to be released by 2K Games since the launch of the PS5. The game was published almost two years after 2K Battlegrounds and three years after WWE 2K20.
It is also the first from the series with no involvement of the developer, Yuke's. To an extent, this shows because there is a noticeable break away from the "simulation" approach to a more "arcade" experience on 2K22 compared to Yuke's 2K19.
This could be a good or a bad thing, depending on what your taste is. Some people don't care for the more realistic experience and just want a fast-paced wrestling experience, and vice versa.
Apart from updated characters, WWE 2K22 also includes updated graphics, a redesigned gameplay engine (for that arcade-style experience), new controls, the return of MyGM mode, and MyRise mode.
As far as content goes, 2K22 is absolutely loaded. There is so much to do, so you should be getting many hours of non-repetitive gameplay easily if you want.
MyGM mode has not been available since 2008's WWE Smackdown vs. Raw, and it was a fan favorite back then.
You take on the role of General Manager which puts you in charge of running the show. You can also play MyGM mode online with friends, which is nice.
MyRise is what used to be MyCareer on older titles, so this is where you want to go to take charge of the rise of a wrestler's career in WWE. You start off by creating your wrestler and go on to begin your journey to superstardom.
Finally, WWE 2K22 is the best-looking wrestling game for PS5 as it supports 4K resolution and 60fps, much better than what you get with any of the previously discussed titles.
Final Words
I long for a time when WWE is not without real competition for wrestling games on consoles.
I just think there are many issues that have been apparent for years and are yet to be fixed because there is no one to keep them on their toes. For now, we'll do with the annual 2K titles while we wait and pray for the savior to arrive.
Meanwhile, if you enjoy fighting games, click that link for our guide to the best options on PS5.