So you've got yourself a shiny new PlayStation 5, and you're looking to fill it with some great medieval games? I love medieval fantasy, and I know I'm not the only one. Whether you like medieval fantasy, historical games, or both, you might find what you are looking for in this list.
I put together a bunch of medieval games, from realistic to fantasy ones, that we think will keep you entertained for hours and years to come.
Here, you'll find everything from role-playing games to first-person slashers and even some fighting games on this list. The idea is to cover all angles, so it really depends on what kind of mood you're in when picking one up to play.
You might not agree with all games that I added to the list. However, I hope you'll at least find a new game to enjoy. That being said, here is my list of the best medieval games for PS5.
Kingdom Come: Deliverance
Kingdom Come: Deliverance is an open-world RPG with a narrative focus. This game is about an epic journey throughout the Holy Roman Empire.
In this game, you play as Henry, a blacksmith's son, who will battle hostile forces and finish defining objectives. He will have to make several important decisions while seeking to avenge the deaths of his parents.
The combat in the game is challenging and can be brutal.
However, after practicing, you will be able to execute combinations, develop skills, gain advantages, and enhance items while using the weapons you want.
Since Kingdom Come: Deliverance takes place in a dynamic universe, your decisions and deeds have an impact on the world. Actions taken in the game will change the way other characters interact with Henry.
The game's devotion to the historical accuracy of medieval Europe makes for an engaging experience. It takes a lot of work on the writers' part to create believable and genuine characters, especially when they lived in a different period than ours.
Both the main story and the secondary plots effectively incorporate allusions to historical events. Players don't even need to think very hard to see how political events are directly related to what happens to regular people.
Dragon's Dogma
The player assumes the character of the Arisen, a human protagonist in the high fantasy setting of Dragon's Dogma. This character is on a mission to slay the dragon Grigori, who is said to be the sign of the end of the world. However, as time passes, a larger scheme will be revealed.
Dragon's Dogma: Dark Arisen offers a satisfying action combat experience while taking place in a large open world. Together with three AI friends known as Pawns, players set out on a grand adventure in a vibrant, living universe.
The combat is one of the best features of this RPG game. The many classes and secondary classes provide many different ways to enjoy the game and eliminate your enemies during dungeon crawls. Compared to most fantasy games, Dragon's Dogma's battles are far more immersive. For instance, your player must climb giant enemies in order to properly fight them.
For example, when fighting dragons and monstrous cyclops, getting on those beasts is a great way to deliver more damage and weaken the foe. This mechanic alone gives this power fantasy a very cinematic and distinctive vibe.
A Plague Tale: Innocence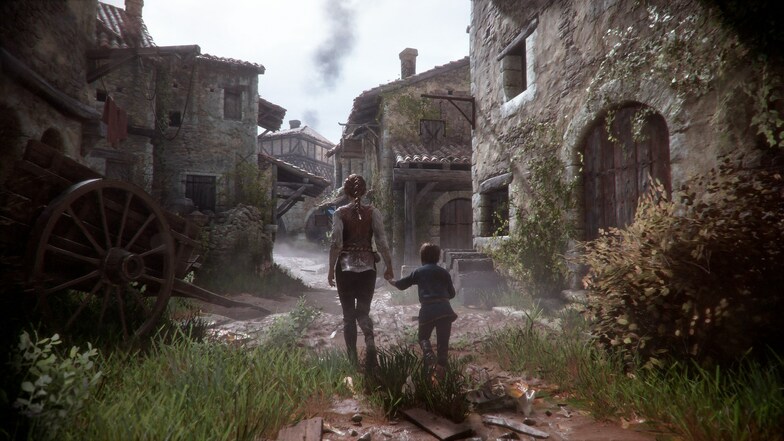 The French Kingdom is devastated by the plague. The Inquisition is pursuing Amicia and her younger brother Hugo through villages that have been decimated by the plague.
Along the way, they will need to cooperate with other kids to use fire and light to escape the swarms of rats. They will fight to survive while facing terrible horrors with just the bond that connects their fates.
If it wasn't clear by now, the plot of the game follows young Amicia and her younger brother Hugo as they travel through some of history's darkest periods.
Hugo and Amicia will learn to rely on one another as they are pursued by Inquisition soldiers and encircled by armies of unstoppable rats. They will attempt to make sense of this harsh reality as they fight to survive against impossible odds.
A Plague Tale: Innocence is a fantastic game with a captivating narrative that makes you immediately interested in what is to come.
Unfortunately, the game's ending is a bit controversial, and not everybody seems to have been on board with it. When it comes to gameplay, you can unlock additional abilities, so you can better handle challenges like riddles, soldiers, or even little mice.
Demon's Souls
Demon's Souls was the first souls game. Luckily, Bluepoint Games came out with a new version of the PlayStation classic. This new version of Demon's Souls is a PlayStation 5 exclusive. This remake, which was completely redone from scratch and upgraded, introduces a new generation of gamers to the horrors of this shadowy, misty dark fantasy world.
With breathtaking visual quality and outstanding performance, those who have already overcome their difficulties can now triumph over the dark once more, but now with Triple-A graphics.
King Allant, the 12th King of Boletaria, used the ancient Soul Arts to channel an ancient demon known as the Ancient One. This was a foolish action driven by his desire for supremacy. The lands were overtaken by a mist that brought horrific creatures looking for human souls due to the Elder's invocation.
Others whose souls were torn out lost their sanity, leaving them with no choice but to attack those who had retained their sanity. Anyone whose souls were torn out lost their mind, leaving them with nothing except the want to attack those who had kept their consciousness.
Dark Souls Remastered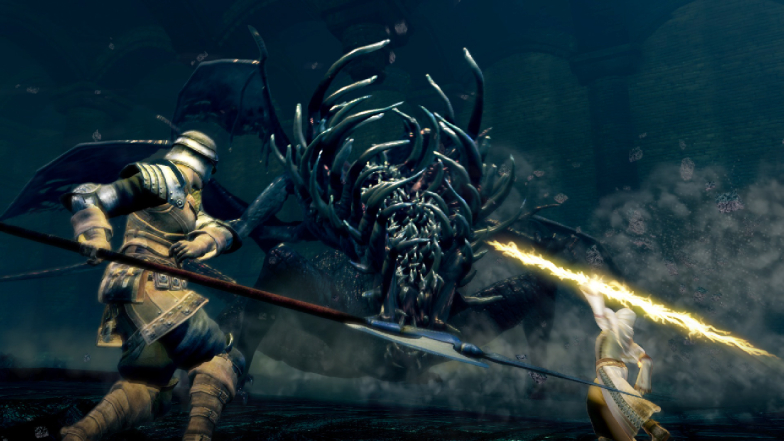 Dark Souls is so fantastic that I don't need to even say anything about it, and it's been remastered multiple times.
It also contains some of the best boss designs in video games, a connected environment with closed passages, and a combat system that requires trial and error. Additionally, FromSoftware was able to create one of the best dark fantasy settings ever, thanks to the plot behind the chosen undead's journey.
That said, although Dark Souls is known for its story, it was the gameplay that made everybody pay attention to it. This game is a spiritual successor to the original Demon's Souls. Many say that it is a vast improvement upon that game, although many players still prefer the older one.
Either way, this game solidified FromSoftware's legacy and was pretty much responsible for the creation of an entire genre.
Elden Ring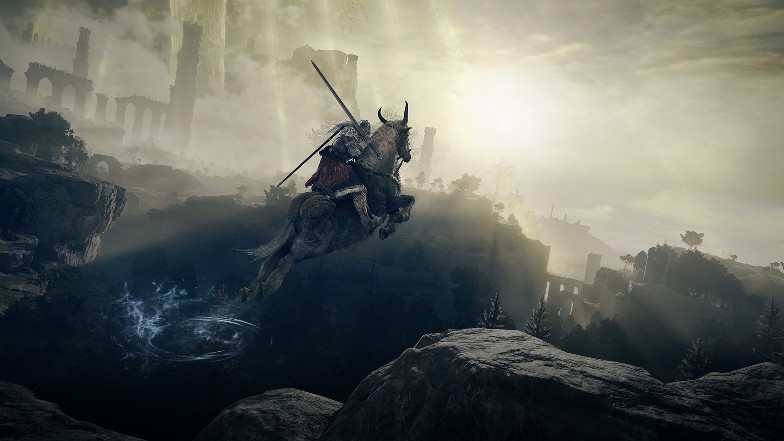 Elden Ring is the spiritual successor to Dark Souls, just as it was to Demon's Souls.
The game has a layered story, told in fragments. Players control a resurrected hero in an epic drama where the characters' various thoughts intertwine in the Lands Between. Now, in order to use the Elden Ring's power and become an Elden Lord in the Lands Between, the Tarnished must rise and follow the guidance granted by grace.
Elden Ring is a huge game with a lot of content in it. At first, you will probably spend some time wandering early on and trying to figure out what is going on and what you are meant to do. However, it doesn't mean that you will not be doing something while you figure it out.
You see, Elden Ring is a game in which you never stop finding new things. Exploration is a huge part of the gameplay, but it works well because the game always has something new and exciting to show you.
In the gaming business, Elden Ring marks a turning point. Hidetaka Miyazaki created a masterpiece in the world of gaming.
Going directly against what was considered the best way to make high-budget games, FromSoftware's team focused on making the game they wanted to make. As a result, we got something new and different from most gamers except those already into Dark Souls. Elden Ring stood out in a sea of similar games with different themes and became a worldwide success.
The Elder Scrolls V: Skyrim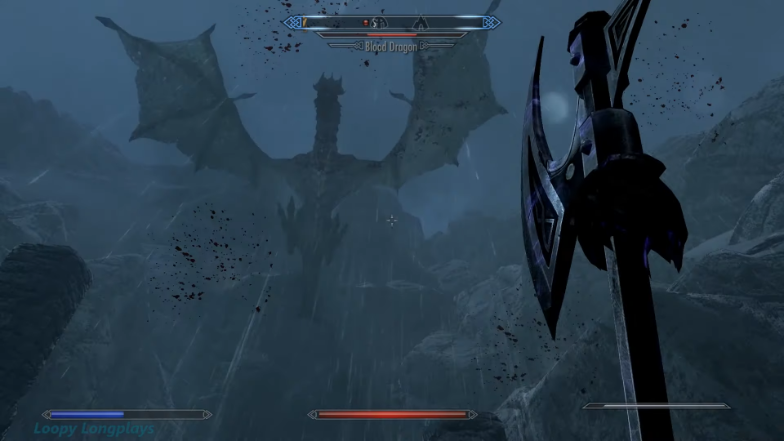 Dragons that were extinct in the Elder Scrolls due to the passage of time have now resurged in Tamriel, and the fate of the Empire is now in jeopardy. You are the only person who can stand between them because you are a Dragonborn, the legendarily powerful hero with the power of the Voice.
Skyrim is the fifth chapter of the acclaimed Elder Scrolls saga. This open-world fantasy epic adventure, created by Bethesda Game Studios, is a vast virtual environment that you can explore however you like.
The world of Skyrim is truly open for you to explore and interact with. So much so that it is not unusual to get lost in random dungeons and side quests. I often forgot about the main story from time to time.
There is so much freedom in this game that it sometimes becomes hard to believe. I'm not just talking about traveling around and visiting NPCs. You can fight in a tavern, make friends, get married, and even adopt kids if you want to. In fact, most of the fun in Skyrim is messing around with the secondary quests and NPCs.
Skyrim originally launched a long time ago, so most people probably have played this game by now. If you didn't, just go ahead and try it out. The Anniversary Edition that was published in 2021 offers a nice refresh.
Crusader Kings III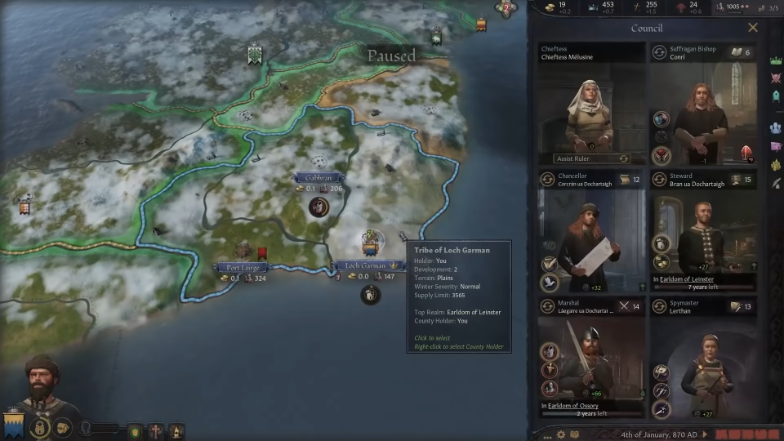 Crusader Kings III is the third installment in Paradox Development Studio's well-liked Crusader Kings series. It continues the game's well-praised fusion of immersive tactics with intense, dramatic medieval role-playing.
War is but one instrument among many for constructing your kingdom, for real strategy demands a sharp knack for diplomacy, a mastery of your realm, and great intelligence. The idea of this game is that you have a legacy to build. In a multigenerational Middle Ages tale, pick your noble house and guide your dynasty to glory.
Take control of your household and grow your dynasty in a carefully researched Middle Ages. To build a kingdom deserving of your royal lineage, begin in 867 or 1066 and seize territories, titles, and vassals.
Your dynasty continues with new playable heirs, whether they be planned or unexpected, so your passing is but a blip in the grand scheme of things. You can educate your heirs or prepare them with the necessary instructors.
This is a historical strategy game about managing a kingdom. It might not be everyone's cup of team, but it is seriously good at delivering what's promised. If you want something closer to reality and like medieval themes, Crusader Kings III might be a game you'll enjoy.
Soul Calibur VI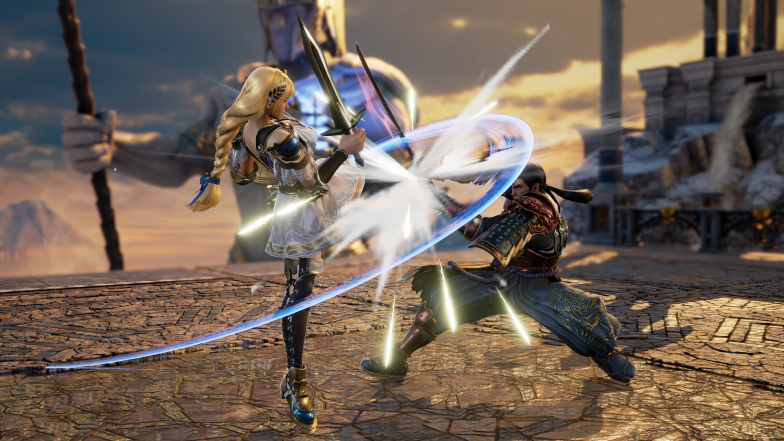 With a vast roster of well-known fighters, Soul Calibur VI is perhaps one of the best medieval games to make its way onto Sony's new system. The latest installment in Bandai Namco's long-running fighting game series, Soul Calibur VI brings Geralt and other fan favorites to join forces against another powerful threat.
Soul Calibur is a fighting game, and it has always focused on quality gameplay above all else. That same commitment remains in the sixth installment of the series. Fights become much more deliberate but also more nuanced as players take full advantage of every weapon's movement and new mechanics that change how players deal with each situation.
Soul Calibur VI is simple to play and enjoyable for new gamers. But underneath this accessibility, there are combat skills that you must master if you want to triumph in online games. To use those strategies accurately, practice is necessary.
It will take some time for you to catch up to the online players because, like in other fighting games, they have been working hard to improve their skills. However, once you do, there is no higher thrill than taking on other players and growing with each game.
Dragon Age: Inquisition
Dragon Age has come a long way since Origins.
The realm of Thedas has never been more extensive and more intricate than it is in Dragon Age: Inquisition. This game provides a rich open world that is ready for you to explore and travel through. Since Thedas is immense and dangerous, learning its secrets can be the difference between success and failure.
In this game, you will find all kinds of dangers, including enemies that we've seen in older games and monsters that hide in caverns and wait to strike.
In this game, you do much more than choosing who to send to which battle. Every decision has consequences, and what you do might have a variety of effects. You make crucial choices that affect how Thedas will look like in the future.
Each player will experience a different Thedas in their playthrough.
Not only that, your heroes are genuinely unique since the Inquisition is a highly customized adventure. In fact, one wrong step can set off a chain of events that changes even the planet's physical characteristics.
There is basically no incorrect way to play Dragon Age: Inquisition as long as you manage to progress.
The strategic view option in combat gives the advantage of a battle overview, which can be quite beneficial in trying circumstances. Inquisition's battle system sometimes makes it feels a bit like an action game. Yet, it doesn't take long for the RPG elements to reveal themselves.
Dragon Age Inquisition is a fantastic medieval fantasy adventure worth trying out, especially if you are fond of older western RPGs.
Chivalry II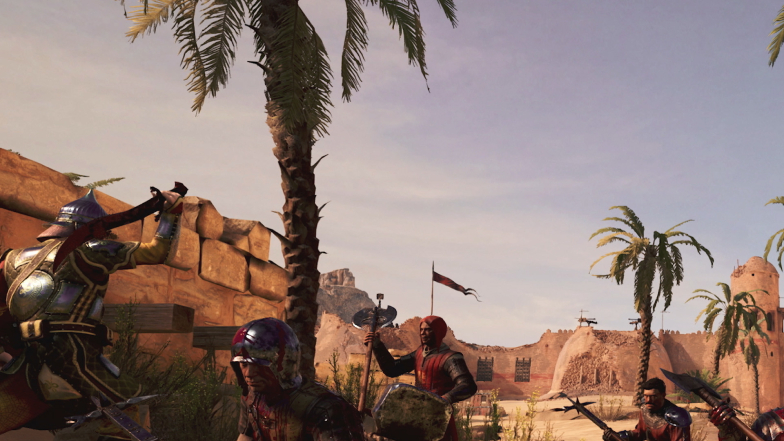 The first-person melee multiplayer game Chivalry 2 was influenced by grand historical battle films. Every famous scene from this time period is brought to life for players, including castle sieges, fiery arrow showers, and sword battles. If you want medieval mass combat, there is no way to go wrong with Chivalry 2.
When Chivalry 2 is at its most significant and most engaging moments, it features two teams of thirty-two players engaged in an intense, immersive battle.
This game seems to have a very high skill ceiling and a ton of emergent strategy. You can hear the clash of steel, the screams of troops fighting for their lives, and the fierce party pride of all soldiers involved. It's an experience like no other.
You can somewhat modify your experience in Chivalry II. You must gain XP during gameplay to unlock all the subclasses available for each of the game's 4 unique classes. Since each class has 3 subclasses, unfortunately, you are limited to 12 builds. However, this seems like a lot of different ways to experience the game.
A Chivalry II match is incredibly entertaining, but such games might not retain enough players to keep that going. I genuinely think most people would enjoy this game, even if they are new to the melee slasher subgenre. In my honest opinion, not taking Chivalry II seriously makes it even more fun. I know I had a blast with it.
Assassin's Creed Valhalla
This is one of the longest Assassin's Creed games out there. You might take a few weeks to finish it. I'd say that the only way to complete Assassin's Creed: Valhalla in less than 14 days is, of course, if you just do it and don't do anything else for the entire two weeks.
The game's primary campaign is quite lengthy, and there are plenty of obstacles, minigames, and treasure hunts to uncover. It also features extensive main quests and side quests.
The opening hours display a Nordic map with snow-covered mountains, frozen lakes, and enormous waterfalls. The number of things you can do in Assassin's Creed Valhalla's maps is ludicrous.
The player never runs out of things to do, which can sometimes be overwhelming. Assassin's Creed Valhalla doesn't really stray from the Odyssey or Origins. However, although it plays a lot like those two games, it accomplishes everything better than its predecessors.
Insidious Creed Since I wasn't really expecting much from this franchise, Valhalla's high quality surprised me quite a bit. Though there are numerous cliches and issues with the script, the story is still entertaining. The game appears to do a fantastic job of accurately portraying what life was like in the Dark Ages. On top of that, this game has excellent combat and the flexibility to travel anywhere. It should be a fun experience for anyone looking for a medieval story.
Middle-Earth: Shadow of Mordor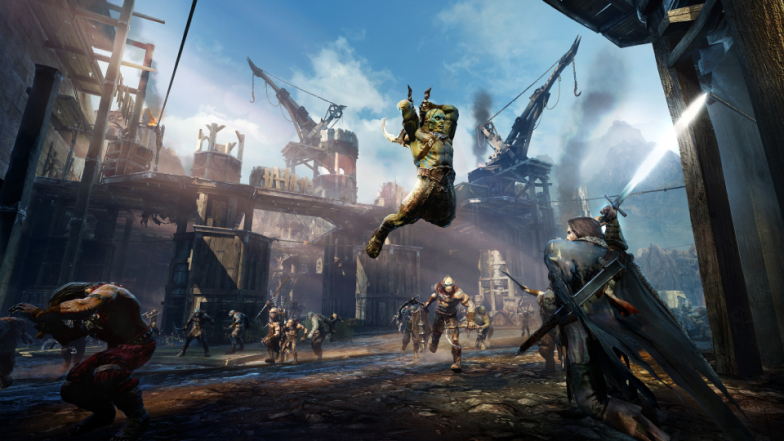 Middle-Earth: Shadow of Mordor is a third-person action role-playing game that takes place in the world created by J. R. R. Tolkien. This game is intended to bridge the gap between The Hobbit and The Lord of the Rings.
It is a tale of vengeance, bloodshed, and mystery that takes place exclusively in Mordor, the Land of Shadows. In this game, players control a ranger named Talion.
Talion was a regular man. One day, everything was taken from him, including his earthly life and family. The ones responsible for it were the forces of Sauron. From that moment, Talion becomes a revenant and emerges from the grave to exact revenge on those who brought disgrace and tragedy into his life. However, he is only able to do that thanks to Celebrimbor, a tremendously powerful and dangerous wraith who is now living inside of him.
This game is an open-world action game with various role-playing game features, including experience points and skills. Talion's adversaries will get stronger as you advance through the game, but so will he. They will even remember Talion if they defeat him since he keeps coming back from the dead to finish them off. Thanks to Celebrimbor, Talion possesses several Wraith skills that provide the power to face dozens of orcs on his own.
The Witcher 3: Wild Hunt
In The Witcher 3: Wild Hunt, you play as Geralt of Rivia, a professional monster hunter. In a vast open world full of trading cities, pirate islands, treacherous mountain routes, and forgotten caves to explore, Geralt is looking for the child of prophecy. This open-world medieval fantasy setting of this role-playing game is plenty of decision-making opportunities.
Every decision you make matters, and some choices can significantly alter the course of the game. The NPCs you encounter are all engaging and well-developed. After completing a quest, you always wind yourself knocking into objects from another location or discovering antiquities, books, and other intriguing and unexpected items.
The quests have repercussions that make you constantly question whether you made the correct decision or not, but you quickly discover that there isn't always a right or wrong answer. The combat is somewhat reminiscent of the last game. There was an attempt to make combat dynamic and smooth. Yet, you should constantly seek out and take advantage of your opponent's weaknesses instead of just trying to swing your sword.
This is one of the most well-received RPGs for PS5 and is part of a beloved series of books. The Witcher is a mandatory series for fans of medieval fantasy.