There are a bunch of really good sports games on the PS5. However, one sport that has historically been getting very little love from developers on the PlayStation platform is bowling.
I dug as deep as I could and was only able to come up with a small number of options for decent bowling games.
Technically, this list will show you the best bowling games for PS5, but you can also treat it as a guide for the PS4 too.
Brunswick® Pro Bowling
Genre: Sports
Developers: FarSight Technologies
PlayStation Release Date: November 23, 2015
Buy from: PlayStation, Amazon
Multiplayer: Local multiplayer
Average Playtime (Main Story/Objectives): N/A
Brunswick Pro Bowling was initially developed and published by Farsight Technologies for the Nintendo Wii, PS2, and PlayStation Portable back in 2007. At the time, PS2 games were all the rave, and developers were churning out new titles all the time.
Since then, it's been adapted to various platforms with a few significant gameplay changes.
The best part of the game is its realism. Nice sound effects accompany a realistic spin when you roll your ball, and the way the pins fall and slide when the ball hits them looks pretty real too.
Graphics-wise, there's not much to see. You choose a character and as the game progresses and you continue to win, you can alter the appearance of that character with a change of clothes to freshen things up.
However, the character does not really participate in rolling the ball, which is slightly disappointing as far as being realistic goes. It just reacts to the result of each throw, and that reaction varies based on the result of the throw.
There are three game modes in Brunswick Pro Bowling: Single, Multiplayer, and Tournament Mode.
The Multiplayer mode allows up to three additional teammates at a time, while the tournament mode is a journey where you start as an amateur and steadily progress to become a professional player over a year in the game.
There's a lot of stuff to do in the game, which is always nice for ensuring it doesn't get boring too quickly. Over 200 career achievements are waiting to be unlocked, and long hours of play get rewarded occasionally.
You can also earn coins and use them to upgrade your equipment or unlock new bowling balls that give you an advantage. This makes the whole experience a bit more varied and fun.
Objectively, this is a decent game overall, but it's nothing special. However, the scarcity of quality in the genre makes this one of the best PS5 bowling games at the moment.
Crazy Strike Bowling EX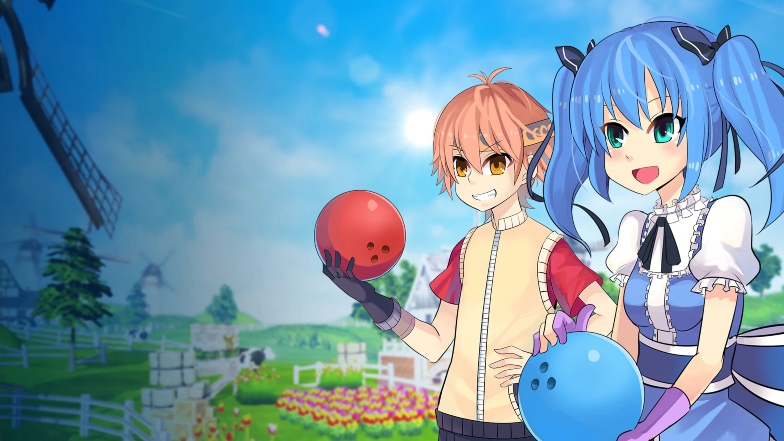 Genre: Sports, Simulation
Developers: Corecell Technology
PlayStation Release Date: May 25, 2016
Buy from: PlayStation
Multiplayer: Local multiplayer
Average Playtime (Main Story/Objectives): N/A
Crazy Strike Bowling EX was originally developed and published by Corecell Technology for the PlayStation 3 before getting a PS4 adaptation with an entirely new graphics engine in 2016.
Corecell Technologies have tried to do something different from your standard bowling alley game. It's a lot more vibrant and colorful than the others, and it's anime-inspired.
The costumes and overall anime game vibe make it a unique experience, even though the gameplay itself is fairly standard – you try to hit the bowling pins by gauging the power and accuracy of your throw as well as you can.
You can play alone or with up to three other people, and unlock new locations to bowl in by beating the target scores that you're given. The locations are more fantasy than realism (who goes to a crystal mine to bowl?!) but this adds some extra flair to the game.
There's a "versus" mode where you play against one other player and each person tries to knock down the highest number of pin sets faster than the opponent.
There's also a "challenge" mode where you're given specific scenarios with varying levels of difficulty, but they're not as innovative as you'd expect.
Again, if this was a gaming category with a ton of options, Crazy Strike Bowling EX probably wouldn't cut a review of the best PS5 bowling games. However, it's got more character and is slightly better than Brunswick Pro Bowling in my opinion.
PBA Pro Bowling
Genre: Sports
Developers: FarSight Technologies Inc.
PlayStation Release Date: July 9, 2022
Buy from: PlayStation
Multiplayer: Local/Online multiplayer
Average Playtime (Main Story/Objectives): N/A
PBA Pro Bowling is the best of the lot in this genre of limited choices.
For the PS5, you want to go with PBA Pro Bowling 2023 as it is the most recent iteration of the series.
With this game, FarSight Studios has fine-tuned many of the things that they didn't do so well with Brunswick. There's a nice blend of good graphics, gameplay, and customization options that make this a solid game overall, even outside of its category.
The game uses the characters of real professional bowlers, and as far as looks go, they're spot on. These pros also have unique styles of bowling to match how they throw in real life, but that's something you'll notice only if you're a real bowling aficionado.
Gameplay is decent too. You're not able to change the camera angles, but the default one works well enough. There are different types of lanes with different oil patterns that will affect how accurate your throw will be.
This will take some getting used to as you figure out which types of balls are good for each type of lane, which type of spins work best for each, and the amount of power you need to generate behind each throw. It will take some doing, but it adds to the overall realistic nature of the game.
There is a variety of in-game equipment and bowling balls that you can add to your inventory, and each one has different attributes that make them uniquely useful for specific situations.
In my opinion, this is the best bowling game for PS5.
Final Words
Whilst this isn't the most exciting review I've ever done; bowling is hardly the most exciting sport. I apologize if you love it and I've touched a nerve.
Due to the limited number of options here, I recommend checking out other sports games – I'm pretty sure you'll find something that you like.