Hack-and-slash games are less about the depth of thought of the player and more about how quickly you can smash those gamepad buttons to execute melee attacks on the horde of grotesque-looking monsters stumbling toward you. They're a lot of fun and are great for simply passing time.
To be fair, game developers within the genre have been trying to do more with the rest of the gameplay mechanics and in some cases, the storyline of these types of games. It's a welcome change, as long as the key components are not forgotten – to hack and to slash. Haha.
Anyway, there are some pretty solid options on the PlayStation Store, so I've tried to compile a list of the best hack-and-slash games for PS5. Some of them have more depth, but the one thing that they all share in common is the passion for violence and gore – the stuff that you and I love to see. Let's get into it!
Middle Earth: Shadow of War
When Middle Earth: Shadow of War was first released in 2017, the potential of the game was clear to see, but there were nagging issues that stopped it from fulfilling that potential.
Fast-forward to a series of updates, and then the release of the PS5. Not only have many of those issues been ironed out, but the advanced technology of the PS5 also brings with it a couple of extra perks that make the gameplay wholly more satisfying in backward compatibility mode.
Shadow of War is a sequel to the first version of Middle Earth, which was titled "Shadow of Mordor". The sequel builds on the already interesting premise and the world of the debut title, but you are still playing as the undead ranger, Talion, whose family was murdered (alongside himself) by the Dark Lord Sauron.
Talion shares his undead body with a powerful elven warrior, and in Shadow of War, they both set out to complete missions and objectives that will see you come up against some truly grotesque-looking creatures.
Away from the missions, the open world of Shadow of War gives the game far more depth. If you're familiar with the Lord of the Rings franchise, then you'll see some elements reminiscent of that famous title here.
On the PS5, even though there is no special dedicated version, the game runs more smoothly, loading times are notably quicker, and detail generally looks sharper than on the PS4.
It's not the best-looking game out there, but it's a pretty enjoyable one and one of the best hack-and-slash games for PS5.
Tales of Arise
Tales of Arise is a hugely popular title among lovers of role-playing games on consoles. It was already very well received at launch, but it has improved leaps and bounds with the PS5 version.
The game is one of a sparse number of big-budget Japanese Role-playing games, and it lives up to that budget with brilliant graphics, fantastic gameplay, and loads of quality content.
Hack-and-slash games generally place emphasis on the immersion, variation, and inventiveness of combat and combat weapons, but it is also nice when that's not all the game is about. Here, Tales of Arise follows stellar hack-and-slash qualities with a well-put-together storyline.
Your character, Alphen, is a man that starts out as a slave to a race known as the Renans after they conquered Alhpen's home planet, Dahna, 300 years earlier.
It was not enough that the Renans conquered Dahna, as they used their technologically advanced tools to "milk" the planet and the inhabitants of its valuable resources.
Alphen's initial struggle is to break away from slavery, but when he meets a woman called Shionne, they decide that working hand in hand can bring even better results. Together, they try to fight back against the Renans.
As the game progresses, you learn new skills, upgrade your company and yourself, find new weapons and equipment, and fight against increasingly difficult enemies. It's everything you'd expect from a hack and slash, but all very nicely executed, particularly on the PS5.
The PS5 version really makes the excellent art direction on the game shine through where it slightly faltered in previous versions. Graphics are much improved – lighting is better, details are far sharper, and even some enemies have been fully recolored for improved realism.
It's clear how much of a positive impact the hardware on the newer console has made, and that's a key reason why Tales of Arise is one of the best PS5 hack-and-slash games out there.
Nioh 2 Remastered: The Complete Edition
After its initial release by Sony Interactive Entertainment in March 2020, Nioh 2 was one of the titles that got a shiny new remastered edition upon the release of the PS5 later that year.
Nioh 2: The Complete Edition was released in early 2021, soon after the PS5, and it arrived with upgrades such as a full 4K presentation, and a smooth framerate of 60fps. If you own an HDMI 2.1 display, you can boost that number up to a massive 120fps which is just ridiculously smooth.
A quick memory refresh of what the game is about, Nioh 2 is a sequel to the first Nioh. I mean, technically it is a sequel because it was released after, but story-wise, the game is a prequel to the events of the original.
The story is set in 1555 Japan, a time when Oda Nobunaga sought to unify the country as one nation. Your character is a demi-god who was birthed through the coming together of a human and Yokai. You are expected to use these powers to channel the souls of Yokai and use them in battles against the enemies of Nobunaga's army.
Away from the main mission, you can also put together a team of your own that can help you out with side quests. These side quests are very useful for picking up new gear, so be sure to get as many as you can sorted out.
Apart from the visual upgrades, another perk of this complete edition on the PS5 is the fact that it comes with all the downloadable and expansion content that was released in batches since the initial launch of the game in 2020. Not that you need any more convincing.
Monster Hunter: World
Monster Hunter: World was published by Capcom in 2018, so it is not exactly a new entry, but the developers have taken advantage of the new features on the PS5 to build upon the success that it already enjoyed on the previous old-gen console.
The name pretty much gives away the premise of the game. Your character is a hunter in the wilds of the fantasy world, Astera.
Astera is full to the brim with an assortment of terrible monsters with peculiar abilities, and you're on a mission to hunt down as many as you can in the most violent of ways.
For that, you get a nice variety of weapons that are heavy-duty enough to take these monsters apart in ground or aerial combat, but you're also an advocator for zero wastage, so you can put the body parts of the dismembered beasts to good use.
Parts such as teeth, skin, and claws can be used to fashion new weapons for yourself, and with battles against monsters such as the Behemoth in front of you, you'll need all the weapons you can get.
On the PS4 (even the pro version), long loading times were a real hassle in Monster Hunter: World. However, these loading times have pretty much been cut in half with the more efficient SSD on the PS5, and the game runs at a smooth 60fps.
Warhammer: Vermintide 2
Of the games in this review of the best hack-and-slash games for PS5, Warhammer: Vermintide 2 is perhaps the truest to the idea of a hack-and-slash.
Whether you're popping the enemy's head with a giant hammer or devolving it into brain matter with a full revolver clip, the combat in this game is gloriously satisfying in the thousand and one ways that you can kill your enemy in the goriest manners possible.
It's also a co-op game, so if you're one that enjoys playing with friends rather than by yourself, then that's another reason to pick it up at the PlayStation store.
The structure follows up to four players fighting together through various levels filled with zombie-like monsters, and these guys are not going to let you get past without event. They're also not going to let you slash them to bits without putting up a fight, and that's what you need to do to collect the loot, level up, and earn skill points.
Vermintide 2′s PS5 update comes with a boosted 60fps framerate and 1440p resolution, and it looks much improved from the older PS4 version. Shadows are deeper and more realistic, reflections are neater, and details are sharper.
The use of haptic feedback and adaptive triggers is not fantastic, but you can still feel the effect of crashing your hammer into a ratface and many other impacts from using the various melee weapons at your disposal.
The accompanying audio design is equally emphatic, so it all makes for a really immersive and fun gaming experience.
Officially, it's an old game, but the new-gen refresh for Warhammer: Vermintide 2 makes it worth a revisit, even if you've played it before.
Chivalry 2
Chivalry 2 is a medieval multiplayer combat game from Torn Banner Studios that was initially limited to PCs. Since it was launched on consoles, it has subsequently grown to become one of the best hack-and-slash games for PS5.
I mentioned previously how you could almost feel the blows and shots in Warhammer, and you should know that Chivalry 2 is cut from the same cloth.
When your sword connects with bone or flesh, there is an immensely satisfying crunchy weight to it that lends points to the realism aspect of the game's mechanics (I'm not psychopathic, I promise).
To be honest, Chivalry 2 almost did not make the list because it feels, at times, that there is a method to the madness. There seems to be a quiet process to the chaotic nature of the battles that require a subtler approach to combat than the typical hack and slash.
However, you can still do plenty of damage with the aforementioned typical melee combo attacks, so it stays. In fact, those combo attacks are what make Chivalry 2 so much fun.
The gameplay is centered around two teams of 32 players each, and each player has their own set of objectives for each battle. These objectives vary from simpler tasks such as destroying banners to more complicated ones such as pushing siege towers. Basic team deathmatches are also quite common and are probably the most fun.
You can also play larger 40 or 64-player battles if 32 is not larger enough for you, and there's a free-for-all mode that's pretty much perfect for those larger battles.
The visual presentation of the game on the PS5 is quite polished too. It performs smoothly with no noticeable lag, and haptic feedback occasionally comes to the fore when you're executing certain actions.
Adaptive triggers are also fairly well implemented, as you feel the triggers become harder to pull when you run low on stamina. Everything just comes together so nicely, despite the fact that chaos is the very core of the game.
Ghostrunner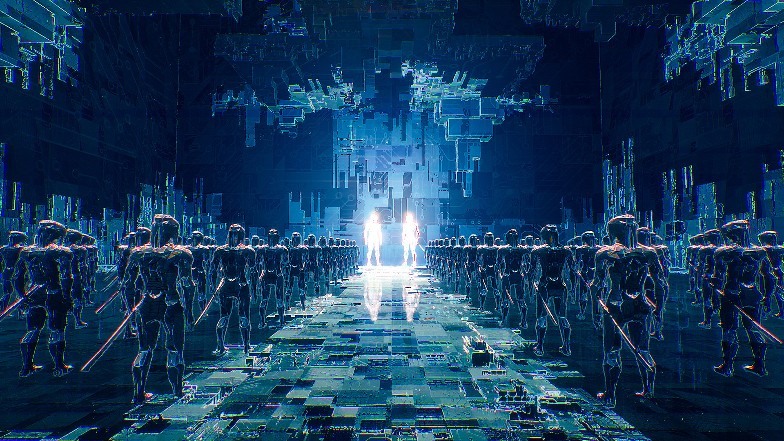 Imagine a game that's a blend of some variation of parkour and sword-fighting, and you'll have a pretty good idea of what Ghostrunner is at its core. The game was initially published by 505 Games in 2020, but the PS5 version was released in 2021.
Ghostrunner is a first-person action, cyberpunk ninja simulator. The story follows your character, Jack, who is the ghost runner that's been reawakened to bring an end to the tyrannical reign of the Keymaster.
He has a mechanical arm, a sword, and a Sekiro-style grappling hook in his weaponry – not a lot on paper, but it's enough for the mission as you face off against the lowly guards (Keys) before the Keymaster.
One thing that Ghostrunner does differently from the typical hack and slash is the fact that one hit is often enough to kill the enemy, but it is also enough to kill you. This means that you should be ready to die multiple times at each level, but at least there are many checkpoints and the PS5's SSD ensures that loading times are quite fast.
More new additions to the PS5 update include new game modes such as Assist Mode, a roguelike Wave Mode, and a Kill Run Mode. With these extras, the cyberpunk world of Ghostrunner opens up a bit more and gives you more room to explore and test Jack's abilities.
It's a bit disappointing that the DualSense controller has not been used to good effect here, but the new content and the fast-paced ninja slash-and-run concept still make Ghostrunner one of the most exciting and overall best hack-and-slash PS5 games.
Sekiro: Shadows Die Twice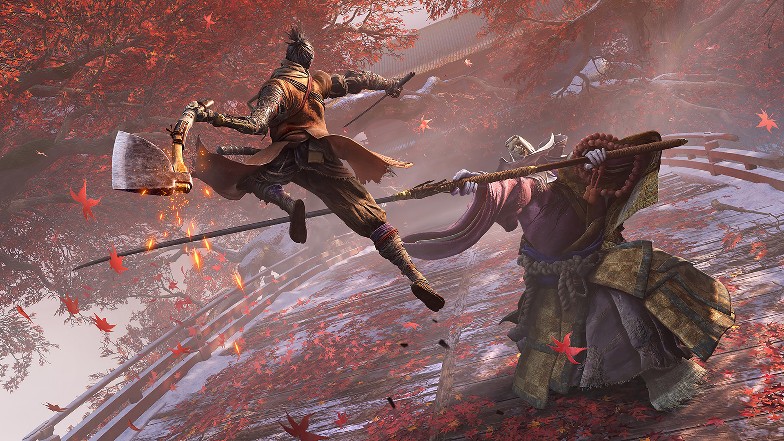 From the same publishers of Elden Ring, Sekiro: Shadows Die Twice is a brutal role-playing game released in 2019. Now, it may not be a PS5 release, but it is another one of those games whose appeal rises significantly with the new features on the PS5.
Sekiro features some of the most vicious combat of the games on this list, and the fast-paced nature of that mostly-sword-fighting combat makes it one of the best PS5 hack-and-slash games.
Unlike many other games from fromSoftware, the storyline here is much more unambiguous. Your character is a shinobi named Sekiro (also called the Wolf), and his mission is to protect a young lord named Kuro. Kuro is the heir to a powerful bloodline, and when he is kidnapped, Sekiro sets out to find him in the region of Ashina.
Over the course of his journey, you will duel with many enemies – mostly human. Now, things are a bit different from the norm here in the fact that, unlike your typical hack and slash, you're not simply trying to deplete the enemy's health bar. You're also trying to fill up their posture bar by breaking their posture.
To do this, you have to deflect attacks. These deflections stagger the enemy, and when the posture level is damaged enough, you can deliver fatal blows of your own. This does not mean that defense is the only way to win, as you still need to attack to impact the health meter too. Reducing that also increases the speed by which the posture meter builds up.
It sounds a bit more technical than it is in reality, but this is really still a hack-and-slash at its core. I mean, the enemy is also trying to do the same thing you're doing – stagger your posture, so it usually makes for a really intense battle.
The PS5 version runs at a smooth 60fps and 1800p resolution, which is still an impressive upgrade in quality for a game that was originally released in 2019.
God of War
At this point, God of War needs zero introduction, so this one should be pretty short.
The big-budget title got a next-gen update in 2021, and with it came 4K resolution and 60fps. Add on top of that faster loading times and nifty use of the PS5's new features and you have one of the best hack-and-slash games ever released on a console.
If you're a big fan of the genre, chances are you've already played the title multiple times, but this is worth a revisit with the PS5 update. There is much more detail in the visuals, and the environment generally looks sharper and more aesthetically pleasing. Even Kratos' beard is sharper!
Also, the combat in God of War is obviously its key selling point, so the fluid movement we get from 60fps makes the experience much more enjoyable. To be fair, these things were petty solid on the PS4 too, but if you play the game on both consoles, you will see the difference.
It is worthy to note that in this version of God of War, Kratos is not alone, He is accompanied by Atreus, his son, and together they set out on a mission to spread the ashes of Atreus's mother at the top of a mountain.
Seems like a simple-enough task, but it never is when you're dealing with the God of War. On your way, you will encounter several monsters, alive and undead, and the addition of Atreus really comes to the fore in those situations as it brings a new balance to the blood-red violence that was all we knew Kratos for, for a long time.
Really expected that to be very short. Oh well.
Hellblade: Senua's Sacrifice
I would argue that the experience of playing Hellblade: Senua's Sacrifice would be much improved if the title received a dedicated upgrade for the PS5, and my argument would probably be valid.
Unfortunately, we're stuck with the PS4 Pro enhanced version that was released in 2017, which is particularly annoying because there's a dedicated upgrade for the Xbox Series X. That update comes with 120fps and 4K resolution, which is just mouthwatering, to be honest.
However, I really think that the PS4 Pro version still holds up pretty well, all things considered. It is still a visually fantastic game, and the gameplay is still a lot of fun and very relevant years after the original release of the game.
Hellblade is another one of the hack-and-slash games on this list with a lot more depth to it than the typical generic options. The game tries to be more by addressing the subject of mental health and often does so quite well.
Your character, Senua, is a Celtic warrior from the northern part of the English border. She witnesses the mangling of her lover by the Vikings, and it sets her off on a winding path to mental illness. As a result, her family banishes her to a nearby forest where she begins her journey into the underworld.
Senua's insanity suggests to us that this underworld is an alternate reality that has been conjured in her mind, but it feels as real as can be as you face off against the demons that plague her.
As I said, the premise of Senua's Sacrifice is still very relevant, and the gameplay mechanics and other subtle details in the sound and visual design still hold up very well to make the game worth playing on the PS5 despite the absence of a dedicated upgrade.
Nier: Automata
Like Hellblade, Nier: Automata is getting on in age. It was first published in 2017, but its premise is unique enough that it remains relevant.
Thankfully, we did get a PS5 refresh on Nier: Automata that came with the inclusion of 1080p resolution and a framerate of 60fps that runs flawlessly no matter how busy or intense the action gets (and it gets VERY intense).
You can also run the game in upscaled 4K mode, which should technically provide sharper detail but is hardly worth the sacrifice of smoother gameplay.
The storyline is a familiar one, but the characters and gameplay are unique. Your character is an elite android soldier with a sidekick that joins her to protect Earth from the infiltration of some alien robots that want to eradicate humanity.
The combat in Automata is very varied, which is great for replay value. Technically, the "hack and slash" bit is just one of those variations, and there are other fun types of combat in there.
It is also pretty nice that the developers used a dynamic camera that switches angles and focus depending on where you're battling and where the threat is coming from. I think it's something that more games should explore.
If you're not satisfied with the options you have of new hack-and-slash PS5 games, then maybe an older, refreshed version like Nier: Automata can scratch that itch.
Devil May Cry 5: Special Edition
Like God of War, Devil May Cry is a title that needs no introduction, especially not for gamers that play a lot of action/RPG/hack and slash games. This version was published by Capcom around the time that the PS5 was launched.
Since the third edition of the series, subsequent Devil May Cry titles have been getting special edition versions. This one for Devil May Cry 5 has Vergil as the star of the campaign, and you'll be playing with him across 20 missions.
To be honest, there's not a lot that will be completely new or unique to you if you're already familiar with previous DMC titles, but as long as I'm slashing demons, I'm good.
It's probably the most suitable representation of what I said at the beginning of this article about mindless fun without too much deep thinking, and it delivers exceptionally well in that department – the combat is exceptional.
Obviously, the fact that this is a PS5 version means that it does come with some interesting visual updates. Number one is the addition of ray tracing which really makes the textures pop in comparison to the regular edition.
With ray tracing on, you can play the game at 4K resolution with a framerate of 30ps, or 1080p resolution at 60fps. If you switch it off, you can play 4K at 60fps, so it really depends on what's most important to you visually.
Additionally, faster loading times are always welcome, especially for gamers like me that are usually impatient to kick demon ass!
If you're looking for games that take proper advantage of the improved capabilities of the PS5, especially in the graphics department, check out our guide to the best-looking games on the platform next.