It's one thing to search for a great motorcycle racing game on the PlayStation platform, but apparently, it's a whole different thing trying to find an excellent, well-rounded dirt bike game.
I would say it is still a bit "niche", as there are not too many solid options to choose from. The last time I struggled this much was when I was searching for the best bowling games.
I fully expect this to change in the near future though, as newer-gen consoles are produced and developers tinker with the lesser-followed genres to tap into the full feature sets of those consoles.
For now, we'll make do with what we've got, and what we've got here are the best dirt bike games for PS5. I've compiled a list of the best five options, so let's get into it!
MX Nitro: Unleashed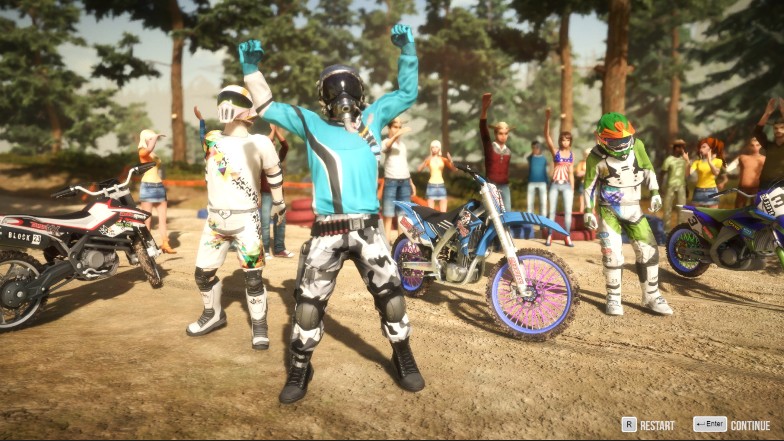 If you like tricks, nitro, and blazing speed, then MX Nitro: Unleashed is the game for you. The game was published by Mad Dog Games LLC.
Don't be deceived by the simple-looking graphics in the picture. It might not be on the same level visually as other PS5 games that take full advantage of 4K and 60fps, but MX Nitro: Unleashed has some seriously nice-looking environments.
There are up to 55 tricks that you can learn and apply in the races, and the controls are simple enough that you don't have to do too many overly-complicated button combos before executing a move. The more tricks you're able to pull off, the more you'll get nitro to boost your bike.
The game is also fairly realistic. The effort put into this is most obvious when you crash. It looks just as scary as it does in real life, and your chances of recovering your position in the race after a crash are practically non-existent – again, very realistic.
There are a bunch of bikes to choose from too, and each one has its area of specialty. Where one bike may have stronger points in areas such as agility and acceleration, another may specialize in top speed and nitro boost.
The sound on the PS4 was already pretty good, so it naturally is even more enhanced on the PS5. You can feel the power of your bike as you rev and blaze through unforgiving terrains.
The camera angles need a bit of work, but it's decent enough for one of the best dirt bike games for PS5.
Trials Rising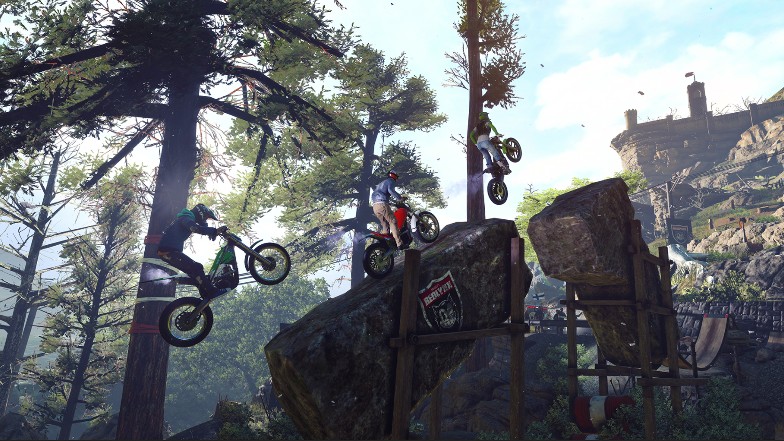 Trials Rising is the third game from a series of dirt bike games by Ubisoft. The game was published three years after Trials of the Blood Dragon and five years after Trials Fusion.
This third iteration is the best of the lot. Fusion had its charms, but it's a bit dated now, and the gameplay betrays that fact. Blood of the Dragon, on the other hand, was never really well-received.
What makes Trials Rising so much fun is the fact that the developers are not putting too much focus on realism. Don't get me wrong, realistic games have their moments, but sometimes, you just want to have some brainless fun without worrying too much about simulation. Moments like that are when games like this come in handy.
From "flying" your bike over a pit of fire in the midst of fireworks, to crashing through a bank heist scene as it unfolds, the action and adrenaline rush in Trials Rising is exactly why it is on this list of the best PS5 dirt bike games.
With even smoother gameplay on the newer console, there are very few dirt bike games that can offer exactly what Trials Rising does at the same or a higher level.
Monster Energy Supercross 4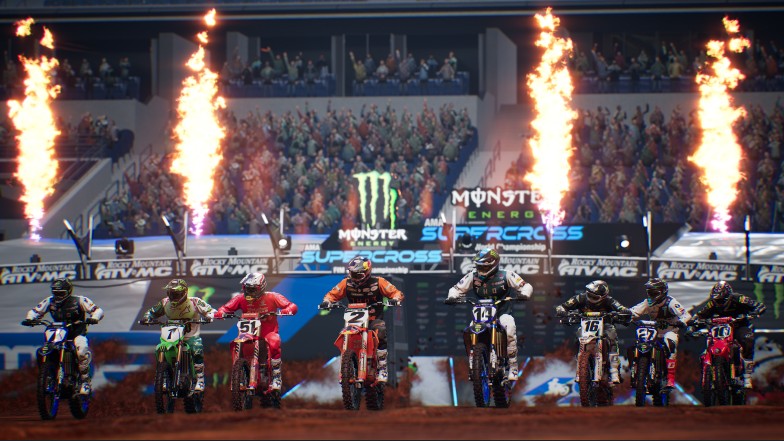 We've been getting annual releases from Milestone for this racing series, and Monster Energy Supercross 4 was the release for 2021.
It is the first game on this list so far that properly tries to take advantage of the new and improved features on the PS5, both in graphics and gameplay. It doesn't do it excellently, but at least it tries.
For instance, Milestone has amplified the connection between the gamer, the biker, and the bike through the extra immersive functions that come with the DualSense controller in the PS5. The adaptive triggers are used to really good effect, although the haptic feedback is a little "meh".
Graphics-wise, the textures are not always perfect, but they look pretty nice and realistic. The crowd, for instance, does not pull off the "individual characters" check, but you'll probably not be paying too much attention to them when you're swerving around corners and grinding your brakes.
The gameplay is quite technical, which gives the game a little bit of extra realism. You have to pay attention to the weight and speed of the bike and calculate when to hit jumps or when to apply some control.
Once you get the hang of things and it starts to feel easy, you can crank the "enhanced physics" option on to deepen the realism. That is unlikely to happen early on though unless you're some sort of motocross guru.
The graphics are solid, the gameplay is on point, but a little more flesh to the game would probably make it near-perfect. Maybe more challenges? Call me, Ubisoft.
MX vs. ATV All Out
There are a few options to choose from in the MX vs ATV series, but All Out just about takes the cake as one of the best PS5 dirt bikes games. The game was published by THQ Nordic and is widely considered to be the pick of the bunch for gaming on the PS5.
First of all, there is the fact that you can play the game with 4K visuals, although the framerate is stuck on 30fps. It still feels smoother and shows more detail than on the PS4, so there is little to complain about really.
This is not the most aesthetically-pleasing motocross game that you'll ever come across, so I'm grateful for the improvement, however slight because if you can look past the dated graphics, this is a thoroughly enjoyable game.
Also, if you're the sort of gamer that gets satisfaction from watching their skill level rise, and their in-game character goes from amateur to superstar, then you'll like the patient improvement approach on All Out as your skills gradually develop after each race.
There are enough game modes to bring you back to the game without getting easily bored too. You can go for a single event, participate in time trials, race against a friend in parade mode, or compete online with up to sixteen other gamers.
Also, there are so many tracks to choose from, and the depth of customization does not end there. The further you progress, the more money you earn to unlock new vehicles or tune existing ones to your taste.
Do you know what would be perfect? An MX vs ATV game with all the existing fun stuff, but with much-improved graphics that take full advantage of the PS5's new features in terms of visual and audio enhancements. For now, we'll make do.
MXGP 2021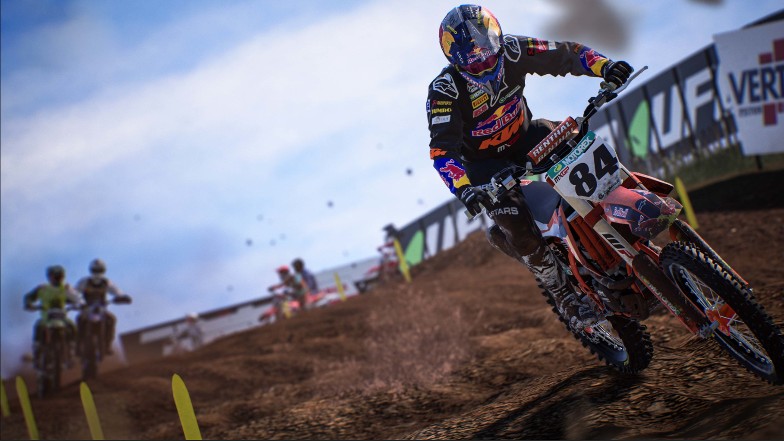 MXGP 2021 is another release from Milestone. It is the official game of the 2021 Motocross World Championship, continuing from similarly named titles in previous years.
This 2021 release features more than 40 riders, teams, and bikes, the official championship track, and a handful of classic tracks.
For gamers that are already familiar with the series, the gameplay is pretty much the same. You can choose to play the full championship, compete in one of the game modes, or start a longer-term career mode if you're that invested. You can also participate in the Grand Prix or time trials.
The career mode is the most exciting mode of the bunch. You can create a custom team or choose to ride with an existing one. Once you get all the corporate stuff (signing with sponsors and penning contracts) out of the way, the rollercoaster journey to superstardom begins.
One key difference between driving a car and driving a bike is how much closer the connection to a bike feels. The rider experiences the raw power of the machine, and there is an increased feeling of control when body movements directly affect the trajectory of the bike.
All of that realism is something that developers try to mimic when creating these types of games, and Milestone has done some commendable work in that department with MXGP 2021 -especially when it is played on the PS5.
With the adaptive triggers, you can feel the effects of throttling or braking and know when to dial it down or tune it up. However, much like Monster Energy Supercross 4, the haptic feedback is not as impressive.
Regardless, MXGP 2021 is up there with the best dirt bike games for PS5.
Final Words
As I said, there are not too many dirt bike gaming options out there, but quality over quantity, right?
Anyway, I'd like to see more developers take a chance and put more effort into this category – I'm pretty sure there are many more gamers like me out there that would love that.
If you're a fan of dirt bike racing, then you'll enjoy our selection of the best off-road games on PS5 as well. Check it out!