We've come a long way since the Spiderman, Final Fantasy, and Resident Evil games on the PlayStation 1 and the original Xbox console.
These games have developed into full-blown series over the years, getting fresh new updates with each new-gen console release and consistently serving up the best adventure gaming experience while at it.
Now, gaming has evolved to an almost unrecognizable extent, particularly in terms of visuals and performance. The levels of immersion in these adventure games are at an all-time high as studios fight for a share of the gamers' attention.
With so many titles out there now, it can be difficult to randomly pick a good game with no prior research.
No worries though, I've done the dirty work (as usual) and compiled this guide to the best PS5 adventure games. It's a fairly lengthy read, so let's get right into it.
Assassin's Creed Valhalla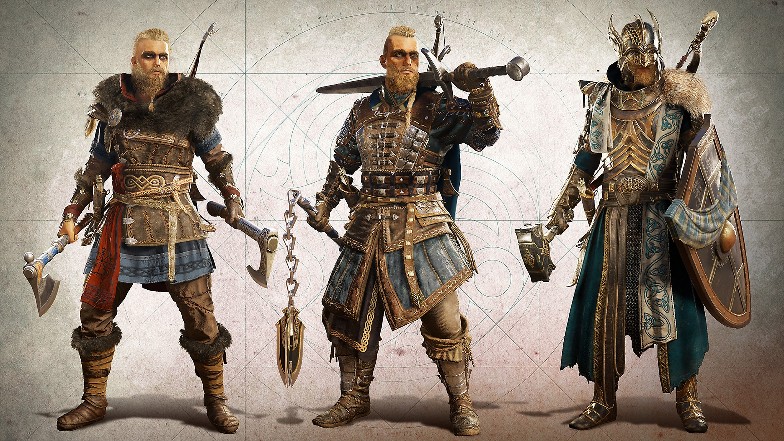 Ubisoft's Assassin's Creed: Valhalla is a stunning game on the PS5. Granted, it was already a good-looking game on the PS4, but that 4K resolution at a smooth 60fps just gives it an extra bit of polish. The details, the colors, and the visual effects all look vibrant and extra-sharp.
Also, there have been complaints in the past about annoyingly long loading times on the PS4, but that is less of an issue on the PS5 as a result of the faster SSD. Loading times are not pretty much halved.
On paper, these upgrades may not sound as impressive as they do in reality. In my experience, getting a quality gaming experience from a title – especially one involving a lot of action – has a lot to do with performance.
An adventure game with a great story and fantastic gameplay is wasted if performance is poor, and that felt like the case sometimes with this title on the older-gen PS4.
Speaking of gameplay and stories – just in case you're not already familiar with Assassin's Creed, Valhalla is set in the year 873 AD, and the story is centered around a Viking raider named Eivor.
Eivor's adventure is a mission to England to expand the influence of his/her clan (you can choose a gender). As the adventure unfolds, you will traverse carefully plotted, expansive locations that are visually stunning but also hold the bizarre and downright evil, ready to halt your stride.
Horizon Forbidden West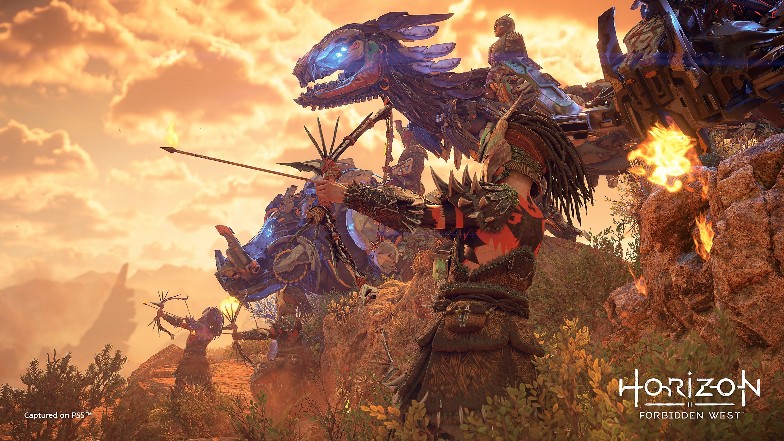 Horizon Forbidden West is not only one of the best adventure games for PS5, it is also one of the best-looking games ever released on a gaming console.
"4K HDR" and "60fps" are words that get thrown about a lot when PS5 games are being discussed, but if there's a game that really takes advantage of the upgrades on the newer-gen console, it is this one.
The environment is stunning and so realistic, you can quite literally see the shimmer and reflections in streams as water flows from one end to the other. The haptic feedback has also been put to very good use, and you will enjoy the difference it makes particularly during battle actions.
Stunning visuals are not all that Forbidden West has got going for it though. There is a genuinely solid story behind all the glitz, and it's a worthy sequel to Horizon Zero Dawn.
The story here follows your character, Aloy, along with a group of companions on a mission to find the source of a plague that has infected their land.
Over the course of their journey, they discover that there are a lot more sinister problems lying in wait across largely unexplored lands, including a horde of deadly machines that have been tamed by a tribe of nomadic raiders.
As you can already tell, there are quite a few twists and turns to the story, but the immersive experience encouraged by the stunning visuals ensures that there is no dull moment in Horizon Forbidden West.
Demon's Souls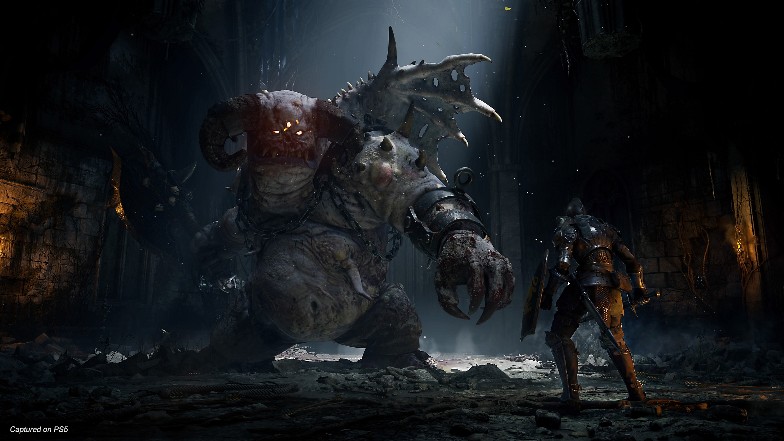 When Demon's Souls was first released in 2009, it was already a fan favorite. It was only the first game in the Souls series, but it remains the one that has received the most positive feedback from fromSoftware's catalog.
However, 2009 is a long time ago, so it was welcome news to hear that the developers were working on a remake. That remake is so thorough that it's a little surprising to see the core of the game still retained.
Visually, there has been a complete overhaul. Details have all been carefully repainted, music has been re-recorded, cutscenes and animations have been replaced with smoother, more vibrant ones, and load times are much faster too.
It really feels like a decade of improvement between the previous iteration and this one, and I'm all here for it.
The story follows a hero brought to the kingdom of Boletaria. The kingdom is overrun with the force of a dark, supernatural being known as "The Old One", and the mission of the hero is to kill the kingdom's fallen king and pacify The Old One.
On the PS5, you can play Demon's Souls in cinematic mode or performance mode. Cinematic mode offers more detail with native 4K at 30fps, but performance mode favors smoother gameplay with upscaled 4K at 60fps.
Kena: Bridge of Spirits – Deluxe Edition
I've heard some talk about the fact that Kena: Bridge of Spirits is unoriginal. Comparisons have been drawn to The Legend of Zelda, but while this is a similar premise, it is far from unoriginal.
Bridge of Spirits is the first video game release from Ember Lab, but the refined nature of the game – especially visually – belies the relatively little experience of its developers. To be fair, Ember Lab started out as a digital content and animation studio, so the polished nature of the art direction in Bridge of Spirits is not completely surprising.
Admittedly, parts of the game feel like the result of mashed-up elements from some other games, but this is still a very enjoyable and challenging game.
The story is centered around a character that sets out into a world enveloped with darkness. Your mission is to restore the glory of the ancient village sitting at the center of the land and uncover the details behind its initial collapse.
Adventure is all about exploration, and there's a lot to see in Bridge of Spirits. The world is expansive, and there are enough puzzles to solve and enemies to defeat while you're on your way.
In the beginning, your skills will be very limited, but as you progress, collecting currency and upgrading, your skillset gets upgraded as well. Soon enough, you'll be busting multiple moves to take the head off any bad guy that comes your way.
Puzzles and combat are the heart of the gameplay on Bridge of Spirits, and while they can feel repetitive after a while, they are engaging enough to make this one of the best adventure games for PS5.
Death Stranding: Director's Cut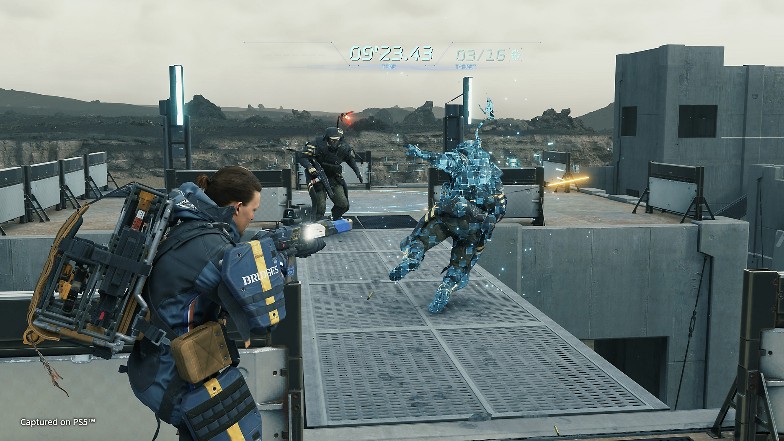 How would you like to explore the future?
Death Stranding: Director's Cut is a product of Sony Entertainment, and it was published nearly two years after the release of the standard edition of the game.
Don't let the name fool you, nothing was "cut" in this version, they've just added some extra content that wasn't in the initial version, alongside a couple of visual and performance updates.
Oh also, if you're looking for a game that actually uses the PS5's DualSense controller's haptic feedback and improved 3D audio, then that's another reason to take a look at Death Stranding.
If Kena sounds too basic for you, then it doesn't get a lot more unique than Death Stranding.
The story is the same in this version as the last – your character is stuck in post-apocalyptic America and is tasked with delivering supplies to the people that don't want to take the risk of leaving their homes. Sounds Covid-19 inspired, but the story was ideated before that actually happened.
Those people that don't want to leave their homes have a good reason for it, as you'll find out when you start taking on missions. I'll just say, be ready for anything.
On the PS5, Death Stranding is buttery smooth. You have the option of running the game in performance mode or quality mode. The former is locked at 60fps to ensure consistently smooth gameplay while the latter is not locked but offers more detail in terms of visual quality.
It looks good, it runs pretty well, it is immersive, and the gameplay is diverse.
Returnal
Returnal has made many "best of" lists since its release by Sony Interactive Entertainment in 2021. In fact, if you go on platforms such as Reddit where these games are discussed at length, you'll see many Redditors list this as their Game of the Year.
That's an impressive CV, and it shows the versatility of Returnal in terms of the genres that it cuts across. This is a game that was built specifically for the PS5, and you can tell from how well the console's features are utilized in the gameplay.
Your character, Selene, is stuck in a time loop on a strange planet that her ship has crash-landed on. She sets out to discover the secrets of the planet, in hopes of uncovering the rationale behind the loop and putting a stop to it.
The DualSense Controller and Tempest Engine of the PS5 really pull their weight here, making you feel every rumble and tumble, and hear every distinct strange sound on planet Atropos.
Above all, this is an absolutely visually stunning game. Yes, it's 4K, and yes, it runs at a smooth 60fps, but this thing really pushes the power of the PS5. Every bit of detail in the environment is high quality, and you may find yourself just admiring it sometimes. Just don't get caught by surprise!
Judgment
Judgment is another title that was initially released for the PS4 but then remastered for the PS5. It is a Yakuza-style game, but also fits right in that "Adventure" category.
Your adventure is led by a private detective named Takayuki Yagami. Yagami is a former defense attorney that fell off three years before the events of Judgment. Now, he's a low-key private hand that takes jobs on a case-by-case basis.
That structure is perfect for any gamer looking for shorter stretches of multiple adventures rather than one long stretch of a single one. If you're a fan of organized crime, diving headfirst into criminal underworlds and bringing crooks to justice, then you'll love Judgment.
However, if you still somehow get tired of the episodes, then you can temporarily switch your attention to one of the minigames available, such as drone racing.
The PS5 remaster looks really good, as expected. Lighting generally looks much better than it did on the PS4, and it makes for a glorious night city view when you're roaming the streets of Kamurocho. Combat and other burst-of-action scenes are really smooth too, running at 60fps.
If you played the original version, then you'll enjoy the visual updates, but there's not much else that is new. However, if you've never played the game, then this remastered version is an absolute dream and one of the best adventure games you can play on PS5.
Final Fantasy VII Remake Intergrade
Square Enix had already released a Final Fantasy VII Remake in 2020, and fans of the series had a swell time with it. However, there were some grumbles and mumbles about the repetitive nature of the side quests.
Fast-forward to the release of the PS5, the studio decided to release a refreshed update – Final Fantasy VII Remake Intergrade.
This version comes with upgrades and additional content, in addition to the visual upgrades that come with the improved capabilities of the newer-gen console. The game runs smoothly at 60fps, but it is a bit disappointing to see that the DualSense controller has not really been used to full effect.
The story is the same as the original Remake, but there's a twist if you get the Intermission DLC. There, Yuffie is the only playable character in combat, so you can't take control of anyone else – not even Sonon, her partner.
The Yuffie DLC is exclusive to the PS5, which is a bit hard to understand because there are no real gameplay additions that require the exclusive use of a PS5 feature. Regardless, if you do have the console, then this is one of the best PS5 adventure games that you can try.
The Last of Us 2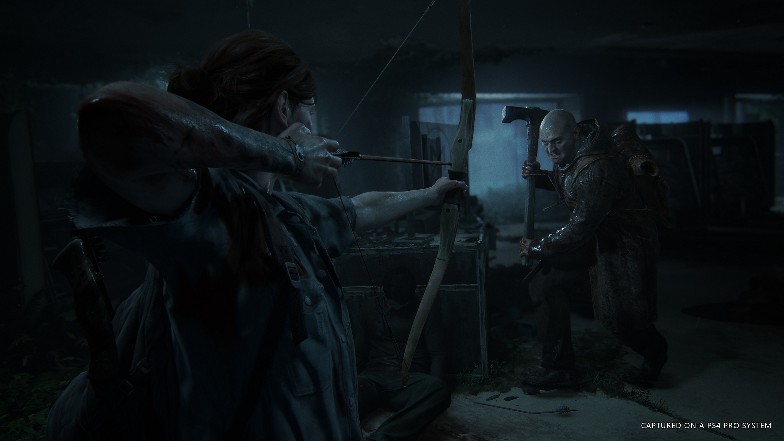 The storyline of The Last of Us 2 divides opinion among the critics and gamers, which I believe is mostly a case of suffering from success for the developers.
The original Last of Us was very well-received and widely acclaimed to have one of the best storylines on PlayStation adventure games. This sequel, with its next-gen update, is also more than capable.
The PS5 update is not a full release, and the only real visual update is that 60fps is now the default frame rate. This is not a bad thing in any way, considering the fact that even the PS4 version already looked pretty good in terms of detail and art direction.
The story is based on events that happened five years after the first Last of Us release, and it follows the lives of Ellie and Abby, two characters trying to survive in the post-apocalyptic United States.
Ellie is immune to the fungal zombie virus that has overrun the planet, and it initially appeared that her immunity would help develop a cure to save the world, but that plan went bust when we found out that she had to die to make it happen.
The series of events that follow come with a mix of resignation, violence, betrayal, and death. I won't go into more detail (no spoilers here!), but it is that roller-coaster of emotions that makes Last of Us 2 one of the most memorable and best adventure games for PS5.
Resident Evil: Village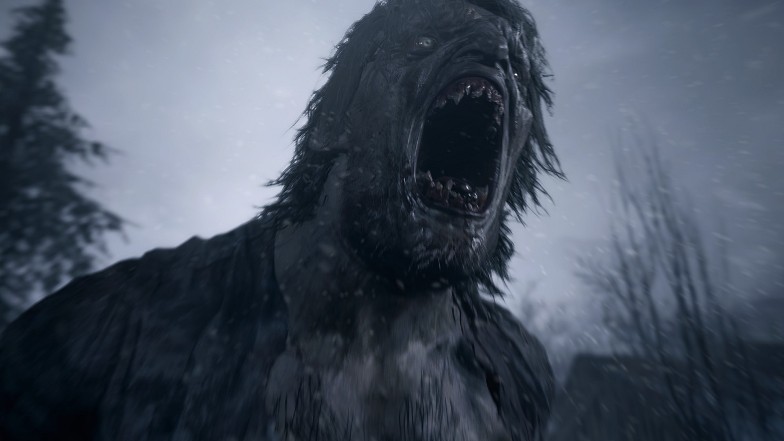 The Resident Evil franchise has been one of the most consistent franchises in console gaming for years. Resident Evil: Village is part 8 of the series, and this PS5 version was published by Capcom in 2021.
This game was made by horror fans, for horror fans. I mean, get a load of that screenshot up there – and it doesn't even tell a quarter of the story.
If the typical vibrant adventure across an open world of lush greenery and a few monsters is not adrenaline-pumping enough for you, then Resident Evil: Village should do very nicely.
The plot follows your character, Ethan Winters, whose wife, Mia, is murdered in cold blood by Chris Redfield (a character from older versions of Resident Evil). He is then kidnapped alongside his 6-month-old daughter Rose, and they are brought to the "Village".
Ethan then sets out to find where Rose is being held in the village and to avenge the death of his wife too.
On the PS5, Resident Evil: Village looks much better. That's expected, at least visually, but this is also one of the games that take the most advantage of the PS5's Tempest 3D audio technology.
Horror is a lot more immersive when the sound selection and quality are excellent, whether it's in a video game or a movie, and this game really comes to life with the spatial audio of the PS5, especially with headphones on.
The DualSense controller's adaptive triggers also make a significant difference that is most noticeable when you're switching between a variety of weapons.
Perhaps one drawback is the fact that once you complete Village the first time, there's no real motivation to go back for another round anytime soon after. It's a thrill while it lasts though, and that should be good enough for many.
Marvel's Guardians of The Galaxy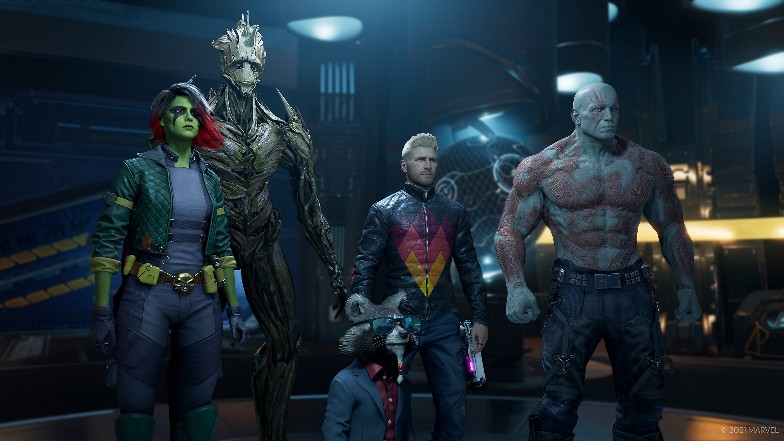 Square Enix did not exactly light up the world with The Avengers, so I already had my reservations when I heard that they got the rights to Guardians of the Galaxy. However, the game has been a pleasant surprise in terms of how well it has been received in the gaming world.
The game is centered around the GOTG team, obviously, but your point of view will be from the Star Lord's (Peter Quill) perspective. You're pretty much in charge as you and your team (Gamora, Rocket, Drax, and Groot) embark on an adventure that involves doing odd jobs to pay the bills, getting captured, and eventually saving the galaxy.
On the PS5, you can play GOTG in two graphics modes – performance or quality. Performance mode runs the game at 1080p, but the framerate is really smooth at 60fps. Quality mode focuses on rich details with 4K, but it runs at a reduced framerate of 30fps.
Personally, I'd take the 1080p that performance mode offers just because of the smoother framerate. I just think that's a better option for games like this where fast-paced combat is commonplace.
However, I can also understand why anyone else would prefer quality mode – it looks gorgeous. That's not to say the 1080 alternative is low quality – far from it. Regardless of the mode you chose to play in, this is one of the PS5's best adventure games.
Ratchet and Clank: Rift Apart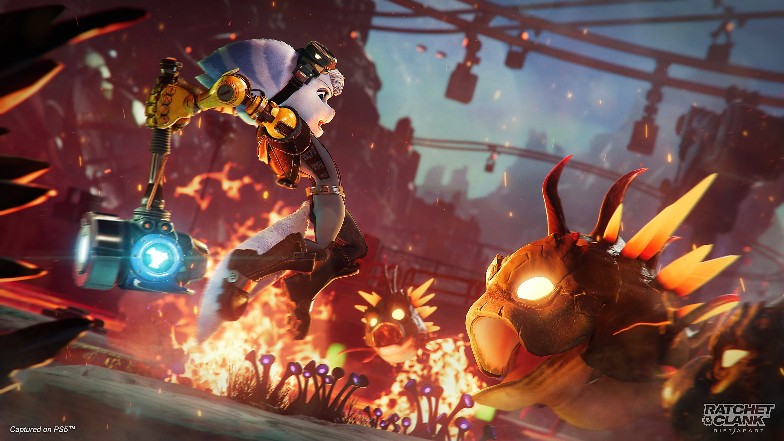 Ratchet and Clank: Rift Apart is one of the best games on the PS5, period. It was released exclusively by Sony Interactive in the middle of 2021, and it follows the adventures of the popular duo across multiple galaxies.
If you're not familiar with Ratchet and Clank, they are fictional characters that have been traveling across planets within various galaxies since the first iteration of the game was launched for the PlayStation 2 in 2002.
In Rift Apart, your key battles are against Dr. Nefarious and Emperor Nefarious. However, you will encounter several other characters – good and bad – as you journey across these multiple planets.
Make no mistake, this is a visually stunning game. It follows the same pattern of games that were built specifically with the PS5 in mind, and developers Insomniac Games have really outdone themselves here.
There is so much detail and variety in the locations, choice of weapons, characters, and the way that the NPCs react to your actions mid-combat. It's not really about realism this time, but it's a lot of eye candy.
Ghost of Tsushima: Director's Cut
The original release of Ghost of Tsushima arrived before the release of the PS5, and it was already a fantastic game then.
Wonderful visuals complemented an immersive story and exciting combat, so it would have been understandable if Sucker Punch Productions had left things the way they were, even after the PS5 was released.
However, they've gone one step further and released this Director's Cut, adding new content to freshen things up and using the new features on the PS5 to improve the visuals and overall gaming experience.
As such, Ghost of Tsushima: Director's Cut runs at 60fps with 4K visuals. It also includes DualSense integration for improved haptic feedback and the effects of the PS5's adaptive triggers.
Story-wise, the game follows the journey of Jin Sakai. Jin belongs to a clan that has been attacked by Mongolian invaders, leaving most of them dead. As a result of that, he shoulders the responsibility of rebuilding the clan and taking back their island, Tsushima.
For gamers that have already played the original release, the addition of Iki Island is enough to warrant a revisit.
Star Wars Jedi: Fallen Order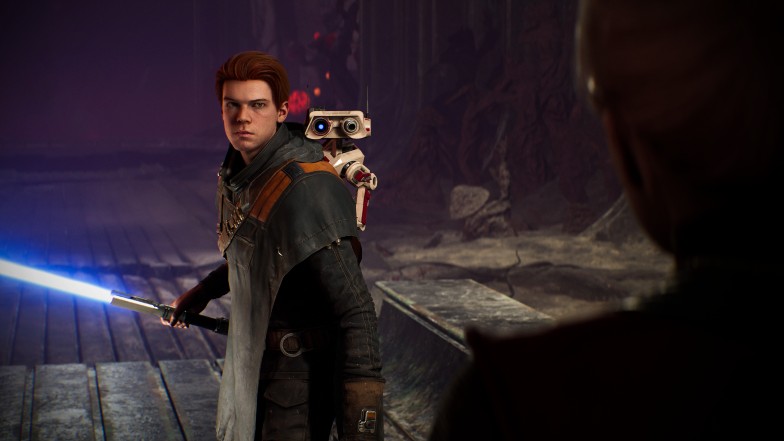 Star Wars is probably better recognized for its sci-fi characteristics, but the story in Star Wars Jedi: Fallen Order is compelling enough to warrant a shout as one of the best PS5 adventure games.
Your character, Cal Cestis, is a runaway Jedi. He joins the resistance in search of answers about the secrets of the force, but his journey across the galaxy only raises more questions instead. More importantly, it turns out that his alliance with his new "friends" may not be what he expected.
Graphics-wise, this is a solid game. It's not a massive upgrade from simply playing the PS4 version in backward compatibility mode, but you do get native 4K with upgraded textures, even though it only runs at 30fps. If you want 60fps, you have to dial back the quality to 1440p.
A bigger motivation to get the PS5 version would be the huge difference in loading times. It is one of the more popular complaints that people had about the PS4 version, so it may be worth getting this alternative for that alone.
Marvel's Spiderman: Miles Morales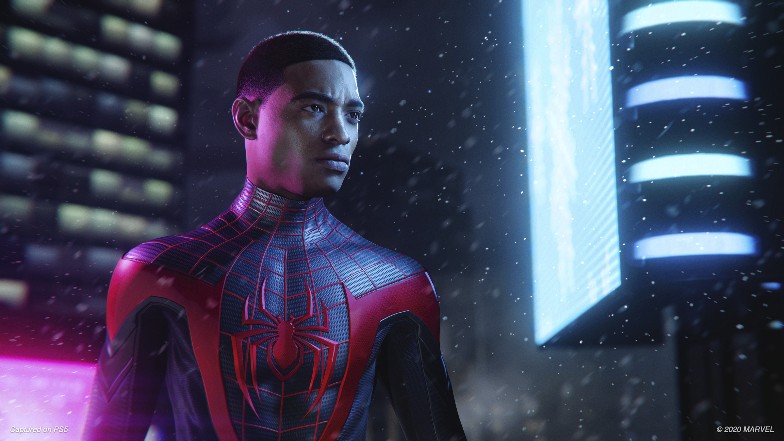 Insomniac Games really get the hang of building stunning worlds in PS5 games. Marvel's Spiderman: Miles Morales is a quality audition for the new-gen console, which is fitting because Spiderman is also one of the most popular titles out there.
This expansion picks up from where the 2018 original version of the game left off, following the story of Miles Morales who now has superpowers as a result of a radioactive spider bite.
Peter Parker has taken it upon himself to be Miles' mentor, showing him how to be a superhero by involving him in missions around New York.
In the beginning, there's a nice little bit of "training" for you when Peter and Miles have to chase a villain, Rhino, through the streets of the city and bring him back to the prison convoy that he's escaped from.
From that point, you begin to get familiar with the controls of the game if you're not already.
As I said, this is a visually stunning game on the PS5. The environment and characters are incredibly detailed, and the addition of ray tracing is a game-changer.
Lighting and reflections look extremely realistic, which is a nice change of pace from the vague, foggy details that old-gen consoles offer. Additionally, load times are seriously quick.
It's not all sunshine and rainbows though. The game feels a bit too short, and some challenges are repetitive.
It puts a huge question mark on the replay value of Spiderman: Miles Morales, but I still think the good bits are enough to earn a place on this list of the best adventure games for PS5.
Deliver Us The Moon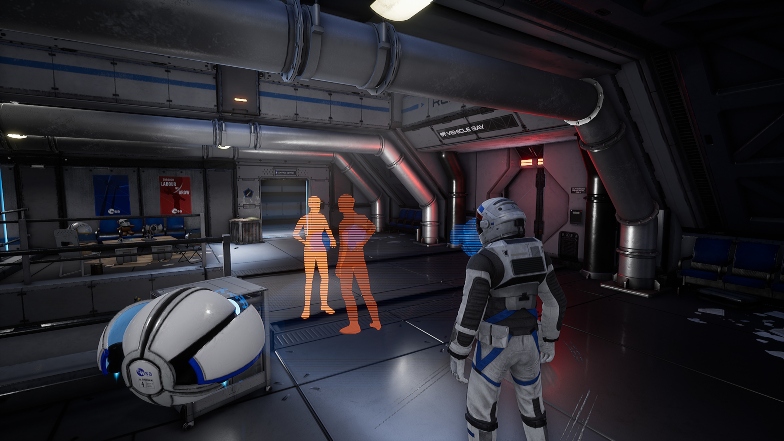 If you're looking for the best adventure games on PS5 with a bit of puzzle solving and a dash of space exploration, then Deliver Us The Moon is worth checking out.
The game was originally published by KeokeN Interactive in 2018, but a PS5 version hit the shelves in 2022 to bring 4K visuals and stunning ray-tracing to what was already a visually well-done game.
The adventure is centered around an astronaut sent to the moon sometime in the future. His objective is to find a way to help humanity avoid extinction following the severe scarcity of natural resources that aid normal life on planet Earth.
The game switches between first and third-person perspectives on occasion, depending on the specific thing you're doing at any given point in time. You're not at risk of getting attacked by aliens or other living enemies of any sort, but you do have to worry about getting gameplay sequences right or you'll die and have to retry.
The game does well to progressively increase the difficulty of the puzzles, starting off with simpler tasks that are really just there to familiarize you with the controls and how puzzles generally work going forward.
Once you get the hang of it, things get increasingly complex, but not so much that you'll be forced to frustratingly quit the game. It's a good balance.
There is perhaps more focus on the puzzle elements of this game than the adventure, but there is enough in the story and space exploration to qualify it as one of the best adventure games on PS5.
The Quarry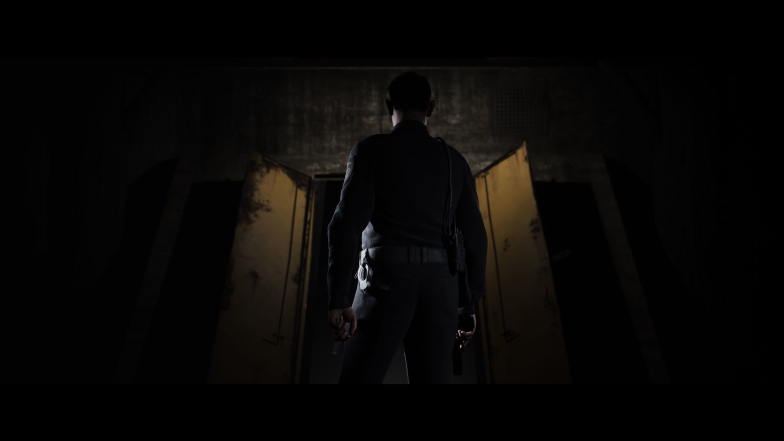 Where Deliver Us The Moon expanded its adventure offering by including puzzle elements, The Quarry's most obvious additional gameplay element is interactive horror.
If you're looking for an adventure that will spook you and your friends to no end, then The Quarry should be around the top of your list. Oh yes, it is best enjoyed in multiplayer mode with friends.
I say this because, in The Quarry, there are several characters that you can take control of at the same time. This does not necessarily mean you have to play online because even if you want couch co-op, you can simply pass the controller around when it is each player's turn to make an action or decision.
The Quarry was published by 2K Games in 2022, so the developers had a fair bit of time to build something that could take advantage of the PS5's capabilities.
Unfortunately, we do not really see these used to significant effect, but it really does not make the game any less enjoyable or spooky.
The adventure follows nine teenage counselors at a summer camp. These counselors are faced with unexpected supernatural creatures and violent locals, and they must work together to figure out a way to survive their final night at the camp.
Your decisions are crucial here because any player can die before the end of the game. Dialogue choices and action decisions must therefore be treated with careful thought before execution.
Road 96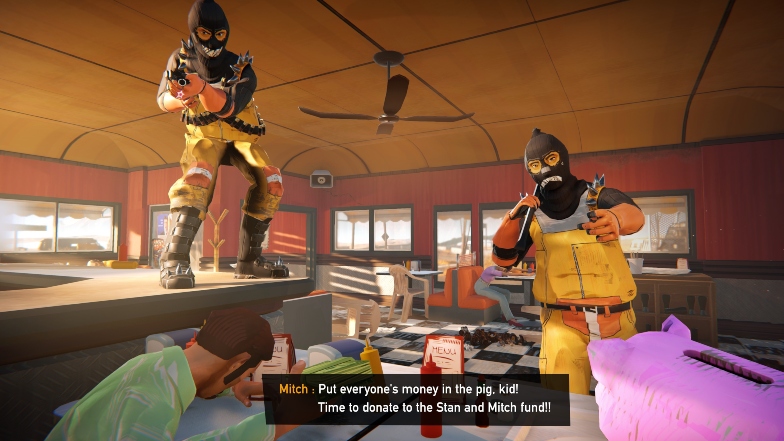 Speaking of interactive story games, Road 96 is another option that offers a satisfying experience enough to qualify as one of the best adventure games on PS5.
In fact, the game shares another similarity with The Quarry in the sense that you're also involved with a bunch of teenagers.
However, this time, the teenagers are trying to escape a country under a tyrannical dictatorship and not supernatural creatures. To be fair, the former could be as bad as the latter in some cases.
The country that your characters are trying to escape from is a fictional one called Petria. Before the end of the game, your choices will lead you to a point where a crucial decision has to be made – influence the elections back home or cross the border.
Over the course of the adventure, you will encounter seven NPCs, and each playthrough will yield procedurally generated interactions with these NPCs, so there's a bit of variety in that sense.
Road 96 is not a multiplayer game, so you only control one player character. However, the weight of your decisions is just as heavy because the game has multiple possible endings that determine the fate of the country you're running from.
Chicken Police – Paint it RED!
Chicken Police is a graphic, noir adventure that served as the first effort of developers, The Wild Gentlemen when it was released in late 2020.
At the time, the game was launched on PCs, but it arrived on next-gen consoles in March 2022.
Point-and-click visual novels such as Disco Elysium have received very high praise from the gaming world and rightly so, but we also have hidden gems such as this one that also offer quite a lot despite going relatively under the radar.
At first glance, the premise of Chicken Police sounds ridiculous – it's a game about police officers who are…chickens.
However, if you know anything about video games, then you'll know that some of the most ridiculous of premises have also turned out to be some of the most enjoyable games ever released, and this one is no different.
Your character is a private detective named Sonny Featherland that gets thrown headfirst into a case involving a dead body that turned up out of the blue at the weekend house of a nightclub owner.
Point and click your way into gathering clues and piecing together all the information needed to crack the case. You're also going to be interviewing other animal characters, so it helps that the game is fully voiced.
Away from the detective work, exploring the world that the game is set in is actually pretty captivating too. The art style stands out, and it's very easy to get carried away just enjoying the view.
The Wild Gentlemen also did very well to implement DualSense controller support – brilliantly, I might add. You really feel the impact of playing the game on a next-gen PS5, and what more could an adventurer ask for?
Paradise Killer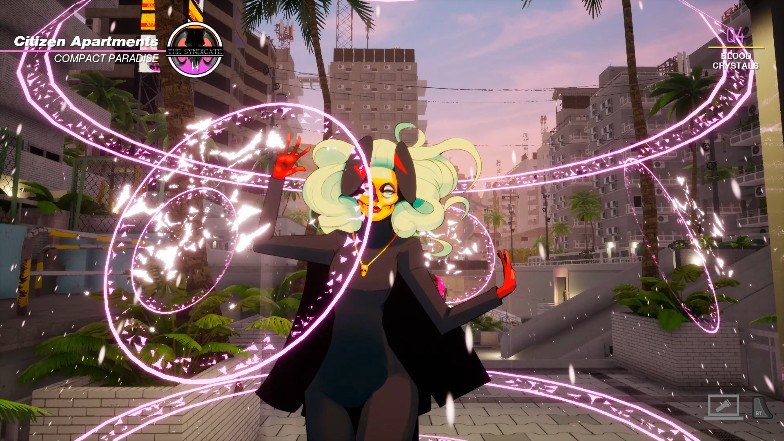 Paradise Killer was originally published by Fellow Traveller in September 2020. The initial release only supported Windows PCs and the Nintendo Switch, but other consoles including the PS5 finally received the game in 2022.
Like Chicken Police, this game also has a detective story, but it is neatly done in an open 3D world that has all the bells and whistles when it comes to visual quality and performance on the next-gen console. That fictional world is called Paradise Island.
Your character, Lady Loves Dies, has several cases that you can dip your hands into, and you have the option to bring your cases to trial at any point if you feel that you have gathered enough evidence.
Of course, if it turns out that you were wrong, you'll have to go back and try again, so it is important to make sure that you have actually gathered all the clues that you absolutely need to make a conviction.
Like Road 96, Paradise Killer also has multiple possible endings, so you can always go back and replay certain beats to achieve a different outcome.
It is still a linear story at the end of the day, but these multiple endings and the open world that the game is set in add enough to the game to make that fact less obvious.
The Forgotten City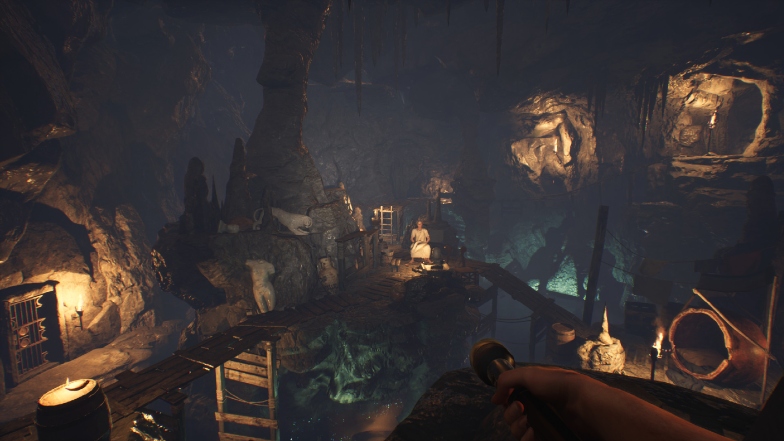 I really like the premise of The Forgotten City.
It's a fun mystery adventure game that was published by Dear Villagers and Film Victoria, and it is also an adaptation of the similarly-named Elder Scrolls V: Skyrim mod that you've probably heard about.
The game is set in Ancient Rome, 2000 years into the past. It is a time when the city you find yourself in has a really weird rule.
The "Golden Rule" is that nobody can sin, and the punishment for breaking it is damning – everyone turns to gold. Well, everyone except you.
There is also an infinite loop that ensures that every time something goes wrong and the citizens turn to gold, you get to restart the day complete with all the knowledge you've gathered from speaking to NPCs in the city.
Every character has their own story, and speaking to them is the key to helping you to understand what in the world is going on. Maybe you can save these people, or maybe you're not supposed to.
Oh, this is yet another game with multiple possible endings, so you can go back and replay after your first playthrough for a different outcome.
It's a pretty unique take on a Groundhog Day-type mystery, and easily one of the best adventure games on PS5.
If you're the type of gamer that enjoys a lot of action alongside your adventures, check out our guide to the best action-adventure games for more recommendations.