Who doesn't love solving puzzles? Okay, maybe a lot of people, but I know I do. Whether it's the crossword at the back of a newspaper or a small puzzle game set that your uncle got you on your 10th birthday, we've all had our fair share of them.
Solving puzzles can be really fun, and what better way to incorporate them than on one of the greatest game consoles ever created – the PlayStation 5 (PS5).
There are hundreds of PS5 games to keep you busy. Still, sometimes you want just to take a break from the roof-jumping, gun-firing action and flex your brain for a bit instead. Don't worry, I got you.
In this guide, I've put together a list of the best puzzle games for PS5. There's something for everyone, guaranteed.
Maquette
Maquette is an intriguing puzzle game with a clever and unique mechanic. This recursive puzzler was published by Annapurna Interactive. It is based on size and perspective, and I must say, it's pretty much a game of scale. 
The game's storyline is based on a couple, Micheal and Kenzie, who met at a coffee shop. Maquette follows their journey as a couple, right from when they formed a relationship to when they eventually split, using flashback sequences narrated fascinatingly and presented in the most fantastical environments.
The storyline is actually relatable, and it's pretty sad how things didn't work out for the couple, so maybe avoid this game if you're having relationship issues. Another interesting thing to look forward to is the voices of Michael and Kenzie, which are played exceptionally by actual celebrity couple Seth Gabel and Bryce Dallas Howard. I know some Jurassic World fans are already getting excited.
I mentioned earlier that Maquette is a game of scale – let me explain. Firstly, you should know that the setting is a recursive one in which there are worlds within worlds, so each world contains a smaller version of itself.
Secondly, at the center of each level lies a miniature model of your environment. You can either drop an item (like a bridge), and a scaled version will appear, or remove an item, and a smaller version appears.
Although Marquette has a few redundant levels, it's a generally fun puzzler. Its jaw-dropping fantastical environment will make you want to keep playing it, and it also has a pretty cool soundtrack.
Operation: Tango
Spy movie fanatics will love this one. Operation: Tango (OT) is a spy-thriller puzzle game published by Clever Plays. In this game, communication is key. It's just like in the Mission Impossible movies where Simon Pegg directs Tom Cruise's movements during missions.
The game is a multiplayer experience involving a field agent and a hacker. The field agent, as the title implies, is seen on the field playing in first-person while the hacker's missions take place in virtual cyberspace. In Operation: Tango, it takes two people to save the world, and therefore you must work together with your teammate to complete a series of covert missions.
Although there are moments when the agent and the hacker will switch roles briefly, the screen display of each player is different. So, what you see as a hacker is different from what your friend sees as an agent, and the only way to know what the other person sees is through voice communication.
A downside to Operation: Tango is that the game is relatively short, and although you can switch roles, it might not be so much fun since you already know what the other player is seeing because you've played that role before.
Although the OT experience is admittedly short-lived, it has a cool feature where you only need one copy for the multiplayer mode.
So, if you have a copy of the game, your friend can join in by simply downloading the free trial version. It's safe to say that Operation: Tango is one of the best PS5 puzzle games you can enjoy with a friend.
Bugsnax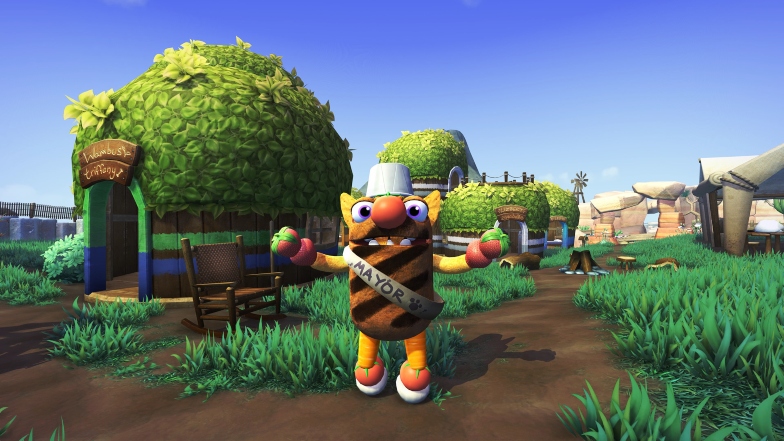 Bugsnax is a pretty weird albeit fascinating puzzler published by Young Horses and Fangamer.
The game's developer, Young Horses, built its premise around an island called Snaktooth, in which there are sesame-like bipedal monster inhabitants called grumpuses. Apart from these grumpuses, there are bugs that come in the form of all sorts of snacks hence the name "Bugsnax."
Now, the grumpuses have a strong appetite for these bugsnax, and upon devouring these snack-like creatures, their limbs transform into the respective consumed bug. This transformation process is termed "snakification," and get this; it is a rather exciting phenomenon for the consumers – the grumpuses love getting their limbs transformed. Do you now see why I said it's a weird game?
In the game, your character is a journalist on a mission to unravel the mystery of a missing explorer named Elizabeth Megafig, the founder of Snaktooth's central village, Snaxburg. Elizabeth's absence led to the disbandment of the villagers, and the only way to bring them back is by using the bugsnax as bait.
Each grumpuse has their favorite bugsnax, and it's up to you to discover which bug they like best. Once you've satisfied their appetite and ultimately transformed their limbs, they'll return to the village. And when they've returned, you can ask them questions about the whereabouts of Elizabeth.
It's pretty clear that Young Horses is a very innovative and creative team. Bugsnax has the effect of taking you to a different and immersive world filled with weird albeit creative designs. It is undoubtedly an exciting game to play.
Puyo Puyo Tetris
You can expect this game to be nothing less than outstanding since it is a perfect mash-up of Russian classic Puyo Puyo and Japanese classic Tetris. If you've played those two games individually before, you'll know exactly what I'm talking about.
Sonic Team had the right idea when they developed this clever puzzler combination. It just had to be a part of this list of the best puzzle games for PS5.
I should clarify that you don't need any prior experience with either of the two games to enjoy this magical combo. Puyo Puyo Tetris was published by SEGA in 2014. It is essentially like three games in one since you'll be getting two puzzle games separately and a captivating union of the two.
The game has an adventure mode which is pretty much a lengthy story mode that narrates the journey of the two franchises. The party mode treats the two games interchangeably, and the swap mode is where you can switch between ongoing Puyo Puyo and Tetris matches every 25 seconds.
There's also the big bang mode, where you must generate tetrominos or puyos, which will be used to attack your opponent's life bar at the sound of a big bang.
Perhaps the main attraction of Puyo Puyo Tetris is its Fusion mode which involves the gameplay of both Puyo Puyo and Tetris simultaneously. Puyo Puyo Tetris has so many options to choose from – there's something for both newcomers and old fans.
Its multiplayer option is an interesting feature and is perfect if, for example, you're a Puyo Puyo expert and your friend is a Tetris master; then you can have a fun competition against each other.
The Pedestrian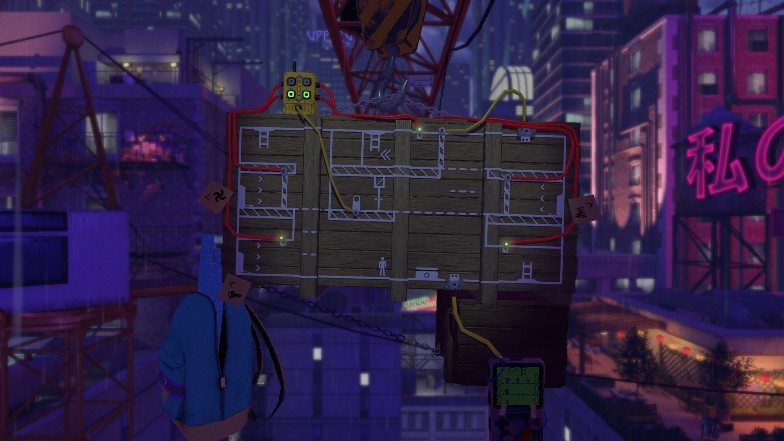 The Pedestrian is a pretty straightforward name, don't you think? I love how you can tell what the game is about just from the title. The Pedestrian was published by Skookum Arts and is undoubtedly a top-notch 2D-puzzle platformer.
Your game character is a stickman trying to find its way to an escape door through a series of puzzles. Your duty is to line up ladders and connect paths so the stickman can have a clear path to the escape door.
The puzzles get more difficult as you travel through a backdrop of a bustling virtual city that is filled with road signs, traffic lights, and more.
An awesome PS5-specific feature of the game is its application of haptic feedback. Every jump made, footstep taken, or ladder aligned is felt through the PS5 dual sense controller, making way for an immersive experience.
Another delightful feature of The Pedestrian is its jazzed-up, beautifully produced, ingenious soundtrack that fits the game's premise perfectly.
Whether through a road, university, or subway, there's a suitable track that conveys the feel of the current scenario and makes your journey through each environment sublime.
Chicory: A Colorful Tale
Chicory: A Colorful Tale is a puzzle video game published by Finji. It starts out with a strange albeit simple question: what is your favorite food? Your answer to the question becomes your main character's name. The main character is a dog.
The game's setting is in a colorful universe called The World of Picnic, which, as you may have guessed, is a world filled with characters named after food that matches their unique personality. This colorful world soon loses its color and becomes black and white when its protector, Chicory, a wielder of a powerful magic brush, goes missing.
The mission of your player character is to take up the brush and embark on a journey to restore color to The World of Picnic. Your character constantly receives support from the other creatures of the world. There's even a hint system set up where your character can reach out to its parents for guidance and advice.
The whole paint mechanics of the game are pretty cool, and there's a lot to learn from the storyline. Chicory, the former wielder, gave up the magic brush due to pressure from the wielder title, and it's now up to your main character, who doubts his worthiness but actually has great potential, to be the hero of The World of Picnic.
Everything about the game is unique, including its soundtrack, which blends perfectly into every atmosphere and environment of the game. It was composed by Lena Raine, popular for her work on big game tycoons Celeste and Minecraft. So it's pretty obvious that Chicory: A Colorful Tale's creators went all out for it.
It Takes Two
It Takes Two is an adventure puzzle game published by Electronic Arts.
This game is based on the failed marriage of a couple, Cody and May. On the verge of divorcing, their daughter's somewhat "magical tears" transfer their souls into two dolls she made.
With their souls trapped in the initially lifeless dolls, the couple must now learn to mend their relationship through the help of The Book of Love, a talking book, referred to as Dr. Hakim, that was secretly purchased also by their daughter. Hehe… isn't she lovely?
It Takes Two is a two-player game, and unlike Operation: Tango, the display screen is split in half, one side for each player so you can see exactly what your teammate is doing. You will need to work together with your partner if you want to advance to higher levels.
In a way, It Takes Two promotes love and unity, and it highlights the importance and power of a couple that works together. At some point in the game, the couple rediscovers their long-lost attraction for each other and learns to love again.
Some couples could learn a thing or two from this fascinating PlayStation puzzler.
Bridge Constructor: The Walking Dead
Are you a fan of Zombies? Do you love watching The Walking Dead? If your reply to these two questions is yes, this game is for you. Bridge Constructor: The Walking Dead was published by Headup Games. 
The premise of the game is set in a post-apocalyptic era, and it's your job to build bridges that would help survivors avoid and/or destroy zombies. To avoid zombies, you build bridges, but there are also certain parts of the game where you crush these undead walkers by dropping objects like containers or barrels on them.
Each game character has its own unique abilities, and very often, you'll have to work with multiple characters to crush a set of zombies successfully. Apart from the building and crushing aspects, you can also issue commands and directions to the survivors, who can sometimes fight off zombies themselves but will require some stamina.
The game also has you working with a budget, so you may have to tweak your solutions a bit if you want to pass certain levels. The combination – constructing bridges and killing zombies – is quite clever.
Although the music is a bit dull and the environment somewhat generic, the cartoon aesthetic and the game characters are pretty cool. If you're looking for a challenging puzzler and you're a fan of the TV series, then you should definitely try out this game.
Bonfire Peaks
You probably know a few hoarders – maybe a friend or sibling or even one of your parents. Sometimes you just feel like carrying a bunch of their stuff and tossing it in flames because you just can't seem to figure out what the heck they use all those things for.
Well, how about you transfer all that aggression into this game because there's going to be a lot of burning of needless belongings. That's basically what Bonfire Peaks is about. It was published by Draknek and is one of the best indie puzzle games for PS5.
The main character, who is nameless, silent, and completely expressionless, has set out to burn a bunch of his belongings for reasons unknown to us. He is determined to get rid of so many stuffed boxes, tossing them into the flames over and over again. It's kind of depressing, really, but at the same time intriguing.
Although at the beginning stage, the puzzles give you a general idea of how the game works, later on, the levels become a bit challenging. Sometimes you may need to stack up boxes to create a stairway leading to a bonfire, and other times you may have to dodge attacks like arrow totems before arriving at your destination.
The graphics of the game are very picturesque, which is lovely. Even with its limited dimensions, the game still exhibited a highly stylized and beautiful voxel art world, accompanied by an electric and soothing soundtrack.
The game's premise has the effect of selling the idea of a peaceful life in the woods, owing to its beautiful scenery and sweet music. Apart from that, I think we can agree that watching things go up in flames is kinda fun.
Lego Builder's Journey
Lego Builder's Journey is an adventure puzzle game published by The Lego Group. It is an atmospheric single-player video game and is one of the most authentic LEGO games out there.
The game lets you solve brain-teasing puzzles while traveling through an immersive poetic LEGO brick world. Lego Builder's Journey was initially a popular mobile game but has since become a console favorite.
The gameplay involves two LEGO figures who appear to be father and son. Your task is to guide the little LEGO boy as he embarks on a series of activities like hiking, camping, etc., with his father.
It's all fun and games at the beginning, but along the line, the story gets a bit tense as the son loses sight of his father and must complete tasking events to reunite with his parent. Of course, you aren't in direct control of this LEGO character; rather, you are to create pathways for him by arranging pieces from whatever diorama is presently displayed on the gaming screen.
You have the option to select from a variety of game modes. Creative mode allows you to create your own dioramas to your heart desires – be it a new scene in the game or a sports car. Photo mode allows you to adjust your camera angle, take a picture and show it off to your friends.
The game's visuals are absolutely stunning, and its design portrays a focus on each dioramic level, making them look realistic.
Lego Builder's Journey provides a very touching storyline and relaxing experience. If you're a LEGO fan that loves building, you will find real value in this short but immersive game.
Human: Fall Flat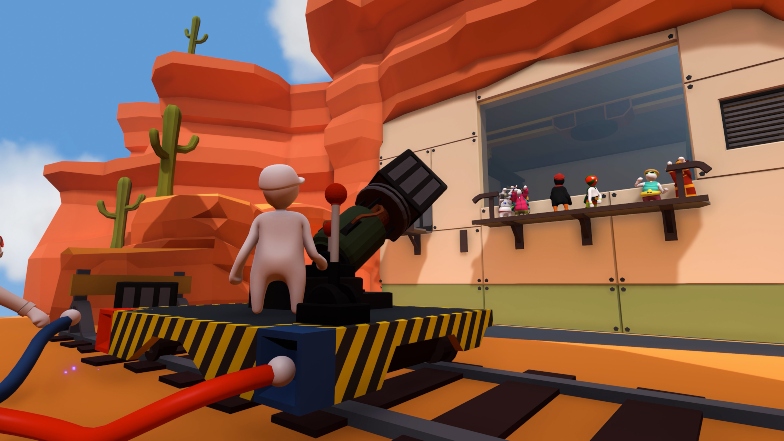 Human: Fall Flat is a physics-based puzzler published by Curve Digital. It gained a lot of fame on Youtube in 2015 and is a pretty hilarious game.
You start out by pressing a button to open a door for your character Bob. Bob is a weird-looking guy with a little marshmallow body who is plagued with mysterious dreams of constantly falling. He would need to solve a series of puzzles to keep advancing to higher levels.
The game gets a bit complex as you keep playing, especially when you have to work on some circuits and machinery like forklifts, levers, trucks, etc. Not to worry because Human: Fall Flat has a hint system in the form of texts and videos to help you progress seamlessly.
Apart from solving puzzles, you also get to move around and clear obstacles. If you happen to fall, you drop right back where you fell off and pick up from where you stopped.
You have eight different dream worlds to explore, each looking completely different and totally fresh. You can also split your screen and invite a friend to join you in exploring the various worlds together. As you can see, there's truly never a dull moment in this game.
Manifold Garden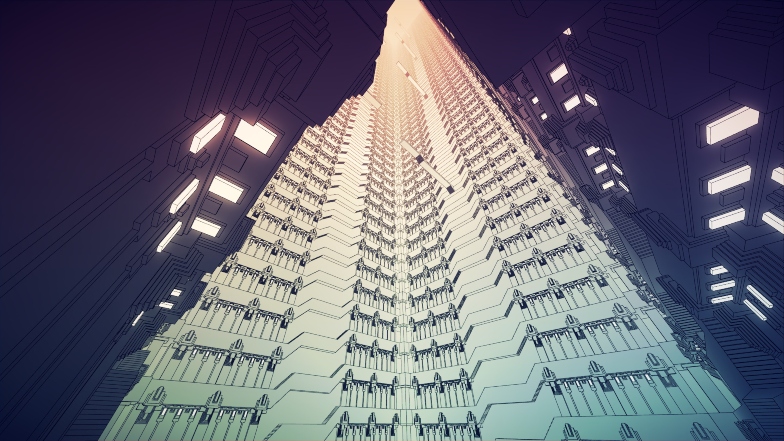 Manifold Garden is an indie first-person 3D puzzler published by William Chyr Studio.
In the game, you are presented with blocks that grow on geometric trees in the garden, and depending on the tree, each block has a different color.
Each block is aligned to a unique surface and is used to unlock a door, but it's not that simple since you will need to alter gravity to get the block to the required position. Also, when you finish a level, you can use a "god cube" to create the following one.
Like with most puzzles, the beginning is pretty straightforward. The early stages will help you understand how the garden operates, but as the game moves up, it gets a bit complex.
Everything about Manifold Garden is impressive. Its visuals, soundtrack, graphics, mechanics, and the whole game premise can make you lose yourself in the game and feel like you are in an entirely new universe. Chyr did a beautiful job developing this work of art.
The Gardens Between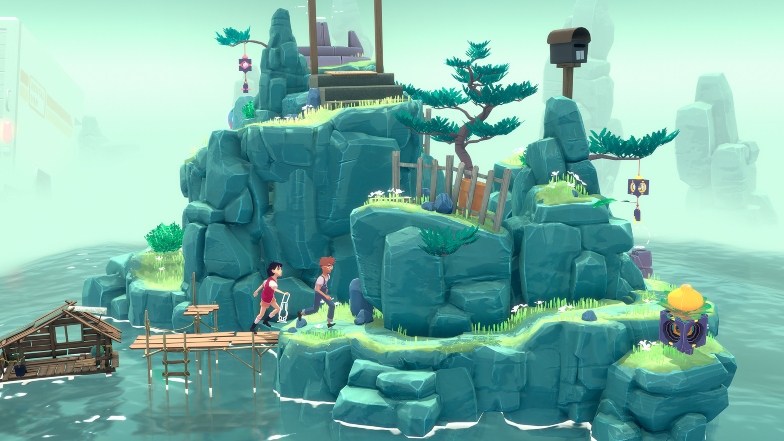 The Gardens Between is a single-player puzzle game from the stables of The Voxel Agents. It was initially published by the studio in 2018, but the PS5 version was published four years after.
In case you're not familiar with the game, the story follows two characters named Arina and Frendt. These two best friends find themselves in a fantasy world made up of vibrant garden islands.
With the help of a special ability involving messing with time itself, you have to help the two friends solve puzzles and discover the mysteries that the islands hold.
The adventure and puzzles are a fun time, but the ending really brings it all together quite nicely – no spoilers here!
If you own a PS5, then you'll be happy to know that it is the best way to enjoy this game. This is because there are a handful of improved features.
One such feature is DualSense controller support, which ensures that you get an enhanced experience from the haptic feedback of the controller.
The game also looks and performs much better on the PS5 with true 4K resolution and 60fps. Details look crispier than ever!
Unpacking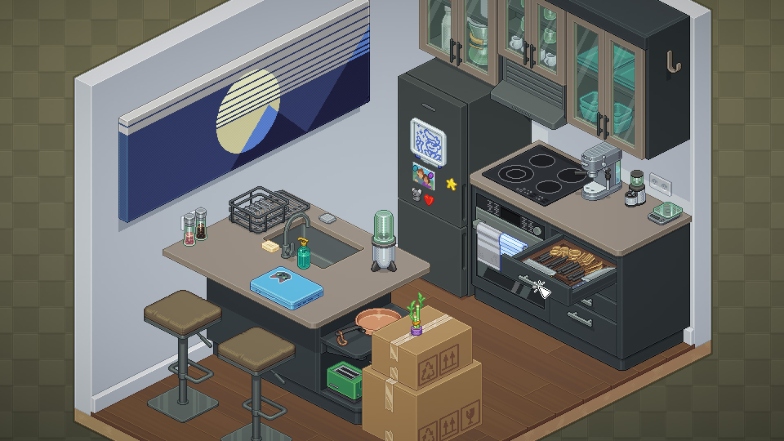 Unpacking is a moving game, and I mean that in two different ways.
The game is a single-player puzzle experience that was developed by Witch Beam and published by Humble Bundle in November 2021 but only arrived on PlayStation consoles about six months later.
The premise of the game is obvious – the narrator is moving houses. These moves span twenty years, between 1995 and 2015, and each time, you have to help unpack in each new location.
There is a "deeper" story to follow here, as you start off unpacking what appear to be cardboard boxes containing the belongings of a child.
As the years roll by and you move from location to location, the child obviously grows and this is reflected in the types of objects and personal effects that you have to unpack each time.
The actual mechanics of unpacking are straightforward enough, but the most impressive thing about this relatively brief game is how much the developers managed to pack into it with little dialogue or text.
The settings do all the "talking", as evidenced by a particular period where it appears that the girl is going through a difficult stage of her life based on how her flat looks.
Her personality shines through the items that she keeps and discards, including those that have been with her through most of the journey of Unpacking.
This is a simple game, but one that makes you reflect. If you're looking for the best puzzle games on PS5, look no further.
Inscryption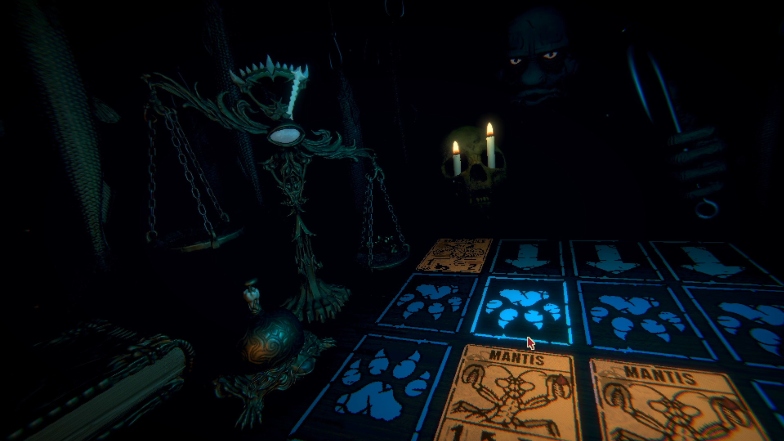 Inscryption is an extremely immersive roguelike/card/horror/puzzle game that was first published for Windows by Devolver Digital in 2021.
The game arrived on PlayStation in August 2022 and has since rightfully taken its place among the best puzzle games on PS5.
It's hard to go into details of the game without giving away spoilers, and the mystery of not knowing how the story plays out is its most interesting feature. Yes, there's a story.
Think of Inscryption as a deck-building roguelike game where you're expected to solve escape room puzzles while dealing with elements of horror in the environment around you.
This horror includes a mysterious Gamemaster that you have to defeat in a series of card games to progress to a more RPG-style area.
Make no mistake, there is a lot to unravel here, and there is very little handholding from the developer. But, if you're looking for the best puzzle games on PS5, then you were not expecting to be cuddled, were you?
Superliminal
Superliminal was in development for a pretty long time, but all that time spent by Pillow Castle Games was justified in the end product when it was finally launched in 2019.
Initially, the game was only available for Windows and Mac PCs, but it has since been ported to consoles, and an updated PS5 version arrived in November 2022.
Superliminal is a first-person puzzle game that sees the player take on the role of a character in a dream therapy program. Something goes wrong and the character gets caught in a recurring dream cycle, and it is up to you to help them find a way to escape.
The puzzles are heavily coated in illusion, so you'll have to look at everything pretty closely multiple times to find what you need. Viewing objects from different perspectives, angles, and orientations will often present new information.
You can interact with various items as you traverse across the rooms in the "dream", trying to find exits. When you eventually make your way out, you're welcomed by an announcement that might leave you seething.
If you like the uncertainty surrounding puzzles, you'll love our list of the best mystery games on PS5 as well. Check that out next and add a few more titles to your catalog!