Fishing games are, in my opinion, sort of "niche" when it comes to console gaming. There are just not enough options to choose from, and as things stand, you're more likely to find a fishing game from 2017 than one that was released for the PS5 with 4K resolution and 120fps.
However, if you're a big fan of fishing games, chances are that you care less about how much new tech is used in the game and more about the overall gameplay, realism, and immersion.
On that note, some of the games in this guide to the best fishing games for PS5 are a bit dated, but they are still very much enjoyable for the casual gamer. If you're just curious and want to try out fishing for the first time, you'll find something that works here too. Let's get into it!
Catch and Release
Catch and Release has made my list of the best fishing games for PS5 because of its uniqueness.
The game is played with PlayStation VR, and it is genuinely one of the most fitting combos out there. Fishing, in itself, can be very one-dimensional. The rebound effect of that fact is that fishing games often tend to get boring quicker than games in other genres, which is poor for replay value.
However, the developers of Catch and Release managed to add a bit more flair to the game to make it enjoyable for a longer period of time by including more lifestyle-forward features that make the experience more immersive.
For instance, when you cast your net and wait for your bait to catch something, there's other stuff to do such as reaching out for food and drink, listening to the radio, and even taking pictures of the scenery.
The fact that all of this is done in virtual reality makes it all the more enjoyable, and it really feels like you're doing these things in real life.
Catching the fish is also pretty realistic, and you have to pay attention to how you cast your fishing rod if you hope to be successful. The more fish you catch, the more money you make.
There's also a book on your boat that you can access at any time to see tips or review your objectives, so help is always nearby if you want it.
Catch and Release is more than just a fishing simulator. It's a game that is just perfect for moments when you want to relax with the feeling of being outdoors without actually going out.
For me, that's enough to earn a place on any list of the best PS5 fishing games.
Bassmaster Fishing 2022
Bassmaster Fishing 2022 is a more recent release from Dovetail Games, and it is one of the most realistic fishing games out there.
The game contains various modes for various moods, including the freestyle Venue mode where you can fish across several locations, and a Career mode where you can fish competitively in tournaments with specific objectives.
It's a good blend because there will be times when you just want to play casually to pass time and other times when you want to test your ability against opponents.
The Career mode, in particular, has a nice variety of objectives in terms of the types of fish that you're expected to catch, and the difficulty levels of the various tourneys.
Dovetail Games have paid a lot of attention to making this game very realistic, and that has paid off massively in how it is reflected within the game. If you're looking for an arcade-style fishing game, then you may want to consider other options.
However, if you have the patience and genuine interest in a simulator that tries its best to replicate real-life conditions, then Bassmaster Fishing is one of the better options in the PlayStation store.
I'm particular about patience because part of the realism in this game means that there may be good stretches of time where nothing is really happening. You can cast a line and catch nothing for half an hour, so it's a really slow burn and not for everyone.
On the PS5, the developers have found some use for the DualSense controller to add that extra bit of immersion with vibrations, particularly when you're reeling in your fish.
Add to all of that a visually pleasing environment and good lighting, and you have one of the best fishing games for PS5 hands down.
Fishing Planet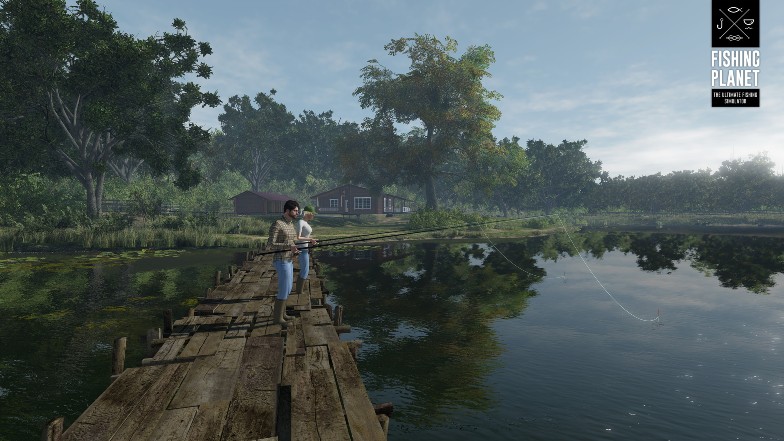 Fishing Planet is even older than Catch and Release, but it also makes this list of the best PS5 fishing games because it still measures up well in comparison to the options available in the PlayStation store.
The game was published by Fishing Planet LLC in 2017, and it was one of the earlier fishing simulation games that got a fair bit of applause for its attempt to be a realistic fishing experience.
Since that first version was released, an updated sequel of sorts – The Fisherman: Fishing Planet – was also published in 2019. However, I still chose the original over the newer version because it's a better game overall and it's still free to play.
Fishing Planet is played from a first-person perspective, and while the graphics are not game-changing by any means, they're good enough to reflect an accurate simulation of the mechanics behind realistic fishing.
This is an online game, so you need access to the internet to be able to play, even in single-player modes. If you want to introduce a bit of competition, you can set up a lobby for yourself and your friends, or a random lobby that other online players can join.
At the time it was released, Fishing Planet was a rough port from the PC version of the same name, and you may notice the evidence of this in the way that the menus are set up.
It all looks a bit out-of-place and disorganized, but if you can get past that, this is still one of the best PS5 fishing games that you will find on the PlayStation Store.
Ultimate Fishing Simulator 2
One may argue that its presence on the list is a result of the dearth of options in the fishing category, but Ultimate Fishing Simulator actually has its merits.
When you're fishing in UFS, most of your attention will be on casting your line and reeling in fish, which is all well and good because the rest of the environment leaves a bit to be desired.
It would be nice to get visual upgrades such as better details in the environment, but at least the main focus looks fine.
Besides, graphics are not the only determinant for a good game. We've all played good games with less-than-stellar graphics, and gameplay matters more overall.
That gameplay is the reason why UFS is on the list of the best PS5 fishing games. It has the same mechanics of casting your line, baiting the fish, and reeling them in, but there's a nice variety in the types of fish and locations, and the overall experience has depth.
You can also upgrade your equipment and unlock new locations as you earn cash from your fishing exploits. Upgraded rods, baits, weights, lures, etc., make it easier to catch bigger and better fish and subsequently earn even more cash.
Just like in real life, you can go from catching a series of fish within a short time in one location to catching nothing at all for a while in another location, and you also have to be mindful of the types of bait that you use when trying to catch specific types of fish.
It's a nice attempt at realism, and there are tips that provide more clarity so you don't have to spend too much time figuring everything out on your own if you don't have the patience for it.
The Catch: Carp and Coarse Fishing
Two years before Bassmaster Fishing, Dovetail Games released The Catch: Carp and Coarse in the same fishing category.
Carp and Coarse treads a different path from its younger brother in a couple of areas, with realism being the most standout difference.
I mentioned in my notes about Bassmaster Fishing 2022 that the developer paid a lot of attention to trying to make the game realistic, and while Carp and Coarse has its own fair share of realistic bits too, it is more suitable for less patient gamers.
Most of the games that I discuss in this review make you wait a while to find a catch, which is all well and good if you want the full simulation effect. While this one is not exactly throwing fish at you, it is reasonably easier to catch them.
Each species of fish has its preferences and behaviors, and you can use that information to your advantage to track them down more easily. When it's easier to track down a type of fish, then it goes without saying that you'll have better chances of catching them wherever you track them down to.
There are a few game modes here, including Fishing Trips, Events, Multiplayer mode, and Online Leagues.
In Fishing Trips, you play a free session that pretty much serves as practice for you to learn the best way to catch the various species of fish in the game in preparation for competitive sessions.
The locations available in this free-play game mode include Malaysia, Spain, England, Scotland, and the Netherlands.
In Events, you compete directly with the best anglers across the aforementioned locations. There are various types of events that require different species of fish for qualification.
In Multiplayer mode, you can create your own events for up to four players and challenge each other based on an agreed set of rules that can be adjusted in the settings menu.
In Online Leagues, you use the tackle points that you've earned in other modes to qualify for competing on a leaderboard consisting of other online players across the game.
Depending on your final position on the leaderboard at the end of each series, you win a pre-determined number of extra tackle points.
As I said, The Catch: Carp and Coarse does things a bit differently from the alternative from the same publisher and indeed, most of the other options in this guide.
If you're looking for a PS5 fishing game that has a lot of content in terms of game modes and competition, then this is the one for you.
Fishing Sim World: Pro Tour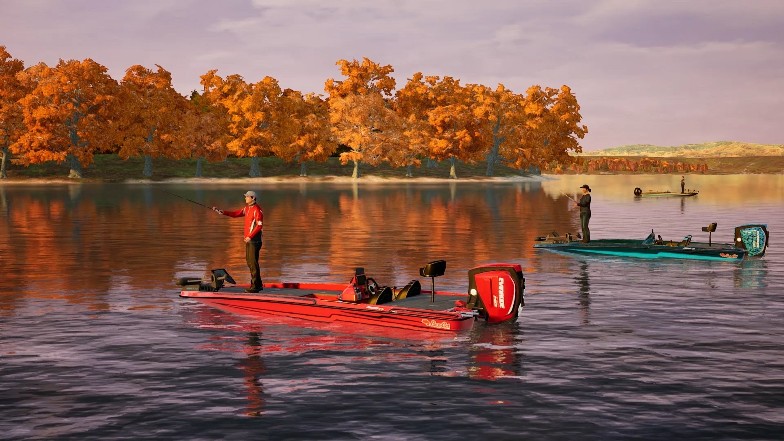 Again, two years before The Catch: Carp and Coarse, Dovetail Games launched Fishing Sim World. About a year after launch, the game had seen a series of updates with extra lakes and downloadable content.
Those updates culminated in the major Pro Tour expansion that introduced a new career mode with 100 new anglers and licensed fishing tackle companies.
Apart from the career mode, there is also an online tournament mode where you can play against other human gamers with a customized set of rules.
Gameplay-wise, Fishing Sim World: Pro Tour is quite similar to the standard fishing games. You cast your line, wait for the bait to attract a fish, and reel it in. As long as you make sure that your timing is on point, reeling in the fish should be fairly straightforward.
The graphics look good for a fishing game. At least, they've clearly made some effort to make it look real with water ripples, splashes, and other subtle details in the way that the fish behave when you're reeling them in.
If you're a casual game with a passing interest in fishing, then you'll enjoy Fishing Sim World: Pro Tour.
Fishing: North Atlantic – Enhanced Edition
Fishing: North Atlantic is the sequel to the other fishing simulator game, Fishing: Barents Sea which was released in 2018.
The original North Atlantic was released in 2020 and was already pretty popular among gamers familiar with the category. However, it became even more popular with the release of the enhanced edition for new-gen consoles in 2021.
With that update, the game is the only one on this list that supports 4K resolution, and the graphics are expectedly the best of the lot too.
You're not just fishing on a locally made small boat here either. You've got up to 27 ships to choose from, and you will be using these to travel across the Atlantic Ocean.
In Fishing: North Atlantic, you have control over a lot of things, including the crew members that join your ship at the beginning of the game. These crew members will help you to bag as many fish as possible and sell them off at various ports to earn money for upgrades.
As is the case with the other games, there is a steep learning curve here where you have to master how to use the tools you have to get specific types of fish.
For instance, the methods and tools you need to catch a swordfish are not the same as what you need to trap lobsters, and awareness of this fact will help you to adjust accordingly for each session.
With the enhanced graphics, you also get a new weather system that affects gameplay. You will be fishing under extreme conditions such as intense rain, heavy clouds, and thunderstorms, and you need to be alert at all times.
Fishing: North Atlantic Enhanced Edition is undoubtedly the best-looking fishing game for PS5 out there, and arguably the best overall.
You can't go wrong with this one.
Final Words
Considering the fact that there is not a lot separating most of these options from each other in terms of gameplay, your choice will most likely boil down to finer details such as an extra feature somewhere, or slightly better graphics elsewhere.
If you're willing to cast your net a little wider and hunt something else other than fish, you should check out the best hunting games as well.