"Horde Mode" is a survival game mode in which players fight off never-ending waves of enemies to see how long they can last before running out of resources or dying.
Usually, horde modes are typically included as a game mode alongside other options within a video game, but there are a handful of games that are just one big horde mode. That is, the horde mode is the central attraction of the game as opposed to just being one of the available game modes.
When reviewing the patterns of these types of games, I found that they are most commonly found in tower defense games and shooters. When I narrowed it further to the PS5, I found that most were shooters.
It's one thing to find a game with a horde mode, and it's another thing entirely to find a good one. In this guide, I have filtered the chaff from the wheat – so to speak – and put together the best horde mode games on PS5. Enjoy!
Quake Remastered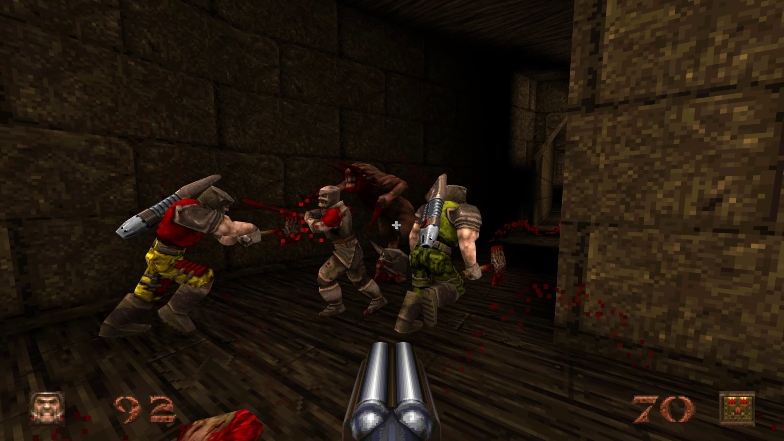 Quake is by far the oldest game on this list, and if not for the fact that a remastered version was published in 2021, it would not even make the list at all.
The first release goes as far back as 1996, and GT Interactive published it at the time. In October 2021, the remastered version developed by Nightdive Studios was published by Bethesda Softworks.
The remastered version boasts 4K resolution support with overall improved visuals, crossplay support, and both original expansions. It was a well-done remaster and received positive reviews from critics and gamers alike.
Later on, the prospect of playing this nostalgic trip of a game became even more exciting when a free update was released for the remaster to include a new horde mode that was never part of the original.
The new mode was developed by MachineGames of Wolfenstein fame, and it included options to be played by one to four players. This could be you and your friends, or you and AI bots if you have no friends.
As is the theme of horde modes in games, you and your team will face off against increasingly difficult waves of enemies and see how long you last before death.
If you don't mind the throwback graphics, then this is one of the best horde mode games on PS5.
World War Z: Aftermath
If you've seen the movie World War Z, then you have a pretty good idea of what to expect from the game's horde mode.
The video game is inspired by the movie, and it is a third-person shooter that was developed and published by Saber Interactive in 2019. Two years later, the studio published a sequel, World War Z: Aftermath, and that's the one I'm recommending as one of the best horde mode games on PS5.
Again, you're faced with waves of enemies that get progressively more difficult to overcome. The difference is that this time, the enemies are zombies.
It's not very different from the action sequences in the movie where the zombies would often attack together in massive, lightning-quick waves that were organized enough to pile on top of each other and bring down helicopters.
I loved the zombies in that movie, and it was nice to see the developers stick to the script in terms of the way the zombies behave.
In the first World War Z game, getting to Wave 50 was fairly easy, but updates have since changed that, and in World War Z: Aftermath, you're going to need a clear plan and a lot of teamwork to stand a chance.
If you're looking for a real challenge, then this is one of the best horde mode games on PS5.
Days Gone
Days Gone is quite similar in premise and style to World War Z. The story is different, but you're also trying to survive in a zombie apocalypse, and the zombies are NOT the slow, brain-dead type.
The game was published by Sony Interactive Entertainment in 2019, and it got mixed reviews back then. The people that liked it thought it was excellent, and the people that didn't like it thought it was garbage – it was a love-it or hate-it situation.
In 2021, the game got a few upgrades for gamers playing on the PS5, most notably 60fps support with a dynamic 4K resolution.
The upgrades made the horde mode experience much better, as the PS4 would sometimes drop framerates when there were too many zombies running across the screen.
Considering the fact that the biggest hordes could include well over 100 zombies, it is easy to see why the PS4's performance struggled and the PS5 doesn't.
The zombies in Days Gone are called "Freakers", and they're a real pain in the ass to deal with. The good thing is, if horde mode is what you're most concerned about, there are up to forty different locations scattered across the open-world environment where you can find hordes.
That said, the sheer number of options and places to find zombie hordes, and the difficulty of some of these hordes makes this one of the best horde mode games on PS5.
Saints Row: The Third Remastered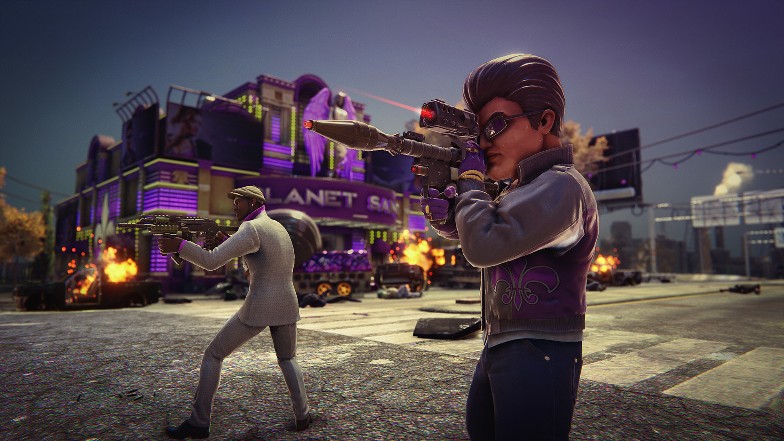 Saints Row: The Third, as the name suggests, is the third installment of the Saints Row series.
The game was originally published by THQ in 2011, but a remastered edition was released by Deep Silver for the PS5 in 2021. This was one year after the PS4 had received a remastered edition too.
The game is an action-adventure type set in a fictional version of New York City (called Steelport). You play the role of the gang leader of the 3rd Street Saints, continuing the gang's adventure five years after the events of Saints Row 2.
Saints Row's horde mode is called Whored Mode. It's just a testament to the sort of humor that you should expect from the game when you get into it.
The mode is available from the main menu and can be played in single-player or multiplayer at three different locations. Each location has 30 waves of enemies, but you don't have to play the waves from beginning to end in a single session if you don't want to.
For each wave, you get a different set of weapons and vehicles to complete bizarre objectives such as "killing armed prostitutes", "fighting almost naked angels in a sniper-on-sniper battle", or "fighting large hot dog men".
It's all pretty twisted, but it will probably also make you laugh. That's what Saints Row does.
Doom Eternal
Doom Eternal was by Bethesda Softworks in 2020 for eight-gen consoles, but received a next-gen upgrade about a year later.
A couple of months after the next-gen upgrade was released, Horde Mode was introduced with an update. The mode is set across three levels – Cultist Base, Reclaimed Earth, and The Holt – with each level featuring five rounds in different locations.
The five rounds include Arena, Blitz, Bonus Coin Round, Traversal, and Bonus Blitz Round.
In the Arena rounds, you fight off multiple waves of demons (including bonus waves) in an arena combat, first person format.
In the Blitz round, you're given a specific type of demon to target and you have to try and kill as many of them as you can before the timer runs out.
In the Bonus Coin round, you have to collect as many coins as you can within the allotted time.
In Traversal, you use various movement combos to traverse the course ahead of you and reach a portal. You also have to collect as many coins as you go before the timer runs out.
In the Bonus Blitz round, you play the same game as the Blitz round but this time with cueballs, super-heavy demons, and onslaught powerups.
Since you're reading this guide, then horde mode is clearly the main attraction for you. However, the rest of the game modes in Doom Eternal are excellent as well, so you know you're getting a real solid package even when you're over the horde mode.
Zombie Army 4: Dead War
Yes, more zombies. To be fair, you should have been expecting this from a guide that's focused on "hordes".
Zombie Army 4: Dead War is a third-person shooter that was released in early 2020 as a sequel to the Zombie Army Trilogy of 2015.
The series itself is a spin-off of the Sniper Elite series which includes a game that features further down in this list.
In 2021, Zombie Army 4 received a next-gen upgrade to bring the game up to speed with the graphical and performance improvements on the PS5. The upgrade includes 4K + 60fps performance in quality mode and 1080p + 120fps in performance mode for buttery-smooth gameplay.
The game's horde mode allows up to four players at a time in online co-op. You and the rest of your team are exposed to persistent waves of zombies in an arena with very little in the way of firepower to fight with or space to run into.
To make matters worse, some of the enemies that will come at you are armed with weapons too. I'm talking heavy-duty weapons such as modified chainsaws, flamethrowers, and even a zombie tank!
Compared to other zombie games where you only have to worry about teeth and sharp fingernails, this is next-level stuff.
If you fancy a lot of gore with over-the-top enemy weapon systems, then this is one of the best horde mode games on PS5 to offer just that.
Warframe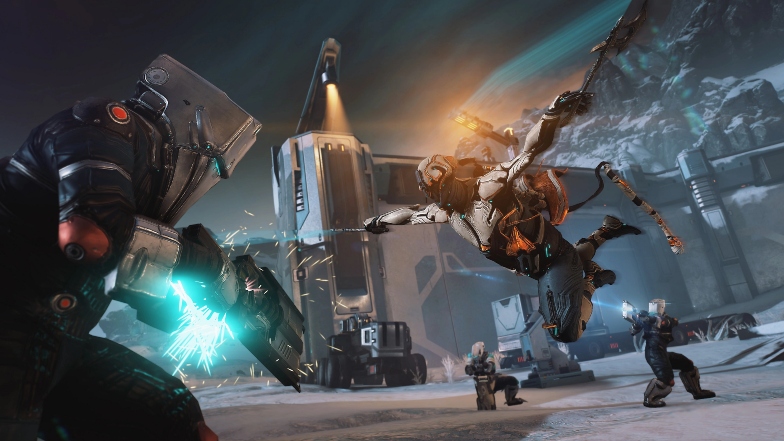 As of the time that the PS5 was released in late 2020, Warframe was seven years old. The game had initially been published for Windows PCs by Digital Extremes in 2013, and then later the same year for the PS4.
However, very soon after the PS5 launched, the studio announced a PS5 version for the hugely popular action role-playing shooter. It had something to do with the fact that they'd been bought by a Chinese company that made the decision, but it was a welcome development either way.
In Warframe, you and your team control members of a race of ancient warriors called the Tenno, many years into the future. At the time, Earth was at war with other planets and Tenno had been reanimated to help out.
To get the horde mode experience in Warframe, you have to play the "Survival" mission. There, you're faced with a steady wave of enemies coming at you while a Tenno operative secretly gathers supplies.
Your duty is to distract the enemies long enough for the operative to gather enough supplies while your life support slowly depletes.
If you like the sound of a horde mode experience with a nice blend of assorted weapons, parkour, and melee combat, then Warframe can give you that.
Back 4 Blood
Back 4 Blood is a 2021 release from the stables of Left 4 Dead developers, Turtle Rock Studios. The game was published by Warner Bros. Interactive Entertainment.
In this game, the zombies you're battling with are called the "Ridden", and they're heavily populated around the world you're in.
These zombie hordes have hierarchies in terms of how easy they are to kill. The lower-level ridden are quick but easily dispatched, while the upper-level ridden are not as fast but can do more damage and also take some stopping.
The best chance that you have of defeating the tougher zombies is to find a weak spot in their bodies and repeatedly target that until they drop. If that sounds simple enough, I promise you it really isn't. However, it's not as difficult as the likes of World War Z: Aftermath.
Now, the actual "horde mode" interpretation of this game is a bit different from what you'd expect going off what the studio did with Left 4 Dead. It's actually a PvP "Swarm" mode, but if you can get past that initial disappointment, it can actually be quite a bit of fun.
Devil May Cry 5: Special Edition
Devil May Cry is one of the most popular franchises in this guide. DMC5 was the sixth overall installment of the series, and it was originally published by Capcom in 2019.
Then, it turned out to be one of the games that got the next-gen treatment when the PS5 was launched in November 2020.
The next-gen upgrade was titled Devil May Cry 5: Special Edition, and it featured significant visual and performance boosts such as ray tracing, up to 120fps at 4K (with ray tracing turned off), and faster load times.
All of this added to the already-excellent package of the initial release made DMC5: Special Edition easily one of the best hack and slash games for PS5.
This Special Edition also includes a new playable character, Vergil (Dante's twin brother), and the Legendary Dark Knight Mode which is a really difficult horde mode with loads of enemies.
If you're familiar with the series, then you probably already know of the Bloody Palace DLC too.
This is a survival mode that has been featured in DMC games since DMC2. It sets the player up against hordes of progressively difficult enemies and bosses, allowing you to choose from one of the three main characters to fight with.
To enable Bloody Palace on your game, you must have downloaded the free update as it is not included in the base game. Then, you must have beaten the game at least once to unlock it in the menu.
There are over a hundred stages in this mode, so if you're looking for the best horde mode game on PS5 with a ton of content, then this is it.
Sniper Elite 5
Sniper Elite 5 is the sequel to Sniper Elite 4 and the fifth main installment of the series. The game was developed and published by Rebellion Developments, the same studio that worked on Zombie Army 4: Dead War.
Here, you play Karl Fairburne, a Special Operations Executive (SOE) as he plays his part in the United States' attempts to uncover Project Kraken (a secret Nazi project) in 1944 Nazi-occupied France during the Second World War.
While the main, single-player campaign focuses on stealth gameplay with lots of long-range sniping and close-range silent kills, there is also a Survival "horde mode" that allows up to four players at once.
In this Survival Mode, you can team up with friends to defeat waves of enemies. You and the other players are dropped into a sizeable map with various command posts across it.
At the beginning of the rounds, you have to "capture" a command post, and then fight off the waves of enemies that try to take it from you. Between each round, you get 25 seconds to do whatever you want.
If you're looking for a horde mode game with a lot of sniper action, then this is a peach.
Warhammer: Vermintide 2
Warhammer: Vermintide 2 is the sequel to Warhammer: End Times – Vermintide which was released three years earlier.
In 2021, the game received a PS5 performance and visual update that boosted the framerate to 60fps and the resolution to 1440p.
Vermintide 2 is a first-person shooter set in a fictional fantasy universe where players fight against a race of rat-men called the "Skaven". You can play as one of five major characters, each with their own set of unique abilities.
To access the horde mode in this game, you need to complete challenges in the "Back to Uberseik" DLC.
I have an issue with this because I'm not sure why such a feature should be hidden behind a challenge without making it clear and obvious how to go about it, but if you manage to find and unlock the mode, it is a lot of fun.
Borderlands 3
I did say most of the games on the list are shooters, and this one here is a looter shooter. However, Borderlands 3 is not just a great horde game, it is genuinely just one of the best games on the PlayStation.
It was originally published by 2K Games in 2019, and a PS5 upgrade came in 2020.
Borderlands 3 is the fourth entry in the Borderlands series. Fans of the series had to wait quite a bit after Borderlands 2 which was released in 2012, but the wait was worth it.
The game has a distinct art style that is implemented across the series, including the spin-off, Tiny Tina's Wonderlands. It looks great, especially on the PS5, but the loot-driven multiplayer co-op gameplay and humorous dialogue are what really make it shine in its genre.
To play the horde mode in this game, you must first complete the story. Now, many developers only add endgame content as a bonus, but one would argue that the endgame content in Borderlands 3 is the main course due to the nature of the game.
There are three main endgame activities here, but the one you're looking for is "Circle of Slaughter", which is a regular horde mode mission where you and your team face off against increasingly difficult waves of enemies.
If you like the sound of over-the-top combat and bullet hell bosses, then Borderlands 3 can give you what you need in large doses.
Speaking of bullet-hell games, that's another gaming category that you might enjoy if you're a fan of chaotic action. Be sure to check it out!