If you own a PS5 console, chances are that you have more single-player games in your catalog than otherwise. Although there are many options for couch co-op and online multiplayer games, the biggest attraction of a game when you're offline usually comes from its single-player/campaign mode.
Many of these single-player games can become repetitive, due to the sheer saturation of the category in the gaming industry. There are loads of single-player adventure games, action games, shooters, etc. and many offer similar overall experiences.
This can make it difficult to handpick a game that offers a unique campaign that stands out from the rest, either through its story, gameplay mechanics, graphics, art style, features, genre, etc.
Because it's my job to make your life as a gamer easier, I have done the research and selected 20 of the best single-player campaign games on PS5. In each review, I will mention the factor that makes each game unique. Let's go!
Bugsnax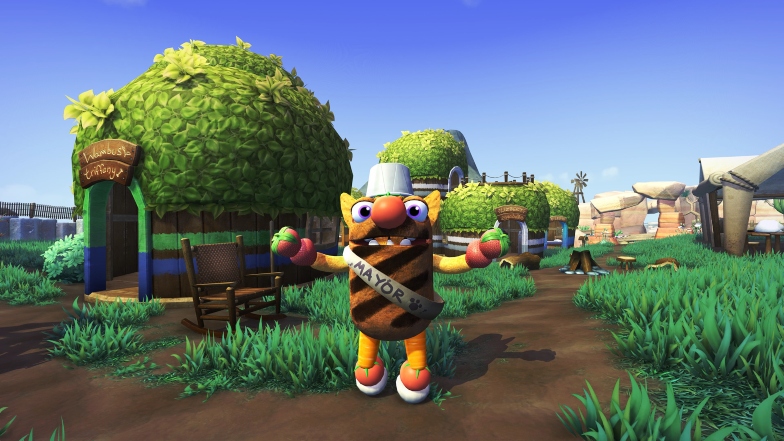 If you're looking for the best single-player game on PS5 from an indie studio, then you should be paying attention to this one.
Bugsnax is a narrative-driven game played from the first-person perspective. In this game, you traverse the fictional Snaktooth Island which serves as a home to more than 100 "Bugsnax" species.
These bugsnax are curious-looking creatures that just wriggle their way across the island looking like extras from Monsters, Inc. As you try to execute your mission of investigating the disappearance of a missing explorer on the island, you will be expected to find and capture different species of Bugsnax.
Bugsnax is one of the PS5's most interesting launch titles, with its unique premise, characters, and a good blend of puzzle-solving with adventure.
Hitman 3 (World of Assassination)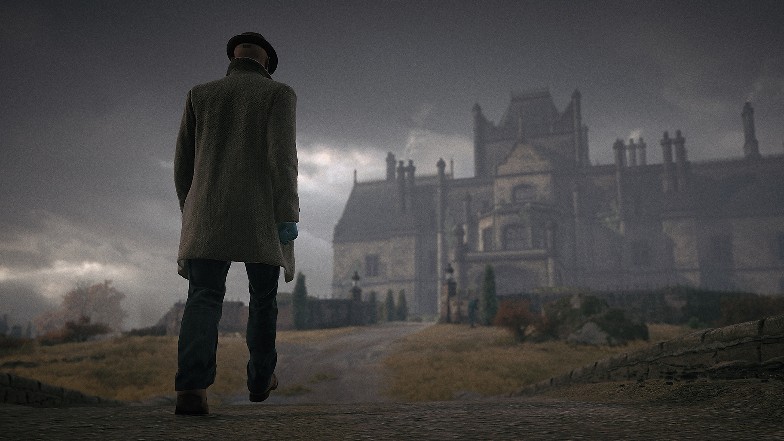 The Hitman series needs no introduction. The franchise has really taken off and its main character, genetically-engineered Agent 47 has become a household name among gamers since the launch of Hitman: Codename 47 in 2000.
Now, Agent 47 returns in Hitman 3 with a new mission. The game was developed and published by IO Interactive in January 2021, and it is the eighth main installment of the Hitman series and the third and final entry in the World of Assassination trilogy.
The game is played from a third-person perspective, which gives you a broader view of Agent 47's moves as he interacts with the environment and brings enemies down while staying out of sight.
In the single-player story, 47 works with allies to hunt down the leaders of Providence, a secret organization that was heavily involved in the creation and upbringing of 47 and his peers.
If your search for the best campaign game on PS5 is leaning toward stealth games, then Hitman 3 is one of the top options out there.
Lost Judgment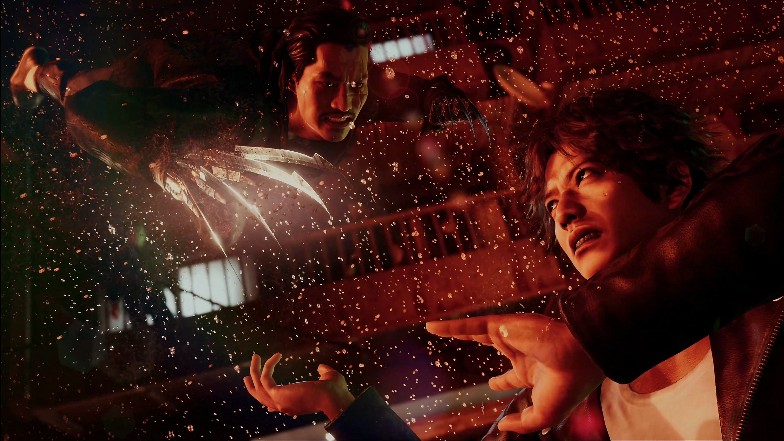 Lost Judgment is the sequel to 2018's Judgment. Both games are action-adventure titles that serve as spin-offs of the Yakuza series.
Lost Judgment was published by Sega in 2021, and the game runs in 4K with 60fps on the ninth-gen PS5 console. It looks great, and the gameplay feels really smooth as well.
The campaign mode in Lost Judgment follows a private detective named Takayuki Yagami, and this is where the uniqueness of the game shines through.
Although it is an action-adventure at its core, it also features strong elements of a detective game as you try to piece clues together to investigate and solve the case that has been assigned to you.
The said case is that of sexual harassment and murder, and you will find yourself running across the streets of Kamurocho and Isezaki Ijincho as you question and fight your way through witnesses to bring your mission to a close.
If you like the sound of a detective game with engaging combat, parkour moves, and side quests to keep things fresh and interesting, then Lost Judgment is one of the best single-player games on PS5 for you.
Resident Evil Village
Like Hitman, the Resident Evil franchise is another one that has built a huge reputation in the gaming industry since the first title was released in 1996.
At the time, the game was created by Shinji Mikami and Tokuro Fujiwara, and it pretty much carved out the "survival horror" genre while bringing zombies back into the mainstream gaming world.
25 years on, Resident Evil Village was released, and that carved-out niche remains the key selling point that makes the game a unique feature in this guide to the best single-player games on PS5. The game was developed and published by Capcom, and it serves as the sequel to Resident Evil 7: Biohazard.
Interestingly, Resident Evil 7 marked the switch from third-person in previous iterations to a first-person perspective, and Resident Evil Village retained that format. The result of that switch is a more immersive experience with a complete focus on the horror in front of and around you.
The story mode follows Ethan Winters' adventure as he searches for his kidnapped daughter in a village filled with zombie-like mutant creatures. It is a double misfortune for Ethan as these events follow the murder of his wife, Mia, just when he thought things were going back to normal once again.
Devil May Cry 5: Special Edition
If you're looking for mindless fun in a single-player PS5 experience, then what better way to go than a certified classic hack-and-slash title?
Full disclosure, when I decided to add a hack-and-slash game to the list, I was torn between God of War (2018) and Devil May Cry 5, and the decision was made solely based on the fact that DMC5 is the newer game. Don't judge me.
To be fair, DMC5 got even better with the release of the Special Edition for the PS5. You get ray tracing and new content, and if you decide to play with ray tracing disabled, you can play at an incredibly smooth 120fps at 4K resolution.
The single-player mode carries on five years after the events of DMC4, and it follows the stories of three characters, Dante, Nero, and V.
Their journey across the Red Grave City will have you controlling either one of these characters at various points, but they all share a similar purpose of stopping the Demon King Urizen from destroying the human world.
DMC5: Special Edition's campaign is a truly fantastic single-player experience.
Marvel's Spider-Man: Miles Morales Ultimate Edition
To be clear, the recommendation for this guide is the Ultimate Edition of the game which includes the remastered version of 2018's Spiderman.
For the purpose of this guide, what sets this game apart from the rest is that it is the only one with a plot centered around a character that is a superhero. So, if that's what you're looking for, then read on.
There are seventeen main missions available to play in the campaign mode of Spiderman: Miles Morales, with at least nine side missions to further boost the bulk of the content.
You play as Miles, starting off with a mission alongside Peter Parker as you both accompany a prison convoy conveying a supervillain and a crew of other bad guys.
Something goes wrong and the prisoners escape, which leads to your first mission to stop the marauding supervillain, Rhino, and recapture all the other prisoners.
If you like the idea of web-slinging fun across the stunningly rendered streets of New York, complete with ray-tracing, then this is up there with the best campaign games on PS5.
The bonus Spiderman Remastered is definitely a significant addition too – it's fantastic!
Disco Elysium: The Final Cut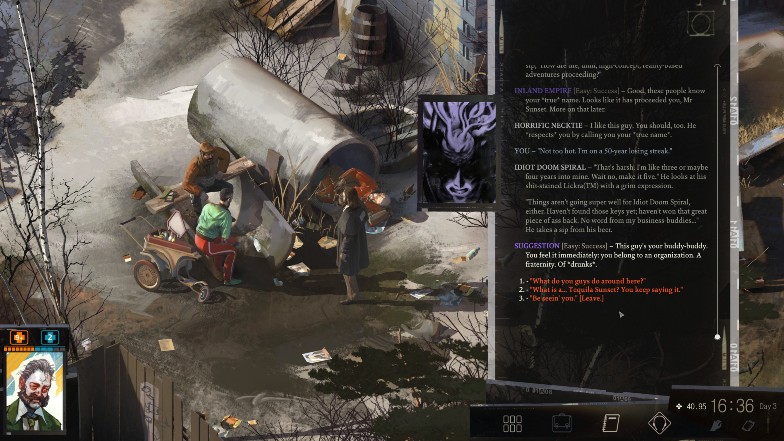 Disco Elysium is a role-playing game from ZA/UM. It was initially published for eight-generation consoles in 2019, but The Final Cut for PS5 arrived in 2021.
It was well worth the wait, considering the fact that it included significant updates in the form of full voice acting, new vision quests, a new streamer mode, 4K resolution, and 60fps performance.
A major reason why I think this game deserves to be considered as one of the best campaign games on PS5 is its unique art style. It is not only different from the rest of the games in this guide, but it is also different from most of the games on the PlayStation Store.
Every scene in this game looks like a painting, and it is almost easy to get lost just sitting there and admiring it when you're supposed to be finding clues and solving cases. Oh, I forgot to mention, that's what this game is about.
Your character is an alcoholic police detective, and you have an uphill task to solve a murder when you can barely even remember who you are.
The writing for this game is brilliant, and I would honestly still squeeze it into the list of best single-player games on PS5 without that distinct art style. It's that good.
Death Stranding: Director's Cut
If you want a single-player experience that truly gives off the vibe of your character being alone, then you should have a look at Death Stranding.
The game was originally released in late 2019, a year before the launch of the PS5. However, the Director's Cut served as the next-gen edition when it was released in September 2021.
The update brought new features, better graphics, and better performance to bring the game up to speed with ninth-generation consoles, but the core of the story remained the same.
In the campaign's 40-hour-long story, you play Sam Porter, a delivery guy on a bike. It's an overly simplistic description though because what Sam does is much more dangerous than simply moving packages around.
The game is set in the post-apocalyptic U.S.A., where a cataclysmic event has stripped the world of its natural order. A host of "Beached Things" (called BTs in-game) appear on Earth, making it unsafe for people to go outside.
You're in charge of making deliveries to keep things ticking, moving packages that no one else will. You won't get too many human encounters though, which is why I said that the game truly captures the feeling of being alone.
The story progression holds up very well despite this though, and the payoff is worth it at the end. If that sounds like what you're looking for, then Death Stranding should get your seal of approval.
Final Fantasy VII Remake Intergrade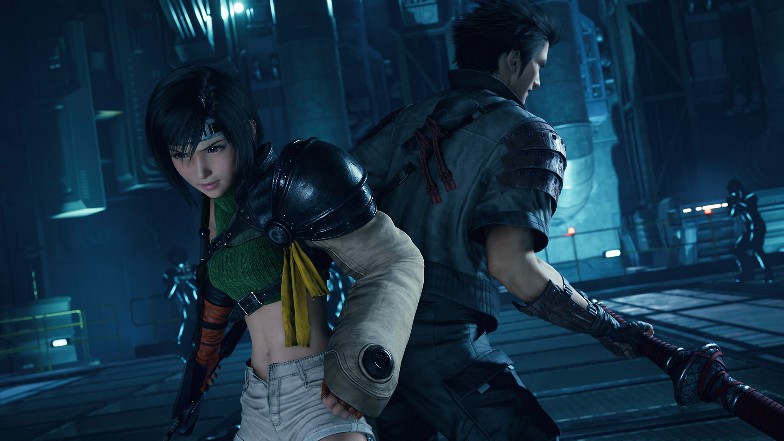 Final Fantasy VII Remake Intergrade is my anime-style contribution to this guide to the best campaign games on PS5.
For most fans of the Final Fantasy franchise, the release of Final Fantasy Remake was a dream come true. It brought back all the nostalgia of the old game in new, shiny packaging, and it was really good to see how true to the source material the game remained.
Fast-forward to the release of the PS5 months after the Remake was published and the need for a few new changes arose again.
That need birthed the development of Final Fantasy VII Remake Intergrade, further improving on the regular Remake and adding a brand-new adventure featuring Yuffie Kisaragi, the main character, and Wutai Ninja.
FF7 Remake Intergrade has been praised for its graphics, combat, gameplay, and soundtrack selection. Even if you're not a follower of the series, this game is still one of the best single-player experiences on PS5.
Hades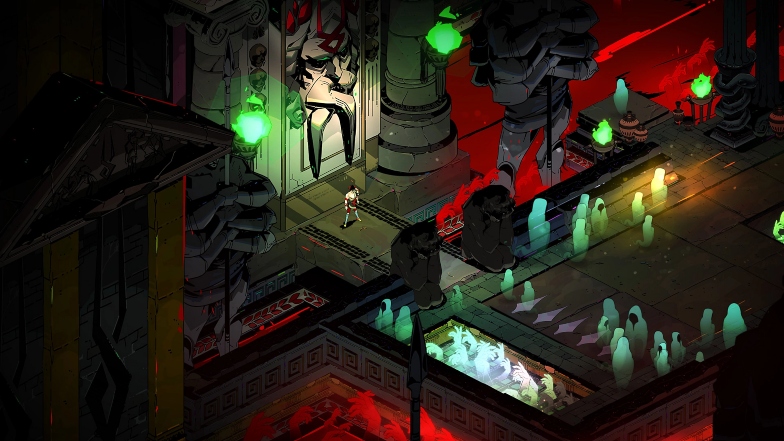 3D Games are generally considered to be more visually appealing, and if looks matter the most to you, then you're more likely to enjoy them compared to 2D alternatives.
However, there are several excellent games that are rendered in 2D graphics, and Supergiant Games' Hades is one of the best of the lot.
Hades was originally published in December 2018, but a PS5 upgrade arrived in 2021.
The entire narrative of Hades, its gameplay, and the story are all created with a single-player experience in mind, as confirmed by the developers themselves.
The player controls Zagreus, the son of Hades whose sole objective is to escape the Underworld and reach Mount Olympus.
Apart from the standard hack-and-slash combat style that you can attack enemies with, Zagreus has also been blessed with special gifts from other Olympians to help him complete his run.
If you're okay with the fact that there will be some frustration from repeated deaths, typical of a roguelike, Hades is well worth your time as one of the best single-player games on PS5.
Elden Ring
FromSoftware is popular for its work in developing "souls" games. Titles such as Demon's Souls, Bloodborne, Dark Souls, and Elden Ring all have a similar concept of action role-playing with high levels of difficulty, and the stories are usually set in a dark fantasy world.
On that note, Elden Ring is my entry for the sub-genre when considering the best single-player games on PS5.
The game was published in early 2022 for eight and ninth-gen consoles, with the combined effort of FromSoftware and Bandai Namco Entertainment. The famous Game of Thrones writer, George R. R. Martin contributed written material for the game's dark fantasy setting, so you can imagine how rich and compelling the story is.
Despite the resounding success of FromSoftware's other soulslike games, Elden Ring is the crown prince of the developer's achievement in many ways.
The open-world design here is the best in all their games so far based on scale and scope, and it allows for the best form of exploration that we've seen from the studio so far.
Combat is engaging, and the bosses can be pretty difficult. However, the satisfaction of finally bringing one down is unmatched.
Returnal
Returnal is the second roguelike game on this list, but Hades was added for a different reason, so allow it.
The game is one of the PS5 exclusives, and it has streaked its way to the top of many game rankings with how successful it turned out to be since Sony Interactive Entertainment published it in 2021.
In the same manner with soulslike games, Returnal can get pretty challenging at times. In fact, both genres are similar in the fact that they are designed to be difficult, albeit with different approaches to making that happen.
While soulslikes focus on difficult combat with enemies and bosses, roguelikes frustrate you with repeated deaths and progress losses as a result of anything from enemies to environmental hazards strategically placed in-game.
Apart from its stunning graphics and excellent use of PS5-specific features, other important factors that make Returnal one of the best campaign games on PS5 are its story and gameplay.
You play as Selene Vassos, a space pilot that's been stranded on a strange planet in search of a mysterious signal. Her mission becomes even more difficult when she discovers that she is stuck in a time loop where she is resurrected every time she dies.
You have a variety of weapons at your disposal – this is also a shooter, after all – and it helps that you can restart levels from "checkpoints" so you don't lose all your progress. However, this is still a pretty challenging game, but it's also a lot of fun.
Days Gone
Days Gone was published by Sony Interactive Entertainment in 2019. The game has since received updates that make it run at 60fps with a dynamic 4K resolution, so it looks and runs better on the PS5.
If your thirst for single-player action can only be quenched by shooting zombies in the head, then Days Gone is for you.
Be warned, however, that these zombies are not your typical "crawling and creeping" slow movers. These guys are fast, and they move in hordes.
The post-apocalyptic zombie beat often feels overplayed nowadays, but Days Gone manages to refine all the elements that made people fall in love with the sub-genre in the first place.
You play as a drifter, Deacon St. John as he sets off into the hostile open-world, zombie-filled environment of post-apocalyptic Oregon to find his missing wife, Sarah, after finding out that she might not be dead as he had presumed initially.
Your major mode of transport is a motorcycle that you must keep in good condition to avoid getting stranded, but you also have the luxury of firearms, improvised weapons, and melee weapons to keep the undead at bay for as long as you can.
Ratchet and Clank: Rift Apart
Ratchet and Clank: Rift Apart is another masterpiece from the developers of Spiderman – Insomniac Games. The game was published by Sony Interactive Entertainment in 2021, and it is a PS5 exclusive.
In case you're not familiar with the series, you should know that Rift Apart is the sixteenth installment of the Ratchet and Clank franchise which has been running since the first game was released in 2002.
Rift Apart is my entry for platformer games in the single-player category, and it is a fantastic, well-rounded game with a lot of good things going for it.
The standout features here are the visuals and combat sequences. The visuals, in particular, are some of the best that I've seen from any game up till this point, and they offer a fantastic audition for the graphics capabilities of the PS5.
In Rift Apart's campaign mode, you play as Ratchet alongside his companion and sidekick, Clank. At certain points in the game, you will also play Rivet, a female character.
This third-person shooter cum platformer is one of the very best across multiple genres, and you're certain to have a lot of fun during your time with it.
Uncharted: Legacy of Thieves Collection
The Uncharted series is one of the most loved collections in the history of console gaming.
The main characters have some of the best character development and story arcs that the industry has ever seen, and Nathan Drake in particular is a very likable character that you're almost certain to form a sort of bond with by the time you complete the collection.
Uncharted: Legacy of Thieves Collection includes Uncharted 4: A Thief's End and Uncharted: The Lost Legacy remastered for the PS5. While the former contains more adventure with Drake, you play Chloe Frazer in Lost Legacy with a different story within the same premise.
If you're looking for an adventure that involves finding lost treasure and uncovering age-old secrets, then this Uncharted collection is one of the best single-player options on PS5.
It would help if you're already familiar with the series and have a working knowledge of the stories in the previous games, but it is not compulsory as the games in this collection hold up well as standalone experiences.
Horizon Forbidden West
Ratchet and Clank: Rift Apart is a gorgeous game by any standard, but in my opinion, Horizon: Forbidden West was the best-looking game on the PS5 when it was released.
If you're looking for a single-player experience where you get to explore a vast environment rendered in stunning detail and rich color, then this is a game that I can easily recommend.
Forbidden West is a sequel to 2017's Horizon: Zero Dawn, which was also a really good-looking game. However, the sequel can stand on its own with its campaign mode with no knowledge of the previous iteration.
The main character of the story is Aloy, a huntress that grew up as an outcast of her own tribe. She journeys across a post-apocalyptic version of the Western United States to complete quests while faced with enemy machine creatures.
A mini-game of sorts that I like to play in Forbidden West is to see if I can recognize famous landmarks recreated in the game. It can be tricky at times because these buildings are rendered in dilapidated condition to reflect the post-apocalyptic effect, but it's a fun little game anyway.
The Last of Us Part 1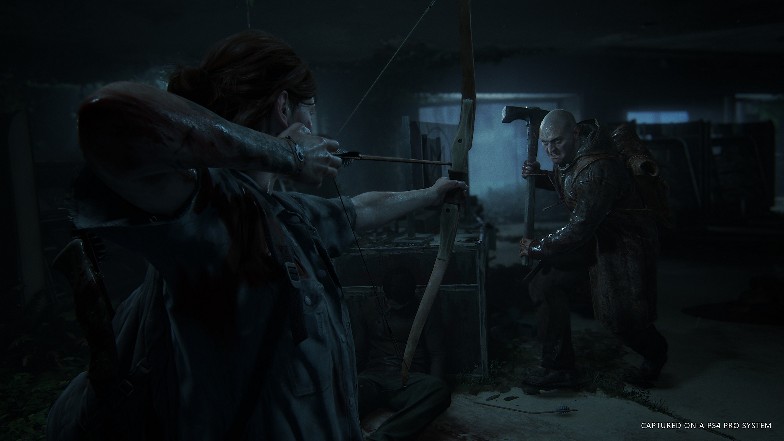 There are not too many games in the PlayStation Store with a more compelling story than The Last of Us – not even the sequel, The Last of Us II.
The game was initially released in 2013, followed by the remastered version a year later. But, if you're playing on the PS5, then you should be getting the Last of Us Part 1 which is a ground-up remake with updated graphics.
The Last of Us features some of Naughty Dog's best work in terms of character development, story progression, gameplay mechanics, and immersion.
This is yet another game set in the post-apocalyptic United States, but I promise you won't be bored for a minute with the way it is presented. The player controls the game from a third-person perspective, playing as a smuggler named Joel.
Joel's objective is to help Ellie, a young girl, safely across the ruined city. Your biggest worries are hostile, selfish humans that trust nobody, and cannibalistic creatures that have been infected by a mutated fungus in the course of events that led to the apocalypse.
There is an online multiplayer mode in The Last of Us, but the single-player campaign offers more than enough entertainment, horror, suspense, and mystery to enjoy.
Little Nightmares II
Little Nightmares 2 is the prequel to 2017's Little Nightmares.
The game was published by Bandai Namco Entertainment in 2021, and it is a side-scrolling puzzle platformer. That side-scrolling element is what makes the game stand out in this guide.
Little Nightmares also has other elements of gameplay going on with it, and another major one is horror. It's not your typical jump-scare-loaded horror, but instead a more subtle, creepy version that is achieved from the smaller details such as the art style of the game, the environment, the characters, and the actions that they perform.
In the single-player campaign, the story follows two characters, Mono, the main character, and Six, the main character from the first installment. These two weird-looking characters must work together to uncover the dark secrets of the Pale City, using problem-solving skills to solve puzzles required to get ahead.
Little Nightmares 2 is a puzzler, platformer, horror, and side-scroller rolled into one. It's not often that you see such a unique combination so well done and for that reason, it deserves its spot among the best single-player games on PS5.
Red Dead Redemption II
Red Dead Redemption 2 is Rockstar's evidence of their ability to build on the huge success of Grand Theft Auto and create an equally entertaining and completely unique game that earns the same level of admiration within the gaming industry.
This edition is the sequel to 2010's Red Dead Redemption, which was the successor to 2004's Red Dead Revolver to make up the first three Red Dead games from the developer.
If you're looking for a bit of Wild West action within an open-world, sandbox environment, this is one of the best options that you can get.
The level of detail in this game is honestly insane. Conversations that may appear random at first affect the sequence of events further down the line, and NPCs react very intelligently to your actions and decisions.
Despite the fact that this game was released two years before the PS5 was launched, you'll be unlikely to find a game that is better at what it offers. Action-adventure is a huge genre in gaming, and when you bring that to the already volatile environment of the 1890s west, anything can happen.
In the single-player story mode, you'll play as Arthur Morgan, a gang member, and in the epilogue, you'll play as John Marston, the protagonist of the previous iteration of the game.
Detroit: Become Human
Detroit: Become Human is one of my favorite games on the PlayStation, and like Red Dead Redemption 2, it's getting on in age.
The game was developed by Quantic Dream of Heavy Rain and Beyond: Two Souls fame, and just as those two games did, it has received rave reviews within the industry since its launch.
My favorite thing about Detroit: Become Human, and the thing that makes it unique in this guide is that the decisions you make genuinely affect how events play out.
You control three characters – all androids – as they explore a new world where androids are breaking free of their slavery to man, and trying to establish themselves as a recognized species.
At many points during the game, you will be presented with choices to progress the game. Sometimes, these choices will stir up real emotions that have you questioning your motivations, but those tough decisions are the only way to progress.
The visuals, story progression, character development, narrative, and setting of Detroit deserve the highest praise, and this is undoubtedly one of the best single-player games on PS5.
There are clearly many fantastic options when it comes to single-player campaign games, but we've got equally excellent options in the multiplayer game category as well, so check that out next!