You can't go wrong with action games. They make it possible for you to live through controller-clutching, jaw-dropping, logic-defying experiences that would otherwise be petrifying in real life.
Whether it's web-slinging with Marvel's Miles Morales or slashing monsters with God of War's Kratos, action games provide the most immersive atmospheres filled with adventure, fun, and probably some ass-kicking. It's truly amazing.
As cool as these action games are, there's a handful to choose from, making it difficult to decide which one to buy. That's why I have compiled this list of the 20 best action games for PS5. Let's check them out!
Control: Ultimate Edition
Remedy Entertainment has built a respectable reputation over the years by developing popular games like Max Payne, Quantum Break, and Alan Wake. With Control, they succeeded in creating yet another phenomenal video game that's been remastered.
Control: Ultimate Edition is a third-person perspective (TPP) action-adventure that exposes you to a world of reactive environments, alternate realities, and supernatural powers. It was published by 505 Games.
Jesse Caden, role-played by Courtney Hope, is the new director of the Federal Bureau of Control (FBC), an enigmatic agency located in New York. The FBC's base, known as The Oldest House, has been invaded by a mysterious threat known as The Hiss, and it's up to Jesse to eliminate this threat using her wits, environment, and supernatural abilities.
The FBC building provides a somewhat surreal experience with its shape-shifting abilities and 'dimensionally transcendental' design that make its insides far more extensive than its exterior. It's this bizarre skyscraper that Jesse must explore to put an end to the otherworldly forces, using her trusty futuristic sidearm, the Service Weapon.
Like Remedy's other games, Control's graphics are very realistic, especially regarding the characters' facial expressions. Remedy has succeeded in building its own Marvel-like universe by connecting Control to its previous games.
Sifu
If you love kung fu, you'll love Sifu. This game is one of the most beautiful martial arts tributes in the gaming world.
Sifu is an action-adventure game from the beat 'em up genre that focuses on martial arts. It has five game levels, each having its own fair share of kung fu classics.
Your character is a kung fu fighter looking to get revenge for the murder of his family. Without any allies, it's up to you to guide the warrior through bandit enemies and bosses until he accomplishes his goal.
When you die, you can quickly resurrect and continue from where you stopped, but there's a catch – you'll be older. So, the more you die, the older you get, but if you fail at 70, there's no coming back from there. Chances are you'll be really old before you clear the first level. Crazy right?
Sifu is quite challenging to play, and If you want to enjoy playing it, you'll have to be very persistent – although it will all be worth it in the end. Besides, the striking visuals and polished characters will keep you coming back for more.
Outriders
Outriders is an online-only co-op TPP action game with RPG and looter-shooter elements, published by Square Enix Europe.
The game is set in the distant future in a dark sci-fi universe where Earth is destroyed, and the only hope for humanity is a distant planet, Enoch. A group of soldiers, known as Outriders, are sent to explore this new world and colonize it.
Everything seems fine at the beginning until the colonizers notice a weird signal. While trying to discover the source of this signal, they set off an unforeseen and disastrous anomaly that kills many of them and injures several others.
Meanwhile, the main character is caught in this cataclysm and is put into a cryo-sleep for 30 years. The protagonist eventually wakes up to a world of chaos and supernatural abilities, all caused by the anomaly. Possessing powers as well, it is up to this soldier to find the source of the strange signal and save what's left of humanity.
Outriders does an excellent job of combining exceptional combat, fascinating abilities, and intense gunplay to provide an overall awesome experience. You should definitely add it to your list of games to get.
Metro Exodus: Enhanced Edition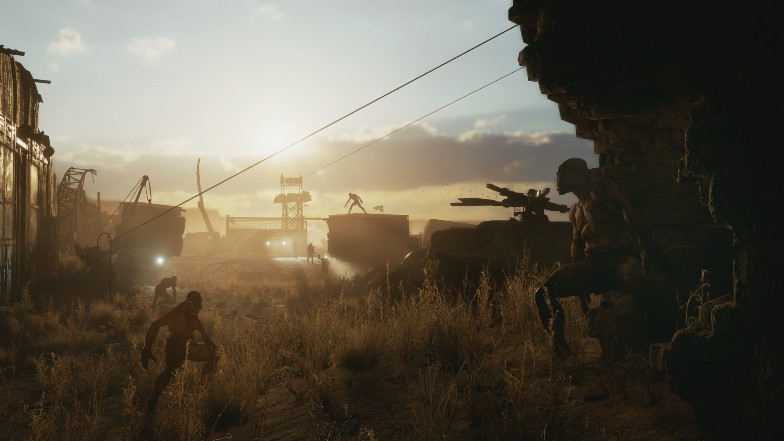 Metro Exodus is the third part of the first-person shooter Metro game series based on Dmitry Glukhovsky's books. It was published by Deep Silver.
Artyom from the previous installments returns again as the protagonist. The game is set in a post-apocalyptic world, highlighting what's left of Russia after a worldwide nuclear war. Along with a group of survivors, Artyom has left Russia's tunnels to the surface in search of a new home in the East.
This group uses a steam engine train to explore the vast Russian wilderness while fending off mutant and human enemies. The story spreads throughout a whole year, allowing you to view this damaged world in different seasons – spring, summer, autumn, and winter.
By stunningly visualizing a perfect mix of deadly combat, survival, and exploration, Metro Exodus stands out as one of the best action-adventure games on the next-gen console. The game offers an immersive and atmospheric experience in a highly detailed, exquisitely designed, and fantastic post-nuclear war world. And the action? Well, it's to die for.
Marvel's Spiderman: Miles Morales
The 'Miles Morales' Marvel character has become a fan favorite. He became popular after the Spider-Man: Into the Spider-Verse movie, and now Insomnia Games has succeeded in building a phenomenal game around him. Marvel's Spiderman: Miles Morales was published by Sony Interactive Entertainment.
With Peter Parker away, helping his girlfriend Mary Jane with her work, Miles Morales must rise to the challenge and protect the city on his own. It is the perfect opportunity for young Miles to establish his own Spider-Man identity.
In the process of protecting the great city of New York, he encounters a series of villains like The Tinkerer, Rhino, and a high-tech terrorist organization, The Underground, who is waging war with the Roxxon Energy Corporation. Miles must learn to balance his civilian responsibilities and superhero duties and prove that he has what it takes to protect his city by himself.
Compared to previous Marvel Spider-Man games, this game is an upgrade comprising new gameplay, narrative, and missions. Although the basic combat and swinging mechanics remain the same, Miles has moves like Camouflage and Venom Punch that were never part of Peter's skill set, providing a totally new experience for gamers.
Returnal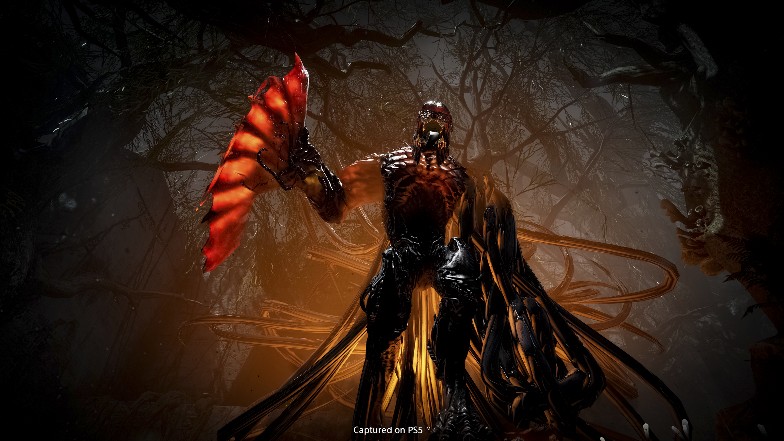 Returnal is a third-person shooter action video game of the roguelike genre. It was also published by Sony Interactive Entertainment.
The protagonist is an astronaut, Selene, who crashed her spaceship on a strange shape-shifting planet and is trying to find a way out of this mentally-draining world. She is stuck in a time loop, and each time she dies, she resurrects and restarts her journey in a different environment.
With each death and resurrection, Selene gets more frustrated, which is expected because dying and resurrecting constantly can, no doubt, cause some serious psychological damage to a person. Her only way out is to discover the secrets of this strange ancient land.
Since the planet is ever-changing, it always has new locations and items to offer, thereby forcing Selene to approach with a different strategy whenever she resurrects. Nevertheless, the ancient technology on the planet can enhance Selene's abilities to ease her exploration.
Returnal features bullet hell-inspired combat, near-photorealistic characters, and decaying grimy environments complemented by impressive visual effects. Although Returnal may seem challenging, the element of surprise after each resurrection will keep you eager to know what you will get next time you die.
Uncharted: Legacy of Thieves Collection
From developer Naughty Dog, Uncharted: Legacy of Thieves Collection comes with double action. It is a remastered version that includes the two critically acclaimed standalone stories from Uncharted: The Lost Legacy and Uncharted 4: A Thief's End.
Published by Sony Interactive Entertainment, the game adopts the same storyline as its two constituents. In A Thief's End, we focus on the popular character Nathan Drake and his treasure-hunting adventures. After finding out that his presumed-dead brother is actually alive and in danger, he sets out to find Henry Avery's treasure to save him.
In The Lost Legacy, the game is set in India, where series stalwart Chloe Frazer, accompanied by Uncharted 4 antagonist Nadine Ross, searches for the long-lost Fang of Ganesh artifact. Unfortunately, she's not the only one looking for this treasure – Asav and his legion of hoodlums are also after it.
Both games entertain a series of events like climbing obstacles, driving cars, hand-to-hand combat, swimming, solving puzzles, silently taking out enemies, etc. With beautiful landscapes, captivating gunfights, dashing escapes, and epic fist-fighting scenes, this game has proven to be a beautiful compilation of two classics.
Dying Light 2: Stay Human
If you're a sucker for brain-eating, dead-walking, and night-crawling action, Dying Light 2: Stay Human is perfect for you. This zombie-themed open-world survival game is a superb sequel to the popular Dying Light from 2015.
In this game, you explore a zombie-infested city where starving survivors scavenge for scraps by day and the dead prey on the living by night. Your character is Aiden Caldwell, an infected survivor with ferocious fighting skills and extraordinary agility.
Aiden traverses zombie wastelands, transporting goods from one human settlement to another while searching for his long-lost sister. His search for his sibling leads him to Villedor, a city in Europe, where he gets entangled in a battle between three tribes fighting each order for control and influence over the city.
The city of the Villedor is crawling with the undead, and as such, it's much safer for Aiden to scale rooftops, traversing from building to building while showing off some spectacular parkour skills.
Dying Light 2 provides you with two game modes – single-player and multiplayer. You also have side-quests to take on asides from the main missions. Unlike its predecessor, this game is non-linear, allowing Aiden to explore this post-apocalyptic world freely. This game provides you with the kind of action that will keep you entertained for a while.
Borderlands 3
Borderlands 3 is the sequel to the first-person shooter RPG Borderlands 2 from 2012. Borderlands 3 was published by 2K Games and is the fourth installment in the Borderlands series.
The mayhem-fueled and fast-paced looter-shooter action game is set a few years after the events of Borderlands 2. It begins with you choosing one of four main characters called Vault Hunters, each having more than one unique power.
There's FL4K, a robotic hunter able to summon one of three ferocious creatures to aid in battles; Moze, with her Iron Bear battle robot that can be called upon any time; Zane, the Operative who uses tech in battles; and Amara, the Siren with mysterious and psychic powers and expert combat skills.
These four have been recruited by Lilith, the leader of the Crimson Raiders, and together they must prevent the Calypso twins and their "Children of Vault" cult from gaining possession of the remaining Vaults.
Unlike the previous game, where the protagonist is stuck in the world of Pandora, here you can travel to other planets and explore them. No doubt this game is a complete blast, metaphorically and literally. It features similar mechanics and gameplay as its predecessors but with a few tweaks and upgrades that provide an even more definitive Borderlands experience.
Horizon: Forbidden West
This sequel to Horizon: Zero Dawn surpasses its predecessor in every way. Although Horizon: Forbidden West may have some similarities to the original game, developer Guerrilla Games made sure to add a whole lot of new features and elements to provide a fresh, unique experience for the player.
Horizon: Forbidden West is set in a post-apocalyptic world formerly dominated by a hostile robot swarm, humans, animals, and robots are trying to recover from the impact of an extinction event. However, this idyll soon ends as a new threat surfaces in the form of a deadly mysterious plague.
Your character Aloy is a heroine from the original game. This young hunter sets out on a journey with the hopes of finding the source of the plague. There are vast regions to explore in the game, including hot deserts, dense forests, snowy mountains, underwater sites, wastelands, and green valleys.
Some new features in this sequel include freeform climbing and underwater exploration. Aloy has new tools like Pullcaster, Shieldwing, and Diving Mask at her disposal, making exploration easier. If that's not enough, you can still gain more equipment as well as improve on already existing ones – All of this for you.
Hitman 3 (World of Assassination)
Hitman 3 is a stealth action game published by IO Interactive. It is the eighth installment in the Hitman game series and a sequel to Hitman 2.
The game's storyline follows assassin Agent 47, the popular protagonist from the previous installments, his handler, Diana Burnwood, and his old colleague Lucas Grey. Together they set out to tear down the secret organization known as Providence.
The game gives you a lot of freedom; for example, when eliminating enemies, you can decide to approach stealthily and take down your opponent or use open confrontation – both ways work just fine.
There are side-quests you can go on and unlock new items. You also have numerous weapons for battles, and sometimes you may not need these weapons because Agent 47 is skilled enough to take down opponents with just about any object lying around.
Hitman 3 has six levels in different locations: Dubai, Dartmoor, Berlin, Chongqing, Mendoza, and the Carpathian Mountains. Each of these locations is stunning and immersive. It provides the whole game with an overall display of phenomenal visuals and graphics, especially with it running at a cool 60 frames-per-second with ray-tracing enabled.
Lost Judgment
Lost Judgment is a sequel to 2018's Judgment, a spin-off of the well-known Yakuza games series.
In Lost Judgment, the protagonist is once again Takayuki Yagami, a private detective investigating a criminal accused of both murder and sexual misconduct. In the game, you control Yagami while he explores the Japanese districts of Ijincho and Kamurocho in an attempt to uncover the truth.
The gameplay follows a similar pattern to the previous games in the series – platforming sections, stealth missions, and tailing missions. However, there are a few new elements in the game, like Yagami's Snake fighting style and the "Detective Dog" used for tracking suspects by scent.
There are various side contents for you to engage in. For example, at some point in the game, Yagami works in a high school to obtain valuable information. Other side quests include boxing, disco dancing, or playing arcade games.
Although Lost Judgment is a single player game, you can play some side quests in multiplayer mode. With its great graphics, slick soundtrack, engaging side contents, and crunching fights, this game has succeeded in delivering a very powerful and beautiful detective drama.
Resident Evil: Village
The Resident Evil series has been in existence since 1996. Resident Evil: Village is the sequel to Resident Evil 7 and the eighth major installment in the popular game series.
Once again, you take on the role of Ethan, who, years after the tragic events that took place in Resident Evil 7, is finally living in peace with his wife, Mia. Unfortunately, his family is attacked, and Ethan sees himself fighting to rescue his daughter from unearthly monsters living in an antique castle and a neighboring village.
Like in the previous games, Ethan has an arsenal of grenade launchers, pistols, and shotguns to assist him in his battle against otherworldly creatures. You can also scan rooms for equipment like healing items and ammo, with the game's map telling you which rooms contain these hidden items.
The game's ultra-realistic and mind-blowing graphics will make you want to pause and admire the scenery. Blending its stunning visuals with its haunting soundtrack, solid voiceover, and Ethan's constant panting noises gives way to an intensely immersive experience. Resident Evil: Village is a perfect blend of horror and action.
Devil May Cry 5: Special Edition
Capcom delivered another smash hit in yet another exceptional game series with Devil May Cry 5: Special Edition. It is the fifth main entry in the famous Devil May Cry slash 'em up series.
In the game, you control the protagonist Dante and his companions as they set out to kill Demon King Urizen, who wants to destroy the human world. As you travel across Red Grave City, you can use different characters for different missions, and each character has a unique fighting style and power-up techniques.
DMC Special Edition is perfect for both old fans of the series and newcomers. Not only does it come with refreshed graphics and ray tracing support, but you also have the option of choosing between frame rates of 30 fps, 60 fps, and 120 fps.
Another new feature is the addition of Vergil, Dante's twin brother, as a playable character. There are also two new game modes: Legendary Dark Knight Mode, where you face hordes of demons at once, and Turbo Mode, where the game speed increases by 20%.
With these new features and modes utilizing the PS5's capability, Capcom succeeded in creating the most stylish and insane Devil May Cry game yet.
Marvel's Guardians of the Galaxy
Marvel's Guardians of the Galaxy is an action role-playing game published by Square Enix Europe. It is based on the popular and unpredictable Marvel superhero team, guardians of the galaxy, and their journey around, well, the galaxy.
The game is set a few years after the whole galaxy faced an intense war whose aftermath is still taking effect. Unfortunately, another interplanetary crisis arises, and only the guardians can put a stop to this threat.
You play the popular Peter Quill, aka "Star-Lord," with his legendary jet boots, elemental guns, and annoying music player. He is accompanied by his other team members: Rocket, Gamora, Groot, and Drax the Destroyer, who are not playable characters but can receive orders from the Protagonist during battles.
Each character comes with their own unique abilities, and together, they can unleash a special move called "Team Huddle." To activate this move, Star-Lord begins making a motivational speech while playing an annoyingly inspiring song.
The game features top-notch graphics with impressively detailed animated characters. The soundtrack is beautiful, and it comprises classics from bands like KISS and Iron Maiden. It's worth mentioning that the game is not a copy of the movie, so don't expect to recognize Zoe Saldana's pretty face or Dave Bautista's deep, gruff voice.
God of War (2018)
God of War is the fifth major entry in the legendary God of War slasher series.
This installment shifts from Greek mythology to Norse mythology. The game is set in ancient Scandinavia with two protagonists, Kratos, the famous Ghost of Sparta from the previous games, and his son, Atreus, a non-playable character.
After defeating the Greek gods, Kratos is much older and now has a family living with him in Midgard. When his wife Faye dies, he and his son journey to fulfill her wish of spreading her ashes at the apex of the nine realms. They come across Norse gods and monsters they battle together along the way.
A significant change in the game is Kratos' new weapon. He uses a boomerang battle ax that can be powered up by magic runes instead of his former double-chained blades.
Utilizing the power of the PS5, God of War uses a higher level of graphics than its predecessors, making the gaming action even more spectacular. The game also offers intriguing cutscenes and impressive boss battles that make it one of the most incredible action games of all time.
DOOM Eternal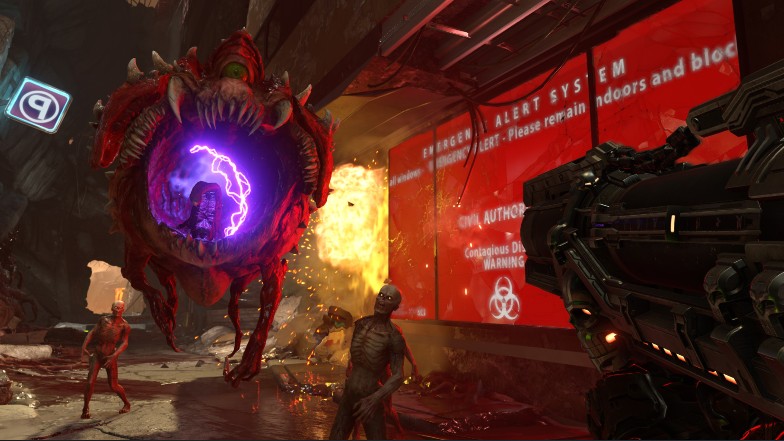 Doom Eternal is the fifth main installment from the Doom series and is the sequel to Doom from 2016. It is an award-winning first-person shooter originally published by Bethesda Softworks in 2020 before the PS5 upgrade in 2021.
You take on the role of the Doom Slayer, who is still in battle with demonic beings as in the previous game. The Fortress of Doom, a huge vessel, is where he carries out his operations and visits between missions. With the hellish crisis worsening, he must find a way to end this hostile takeover and prevent the alien, Makyr, from eliminating all humans.
In the game, the protagonist engages his enemies in aggressive combat while acquiring ammo, shield, and health. You have access to firearms and melee weapons like Super Shotgun, Crucible Blade, Rocket Launcher, Ballista, BFG 9000, a chainsaw, the Sentinel Argent Hammer, Doomblade, and many more.
Unlike the previous entry, this game focuses more on platform missions and environmental puzzles.
There are also new game modes for you to explore. In multiplayer battle mode, two players controlling demons fight against one player controlling a doom slayer. While in invasion mode, you control a demon in another player's story. You can be sure the fun never ends with all these cool features.
Yakuza: Like a Dragon
Yakuza: Like a Dragon is the seventh main Yakuza game and compared to its predecessors, it comes with modifications and upgrades that make it stand out.
Like a Dragon introduces a new protagonist, Ichiban Kasuga, to the Yakuza series, marking the end of former protagonist Kazuma Kiryu's story. After being wrongly imprisoned for 18 years, Kasuga gets out of jail and returns to his hometown, where his father figure from the Tojo clan betrays him.
Filled with loneliness and confusion, he embarks on a journey to become a hero and figure out the cause of this betrayal. Along the way, he and other non-playable characters participate in a series of optional activities, side-quests, battles, mini-games, and missions.
The game provides you with the ultimate RPG combat experience where you can choose between multiple unique jobs. As you level up, each role gains additional skills.
Although Like a Dragon departed from the previous Yakuza games, it still displayed familiar content and executed a multifaceted ending of a typical Yakuza game. I'm eager to see what the future holds for this beloved franchise.
Elden Ring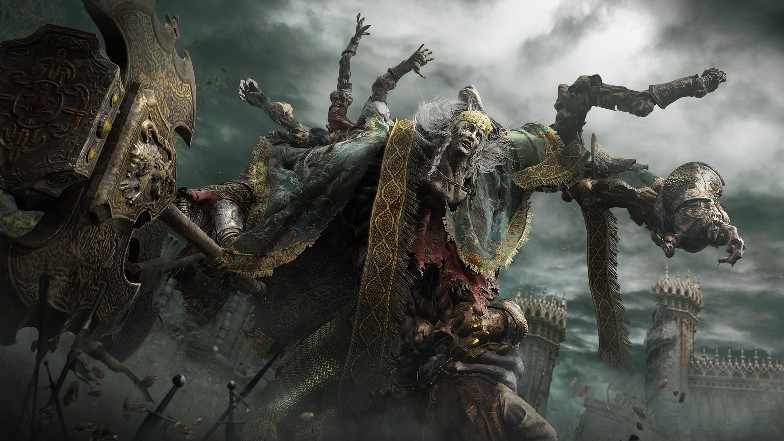 Developed by Dark Souls' creator FromSoftware, Elden Ring is a third-person action RPG whose gameplay focuses on exploration and combat. The game belongs to the soulslike category and was published by Bandai Namco Entertainment.
In Elden Ring, you explore a realm known as the Land Between and its six different kingdoms, which include caves and castles. Demigods rule the realm, each having its own kingdom and a fragment of the titular Elden Ring.
Your character is one of the Tarnished, exiles from the Land Between who are now called back after the Elden Ring shatters into pieces. Your job is to defeat each kingdom's demigod and retrieve the shards of the ring.
The game features a mounted complex combat system and a stealth system. It also features ruthlessly exciting boss battles, epic horseback rides, and enticing magic spells and weapons.
Elden Ring's worldbuilding was done by the famous George R. R. Martin, popular for his book series A Song of Ice and Fire, adapted into the Game of Thrones series. The modification of George's work resulted in the development of this game's intricate and dark fantasy world.
Demon's Souls
FromSoftware originally developed Demon's Souls in 2009 for the PlayStation 3. In 2018, Bluepoint began developing a remake of the game for the PlayStation 5. Sony Interactive Entertainment published this remake in 2020.
You assume the role of a hero exploring the kingdom of Boletaria, a dark fantasy world cloaked in fog and swamped by powerful demons. During your journey, you must slay the demons lurking about Boletaria, consume their souls, and become powerful enough to face an ancient evil known as the Old One.
Compared to the original version, this game provides you with new tools at your disposal. For instance, magic items (known as "Grains") can make the protagonist temporarily immune to dangers like fire and poison.
Bluepoint's rebuild of Demon's Souls offers completely revitalizing graphics, a tremendously good soundtrack, a beautifully detailed world, and masterfully enhanced controls and visuals.
Although this new version shows adherence and reverence to the original, it provides a fresh, unique atmosphere for those new to the series, making it a worthy contender for the best action games for PS5.
If you're in the mood for action games that place just as much emphasis on adventure as well, check out our guide to the best action-adventure games for recommendations.