Online multiplayer games are a great way for players to compete, strategize, and communicate with other players from different parts of the world.
There are several online multiplayer games available on PS5, including popular options such as Call of Duty: Warzone and Fortnite.
These games typically invite players to get competitive or cooperative. From battling, to the last team standing, to fighting in close-quarter combat, to getting together to explore and navigate new worlds, there's usually something for everyone.
However, the fact that we're spoiled for choice also means that choosing the specific title to play can be a daunting task.
That's why I have listed the 20 best online multiplayer games on PS5 across different genres in this review. Let's check them out!
Fortnite
Although it was released in 2017, Fortnite is still one of the biggest battle royale games you can play on PS5, and generally also of the most popular online multiplayer games overall.
Besides revolutionizing and helping to shape the battle royale game genre, it also created live-service and free-to-play game spaces.
Gameplay-wise, the battle royale mode requires you to scavenge for materials, guns, and equipment.
These materials are useful for building "forts" to protect you from enemies. However, players who don't find the building bit to be appealing can use the no-build mode.
The co-op and single-player modes involve battling against zombie-like creatures.
However, the most commonly-played mode in Fortnite is Battle Royale, a free-to-play standalone multiplayer platform where up to 100 online players compete in groups or individually to be the last man standing. Players can complete various challenges for rewards like V-bucks, the in-game currency.
Epic Games increased the game's overall visual quality and introduced more robust tweaks to the PS5 hardware.
The PS5 version also operates at up to 60 FPS and a 4K resolution, and the DualSense controllers improve the overall gaming experience.
Call of Duty: Warzone
If you're searching for a battle royale with a different visual vibe from the likes of Fortnite and Apex Legends, try out Call of Duty: Warzone.
Call of Duty: Warzone features excellent gunplay and offers the same Call of Duty gameplay packaged into a large map full of buildings, vehicles, and objectives.
Unlike several other battle royales, Call of Duty: Warzone supports up to 150 players per match, with limited-time modes allowing up to 200 players.
Each player is challenged to remain the last man standing as their map shrinks. When you die in this interesting twist, you'll be able to respawn if you can bring down another opponent in face-to-face combat.
Warzone features two modes: Plunder and Battle Royale. The Plunder mode involves up to 150 players racing to be the first to get on-game cash worth $1 million, while the Battle Royale mode sees players vying for the coveted first-place spot.
While Warzone hasn't had an upgrade to optimally feature the PS5's capabilities, it's free and playable. Besides, Activision has included PS5 perks like a high-resolution texture pack to improve the visuals.
Dirt 5
Dirt 5 is the eighth entry in the Dirt series. It's a "sim-cade" racing game centered on off-road racing.
During the gameplay, players will encounter the vampire mode which involves vampire cars making contact with other drivers and turning them into vampires.
You have one objective here — drive really fast or run! The multiplayer game offers a range of racing action (off-road), both point-to-point and circuit-based, for players to tear up.
Disciplines within this game include Stadium Super Trucks, ice racing, off-road buggies, and rallycross. Players get to compete in different events in various locations, including Nepal, South Africa, Brazil, etc.
Races are affected by the dynamic seasons and weather system. For instance, you can only compete in New York's ice racing events during the winter months.
This racing game features some enhancements on the PS5, including up to 120 FPS and DualSense controller integration.
If you've played the previous online modes like Cat 'n' Mouse and Outbreak, or are just anxious to see more innovative and fun racing modes, you should try out Dirt 5 on PS5.
Apex Legends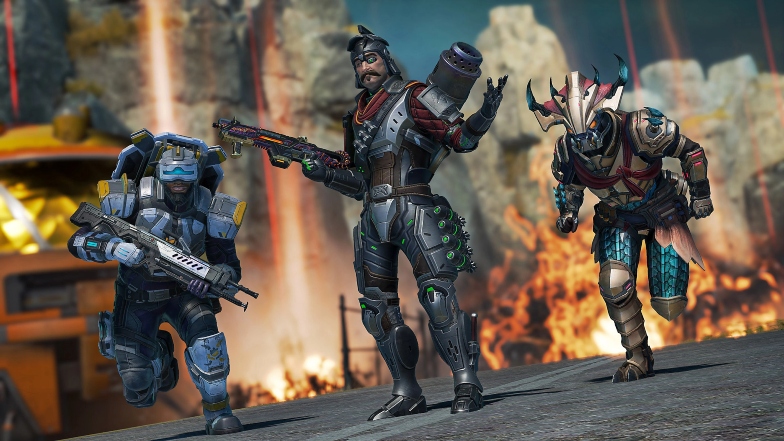 After the release of Fortnite, several battle royale titles sprung up, but Apex Legends is among the few titles that have stood the test of time.
In March 2022, Electronic Arts published a native version for the PS5, introducing new features for the next-gen consoles.
Apex Legends uses the same gunplay style as the popular Titanfall 2, taking out the mechs and adding a dynamic battle royale game.
The online multiplayer game requires players to form a squad by joining forces with others, and they must eliminate every other squad to win.
Players select from a number of legends to fight, each with their unique skills. You can see banners (an in-game card that displays your badges, skins, counters, borders, and skins) on each personality. They're similar to the loading screens in MOBAs like Smite or League of Legends.
Apex Legends encourages communication among players without having to say anything over comms or type anything in chat.
Players can convert text to speech and vice versa, enabling those with reading or hearing challenges to play easily with random teammates.
Besides offering a more interactive down-state, Apex Legends allows players to revive their dead teammates.
Compared to PUBG, Blackout, or Fortnite, Apex Legends allows players to enjoy a more engaging connection with random online gamers, in a battle royale genre that punishes those without friends.
Rocket League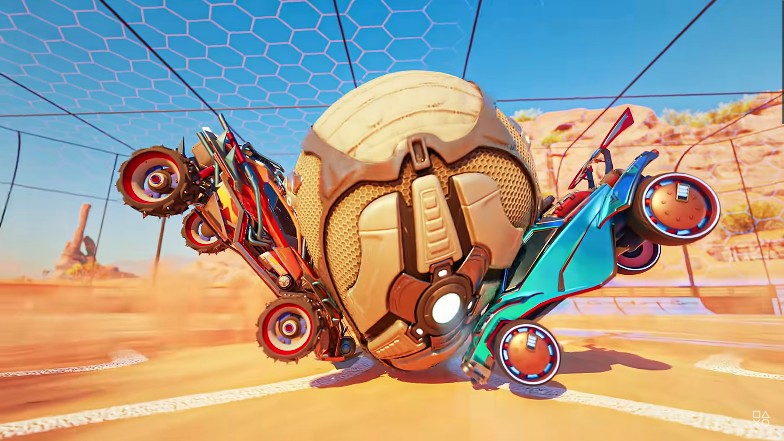 Imagine playing soccer with cars — absolutely bonkers, right? That's what this free-to-play title is all about. Rocket League is among the most unique games on this list of the best PS5 online multiplayer games.
Rocket league appeals to a large audience due to its ease of play. The concept is so easy to grasp — score a goal while driving in your car.
However, things can get out of hand as pushing a ball while steering your car isn't as simple as it seems. Yet, it's something players can quickly master after a few rounds.
Players can speed around the pitch, pull off crazy flips, and score goals — it's an enjoyable and chaotic experience.
The multiplayer mode allows you to team up with either up to four players (split-screen) or 8 players online to compete for rewards, champion status, and XP.
You can play in any of the arenas (over a dozen), each with a unique look from the AquaDome to Neo Tokyo and Salty Shores. Players can boost their speed using the boost pads littered around each arena, and turning the tide of the game.
An update on the PS5 version of the game enabled up to 120 FPS support, offering players the best possible performance.
Mortal Kombat 11 Ultimate
If you prefer fighting games, you'll be glad to know that NetherRealm Studios has made Mortal Kombat 11 Ultimate available on PS5.
This definitive edition of MK11 features both the Aftermath DLC and Kombat Pack I and II (the basic fighting game).
Mortal Kombat 11 Ultimate offers lots of value to hardcore fight obsessives and players who just wish to button-mash and catch fun.
The Towers serve as the equivalent of the previously known old arcade mode. You'll select a character to play through different series of battles before getting the ending sequence.
Like the basic Mortal Kombat style, players unleash moves against their opponents, while working towards a fatal blow that'll leave them victorious.
The MK series is a fantastic classic, and this title sweetens the pot in nearly all ways — bringing together popular fighters like The Terminator and Rambo while presenting an interesting story.
The PS5 version includes faster load times, cross-platform/cross-gen play, and 4K dynamic resolution. Hence, you can enjoy the game with friends on PS4, Xbox Series X, or Xbox One while gaming on your PS5 console. Basically, you have several ways to unleash Fatalities upon foes and friends, regardless of the platform.
FIFA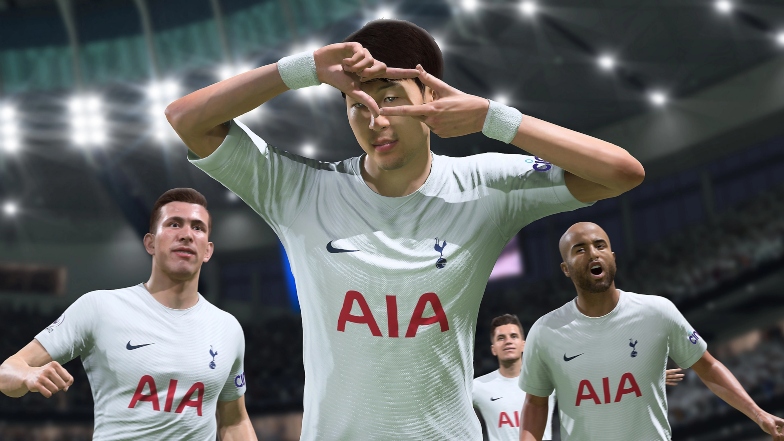 Several sports games feature online multiplayer, and some players choose that route, depending on their favorite sport (MLB: The Show, 2K, and Madden come to mind). However, FIFA makes this list because it's among the most popular and consistent offerings worldwide.
Impressive improvements to animations, ball physics, and player positioning create a satisfying simulation that stamps all the flagship modes of this franchise. The PS5's DualSense controller also uses haptic feedback for improved realism.
FIFA features what you'd expect from an online multiplayer sports game offering. Players can perform simple operations like going head-to-head with their favorite teams.
They can also focus on the Ultimate Team game mode, where they'll build a fantasy team that can compete against other online players' teams.
EA focused on improving the gameplay in this latest PS5 release, with subtle additions and changes in the popular sports game.
FIFA is a great way to enjoy online competition or couch co-op with friends, and its enhanced new-gen features make it earn a spot on this list of the best online multiplayer games on PS5.
Destiny 2
Destiny 2 has evolved at several points since its initial release by Bungie in 2017. It offers an even better gaming experience on the PS5, running up to 60 frames per second and 4K resolution.
In this game, your role as a Guardian is to defend humanity by staving off Darkness and harnessing the Light.
While Destiny 2 allows you to play solo, it's mainly designed for multiplayer gaming — whether you fight against friends in the PvP mode or join other players to embark on a raid.
It features robust PvP and PvE experiences. Players can spend lots of time engaging with their preferred option. PvE features cooperative missions, raid content, and challenging story content usually common in MMOs with an RPG/FPS twist.
Meanwhile, PvP features multiple game modes, which scale up and culminate in the Trials of Osiris.
Destiny 2 is optimized for PS5, though it supports all other platforms, meaning players can enjoy the game with different kinds of players. The cross-save feature prevents you from losing progress made on PC or other consoles.
Although the game was initially available for $60, it's now a free-to-play title, with periodically paid expansions available. Packed with multiplayer, single-player, competitive, and cooperative gameplay, there's something for everyone who hops in.
Guilty Gear Strive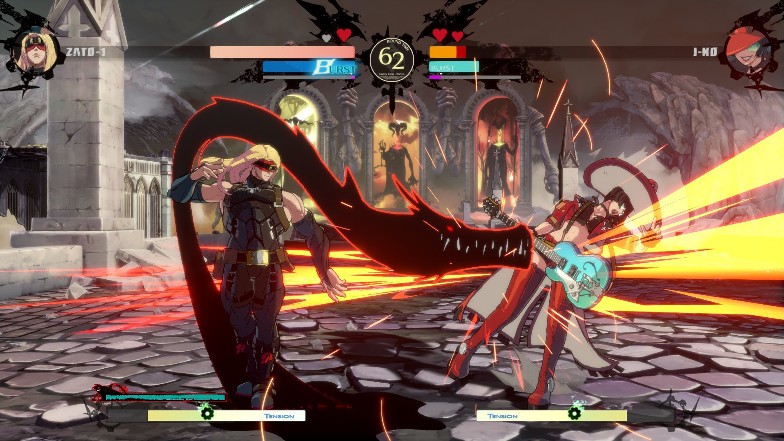 While there are lots of interesting fighting games to play on the PS5, Guilty Gear Strive, as the first native fighting game on the new-gen console, set the bar pretty high. This game is the seventh mainline installment of the series (Guilty Gear), and the 25th overall.
The average gamer considers fighting games difficult, time-consuming, and convoluted, but all these have been addressed in this game. Guilty Strive is simple and fun to play.
Players can have a good time gaming with other players online without having to grind training modes or remembering endless combo strings. That's not to say that this game lacks depth, either.
This superb brawler features jaw-dropping graphics and the most impressive online netcode in a fighting video game.
The brilliantly diverse but relatively small character roster creates a hugely rewarding and deep experience, while the accessible gameplay mechanics ease things for new players.
Everything from the soundtrack, tight gameplay, and art style is top quality when it comes to fighting games. Players who are new to the genre can check the tutorial mode to learn all they need to know.
Once you get the hang of it, the online ranked tower mode will keep you challenged and busy.
Tom Clancy's Rainbow Six Siege
Tom Clancy's Rainbow Six: Siege is one of the best competitive shooters in the world. It involves two teams, and each side (consisting of five players) takes turns to defend and attack an objective located inside a building.
While attackers recon the area using drones, defenders create reinforcing walls and defensive gadgets to prepare for the potential siege.
Failure to complete the objective within the given timeframe puts the attackers instantly on the back foot, so you want to avoid searching every room in a location.
This setup results in intimate, close-range battles, and in addition to the fact that there's no friendly fire or respawn, players experience a deliberately paced gameplay that rewards teamwork and coordination.
When you play online multiplayer, you can earn the in-game currency, Renown, which can be used to unlock operators and attachments for their weapons.
The PS5 version of this game includes a couple of additions that further enhance players' gaming experience.
The biggest changes are the framerate (up to 120 per second) and resolution (4K), making it easier to appreciate the level of craftsmanship given to the maps.
If you need a tactical shooter with intense close-quarters battles and impressive destructibility, Rainbow Six: Siege isn't one to miss.
The Elder Scrolls Online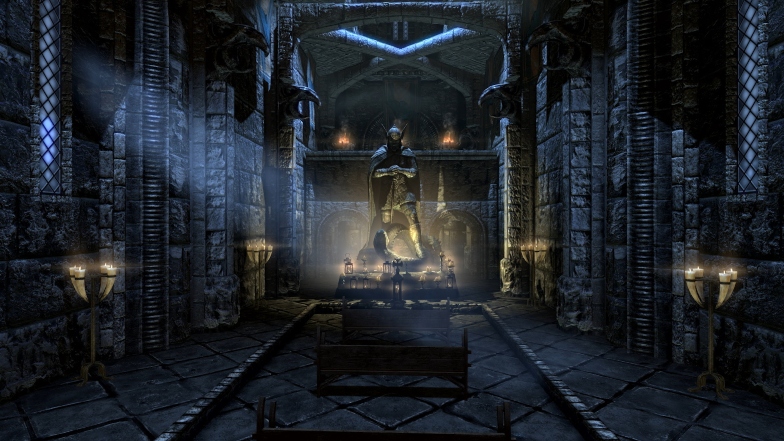 Since the release of its Console Enhanced edition by Bethesda Softworks in 2021, The Elder Scrolls Online has gained a larger audience. This is partly due to its attention to detail giving players a higher level of freedom in the open world.
One of the reasons why MMORPGs are unpopular is the lack of access for console-exclusive gamers.
Games like Guild Wars 2 and World of Warcraft are almost impossible to play with a controller, but ESO has this functionality. Hence, PS5 owners will enjoy the same gaming experience as PC players.
One of the game's main attractions for fans is the addition of iconic scenes from the mainline series. With the latest Blackwood DLC, players can now explore the entirety of Cyrodill from Oblivion and Vvardenfell from Morrowind.
While traditional MMORPGs like Star Wars have players bound to specific gameplay styles and roles, The Elder Scrolls Online features an open character progression system. So, every class can perform any task within the group.
The PS5 version unlocks high-resolution graphics, with better reflections, framerate, and draw distance. It also improves the game's loading times, overlay effects, and shadows.
Elden Ring
Elden Ring is arguably the best and most beginner-friendly game developed by FromSoftware. Its vast open world can be explored in co-op with up to two other online players.
Three items are available to do this. One allows you to be summoned by a specific player, the next allows anyone to summon you from the pool, and the last allows the host to see every player waiting for a partner. Players can create a password for their session to prevent anyone from disturbing their party.
However, multiplayer comes with some restrictions. While players can explore all the dungeons and the open world, they can't play through the entire story together.
Each player returns to their own session after the area boss dies. In addition, the fast travel system and the horse are not available. A friend is teleported back to their world when they die. Everyone is kicked out of the session when the host dies.
Journey through the lands on foot as you encounter adversaries with mysterious backgrounds, fearsome creatures, and characters with unique motivations for hindering your progress or helping. The gameplay is so original that it had to be on this list of best PS5 online multiplayer games.
Back 4 Blood
If you're a fan of cooperative zombie shooters, you should know that Turtle Rock Studio's Back 2 Blood is the next best thing after Valve's Left 4 Dead.
It has every feature present in Left 4 Dead, with fun shooting, funny characters, and varieties of zombies to overcome at different stages.
After the invasion of a deadly parasite on the planet, humans have turned into terrifying zombie-like creatures called Ridden.
With humanity nearing extinction, it's up to the Cleaners, a group of four survivors, to reclaim the world by eradicating the Ridden.
Each level has a unique set of objectives to complete. Your team has to rescue other trapped survivors or perhaps create an obstacle against the Ridden by blowing up a boat.
You'll encounter a larger type of special infected entities, and they're more relentless than anything you can imagine.
Some require teamwork to be destroyed and wouldn't give a chance to stay on a spot for too long, creating the frenetic moments popularly known in Left 4 Dead.
This game is best enjoyed in co-op with friends, though matches with random players can also be an amazingly pleasant experience.
While you can enjoy Back 4 Blood in single-player mode if you want, the multiplayer mode is far more enjoyable.
Final Fantasy XIV Online: A Realm Reborn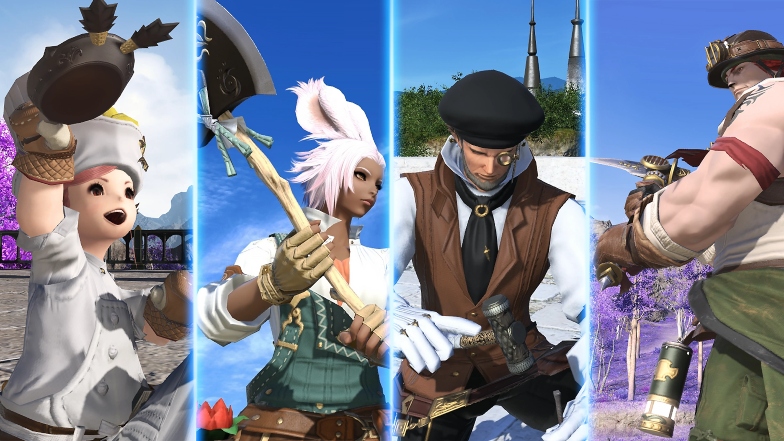 Final Fantasy XIV's original release in 2010 failed woefully, prompting the original director's resignation and notable changes in the development team.
Square Enix later relaunched the game as Final Fantasy XIV: A Realm Reborn in 2013, 8 years before the PS5 upgrade arrived.
The new world of Eorzea and the graphics engine offer a grittiness to each environment while maintaining a quintessential Final Fantasy style.
Final Fantasy XIV also impresses in aesthetics. The dialogues are mostly text-based, so lip-syncing won't be an issue, with the character models almost perfect.
As with every MMORPG, the first couple of hours might seem challenging, but the world's subtle nuances and the more intricate mechanics slowly start to take shape.
Square Enix makes a bold move by allowing everyone to experience all the game's available skills using a character. At Level 10, players can equip various weapons and effectively change their class.
There are groups that allow players to team up with other gamers to complete an objective. Each player is rewarded based on their individual contribution.
There are also tutorials on how to beat dungeons that are completed in teams of four players. At no moment in this game will players feel alone.
Hell Let Loose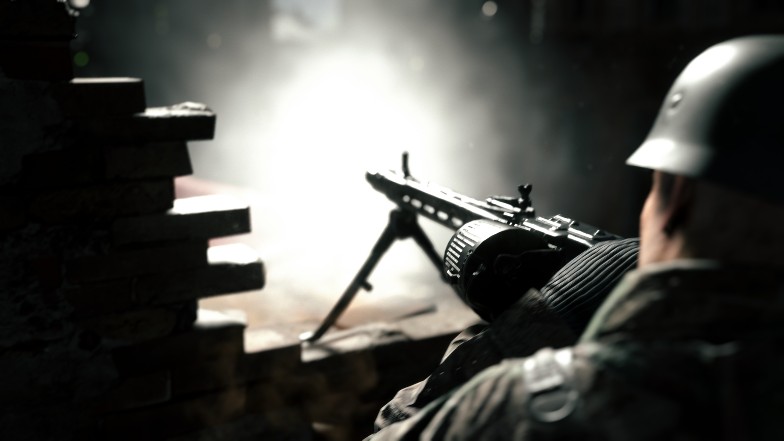 Team17 published Hell Let Loose on PS5 in 2021, offering console owners the chance to experience its depiction of WWII.
Unlike console shooter samples like Battlefield and Call of Duty, Hell Let Loose places emphasis on tactics and teamwork over fast-paced shooting gameplay.
Players contend with significant recoil, no aim-assist, and minimal HUD elements. One bullet is enough to kill, making each confrontation a terrifying prospect.
The maps are massive, and those playing as infantry officers, commanders, and support must ensure minimal downtime in between engagements, by creating outpost and garrison spawn points to help teammates return to action more quickly.
Hell Let Loose creates an intimidating experience, though the change of pace is completely different from other World War II titles.
It is something like Rainbow Six: Siege on a larger scale. While each death may be temporary, Hell Let Loose demands a similar level of communication and cooperation to succeed.
You will need to navigate numerous systems to thrive during battles, but the more you put in, the more you'll get out of each experience.
Nothing beats the adrenaline and sense of fear that comes with playing Hell Let Loose or successfully navigating the tricky firefight on your PS5 console.
Riders Republic
Riders Republic is an extreme sports game. The game comes from the stables of Ubisoft, and it allows players to explore various open worlds filled with loads of trails, peaks, and slopes.
The game has five main activities: skiing, rocket wingsuiting, wingsuit flying, snowboarding, and mountain biking.
That's not all. You'll have the chance to enjoy moments with your friends online. You can also compete with random players online, even if they use an older or different console.
There are several ways to play against and with other players. The most popular mode, Mass Races, involves chaotic events where 64 players compete in a single race. Players hit each other as they jostle for a spot on the podium in this limited-time mode.
Trick Battle is another interesting multiplayer mode. It requires players to land tricks on a specific object to assume control of it and score points.
This mode offers more fun than standard trick competitions, though there are only a few varieties here. The Free-for-All mode allows players to compete with 11 other riders in a variety of events.
The multiplayer modes differ across platforms. But fortunately, the game supports cross-platform play, and next-gen consoles like PS5 support up to 50 players — you don't want to miss this if you own a PS5.
Hunt Showdown
Hunt: Showdown is about the best combination of competitive and cooperative elements in an online multiplayer game, resulting in unpredictable and unregimented gameplay.
Crytek is well-known for its excellent graphics display and Hunt: Showdown doesn't disappoint in this regard, though the game's sound system stands out the most.
Bounty Hunt, the main mode, requires your team (you and two other players) to get clues as to a particular boss enemy's location.
Using a special vision mode enables you to view the clues as blue orbs, and the boss's location on the map gradually shrinks when you find them.
While beating the boss isn't an easy task, the match doesn't end there, as other teams looking for the same bounty will know where you are as soon as you kill the boss.
Players must be extremely cautious as they'll lose their equipment and current character when they die.
The Quick Play mode allows you to play on your own, and instead of collecting clues, you're looking for magical rifts.
Hunt: Showdown combines battle royale and survival horror into a blend of panicked action and high tension. It is undoubtedly one of the best online multiplayer games on PS5.
Deep Rock Galactic
Fans of Left 4 Dead will probably love Deep Rock Galactic. This procedurally generated co-op first-person shooter was released on the PS5 console by Coffee Stain Publishing.
It's a combination of ideas, though all work together to create a fantastic co-op experience.
Deep Rock Galactic is set in Hoxxes IV, a planet full of bugs, minerals, and biomes. The missions occur in large tunnels and caverns, with varying objectives, enemies, and terrain generation depending on the mission type and biome.
You'll join three other players to form a team of veteran space dwarves to complete various objectives, including retrieving lost equipment, eliminating targets, stealing alien eggs, or mining specific minerals. Players will meet some resistance from insect-like aliens.
You can choose from four playable classes: the Driller, the Scout, the Gunner, and the Engineer. Each player class has its unique abilities, promotion level, and weapons.
They complement each other perfectly, making objectives fun as you all blast aliens and puzzle it out together. The procedurally generated stages make for an endlessly replayable video game.
Chivalry 2
A sequel to 2012's multiplayer hit, Chivalry: Medieval Warfare, Chivalry 2 continues to focus primarily on objective and deathmatch team modes with little free-for-all action.
This game is considered to be one of the best hack-and-slash titles out there, and it was published on the PS5 by Tripwire Interactive in 2021.
A total of eight maps (three for deathmatch and five for objective) cycle automatically once you load the server. Whether you opt for the 64 or 40-player lobby, you'll face chaotic battles that require deft combat precision and quick wits to survive.
Players can perform three attacks with the numerous weapons available, and throwing knives or picking a shield changes the current moves to reward the new status.
Even if dedicated players memorize the maps after a couple of playthroughs, Chivalry 2 promises combat that hardly ever repeats itself.
You'll find truly unique options like using a pitchfork to punch enemies off a bridge or using a catapult to launch your teammates into the middle of the battlefield.
With the proper mod support and a few updates, Chivalry 2 surpasses its prequel and awesome medieval game imitators as one of the best PS5 online multiplayer games.
Splitgate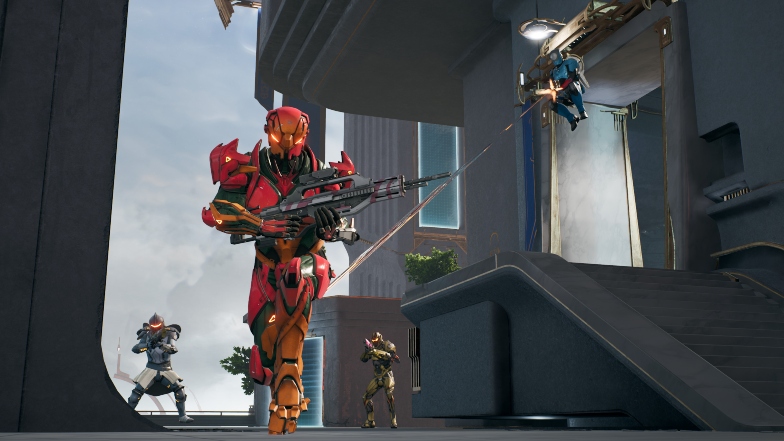 In 2021, Splitgate became unexpectedly popular, gaining hundreds of thousands of downloads in its first week of release. This resulted in server overflow, causing hours of queue time just to load the game!
Splitgate revolves around Halo-inspired combat on battlefields where players make portals in specific areas within the map similar to that of the Portal series, and travel or fire weapons through the portals.
Splitgate embraces the familiar and classic close-quarters combat style while including a multi-dimensional twist that brings an unusual spatial wrinkle to the shooter setting.
You may either refine your skills by playing against the formidable AI or play against up to 10 other players in online multiplayer.
Players love the portal mechanics, which allow them to place portals along surfaces to outsmart and outplay opponents. Even without the best shooting skills, players can drop their enemies using a well-timed portal.
Splitgate offers an interesting gaming experience, with satisfying shooting and fluid locomotion tying everything together. It's certainly one of the best free-to-play games on this list.