A good scare once in a while won't hurt. With the right game and console, you can have just the right amount of fright, enough to keep you awake at night but not so much to give you a heart attack – or who knows?
If you enjoy the feeling of tense atmospheres or stories of monsters lurking in the shadows, what better way to experience similar situations than through video games?
Thanks to the PS5, you get to witness terrifying events in an intensely immersive way.
So, I've compiled a list of the best scary and horror games for PS5 that will spook the bejabbers out of you, unless you have a heart of stone and feel nothing.
From action-filled masterpieces to carefully narrated adventures and jump-scare-packed titles, these games are likely to give you nightmares for days. If you think you're up for it, let's dig in!
In Sound Mind
In Sound Mind is a psychological horror game published by Modus Games.
As a player, you assume the role of Desmond Wales, a psychologist who wakes up to discover that he's trapped in his apartment building amid a suddenly flooded town.
The game consists of various levels, each having cassette tapes that share details on Wales' mentally ill patients.
The recordings have the power of transporting Wales into the minds of his patients, where their fears become a reality in the form of monstrous beings, which he must overcome.
Unlike most horror games, this one features unique, unconventional mechanics. For instance, Virginia, one of the patients, has a phobia of being stared at, so to conquer her monster manifestation, you must make use of a broken mirror.
Evil apparitions and lamp-for-a-head shadow monsters patrol the building, hunting you at every turn.
Luckily, the game will teach you how to stealthily get around these creatures but expect a few jump scares from time to time.
Once in a while, you'll engage in combat, but some monsters can't be killed, so stealth is the best option.
In Sound Mind uses dark and psychedelic visual styles to enhance the feeling of horror. The sound design is also very effective, featuring a creepy and ambient soundtrack and exceptional voice acting.
All these elements, presented in 4K resolution with a 60fps framerate, make this game one of the best scary games for PS5.
The Medium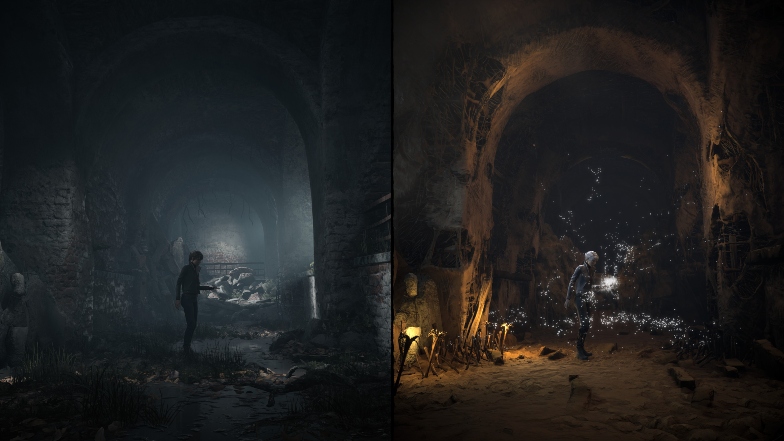 Have you ever wondered about another reality other than the one we live in? Maybe there's another realm filled with spirits and beings we can't see nor touch.
This imaginative world of spirits is what Bloober Team explores in The Medium.
Marianne is a medium that can inhabit the real world and the spirit realm. She is suddenly summoned by Thomas, a man who knows of her abilities, to an abandoned hotel, Niwa Resort, where a massacre took place.
In this hotel, Marianne encounters lost souls and the malevolent and powerful spirit responsible for the Niwa massacre. This hostile creature hunts her down in hopes of escaping the resort.
The game lacks combat mechanics – an element that I believe amplifies the scares and turns up tension – leaving Marianne with stealth tactics as her only hope of survival.
However, the psychological pressure can still get pretty horrific. At some point, you'll coexist in both realms simultaneously to find a way forward. For instance, a door closed in the real world may be opened in the spirit world.
If you're a fan of Resident Evil and Silent Hill, you'll love The Medium since it draws inspiration from both games to form its own fairly unique, frightening experience.
Bar a couple of technical issues, this is one of the overall best horror games for PS5.
Visage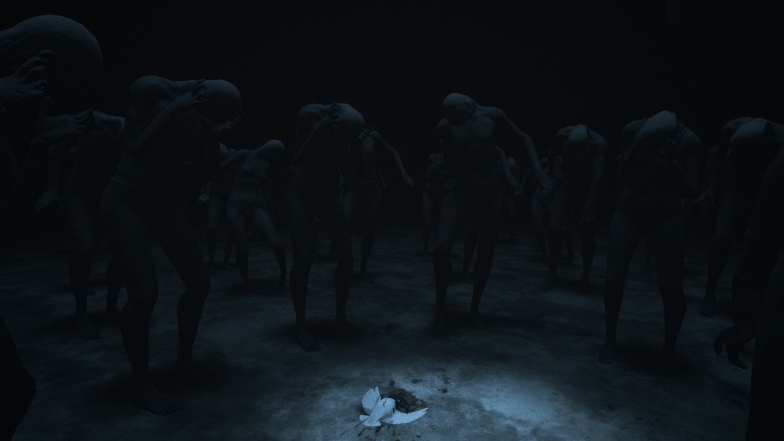 If you've never been to a haunted house but would love to know what it's like, here's the perfect opportunity. SadSquare Studio published the game in 2020 for the PS4 and in 2021 for the PS5.
The game takes place in a house filled with years of disastrous events ranging from demonic possessions to unwarranted killings.
It consists of four chapters through which protagonist Dwayne experiences a series of perturbations and spectral visions while solving puzzles and following clues in an attempt to escape the house.
With doors slamming, clocks chiming, lights flickering, and electronics turning on and off, Dwayne is forced to take pills to maintain his sanity. You can never tell who or what is beside you with the dim surroundings.
You're bound to see a ghost or two wandering about or just standing and staring at you from a distance.
As you explore the house, traversing each chapter, you'll encounter different environments ranging from psychiatric institutions to ghastly cemeteries.
The effective utilization of flickering lights, rainfall, unforgivable shocks, surging anxiety, and disturbing sounds puts this game in a league of its own.
If you love scary games, Visage is a nightmare you don't want to overlook.
Dead by Daylight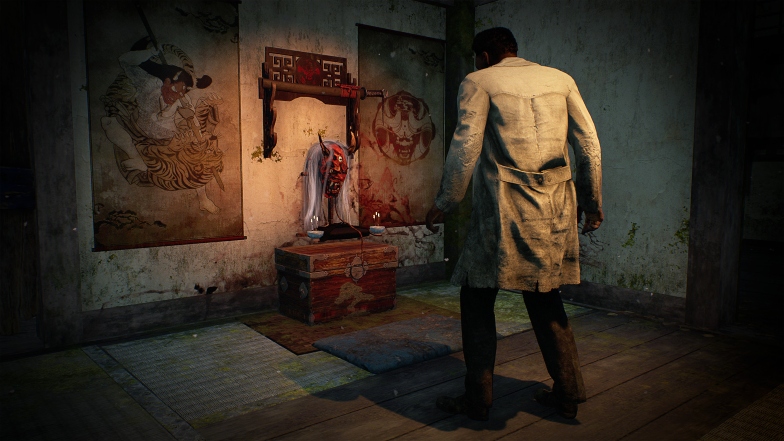 Dead by Daylight was initially released in 2016 for PC before it became available on PS4 in 2017 and PS5 in 2020.
It is a one-versus-four multiplayer game where you're either a killer or one of four survivors trying to escape from a killer.
The killer's goal is to capture the survivors and sacrifice them to an ominous and malicious dark force known as The Entity. Meanwhile, as a survivor, your objective is to escape through exit gates that can only be opened by fixing five generators.
If you prefer to be a killer, you have six ruthless prospects to choose from. Each killer has its own unique ability and can also level up through the Bloodweb, becoming even more vicious than before.
As a survivor, being hung on a hook isn't game over. You can escape or be rescued, but you must be careful because the killer might be using you as a lure for other survivors.
However, you must make a tough decision when you're on the safe end and a fellow survivor is hanging on a hook.
Do you save your friend, knowing it might be a trap? Or do you use the opportunity to find and fix a generator while the killer is busy?
Dead by Daylight is filled with enough tension and terror for survivors and, at the same time, relief for those playing the role of the killer. Overall, it is a great game with exciting gameplay.
Resident Evil Village
Resident Evil Village is an action horror game developed and published by Japanese studio Capcom.
It is the sequel to Resident Evil 7 and is the eighth major installment in the popular Resident Evil series.
You take on the role of Ethan, who, after years of the tragic events that took place in Resident Evil 7, is finally living in peace with his wife, Mia.
Unfortunately, Mia is murdered, and Ethan sees himself fighting to rescue his daughter from unearthly creatures inhabiting a medieval mansion and its neighboring village.
Unlike the games reviewed so far, Resident Evil Village features much combat engagement.
Ethan has an arsenal of grenade launchers, pistols, and shotguns to help him eliminate the lurking monsters. You can also scan rooms for equipment like healing items and ammo with help from the game's map.
Ethan's journey to save his daughter forces you to explore bloody wine cellars and a terrifying house filled with creepy ceramic dolls who, at some point, will chase you, making you run for your life.
There's also Lady Dumitrescu, who pesters the protagonist throughout the game, popping up unexpectedly and creating tension.
Resident Evil Village uses the PS5-specific features to make the game even more immersive.
With ray tracing, adaptive triggers, super-fast load times – Capcom doesn't hold back in incorporating all these elements to create a truly spectacular horror game.
Alan Wake Remastered
Whenever a remastered version of a game comes out, there's usually a high level of expectation, especially in terms of the improvements made in comparison to the original.
Well, Finnish developer Remedy Entertainment certainly delivered in this improved action-adventure horror game.
The narrative elements and gameplay remain the same as the original, but this time they're supported with improved visuals viewed in 4K resolution.
Alan Wake is a writer who, along with his wife, travels to the small mysterious town of Bright Falls to find inspiration for his work. After his beloved mysteriously disappears, Alan finds himself going through a series of paranormal events.
One moment he dives into a lake for a quick swim; another moment, he wakes up in his car with blood all over his head.
To find his wife, Alan must face various enemies, including chainsaw-wielding psychos and a paranormal entity called The Dark Presence, who possesses the townspeople and uses them as soldiers.
These soldiers, known as The Taken, can be defeated with torch lights. Unfortunately, the batteries used for the torches die very quickly – what then do you do?
Be careful where you walk because, in this perplexing world, inanimate objects can also come after you. I'm talking barrels, tractors, and other farm tools – nowhere is safe!
With its unending mystery, chilling atmosphere, top commentary tracks and soundtracks, Alan Wake Remastered presents veterans and newcomers with the opportunity to experience one of the best PS5 horror games in its most superb form.
DARQ: Complete Edition
We've all had our fair share of nightmares. Luckily, we're able to wake up and continue our daily lives.
But what happens if you never wake up? What happens if this horror becomes a reality that you can never escape?
DARQ: Complete Edition is an adventure horror side-scroller published by Feardemic.
The original game, DARQ, was initially released in 2019 before this updated version was published for the PS4 in 2020 and PS5 in 2021.
The protagonist, Lloyd, is a lanky young boy who, one night, becomes aware that he is in a dream.
This dream soon becomes a nightmare, leaving the teenager with no choice but to explore a reality of strange phenomena while escaping dangers and solving puzzles in a desperate attempt to return to the real world.
Blessed by this lucid dream world with the ability to manipulate the laws of physics, Lloyd walks on walls while completing puzzles and fleeing enemies such as The Bad Guys and The Enemy.
Such foes will utterly destroy Lloyd in combat, so his only choice is to use stealth and sneak around their backs.
The complete edition consists of the original game and two DLCs, so there's enough spooky content to keep you busy.
The atmosphere here is harrowing, and a minimalist soundtrack intensifies this tension. Navigating through Lloyd's nightmares is definitely something to look forward to.
Mundaun
Mundaun is a indie horror game published by American studio MWM Interactive.
The game is set in Mundaun, a real-life town located in Switzerland. However, in this game, you traverse the cursed version of this village through frozen mountain tops and concealed valleys.
As a player, you control Curdin, who travels to Mundaun for the burial of his grandfather. In an attempt to uncover the cause of his grandfather's death, he encounters a sinister evil.
The game involves solving lots of puzzles, some of which are super uncanny, like when you have to hit hanging pieces of meat to form a musical sequence.
Most of your journey entails climbing up a mountain, and bit by bit, the game unfolds through solid storytelling, haunting picturesque scenes, and a foreboding atmosphere.
Mundaun is a beautiful and stylish pencil-drawn horror that descends into madness, providing disturbing and intriguing moments through dreamlike visions.
Its attractive visuals, tense atmosphere, and fitting soundtrack make for a memorable and hair-raising experience.
Observer: System Redux
Bloober Team present us with another fine contender for the best horror games for PS5.
Observer: System Redux was released in 2020 as a refreshed version of the 2017 psychological horror game, Observer.
Although this is a horror game at its core, it is also fairly flexible in terms of where it fits in the spectrum of video game genres.
Much like Alan Wake Remastered, System Redux remains true to the original gameplay and storyline with a few improvements here and there.
The game takes place in Krakow, Poland in 2084, where you control detective Daniel Lazarski, a member of the Observers, a police force whose members have the ability to investigate people's minds.
The game is set in a locked-down tenement building where drug addicts reside. After receiving a distress call from his son, Daniel makes his way to an apartment where he finds a decapitated body.
From there, he sets out on a journey through a labyrinth of horrors, hoping to find his son and uncover whatever enigmatic mystery is taking place.
Unlike the original game, which was less scary, this upgraded release dives deeper into an immense environment filled with unnerving intricacies, cavernous surroundings, and menacing enemies.
Other unique features include 3D audio and three extra side-quests that brilliantly fit into the tense atmosphere.
The PS5 has given the developers at Bloober Team the opportunity to reveal their true intentions with the game, and they gladly took it. 4K HDR running at 60fps looks and feels absolutely fantastic.
The Quarry
British studio Supermassive Games has staked its claim as a dominant figure in the horror game genre.
Famous for creating the drama horror game Until Dawn, the studio once again delivered a delightfully horrifying experience in 2022's The Quarry, published by 2K Games.
You assume the role of nine teenage camp counselors who have to spend their final night of summer camp stuck in Hackett's Quarry.
However, they soon discover that this locale is haunted and filled with degenerate locals, monsters, and a mysterious creature, the same place they camped for two months, watching over younger kid campers.
You are left to make some difficult choices that may affect elements of the game, such as the plot, the character development, or even the finale.
What's more is that by the time you discover you've made the wrong decision, it's a bit too late.
If a monster lurks near you, holding your breath might be your only hope of survival. If you fail to execute this flawlessly, the next breath you take might be your last.
The game also features various modes like the Movie mode and Movie-only mode.
The Quarry is an excellent game whose key elements include the impact your decisions have on the gameplay.
It's also pretty cool how the characters are played by popular actors like Brenda Song, Ted Raimi, Lance Henriksen, and several others who do an excellent job of enhancing the game's appeal and delivering a fantastic performance.
Little Nightmares 2: Enhanced Edition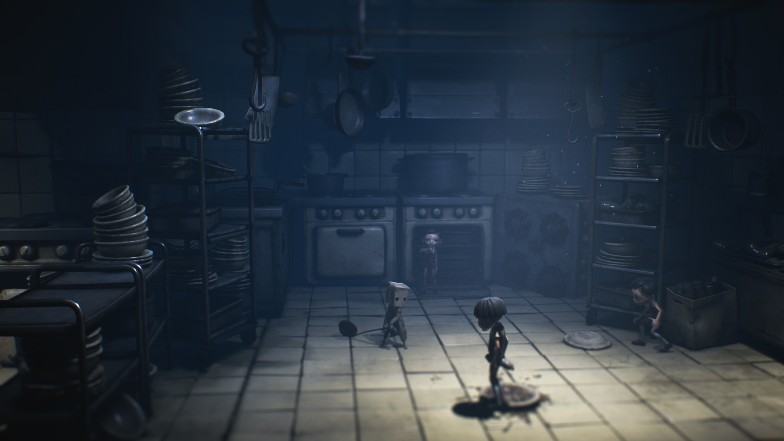 Little Nightmares II: Enhanced Edition is a side-scrolling horror game published by Bandai Namco Entertainment in 2021.
It is the prequel to the 2017 horror platformer, Little Nightmares.
This game introduces a whole new atmosphere filled with new characters and adventures while maintaining the unique game premise of its predecessor.
It involves two main characters – Six, the hero from the previous Little Nightmares game, and Mono, the protagonist who must embark on a journey to save Six's life.
Mono must travel to a mysterious nightmare tower known as The Signal Tower, discover its secrets and prevent the source of evil from spreading further into the lands.
As he traverses a dangerous world, he conquers enemies, overcomes obstacles, and solves tricky puzzles.
At some point in the game, Mono meets up with Six, and together they flee from the creepy shotgun-wielding hunter who held Six prisoner.
Eventually, the two arrive in a horrifying city filled with hypnotizing television sets, ghostly children, rabid students, a long-necked teacher, and all sorts of creeps and oddballs.
The game's graphics do a good job of giving off ominous vibes with grotesque aesthetics and dense visuals. Meanwhile, the sinister music and sound effects blend perfectly with the eerie surroundings.
If you're looking for a horror-themed platformer, you've found it.
House of Ashes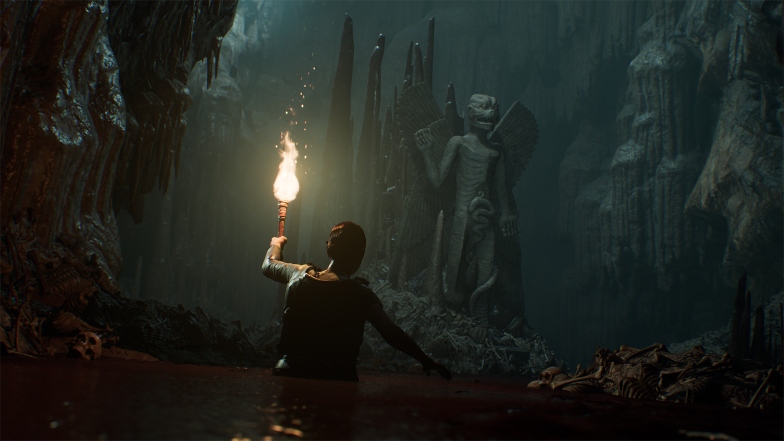 House of Ashes is an interactive and survival horror video game published by Bandai Namco Entertainment. It is the third main entry in The Dark Pictures Anthology series.
House of Ashes takes place in 2003 Iraq and uses the controversial war between the United States and Iraq as the perfect platform to build the game's foundation.
In an attempt to discover Saddam Hussein's nuclear weapons, a dysfunctional unit of the U.S army encounters some Iraqi fighters. Soon, both groups of soldiers are trapped in an underground temple.
The two teams have no choice but to cooperate if they want to successfully evade the sinister creatures lurking within this belowground facility.
Since the characters are soldiers, you can expect some combat along the way. The game also comes with cutscenes and four game modes, offering enough content to keep you occupied.
Just like in The Quarry – the other Supermassive Games production on this list – the decisions you make in House of Ashes determine the fate of the protagonists.
Another similarity between the two games is the use of famous actors – we hear the voices of superstars like Ashley Tisdale and Pip Torrens, among others, in Ashes. It seems the British studio has a thing for celebrities – To be fair, who doesn't?
Overall, House of Ashes is a really good game. Its high-quality graphics and interesting albeit predictable storyline is worth experiencing.
Subnautica: Below Zero
Interestingly, Subnautica: Below Zero initially served as just a DLC for the 2018 original Subnautica before it became a standalone product and served as a direct sequel to the original.
Now, I don't think that this was intended to be an outright horror or scary game, but if you're the kind of person that has a phobia for large bodies of water, or the fear of being underwater, then Subnautica: Below Zero will scare the living daylights out of you.
The game builds upon its predecessor cleverly, making the content unique and exciting. It is set in a vast alien ocean filled with weird-looking aquatic creatures.
As a player, your goal is to explore this strange open world, collect resources and tools for survival, engage in combat, and interact, if possible, with the creatures of the sea.
During your exploration, you have no idea what creatures are hiding in the deep, blackened waters, but as you dive deeper, you hear their dreadful sounds grow louder as though they are approaching you. However, each dive is accompanied by a sense of accomplishment and discovery.
Although most of the gameplay occurs underwater, you can also explore land-based frozen regions and structures to your heart's content – an experience the game's predecessor couldn't offer players. Regulating your character's temperature is of utmost importance.
The game utilizes stunning visuals and vibrant colors to highlight the beauty of the vast, immersive ocean world of unusual life forms.
The steady supply of new gadgets and vehicles is also something to look forward to. This is one game that won't disappoint you provided you keep yourself warm.
Tormented Souls
Tormented Souls is a survival horror video game published by PQube.
You assume the role of Caroline Walker, who heads down to a mysterious deserted building turned hospital after receiving a letter with a picture of two sisters.
Almost immediately after she arrives, she is knocked unconscious, and when she wakes up, she finds herself in a bathtub, with a tube down her throat and one of her eyes missing.
She has no choice but to explore this strange place and find out what the heck is going on while solving environmental puzzles and facing enemies.
The halls are dark and filled with dancing shadows, and the writings on the wall (literally) that say "do not let shadows embrace you" are enough to convince you that these beings should be avoided.
Much like The Medium, you get to explore two worlds, with mirrors serving as your portals between two dimensions.
Monsters hide in the dark, waiting for the perfect opportunity to pounce on you. Luckily, you have weapons and a dodge mechanic that can aid in battles.
Tormented Souls exhibits highly detailed locations using dynamic camera angles and modernized control schemes. It acknowledges survival horror games like Silent Hill and Resident Evil and draws elements from these classics to create a truly "tormenting" experience.
Martha is Dead
The psychological horror game Martha is Dead comes from the stables of Italian developer LKA. Wired Productions published it in 2022.
The game is set in 1944 Tuscany during the war between the Axis Army and the Allied Forces.
Martha is a German soldier's daughter whose desecrated body was found in the lake by her photographer sister Giulia.
Still struggling with the death of her beloved twin, Giulia sets out on a mission, determined to get to the bottom of this awful crime.
In a cutscene, we see Giulia in a dream sequence where she uses her dead sister's necklace to peel off Martha's face and wear it – a true identity thief.
Giulia's camera is a vital part of the game. During her journey, she might have to take a picture or two and develop the film in the darkroom – it's much more satisfying than it sounds.
You can participate in various activities – from solving morse codes to exploring dark forest regions and attending creepy long puppet shows.
There are also scenes where you ride a motorboat, wander through graveyards and interact with creatures like The White Lady.
War, suicide, torture, miscarriage, child abuse, Nazis – all these elements create an incredibly dark experience with surprising twists and heavily themed scenes.
This game contains some pretty disturbing content, but that's part of what makes it one of the best horror games for PS5.
If you enjoy games like this one, then you should have a look at some nice mystery games as well. They're more thought-provoking than spooky, but they share similar elements with some of the game in this guide.