The PS5's fast SSD, DualSense controller, and improved frame rates, all add to the excitement and immersive experience of gaming on the console. Accordingly, incredible games from different genres are being hosted on the platform, and more PS5-specific games are released every day.
One such genre is space exploration, which offers brilliant, immersive, otherworldly adventures like no other. No feeling beats traveling across the stars and staring out of a spacecraft at the beautiful elements of outer space with the enhanced visuals from your PS5.
From open-world RPGs to 4X strategy and everything in between, games set in space offer a world (well, universe) of limitless possibilities.
Here are the best space games for PS5 to help you choose one that best suits your needs.
Mass Effect: Legendary Edition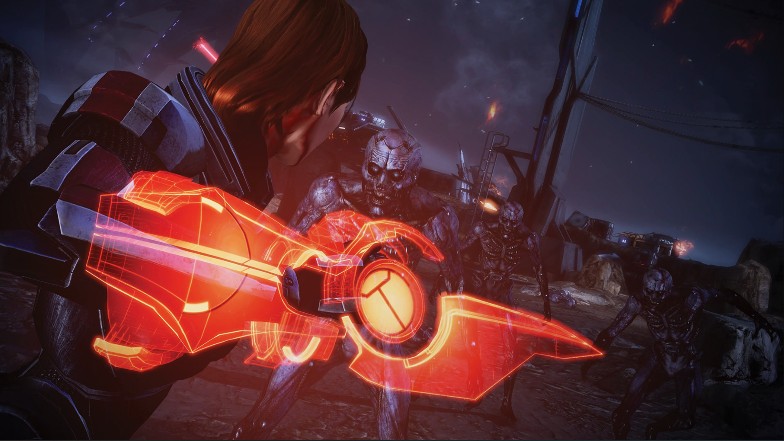 Mass Effect is one of the first names that comes to mind when you think about space-themed video games. With its excellent soundtrack, charismatic characters, engaging storyline, and in-depth lore, Mass Effect holds nothing back.
In 2021, Electronic Arts Inc published Mass Effect: Legendary Edition, a stunning, remastered form of the first three versions of the series. It's more like combining three of the top space games into one package.
It's fun building bonds, forming romantic connections, and shopping for the best armor and weapons in order to save the planet from large, almost-unstoppable spider-like monstrosities. In case you don't remember the storyline of this game or you're completely new to it, I'll summarize it for you.
You're playing as Commander Shepard, a human soldier (more like a 'space cop') who must unite the Milky Way. As you progress in this game, you encounter several situations where you need to make crucial decisions.
Your decisions will affect the next series of events and other characters' perceptions of you. The objective is to save the Milky Way galaxy from internal threat and prepare it for even more dangerous threats that await.
There's so much to enjoy on the PS5 version of the game. Running at 120 frames per second and 4K resolution, it looks and feels miles better than what you may remember. The voice acting also sounds brilliant.
Without a doubt, Mass Effect: Legendary Edition cannot be excluded from any list of best space games for PS5.
No Man's Sky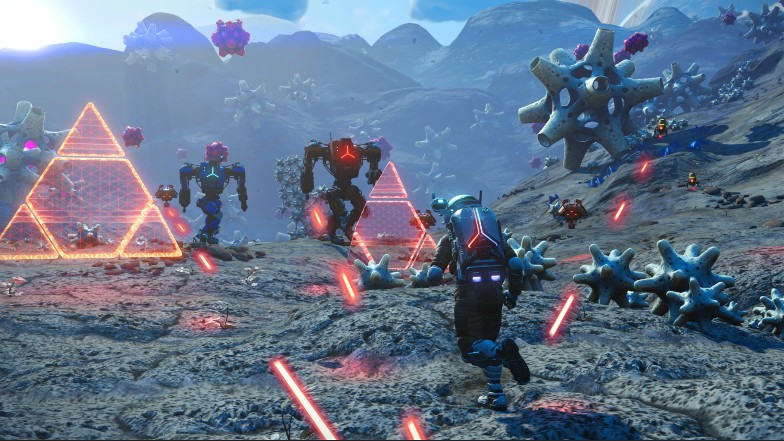 Hello Games re-published No Man's Sky for PS5 in 2021 after the poor reception that the initial version had. This upgraded version is worth every dollar the publishers are requesting, as it's much improved in almost all areas. 
The obvious graphics and visual improvements with 60 FPS and 4K support. But they've also taken advantage of the PS5's sensory features and haptic feedback to help you enjoy the effects of every action.
The core gameplay is the same, offering an expansive galaxy to dive into and explore. You mine resources, fly from one star to another, survive planets that present different kinds of challenges, and upgrade your equipment to ensure you're ready to face any major threats.
If you don't want to have this space-faring adventure on your own, your friends can join you to explore. The multiplayer aspect allows you to build colonies together while trying to survive the galaxies and dogfighting and racing in your ships.
No Man's Sky offers you up to 30 hours of exploring a procedurally generated universe that's practically endless. There's no better time to hop in on this immersive game that makes our list of the best PS5 space games.
Kerbal Space Program: Enhanced Edition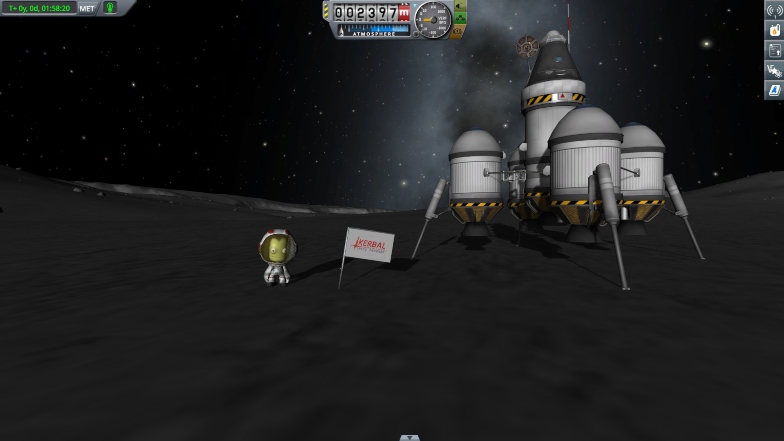 While Kerbal Space Program: Enhanced Edition may not be the most graphically attractive prospect at first, it contains several absorbing ideas that are executed in a charming manner.
This award-winning game allows you to enjoy lots of fun while also learning about space. Kerbal Space Program: Enhanced Edition was released for the PS5 console by Private Division.
On the surface, this game is about building ridiculous rockets, launching tiny green aliens (known as Kerbals) into space, and watching the entire program fall apart while you giggle. With time, you'll be agonizing over the correct engine configuration to get maximum thrust or the right entry angle to land safely on the moon.
You must apply the rules of physics and carefully plan and pay attention to the smallest detail to achieve satisfying achievements. It's a sandbox, though there's always an objective to achieve.
Kerbal Space Program: Enhanced Edition is the kind of game you could lose yourself in. It's easy to get immersed in building your craft, maintaining a space program, blasting the Kerbs into pieces, and feeling a sense of accomplishment after hitting a new milestone.
You'll receive bonuses in the form of streamlined game modes, which allow you to scratch whatever itch this game may give you. This game doesn't just offer a fun experience, it also makes you smarter, making it one of the best space games on PS5 especially when it comes to learning while gaming.
Chorus
Chorus tasks you with piloting a sentient spaceship (known as Forsaken) for battles in a dark universe. The ship is armed with various weapons such as laser cannons, missile launchers, and Gatling guns. 
Several things can drive you into the unknown world — the most powerful being a strong desire for revenge. The desire has consumed Nara, a highly-skilled pilot, who is desperate to find and destroy the cult that made her suffer. However, finding its members wouldn't be a walk in the park, and you need to explore the dark and eerie space.
The storyline is engaging without overstaying its welcome — it lasts for about 10 to 15 hours. Chorus shines with its combat and exploration elements.
The fluid and fast-paced combat make it fun to engage the different obstacles you'll encounter while traveling across this dark world. The adaptive triggers of the PS5 immerse you into the game with its hard-hitting weapons.
You can unlock new skills by completing some temples scattered around the universe, fleshing out the combat further. One such skill is the ability to teleport — it gives you a great edge in battles and adds fun to combat.
Outer Wilds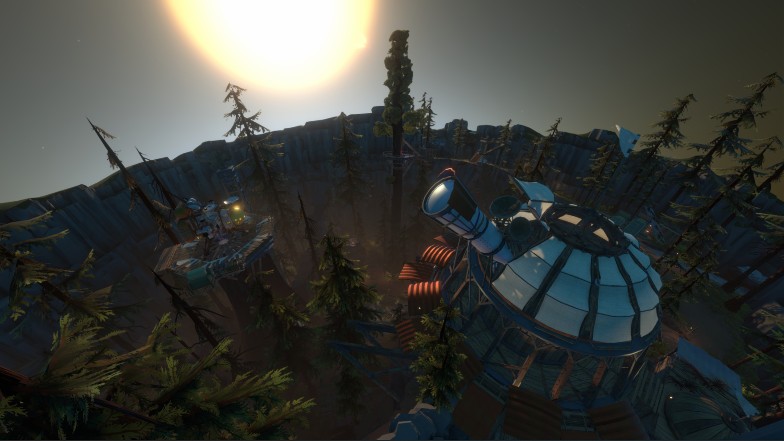 Outer Wilds presents space exploration from a different perspective. We love the dynamicity of the world, and that's what Outer Wilds reflects in this 22-minute game with comets following predefined paths and planets orbiting the sun in real-time. You can only solve each puzzle after certain planets align — and this only occurs at specific times. 
The gameplay is basic, although it's difficult to navigate through space and land on planets that are constantly in motion. The controls are very simple, but it's still a fiddly process.
You can use a scanner that picks audio signals from long distances, offering you clues to the location of other characters. You can also launch scouts into unknown territories to take pictures of what's going on.
At first, the freedom is discomforting, but you'll be able to decipher how pieces of this complex puzzle will materialize within a short while. You have only 20 minutes before the system is reset, but it's long enough to learn and understand what ties the surrounding planets together.
After playing Outer Wilds for a few hours, you might be quite invested in this story that's artfully broken into bits and scattered across the game. You'll discover endless secrets, and you won't feel like stopping until you've fixed all the puzzle pieces together.
Stellaris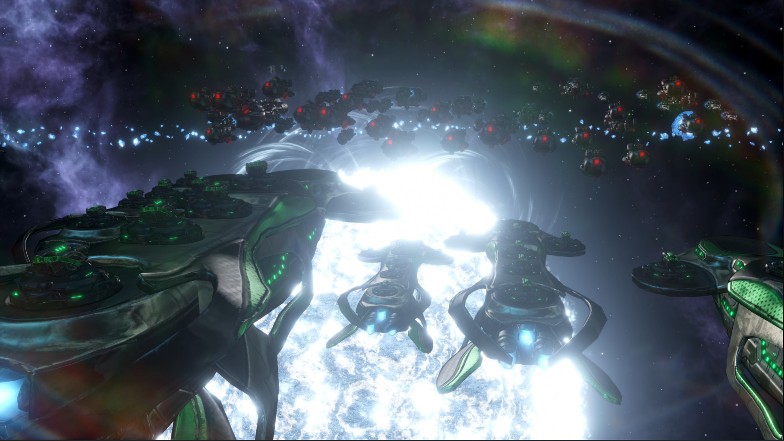 Stellaris isn't only among the best space games for PS5, it's also one of the best strategy games. It was published for consoles by Paradox Interactive.
Stellaris sort of belongs to the 4X strategy category (Expand, Exploit, Exterminate, Explore) and combines the fun of deep strategic gameplay with space exploration and science fiction. You'll steer your civilization through peace and war, band together with enemies to battle extra-dimensional invaders and watch alliances build and betray each other. 
Although war is the most exciting and engaging aspect of Stellaris, most of your time will be spent micromanaging, governing, and trying to blossom. The bigger your empire becomes, the faster it will eat through the resources you manage.
Stellaris features fleet and planet management, full diplomacy systems, combat and space combat and exploration, and other elements that make each playthrough unique.
This game is mostly about choice. So, you'd often find yourself sitting back to watch your empire thrive, research an extinct alien race, uncover a precursor civilization, dabble into politics, and send a spaceship to the far end of the galaxy.
Stellaris is an excellent, busy sci-fi adventure that rewards strategy. If you have at least a passing interest in armchair and sci-fi strategy, Stellaris is one of the best PS5 space games that's well worth giving a go.
Destiny 2
Published by Bungie, Destiny 2 has it all: long story arcs, co-op boss fights, tons of loot, and addictive PvP modes.
The game is staged in a mythic sci-fi world where you play as a Guardian, protecting the last safe city on Earth. Players wield a power known as 'Light', which helps to combat the terrifying threat of Darkness and save humanity from various alien races.
Destiny 2 begins with delivering Dominus Gauhl, a cruel antagonist who took away all that had been built in Destiny, including the Guardians' Light. The succeeding campaign is filled with smart cutscenes that allow the cast to show emotional range — you can hear the determination and sadness in their voices.
Playing Destiny 2 is always fun, with a good amount of mobility options and thrilling gunplay. The PS5 version makes these mechanics even better, offering up to 60 FPS.
Hence, your controller inputs reflect better on-screen, and the slightly bigger PS5 DualSense controller feels divine in your hands. That applies to PvE games where you can team up with your friends and deal with the armies of Darkness.
There's an optional 120 FPS mode for PvP multiplayer games. Although this is only compatible with 4K TVs, it provides a significant advantage over others with lower frame rates.
You can spot foes more quickly, your reactions are faster, and you'll enjoy more fluid map navigation. Nothing compares to the fun derived when you play Destiny 2 on the PS5.
The Outer Worlds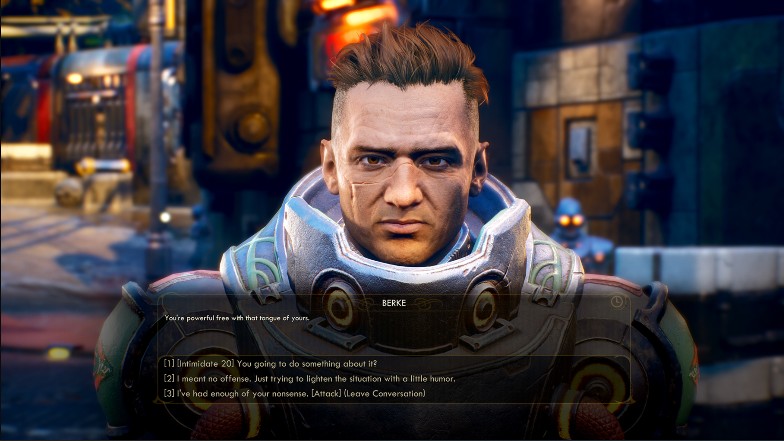 The Outer Worlds is a science fiction RPG filled with different colorful characters, monstrous aliens, planets, sinister plots, and flashy weapons. The single-player game restricts you to walled cities and towns on several planets — it's not an open-world RPG. 
The game was originally released in 2019, but a PS5 upgrade came out of nowhere in 2023, boasting improved graphical performance that makes the game look prettier than ever.
Anyone familiar with Bioshock and Fallout will be accustomed to dialogues and responses. The Outer Worlds has even more of these than Fallout, though they're brilliant conversations that affect the story, so it shouldn't be boring. Rather, it adds to the quality of immersion and realism of the entire experience. 
The Outer World is set in the future with humans actively colonizing other planets, with the colonized solar system known as Halcyon. You'll assume the role of a colonist released from a hibernation cell to a nearby planet dominated by an organization called Spacer's Choice.
Your long-term objective is to overthrow the Halcyon government, which is failing in its duties. As you accomplish goals and defeat enemies, you'll get new combat skills and new perks. As you proceed into this space, you'll need to select between the right choice or Spacer's Choice.
While The Outer Worlds wasn't doing badly on the PS4, Private Division did an excellent job of creating a PS5 version with notable improvements like the frame rate. The Outer Worlds doesn't disappoint expectations as one of the best space games for PS5.
Marvel's Guardians of the Galaxy
Fans of Guardians of the Galaxy would certainly love this game published for the PS5 by Square Enix Europe. You'll play as Star-Lord, a Terran-Spartoi hybrid who leads his crew through some catastrophic occurrences and takes important decisions to shape the universe's fate. 
At different points during the game, you'll need to make crucial decisions (through dialogue trees) that might affect the outcomes of some missions and the bond between the Guardians. You can fly using jet boots and defeat enemies using elemental guns.
As you fight enemies, a meter builds up and allows players to use a special ability (Team Huddle) that prompts you to play a song and make a motivational speech to inspire your teammates. Other Guardians will get gameplay benefits if your speech is good enough.
The soundtrack of this game is on point — a list of hits from the 80s accompanies original tracks, giving an excellent, memorable auditory experience. Imagine that feeling you get fighting through a group of bad guys as 'Never Gonna Give You Up' by Rick Astley kicks into gear.
Besides the strong narrative and flashy action of Marvel's Guardians of the Galaxy, the scale of exploration enables you to explore a galaxy as seen in classic comics.
Hardspace: Shipbreaker
Hardspace: Shipbreaker was developed by Blackbird Interactive and published by Focus Entertainment. The game was initially released on Windows PCs via early access in June 2020, but a full release arrived two years later, and the PS5 was not left out.
Of the games in this guide, Shipbreaker is most similar to Kerbal Space Program in the sense that they're both simulators. However, where you're tasked with building stuff in KSP, you're breaking down stuff in Shipbreaker.
The name of the game itself is a spoiler. Your character is a "Shipbreaker" working for the Lynx Corporation, and your job is to salvage useful tools and materials from spaceships. Whatever you earn from doing so will be used to pay off the huge debt that your character owes to the corporation.
Breaking down these ships for parts is not exactly straightforward though. You have to learn to use various gadgets and tools expertly for best results, and there are several hazards that can kill your character in the process of doing so.
The ships are procedurally generated as well, so there is no "one size fits all" approach to getting the useful parts from each one. You do get to explore quite a bit, but you must also manage resources such as oxygen while doing so.
Shipbreaker is a puzzler meets simulator meets space game, and those elements actually work really well together in its execution.
If you're a big fan of games that let you run loose in space and mess around with next-gen techy stuff, then you'll probably like our round-up of the best science fiction games on PS5 as well. A couple of the games in this guide even overlap with that one, so it is definitely worth checking out!