Survival games offer some of the most immersive gameplay across all genres in video gaming. In a way, they are adventure games, but with an even stronger cause to stay alive.
Over time, a sort of "template" or "pattern" has been formed with this category of games, resulting in a "more of the same" feeling across many titles from various studios and developers.
As a result, it's a bit difficult to find a survival game that offers a completely unique experience while still retaining the fundamentals that make it qualify for the genre, but I've tried to do so.
This guide discusses eleven of the best survival games for PS5. The selection was made based on various factors such as uniqueness, gameplay, difficulty, and popularity. Hopefully, you find one or two titles here to scratch your itch for a new survival experience on the new-gen console.
Subnautica: Below Zero
Bandai Namco's Subnautica: Below Zero is a sandbox survival game that stands as a sequel to the 2018 release, Subnautica.
Below Zero is every bit as original and immersive as the first iteration – perhaps even more so. Whilst this is a sandbox title, there's even more to it than open-world, no-limits exploration.
The game is played in the first-person POV, and you will find yourself bang in the middle of it all, trying to complete objectives while collecting resources to build bases and tools that will help you survive.
Your character is Robin who, two years after the events of the original Subnautica, decides to investigate the suspicious death of her sister, Samantha.
Her investigation leads to a series of unforeseen events, including getting "possessed" by an alien and being forced to help the alien look for resources to build another habitable body for it.
Working together with the alien, you start your adventure with the bare minimum in terms of resources, but your journey across the sprawling, hazardous underwater environment will eventually yield a good fortune.
Below Zero was originally intended to be a DLC pack for the original Subnautica, but the premise expanded so much that Unknown Worlds decided to make it a standalone title. It was clearly a good decision as this has proven to be one of the best survival games for PS5.
No Man's Sky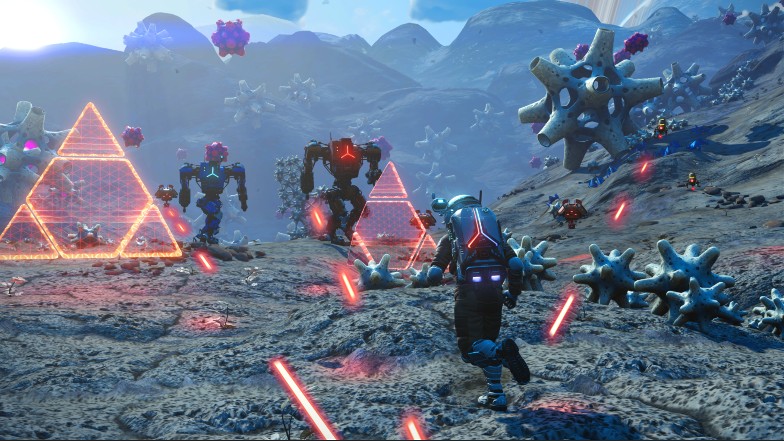 When No Man's Sky was first released in 2016, a lot was said of its failure to deliver on the highly anticipated promise shown in the trailers, and many people dubbed the developers, Hello Games, as frauds.
The pregnant build-up had yielded a high return in terms of the number of people that bought the game when it was launched though, so Hello Games made a lot of money despite the underwhelming experience of the game itself.
However, unlike many other developers that have been in a similar situation, they did the right thing and reinvested the money into making the game what it was expected to be in the first place.
The PS5 version of No Man's Sky hits home in many ways. The experience of endless exploration across procedurally generated planets, mining and upgrading equipment, character customization, multiplayer mode, and new missions all looks and feels fantastic and you truly get the sense of surviving in space as it should be.
At its core, this is an adventure game, but it presents enough challenging gameplay to qualify as a survival game too. If you want to focus on exploration, you can do that, but you can also play the game in survival mode where you build a huge base and continue to grow by farming resources across the environment that you're settled in.
This War of Mine: The Final Cut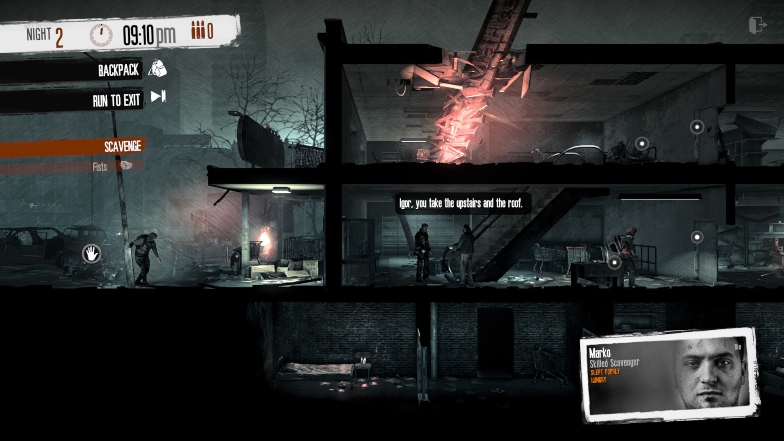 This War of Mine is a survival video game that was published by 11 Bit Studios. That is a long time ago, but the game received a major update for new-gen consoles more recently in 2022.
The original version sold over 7 million copies, so this is a title that really needs little to no introduction.
What you do need to know is that this Final Cut comes with significant updates in the form of new locations, new scenarios, new non-playable characters, a new playable character, and visual boosts to match the new-gen experience.
The game does not particularly put the PS5-specific features to good use, but This War of Mine has always been more about the gameplay than anything else.
Over the course of your playtime, you will have to navigate a cast of multiple characters whose daily activities are centered around survival in a war-torn city called Pogoren.
You have to help the people to build sturdy shelters, teach the kids basic skills, and also make sure that no one starves.
You can set the parameters of each new game by yourself, but if you don't, you'll find that every new game is randomly generated, and this randomness will affect the conditions and story progression of the playthrough each time.
Tribes of Midgard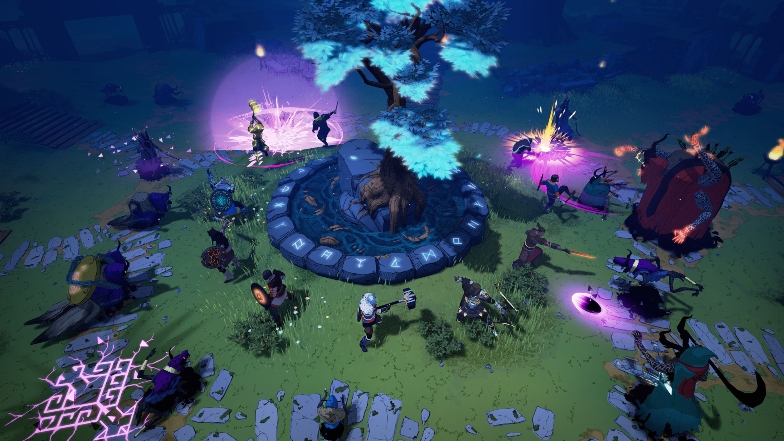 If you're a fan of Norse-themed games in search of the best survival games for PS5 in that category, look no further than Tribes of Midgard. The game was published for the PS4 and PS5 in July 2021.
There is a single-player mode here, but you may get even more fun from forming a tribe with friends in co-op mode.
Your character is Einherjar, a Viking who has been charged with protecting the seed of Yggdrasil from enemies.
During the day, you will explore a procedurally generated world where you can farm resources and use them to craft weapons, tools, armor, and anything else that can be useful in expanding the base of your village and defending it against the undesirable likes of elves, trolls, and giants.
At night, your efforts during the day will be tested by these enemies, and they will only get bolder, stronger, and more ferocious with each day that you survive.
Dysmantle
Dysmantle is set in a post-apocalyptic era that might seem all too familiar at first, but as you play, you will realize that there is a lot of imagination and originality in its premise.
The first indication of this fact is that even though this is a survival game, worrying about food and water is not the first thing you're faced with. Your first thoughts are literally survival in the sense of trying not to be killed, and it gets pretty complicated because that's exactly what the elements scattered across the world are trying to do.
If there was a video game representation of the popular TV show, 1000 ways to die, then this would be it. You could be strolling and fall into a hole, turrets could flatten you, or you could "fall under the weather"…literally.
There's not a lot of depth to the plot itself, but you get a fairly big map that you can explore to string details together by yourself and try to make sense of the world that you're stuck in.
Starting out with a small inventory and basic strength, you'll have to work your way up to the point where you can destroy a more significant number of things and, in turn, build tools and upgrade equipment with the resources that you're rewarded with.
If you progress well enough, you will get to a point where almost every single thing in the game can be destroyed. Basically, you have to "dysmantle" to survive.
Breathedge
There is a popular opinion that Breathedge is to space what Subnautica is to the ocean. There is also another popular opinion that Subnautica is the superior title of the two.
However, I think that a general consensus can be reached on the fact that, on its own, Breathedge is one of the best survival games for PS5 even if that is only based on its attempt to do things a bit differently.
To put the plot in a simple sentence, you play the role of a character who finds himself in the middle of a universal conspiracy while carrying his dead grandpa's ashes to a galactic funeral.
At its core, the comparisons with Subnautica seem justified. In both games, you leave the relative safety of your abode and set off into the hostile "wild", gathering resources and crafting tools needed for survival.
However, as both games progress, they begin to become less similar. Breathedge branches off into an ironic, comedic tone with slower pacing, and to be honest, the experience is not for everyone.
RedRuins probably could've done without the attempt at humorous dialogue, but I don't think it's bad enough to ignore all the good qualities and potential in this ironic outer-space survival clásico.
The Persistence: Enhanced Edition
The Persistence: Enhanced Edition is the PS5 update of the original game The Persistence. While this update is mostly perfunctory at best, the base game was already pretty good, so it still qualifies as one of the best survival games for PS5.
The game follows the main character who is a security officer doomed to die over and again while trying to save an ill-fated colony ship.
In a sense, the "survival" bit is different in this game because each time you die and are reborn, you're not exactly the same character – you're a clone. That, including the selection of weapons, are two things that make The Persistence a bit of an unconventional survival game experience.
The game is a roguelike that manages to retain a good level of immersion despite the fact that you have to start afresh each time you fail.
Among Us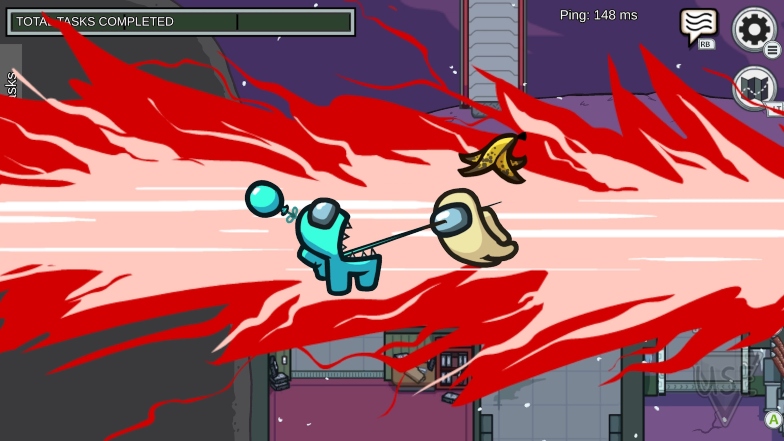 Among Us is a social deduction, survival game published by InnerSloth LLC in 2018. Initially launched for mobile devices, and then PCs, the incredible success of the game prompted the studio to build a console edition.
The console edition arrived on the PS4 and PS5 in December 2021, three years after the original release.
Despite the fairly basic art direction of the game, it does run in 4K at a smooth 60fps on the PS5, so you can expect stellar performance. The console edition includes all four official maps released even after the initial launch, so this is sort of a "Complete Edition".
The game is best played in multiplayer mode with friends. That, in my opinion, is the best way to enjoy the process of figuring out who the "impostor" is and having a good laugh.
As the impostor, you can sneak around, mess with the crew's equipment, and kill crewmates while trying to appear as innocent as possible as the other members of the crew try to piece clues together to catch you.
Multiplayer allows up to 15 players at a time, so you can cram a fair number of people into each session and make it a party.
Among Us is one of the best survival games for PS5, albeit with much different gameplay from the typical survival template. It is also probably the one that is the most fun!
A Plague Tale: Innocence
A Plague Tale was one of the best games of 2019, and the PS5 update that arrived in 2021 further enhanced the already-fantastic experience of Asobo Studio's action-adventure/survival-horror classic.
The plot follows the story of Amicia and her little brother Hugo. The game is set during the period of the Dark Ages in France (the 14th century), and these two siblings are trying to escape the situation.
Unfortunately, their path is littered with an array of monsters, menacing rodents that are spreading the black plague, and sentries looking to capture any potential escapees.
You are in control of the older sibling, Amicia, and you must use a combination of stealth and the limited tools that you manage to fashion from items that you pick up to evade or battle all these stumbling blocks.
On the PS5, A Plague Tale: Innocence renders in dynamic 4K resolution – 2560 by 1440 for the game and 3840 by 2160 for the UI. That, combined with buttery-smooth 60fps brings a clearer and more responsive experience compared to the PS4 version.
Green Hell
The Amazon rainforest in South America is the largest rainforest in the world. It is safe to say that you can only imagine the sort of creepy crawlies living in there, and the sheer number of deadly creatures (and people?) that could potentially turn you into a Twitter hashtag.
That rainforest is where Green Hell takes you to, bang in the middle of all the madness with nowhere safe to turn.
This incredibly realistic and unforgiving survival game was initially published by Creepy Jar for PCs in 2019 before a PS4 version arrived in 2021. The game is played in first-person perspective, and you "enjoy" your adventure in single-player mode or co-op multiplayer if you manage to drag a friend into it.
The back story follows your character, Jake Higgins, an author that heads off to the Amazon to research material for his new book. In the process, he gets separated from his wife Mia, and the rest of the game is based on his search for her.
Frostpunk
If you're looking for a survival game that also combines building and an engaging story in its overall package, then this city-building title from 11-bit Studios is the perfect game for you.
Frostpunk is yet another game that was initially published for PCs but got a console edition due to the success of the initial release. One may think that the combination of genres here would be difficult to pull off, but it actually makes for a pretty unique and varied experience, and it works.
Frostpunk is not only one of the best survival games for PS5, but it is also a very captivating strategy game. The story is set in the late 1800s when climate change has devastated humanity and everywhere is frozen.
The few left alive must try to remain so by pooling resources and attempting to build a city from the sparse remains of Earth available to them.
There is more than enough doom and gloom to go around, but you cannot dwell on that too much, especially with the weight of the challenge ahead of you to help humanity survive.
Frostpunk successfully combines the best of both worlds with city-building and survival, so it is also easily one of the best city-building games for PS5.
Speaking of city-building games, we've got a guide that covers the best options as well, so head on over there and check it out!